Our highest priority is the health and safety of our guests.
Stay Inspired: When our world returns to normal, we will appreciate travel on a higher plane. Personally, I vow to intentionally visit places that stretch my boundaries, nourish my soul, special places for transformation. We'll never take the art of travel for granted again. We'll all seek a deeper connection with the world when we can finally disconnect from routine and embrace unforgettable experiences.
Stay Curious:  Dream now. Travel later. The magic awaits! It's important for your serenity to plan your future escapes now. While we suspend our dreams, know AFS is still joyfully working to design new global journeys for years to come. We are strong and can't wait to welcome you back. It may seem dim now, but we've left the porch light on for you.
Stay Hopeful: For now, we all remain #AloneTogether. Soon we will again be traveling with our AFS friends and welcoming all the new friends who joined our Tribe of Travel Lovers. YOU WILL TRAVEL.  "Oh, the places you'll go." – Dr. Seuss
REVISED COVID19 POLICIES as of APRIL 2020
We share our travelers' concerns about upcoming travel with the uncertainty felt by travelers over the effects of Covid19 and as others, we too have temporarily modified our policy for 2020 trips. We are sorry for this unprecedented inconvenience that is beyond our control. The health and safety of our guests are of the highest priority.  We continue to monitor the situation to determine if additional modification and updates needed in accordance with changing travel advisement. Land Portion 2020 – We will not cancel any trip when we can move to a later and safer date. We recommend that you also check the current travel policy of your destination for further information.  Until this passes, time is on our side. We always encourage our travelers to get travel insurance within 21 days of initial booking via email and Trip Tips that will protect your investment.   We're coping with an enormous volume of inquiries and changes.  Please be patient.  We appreciate your understanding of this temporal disruption.  
My trip has not been postponed and the group is a go, but I'm afraid to join them, can I get a refund?  If we feel things are clear according to CDC and the country is open, the trip will go.  AFS standard Terms apply.  
My trip was postponed to next year and I paid in full, what are my options?  The new policy will allow those with existing trip bookings to join same trip at a later date.   If you prefer a different trip, we'll help you find a replacement.  Please understand we are unable to process a refund as monies have been paid out to all our suppliers. This is not meant to punish or harm you, it is because of our desire to sustain AFS with many adventures for years to come as well as supporting the global travel industry. We ask that you travel with us later.  Unlike cruise lines or airline policies, tour operators get no refunds from foreign suppliers on land services.   All tour companies pay for it whether it gets used or not and all now must postpone trips. 
 After paid in full due date and your trip has been postponed to 2021, your full payment will be moved without penalty.  Your 2020 land price will be protected.  (New bookings next year may incur an increase if the trip cost from land supplier rises.)  If you choose a new trip that is more expensive than the original trip, you are responsible for the difference.  If the new trip is less expensive, a future travel credit will be issued for you for the difference to be used at any time in the future.
My trip was postponed and I only made a deposit.  What can I do?  If unable to make 2021 new dates, you will get a travel credit voucher good until Jan 2023 provided upon your request.  
What about my air? – Those on Group Air need to do nothing. We will handle it. Airline policies are changing rapidly. We urge you to check your airlines' website on current change fees or rebooking options.  Each group will be emailed information specific to their trip.  If your trip was moved to 2021, airlines will issue a travel voucher typically good for 12 to 24 months. 
About air as of April 2020 - Once we email you your new trip dates 11 months out, you can contact your airline to secure flights with trip dates. (Note to those on our international Group Air, you are all set, but do move your domestic air flights to match the 2021 dates.)

1. 

    

Wait, you have time! All airlines are swamped now with thousands of calls daily. Whether you contact them online or by phone, they will only address flights departing within 72 hours or less. Note, if airline cancels their flight, you may get a refund. If you cancel you won't. Set it on your calendar to contact them close to your scheduled departure. Change all tickets before December.  The value of your ticket is safe.

2. 

    

Be mindful of credit windows! All carriers have different rebooking policies. Nearly all allow you to move tickets within 12 months.

  

It's called an e-change or e-credit. 

  

Some state credit window starts from the time your ticket was issued. In that case, you need a longer window. Many like QR, LH, KL, EK and others allow credit up to 18 to 24 months. We expect all airlines should be extending deadlines.

3. 

    

How? Call airline reservation or their special frequent flyer phone line. Ask for the agent's name. Explain you want either refund or credit to 2021 dates. If the agent says, "not within our policy," plead for an exception or request a supervisor. Agents follow a script. But they can use a "situational flexibility clause" to allow for deviation. If no luck, call back to speak with a different agent.

4. 

    

Be sure you have your EXACT dates ready to present. Many airlines now only allow one free booking change! If you don't use the credit within 12 months, then most will refund or extend.

 
Read more from the language of my heart.
Dear Loyal AFSers,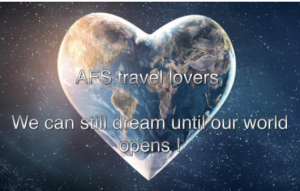 I want to give you my blessings and condolences as we work through these unprecedented times. Over the decades, we have weathered through plagues of Ebola to Zika, earthquakes, volcanoes, tsunamis, 9-11 and more. No tour operator has experienced a pandemic before. But we are working tirelessly to learn how to best adapt to such sudden and unparalleled situations that change daily. Know that we care and strive to protect your vacation investment. Take comfort that you booked your trip with us. AFS is equipped with sound financial management and a stellar reputation maintained over 34 years. With integrity and excellence, we plan to serve you for many more years ahead.
We continuously monitor the CDC, WHO and your airlines. We are on the phones weekly talking to our incredibly knowledgeable and vetted land suppliers in each region for the best advice. Thus far, we have suspended five trips and appreciate the kind understanding from each group. Our goal is to reschedule these amazing trips next year. As time progresses, each group will be assessed, and we will update you. I believe 6 to 8 trips ahead will go. At present, nearly all tour companies are running trips late May – December 2020. Time is on our side. We want to treat each group vacation as if it were our own.
Your health and safety is our greatest concern. Together we will ride out this turbulence that is Temporal. Only God knows how long this will last. No one can predict, but history proves travel will resume! This is just a chapter in our life story. Eventually, we will all be up in the clouds heading to where we long to be.
Like other companies now, we may ask you to put your dreams on hold to revisit your destination later when you can fully enjoy the adventure without disturbance. Each AFS trip takes months of loving planning, like a huge wedding that we pray won't have to be postponed. If it must, we will work with you and hope you'll go later for sustainable tourism to survive.
Why should you not cancel your vacation?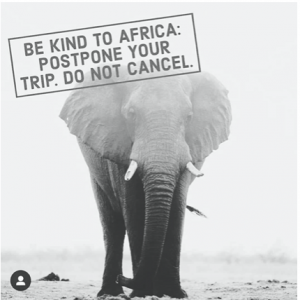 Firstly, for many AFS trips, time is on our side. We don't know how long this will last, but it may go. Secondly, it is the Kindest thing you can do. 4.6 million in the Travel Industry fear losing their jobs. It's not about AFS, mega hotel chains or cruise lines losing bookings. It's about all the individuals in the supply chain set to suffer. From the Masai guide, the kids in our Nepal orphanage, the Mt Kili porters, our game drive rangers to the tea sellers in India – all with zero income. They are relying on us. The sentiment and spirit of our strong travel community reveals we are all connected in humanity. During this untamed virus, we can demonstrate our support, saying, "We will return" to give them hope to hold on.
When all returns to normal, the dream vacation you chose will be ready with all the iconic sites crowded again as never before. To reschedule a trip, it maintains the much-needed Anticipation. We travel lovers need something in our calendars to look forward to. We know travel is essential to our growth with discovery, experiences, memories and the joy of life. When all returns to normal, and it will, the dream vacation you chose will be ready with all the iconic sites crowded again as never before. To reschedule a trip, it maintains the much-needed anticipation. We travel lovers need something in our calendars to look forward to. We know travel is essential to our growth with discovery, experiences, and memories. It amplifies life. Wanderlust is in our DNA.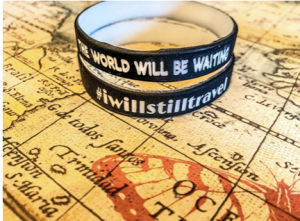 What do we do with life on pause?
• Be concerned, not consumed – Disinfect your thoughts. Limit your time on dramatized social media. Don't play the What If game with the unknown. When we can't control what life throws us, we can challenge ourselves to control how we respond. If we stay positive in a negative situation, we win. Fear is contagious. But Hope is stronger than fear. Also, highly contagious is kindness, compassion, happiness, humor and patience until we get to the other side.
• Keep your Gratitude Meter up – 126 countries now are on lockdown with tens of thousands still stranded around the world unable to get home. Be thankful for your safety, that you have a home to be quarantined in and for your friends to be distance from. List your abundant blessings that you may have clouded over. List your vision board with places you will visit soon.
• Stay connected – Amid the stress and uncertainty, our challenges can be faced collectively. The exceptional AFS family is built on lifelong friendships. Now more than ever, we must connect in community. Reach out to your Facebook groups. Set up your own AFS Zoom meetings. Visit old friends free on FaceTime or WhatsApp. We, in particular, are not alone!
• Look for the Lessons – Never waste a good crisis. Try to learn from it. Deep though can be transformative and lends deeper appreciation for what's important to us. What can this teach us? Certainly patience, tolerance, courage and perseverance as we must follow new rules. Scream, cry, but don't give up Hope. Share your Hope with others more vulnerable to get out of your head.
• Be a Travel Warrior – Put on the armor of unwavering faith "we will prevail" as you hunker in your bunker. You aren't just a tourist wanting a Carnival Cruise to Cancun. AFSers are a special breed of front-line global Travelers with resilience to bounce back. Together, we can pause our passion to move until the world beckons for us all to regroup and carry-on. Having spread our wings so far, we are most adaptable. You can do this!
Sending you love, light and virtual hugs until we gather somewhere thrilling,
— Suzy