Press Release: TravelSafe and the Corona Virus COVID-19
Posted Feb 26, 2020 2:25:22 PM in Press Releases by Amanda Hand
Coronavirus Virus Disease 19 (COVID-19) is the official name of the 2019/2020 coronavirus, as stated by the World Health Organization on Tuesday, February 11, 2020. Below, you will find coverage information regarding TravelSafe Insurance plans.
COVID-19 was officially declared a public emergency by the World Health Organization. While travel suppliers and airlines are trying to accommodate travelers, some delays and cancellations are inevitable. TravelSafe understands those with plans affected by the coronavirus will have questions about their coverage, and they are encouraged to call us 24/7 with any questions.
1. COMMON QUESTIONS 
Are epidemics and/or pandemics excluded from coverage in TravelSafe plans? No. TravelSafe Insurance does not exclude epidemics and/or pandemics from coverage.  However, most coverages require a triggering event to occur. Triggering events that may occur because of the coronavirus are discussed below for several coverages.
Is Cancel for Any Reason still available if I purchase a plan after February 11, 2020? Yes. Cancel for Any Reason is still available as an optional benefit for the TravelSafe Classic plan (not in NY).
When must I buy my plan to be eligible for Cancel For Any Reason?
Within 21 days of the date your initial trip deposit or payment is received for your trip.
When must I cancel my trip?
Two or more days before your scheduled departure date.
Do I still have the Trip Cancellation benefit in my plan if I buy Cancel for Any Reason?
Yes! We will always check to see if you are cancelling your trip for a covered reason under the Trip Cancellation benefit first! That way you are eligible to receive more than 75% of your nonrefundable, prepaid trip costs back.
2. THE FOLLOWING ARE SOME GENERAL GUIDELINES REGARDING THE VARIOUS COVERAGES THAT MAY BE AVAILABLE (ITEMS BELOW ARE EXAMPLES)
Trip Delay – Additional meal, local transportation and accommodation expenses may be reimbursed up to the amount provided by the plan if you have left home and travel is delayed 6 hours or more due to common carrier (such as airplane) delays or cancellations. Coverage may also apply due to quarantine. Additional covered reasons may apply. The dollar amount of coverage will be based on the plan you selected. Please refer to your plan documents for complete details.
Missed Connection – This benefit can reimburse unused land and water arrangements and additional transportation to catch up to the trip if you miss your cruise or tour departure because you are delayed for three hours or more by a covered reason. Covered reasons can include a three hour delay of a common carrier (such as an airplane), or if you are placed in quarantine due to the coronavirus. The dollar amount of coverage for Missed Connection will vary depending on the plan you purchased. For more details, please review your plan documents.
Trip Interruption – TravelSafe plans offer Trip Interruption coverage for your travel arrangements if they are disrupted and you must join your trip late, leave early, or return later than originally scheduled due to a covered reason. Depending on the TravelSafe plan, covered reasons to interrupt the trip can include: quarantine due to the coronavirus or a government-mandated shutdown of an airport or air traffic control system for reasons other than terrorism or an act of war. You may also be covered if you lose 50% or more of your scheduled trip duration due to quarantine because of the coronavirus or due to a common carrier (such as an airplane) delay. Trip Interruption bases the dollar amount of coverage on the amount of trip cost you insured on the plan. To be certain that you have this protection, please review your plan documents or call TravelSafe.
Trip Cancellation – TravelSafe plans offer Trip Cancellation of your trip if your arrival on the trip is delayed and causes you to lose 50% or more of the scheduled trip duration due to the reasons covered under the Missed Connection benefit. Covered reasons can include if you are quarantined and it results in you losing 50% or more of your scheduled trip duration or if a common carrier (such as an airplane) delay results in you losing 50% or more of your scheduled trip duration. The dollar amount of coverage is determined by the amount of trip cost you insured on the plan. Please read your plan documents for specific information.
This information is a general overview of coverages that may apply if travel plans are impacted by the coronavirus. The coverage available for your trip will be based on the terms in your travel protection plan. Additional terms apply to all coverages discussed. Additional coverages may be able to provide benefits. Please refer to your plan documents to learn more or contact TravelSafe with questions. Agents are available 24/7 and happy to help.
How do I buy Travel Insurance?   There are several ways:
What are the benifits of Travel Insurance?
NEW BENEFITS & COVERAGE 
No exclusion for epidemics and pandemics
Missed Connection Benefit Up To $2,500 (amount dependent on plan purchased)
Up to $250 if you miss a prepaid event/activity due to a change in itinerary made by a cruise or tour operator.
Revocation of previously granted military leave or reassignment due to war
Revocation of previously approved time off from work
You will also be covered when your travel plans change if you are:
directly involved in your company's merger or acquisition
if they are a victim of a felonious assault within 10 days of the departure date
if family or friends living abroad with whom you are planning to stay are unable to provide accommodations due to a covered illness, injury or death
ENHANCED BENEFITS:
Job termination or layoff provided your employed by the same employer for one continuous year – no longer a two year employment requirement
Mental or nervous conditions are covered if you are hospitalized for any length of time – no longer required to meet three day minimum
EXCLUSIVE & UNIQUE BENEFITS REMAIN UNCHANGED:
Up to 100% cash back Cancel For Any Reason Benefit (see plans for details)
Hurricane Warning Benefit
Up to $300 coverage for Travel Arrangements purchased on the trip
Hospital of Choice for Emergency Evacuations
Up to $25,000 for Non-Medical Emergency Evacuations
Up to $150 for re-banking fees associated with frequent flyer tickets
Up to $150 to cover airline change or reissue fees if a trip is canceled by Travel Supplier
Free One Call Travel Solutions Business & Concierge Services
Amazing Benefits of Trip Insurance
Our industry-first Cancel for ANY Reason Cash Benefit.
Protection against Inclement Weather.
Protection against Terrorism.
Protection against Financial Insolvency with NO restrictive lists.
Payment for Rebanking of Frequent Flyer miles.
Coverage for Pre-Existing Medical Conditions.
Coverage for Mental, Nervous & Psychological Disorders.
Coverage for Domestic Partners.
Hospital of Choice for Emergency Medical Evacuation.
24-hour Emergency Assistance from anywhere in the world.
24-hour Concierge Services.
The Highest Coverage Limits and Most Comprehensive Coverage Available in the Industry.
DON'T TAKE CHANCES – BUY TRAVELSAFE!
What is Zero Cost Trip Insurance and How Can It Save Me Hundreds?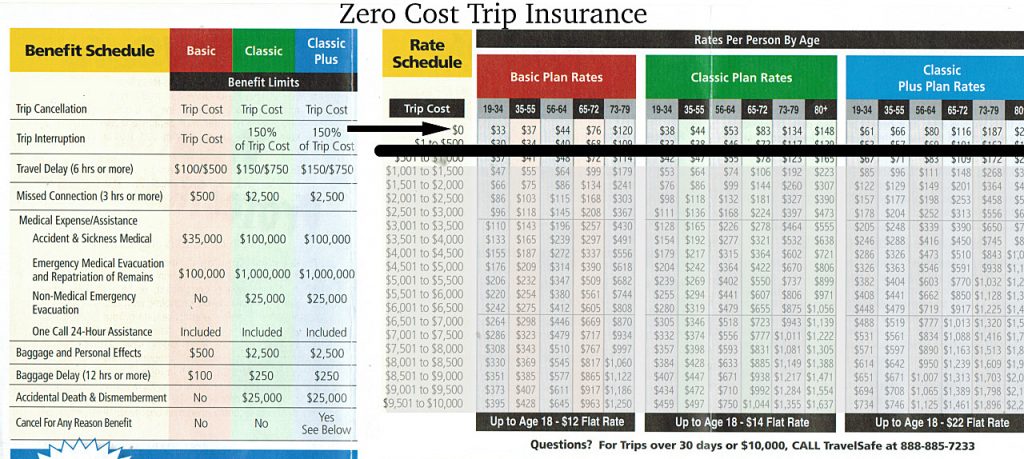 The cost is found on the $0 line of the insurance form.  You get all the benefits of travel insurance (lost or delayed bags, medical, evacuation accident etc) except one thing – Trip Cancellation.  You will not get reimbursed should you cancel the trip.  So if you want insurance and know you're not canceling it may be worth peace of mind to spend a couple of bucks.  However, if you feel you may have to cancel, then it's wise to buy whole package.  (The chart is for example purposes only.)
If I am waitlisted for a trip when must I purchase travel insurance?
You must purchase travel insurance once your waitlist has cleared and your deposit was then transferred to the "cleared" waitlist/reservation.
Example: On July 1, you give a "good faith" deposit for space to clear or open up on a specific trip and that space clears on August 1. It is only from August 1 that the clock starts counting and you have 21 days to purchase the travel insurance in order to meet the terms required for the Pre-ex Waivers, Financial Insolvency protection and our Cancel For Any Reason terms.[/vc_column_text][/vc_column][/vc_row]
What are the Travel Insurance "Must Knows"?
Travel Insurance is a smart investment for many people, but it can be confusing if you have never purchased a plan before or still unfamiliar with its nuances. Below you'll find high-level information about travel insurance, why it is important for every traveler, and how to stay prepared in case you do need to use the coverage.
How Does Travel Insurance Work?
Unlike home insurance or car insurance, travel insurance is purchased on a need basis for either individual trips or an annual term. The most popular type of travel insurance is a comprehensive plan which will provide a level of coverage for trip concerns, like trip cancellation or travel delay – and for emergency medical care.
What is the Purpose of Travel Insurance?
Simple: to protect a financial investment in travel and one's self from expensive emergency medical bills. While travel insurance cannot prevent travel mishaps, it can assist travelers in paying for or being reimbursed for unexpected changes in travel plans or emergency medical care – including evacuation costs, if needed
How Much Should Travel Insurance Cost?
Generally, your coverage should cost 4-10% of your trip cost. The premium of a plan will range due to the level of coverage and maximum benefits available in the plan. It's important to understand how to calculate your trip cost correctly so you do not overpay (or underpay) for a plan.  You can always amend the trip cost after the initial purchase.
What is a Review Period?
Most travel insurance companies allow up to 10 days to review a plan you have purchased. Essentially, this is a grace period that allows you to read through the policy and decide if you purchased the right level of coverage. During this time you can cancel your policy, if you don't think it's necessary, or make adjustments to it to scale your benefits up or down.
Avoiding Travel Insurance Claims Issues
One of the biggest reasons travelers become dissatisfied with travel insurance is due to issues with filing a claim. Before you travel it's important to know exactly what you need in case filing a claim is necessary. We recommend keeping all your receipts, having your policy number handy and keeping the correct phone numbers for your travel insurance company close by. This will help reduce frustrations during a claim process.