Adventures For Solo Travelers Cares Charity – Children International!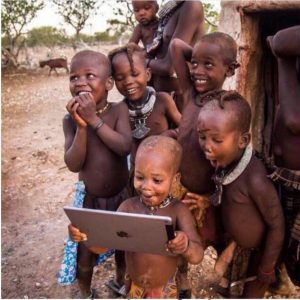 "I am only one, but still I am one.  I cannot do everything, but still, I can something." – Edward Everett Hale

 Please sponsor a girl or boy today with CI!  The rewards far exceed the meager $25 per month it costs to sponsor a child.  Read my experience below with 8-year-old Jandry to see what a wonderful emotional rendezvous it is to meet your sponsored child. Our charitable efforts are what makes AFS Travelers a distinguished group for travel group for solo travelers.
I love Children International and World Vision.  You can choose a child from Angola to Zululand.  But why not consider a child closer to home, one you can actually meet!  
Ecuador has 54,000 little ones in need.  Why don't we at AFS narrow our focus to South America as a targeted niche that is easy to get to?  Brazil, Argentina, Chile have $160 visas and with other countries, the air is difficult.  Ecuador is a 5 hour non-stop affordable flight from Atlanta and one of the most mega-diverse countries on the planet.  You could pop down for a weekend visit to strengthen your bond with your kid.  Better yet, why don't we do an annual AFS trip together to take all our children out for a day in Quito they'll never forget!…
Imagine –   2 nights in the cloud forest at deluxe Masphi Lodge for nature exploration, 2 nights at fabulous Hacienda Zuleta, an unparalleled ranch experience found nowhere else on earth.  Finally 2 nights in Quito to sightsee and play with our sponsored children.  We can add on Galapagos or the Amazon easily.  Terry and I think it's a rewarding vacation idea!
Tom's Shoes
If you can't afford to give monthly support, please buy TOMS shoes..This year  TOMS gave 5000 pairs of shoes to Jandry's village.   TOMS transfers every purchase into a force for good around the world.  With their new One to One® Program, for each pair you buy, TOMS will help a child in need
"My Day with Jandry"
Sept. 20, 2013, by Suzy Davis
I've sponsored an 8-year-old boy named Jandry for a year and finally flew to Quito to meet him face to face. All I knew was that he and his mom Belle live in a one-room concrete shack in a slum outside the city. (The alcoholic father beat and abandoned them years ago.) Belle is a full-time maid for a rich family and making only $147 a month.
Children International provided me a driver and translator for the full day. Their transparency in answering all my questions was most impressive. After 2 hours of bus rides, Jandry and Belle arrived to meet me there. (It was too dangerous for me to go to his slum I was told.)
We greeted with timid hugs but grew closer throughout each hour of the day. I arrived at CI HQ and met the entire staff.  This precious wide-eyed boy had only one request, to visit a park because there's no grass where he lives. I noticed his pants 3 sizes too big were held up with a rope. Before we headed out for a day of fun, our first stop was shopping in an actual mall, a first for them. It was so joyful to pick out some clothes for him, just a few warm and stylish pieces. Size 12, in and out of dressing rooms, Jandry emerged with the biggest smiles. I took him to a toy store saying he could only pick 2 things. This was serious soul searching shopping, just as I could be shopping for a diamond ring. He seemed to take forever in making his wisest decision of 2 Dragon Bullz action figures. Mind you, he and Belle asked for nor expected anything from me.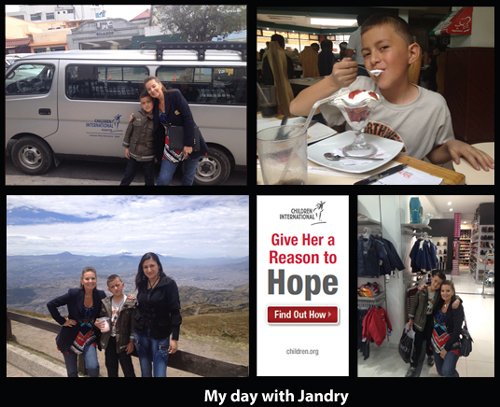 We then rode Teleferico cable cars high into the mountains until our ears popped. They were silent. I asked Gonzalo, my translator, if they were frightened. He said, "No, just in awe of the wonder of this." I took Jandry to a nearby decrepit small carnival with some rusted and ancient rides to enjoy. Here he took my hand with total trust. His other hand held his first blue cotton candy. He looked up to me as if he'd just arrived in Disneyworld.
We then went to a supermarket under the guise that I needed some Ecuadorian honey and corn nuts. I surreptitiously filled a cart full of goodies. Back at our van now filled with bags, I told them I forgot I couldn't take this food on the flight home, so they must take it. I then gave them some bags of gifts I'd collected in Atlanta. Belle was overwhelmed with some jewelry. Jandry was beside himself as if it was Christmas when he opened the Dollar Store items.
The rest of the day was focused on eating – eating everything and anything we wanted from empanadas to pizza. Quito's colonial square is so grand and entertaining. After dinner in a restaurant, sneaky Jandry had told waiters it was my birthday, A tiny cake with a candle was delivered and Jandry exploded with laughter. He saved the candle in his pocket. His tiny hand reached out for mine as we walked back to the van. He made this my most memorable birthday ever.
Some tears were shed when it was time to say goodbye. Gonzalo interpreted back and forth our final words. Jandry begged me to come back next week. Belle's eyes leaked as she hugged me hard…"Suzy, we can't thank you enough for this day we'll never forget. You are paying for Jandry's school tuition, books, and uniform. I tell him for this you must continue to make straight A's. You are paying for his dental, medical and eyeglasses. We go to mass and believe in God. You are an angel sent by God directly to us." As Gonzalo translates more, my eyes start to leak. I try to hide this looking out the window thinking – $25 bucks a month is peanuts for the joy of this priceless moment.
I'll support Jandry to age 18 when he will then volunteer with CI. And I'll visit him and Bella each year forward. Please choose a child. I'll arrange a group tour just for us to visit our children.
********************************************************************************
Prefer Animals?  AFS cares deeply about all wildlife…
The N/a'an ku sê Foundation
N/a'an ku sê Foundation was founded in 2006 by Dr Rudie and Marlice van Vuuren along with other founding members, with the aim of conserving the land, cultures and wildlife of Namibia.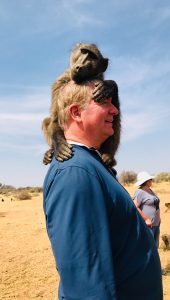 N/a'an ku sê is first and foremost a conservation organization that sustains its projects through non-governmental funding and responsible conservation tourism. We run several crucial projects to improve the health and well-being of the ancient yet marginalised San Bushmen of Namibia, provide a second chance to countless orphaned, injured and/or conflict animals, work to prevent land degradation, and stand at the forefront of the human-wildlife conflict mitigation by undertaking critical conservation and research projects to ensure a thriving future for Namibia's majestic wildlife.AFS is proud to help sponsor Jane Goodall's Chimp Eden, South Africa. After spending time at this wonderful sanctuary, we befriended the staff and look forward to many future group visits to them. Eugene, Phillip, Marc, and Jenni touched our hearts as much as the chimps. Please read my blog below. If possible, record the 18 episodes of "Escape to Chimp Eden" running on Animal Planet. Each show is so profoundly moving, I became addicted to viewing the reruns. You can see that donations are greatly needed for vet bills, security, maintenance and for more space to hold the countless suffering chimps out there that need rescuing.
Red Suzy's journal on Naan Ku Se
– Where Humans and Animals Can Thrive Together" in Namibia
Baby baboon Bon Bon arrived here skin & bones at three weeks old, his mother was shot. He was found clinging to her lifeless body and covered in blood. After several months in loving care, his cries of despair turned into giggles. (Yes, baboons giggle like bouncing babies.) Today Bon Bon loves kissing. His lips latched onto mine within minutes of holding him. Joy flooded my soul. Na'ankuse in Bushmen means "God looks after us". All creatures great and small are protected here.
Dr. Rudie and Marlice van Vuuren, renowned conservationists, created this special reserve, sanctuary and lodge that few Americans have yet to discover. Nestled in a stunning African Savannah is the farm, research facility, clinic and enormous enclosures for animals that can't survive on own. It is set in a 1500 hector game reserve of wild giraffe, zebra & jackals, oryx, kudos and countless other species. Accommodation is all lux in the bush in elegant villas. Gourmet meals are included and there's a menu of delightful activities.  Click to read more

CHIMP EDEN
Joao was abandoned by a Mozambique circus when he was only 3 years old. He spent the next 44 years poorly caged in a war-torn zoo. Here today at age 65, he enjoys being "grandpa" to the infant chimps. He can still do the circus tricks he learned 50 years earlier. Zac was chained for decades in an Angola bar where he was given alcohol, cigarettes, and drugs for laughs. On arrival to Eden, integrating him brought many challenges. He had serious withdrawal symptoms form detoxing cold turkey.
Deep in the heart of South Africa, Jane Goodall's Chimp Eden is a sanctuary of rebirth for 33 chimps that suffered horrible lives in captivity. After an hour flight from Jo'burg, Terry and I were transferred to Chimp Eden Boutique Lodge set among mango trees in the lush Lebombo Hills. There are only 13 rooms. At off-season, we were the only guests and in a week we never locked our door. The balcony of our luxury suite overlooked the magnificent Drakensberg Mountains.
We are so grateful for this invitation by owner and director Eugene Cussons. He has traveled throughout Africa at a great personal risk to give abused chimps a chance for a meaningful life. He's convinced that with proper rehabilitation, they can learn the skills necessary to survive in the wild. The success is evident at every turn. Chimps isolated for years in cramped cages now thrive in stable family groups. He moves closer to his goal of returning them to the rainforest where they belong, but there are always setbacks. Some chimps have been so humanized, they resist their natural instincts. Niki was such a pet. He was totally shaved, forced to wear jeans (and a Rolex) and made to dine at the table with cutlery. As he grew and the owner couldn't handle him, he spent 10 years in a deplorable zoo. Now at 16, he is the resident "Casanova", showing interest to females of all species!  In 2006, the Cussons' family teamed up with Jane Goodall to create South Africa's first and only chimp sanctuary.  Chimps share 98.8% of our genes. Two hundred years ago, there were over 2 million. Estimates now are 70,000. In Gambia, Benin, and Tonga, chimpanzees are extinct.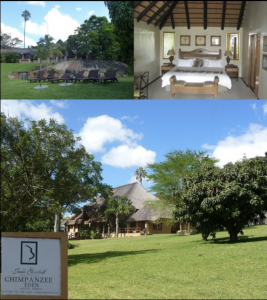 On arrival, we heard the unmistakable pant-hoots of the residents. The next day at precisely 7 am, a cacophony of screeching and grunts began. I wish I could have recorded the noise at breakfast time. We were told the problem is Mogi. Being starved for years, he always steals 90% of the food. Minutes later, he reluctantly shares it with others. Our days were spent viewing the chimps and educational lectures. It's fascinating to watch their social interactions. In foraging areas, berries are hidden in eucalyptus trees to provide them with enriching challenges. They have longed for exercise and dream of trees.
Marc, assistant sanctuary manager, begins with a morning feeding tour for group 1, the young'uns. They clap their little hands for fruit. Like children, they'd rather starve than eat their veggies. We learn about the problems they face. First is the illegal bushmeat trade. I always believed poor villagers killed chimps to feed their starving children. Nowadays, this high dollar illegal meat is found in black markets in London, Tokyo, San Francisco and Cape Town. Marc says the meat is so genetically close to us, it's like cannibalism. Second is logging which destroys their forest habitat. Finally, the pet trade. The mother is butchered for meat and the baby chimp is sold for $50. Most die from the trauma. I feel however the worst abuse of all comes from traveling circus companies. Jessica arrived here starved, with bones protruding, cigarette burns and fingers cut off. Charles was held down while his teeth were pulled out with pliers because he bit someone. And then there are poor zoos.
We learn about the problems they face. First is the illegal bushmeat trade. I always believed poor villagers killed chimps to feed their starving children. Nowadays, this high dollar illegal meat is found in black markets around the world.   Marc says the meat is so genetically close to us, it's like cannibalism. Second is logging which destroys their forest habitat. Finally, the pet trade. The mother is butchered for meat and the baby chimp is sold for $50. Most die from the trauma. I feel however the worst abuse of all comes from traveling circus companies. Jessica arrived here starved, with bones protruding, cigarette burns and fingers cut off. Charles was held down while his teeth were pulled out with pliers because he bit someone. And then there are poor zoos.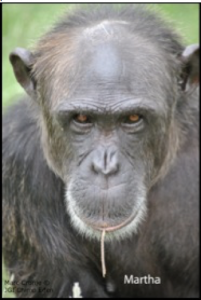 In group 2, we met Martha who was kept 12 years in a small concrete cage in a Ghana zoo. At Eden, they had to teach what grass was. Now she's a happy big sister to all. My favorite was "wild child Suzy." The staff said she's full of nonsense and does summersaults for hours. Group 3 included 3 alpha males. Amadeus, now 180 lbs., was kept caged in an Angola gas station. Cozy was a research chimp for years n the US. Somehow, he ended up with gypsies who castrated and beat him in a vain attempt to control him. We learned what efforts are put into the rescues. Owners rarely give up abused chimps. Bribes and sometimes military assistance is necessary to take them.
At night, the chimps enter their "5-star hotel" with heated floors, protein bars and fresh straw for nesting. Sometimes room service provides strawberry yogurt. The staff once noticed Charles had developed a cold. Marc entered the sanctuary with a bottle of Benadryl. Immediately all the chimps started coughing. Monkey see monkey do. They have the intelligence of a 6-year-old. At dinner one evening, we heard the great commotion. Josephine, the escape artist got out again. She bent tree branches over the electric fence and had Jinga hold them down so she could climb over. She has the intelligence of a 10-year-old. She once used coconut shells to dig a hole under the fence. She piled rocks to hide the hole from guards and a week later she fled. She always returns to her peaceful paradise.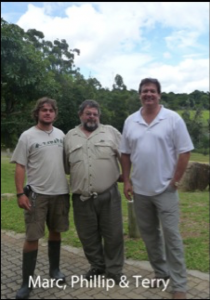 We befriended Philip, the sanctuary manager. He coordinates the rescues and has 30 years of primate experience. I ask of his favorite chimp. His proper parental response was that he loves them all equally. I noticed he's missing a finger.
Our last day was back at Chimp Eden. We worked on designing itineraries for future groups here.  My time and work here made a most worthy site inspection. This was my 13th visit to SA. The more amazing diversity I discover, the more I fall in love with this country.
Before departure, I sat by the fence to say goodbye to Joao. He was sucking his thumb. As we stared into each other's eyes, time seemed suspended. There were knowledge and wisdom in those eyes. I felt a primal connection more powerful than my words can convey. Without being too anthropomorphic, we seemed to be conversing – silently. I "hear" that he has found it in his heart to forgive humans. The moment is both chilling and humbling. Goodbye dear Joao, Charlene, Tommy, Claudette, Mimi and all my other new African friends. Chimp Eden is an escape for your senses and a journey for your soul.
Donations are greatly needed for vet bills, security, and maintenance. Most important is more space is needed as countless suffering chimps need rescue. You can also Adopt a Chimp and watch it daily via live webcam. If you do, tell our friends at Chimp Eden that AFS referred you.
Adventures For Solo travelers are empowering primates with a better life. Together, we all can make a difference!" www.chimpeden.com
It is easy to make a one-time donation or adopt your own chimp. Click here to learn more about Chimp Eden 
Aruna Project
A NEW DAWN BRINGS STRENGTH
Finding a Solution
After on the ground research to understand the root causes, the specific context of the brothel systems in India, and the constraints to sustainable freedom, we developed a model to bring and sustain freedom to the enslaved through employment marked by holistic care. By mobilizing thousands to take part in Aruna Runs across the US, we can bring freedom to the enslaved. By offering employment to those who have stepped into freedom, we can sustain their freedom and restore the liberating power of choice.   Read all about here…