Oct 5-13, 2021  "Whirling Dervishes, Ballooning, Baths and Bazaars"
Small Group!
  -BOOK NOW  or call 770-432-8225 If full – WAITLIST Login / create account required

Here's a full plate of Turkish delights!  Rich in history, heritage and hospitality, everyone loves Turkey! This is our 5th AFS trip to this exotic land of whirling dervishes, silk carpets, bustling bazaars, the cuisine of the Sultans and ancient Turkish baths. Why do we keep coming back? Because you asked for it! This is truly a place that AFSers can't get enough of and October is a great time to visit.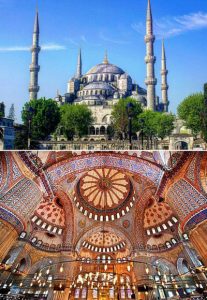 The adventure begins in vibrant Istanbul with a Welcome Dinner Cruise on the Bosporus that separates Europe and Asia.  Turkey is the only country that straddles two continents. East meets West in a blend of old and new.  We spend 3 days exploring all its ancient treasures of what was for 16 centuries known as Constantinople, taking in the wonders of the amazing Hagia Sophia, Blue Mosque, and Topkapi Palace before losing ourselves in the sights, sounds and shopping of the world's largest souk – the Grand Bazaar.
Incomparable Cappadocia can't truly be described.  Its geological formations are totally surreal, some say, "Heaven on Earth." Check off a bucket list item as you float in a hot air Balloon over the fairy chimneys against a lunar landscape for your best Instagram pics ever!  Explore the cave-churches of this World Heritage Site and the underground cities in Gaeme Valley. An entire city of pottery awaits in the town of Avarios. The landscape is as colorful as a Turkish carpet.   You'll love our Cave Hotel with the coolest troglodyte rooms.  
On to Bursa!..lying in the foothills of Mount Uludag.  This trendy city once the capital of the Ottoman Empire and is renowned for its fabulous thermal baths, mountains and silk filled bazaar.  Enjoy breakfast in an ancient Ottoman village. Wander through Bursa Castle, once home to Roman, Byzantine and Ottoman rulers.  Out Crowne Plaza has traditional hammams (a must), a snow fountain and an elegant spa.  
 The incredible vast land of Turkey truly offers something for everyone, stuffed with UNESCO World Heritage site and 7 Natural Wonders of the World. We've secured beautiful first-class hotels. This trip is ridiculously affordable and air is so easy on Turkish Air or Qatar. Come witness the unique creation of nature on this in-depth vacation of Turkish delights. Priceless memories await you.
We invite you post-tip to extend on to our AFS Glorious Oman trip right from Istanbul at the end.  What a fabulous add on!
-BOOK NOW  or call 770-432-8225 If full – WAITLIST Login / create account required

-BOOK NOW  or call 770-432-8225 If full – WAITLIST 

 
Our Glorious AFS Itinerary
  -BOOK NOW  If full – WAITLIST Login / create account required  
Print
 Oct 5 – Leave USA
You can easily book your own air round-trip to Istanbul for flexibility or wait until we set up group air and present in our Trip Tips.  Overnight flight landing in Istanbul the next day

Oct 6 –  Welcome to Istanbul!!          D
Hoşgeldiniz! Welcome to stunning Istanbul.  Our tour officially begins in the morning with our airport arrival where our guide will welcome us. Rich in history, this amazing city is set on the Bosporus peninsula, straddling Europe and part in Asia.
Our hotel is the Holiday Inn, located in the heart of the Old City. You'll have the afternoon free to explore or maybe enjoy a Hamman (Turkish bath) before we meet for a spectacular welcome dinner cruise aboard a boat along t he Bosphorus River. As we cruise, we can view Europe on one side and Asia on the other, including shoreline views ranging from villages to palaces.  Our delightful dinner of local delicacies includes a Turkish Folklore show featuring folk dance groups and belly dancers!
Overnight: Holiday Inn Old City (2 nights)

Oct 7 –  Guided Istanbul Tour       B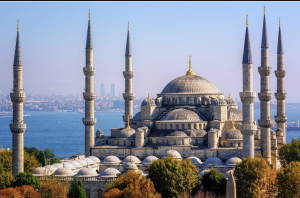 Our full day tour begins with a visit to the renowned Sultanahmet Mosque, known as The Blue Mosque for its blue Iznik (Nicaea) tiles and six minarets. Then it's on to the Hippodrome, a vast arena that once functioned as the heart of sporting events and political activities of the old city. From here you continue to the nearby the 6th century Hagia Sophia, the Church of Divine Wisdom which ranks as one of the greatest marvels of world architecture. It's then just a short walk to the Underground Cistern, the largest of the many underground cisterns built during the Byzantine Empire to supply the city with water. This cistern is especially fascinating because Byzantine builders usedd recycled columns and capital heads from earlier temples to create it.
Continue on to the Topkapi Palace, the imperial palace of the Ottoman Sultans. It includes tours of the imperial treasury, the Chinese porcelain section, the calligraphy section and many more. We'll wrap the day at the Grand Bazaar, the vast and legendary covered market that is the biggest souk in the world with nearly 4000 shops of antiques, jewelry and carpets. You'll have the rest of the day to explore on your own with countless fun options.
Overnight: Holiday Inn Old City (2 nights)
Oct 8 – Fly to Cappadocia            B/D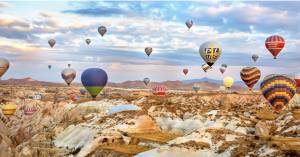 We have an early morning flight to Cappadocia (Kayseri airport). The moonscape-like surroundings of Cappadocia with its fairy chimneys and valleys was entirely sculpted by volcanic erosion. We'll have a short tour of the city and its bizarre geological formations which look like a Salvador Dali painting come to life before heading underground.  Christians dug out entire subterranean cities as well as elaborate churches and monasteries in the caves to hide from invaders.  Photos of these areas are incredible.
We'll check into our hotel and you have the afternoon free to explore more on your own.  So much to do here:  go horseback riding, hiking or relax in one of the many spas.
Tonight, you have the opportunity to attend the traditional Whirling Dervish performance. This is a captivating mystical ritual that connects one in infinite spinning to perfect harmony. You will never forget this mesmerizing experience of a lifetime.
 Overnight Hotel Best Western Premier  (3 nights)
Oct 9 –  Full Day Cappadocia Tour             B
The entire day is dedicated to exploring Cappadocia.  We know all will want to take advantage of the hot-air balloon ride (extra charge) in the early morning. Arrangements will be made a month prior to our arrival.  Over 200 AFSers loved it.  It's something that everyone should experience to get a birds-eye view of the land and its surroundings.
Following breakfast, we head in among the fairy chimneys and the Göreme Valley. Its Open-Air Museum holds the region's best collection of painted cave-churches. Medieval orthodox Christian monks (1000-1200 AD) carved the caves from the soft volcanic stone and decorated them with elaborate Byzantine frescoes.
We then continue with famous views of Cappadocia at Paşabağ y Zelve (Monks Valley) before heading to an incredible panorama from Uchisar castle of Cappadocia.
 Overnight Hotel Best Western Premier  (3 nights)

Oct 10 –  Underground City and Avanos Tour in Cappadocia                         B/L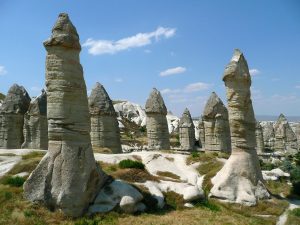 Another full day of Cappadocia and its surrounding. Begin with visit to the intriguing Kaymaklı Underground City. There are more than a hundred of underground settlements in the region, dating to the Byzantine period when countless invasions forced local residents to build underground cities for protection and religious purposes.
Post lunch visit Avanos, a lovely town noted for its pottery and ceramics using traditional methods. Then, take a hike through Pigeon Valley and finish our day visiting a local vineyard where we can sample some of the local wines of the region.  Turkey has excellent wines.
 Overnight Hotel Best Western Premier (3 nights)
Oct 11 – Welcome to Bursa!                B
After breakfast, we fly from Kayseri airport to Istanbul (Sabiha Gokcen) and then set out on about a 2-hour drive to the first capital of the Ottoman Empire, Bursa. This is the heart of the famed Silk Road, and with so much history here, the region resembles an open-air museum. Nestled at the foot of Mount Uludağ, the city is known for its lush, green scenery, healing hot springs and Turkish baths, and shopping!
We head directly to visit Bursa Castle, which dates back to the beginning of the 1st century B.C. Today the city walls are about 2 km long. There are two towers between Çakırhamam and Tophane, one of them round the other square.
Later in the evening check in at hotel where you enjoy a free evening.
 Overnight: Crown Plaza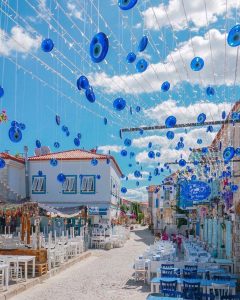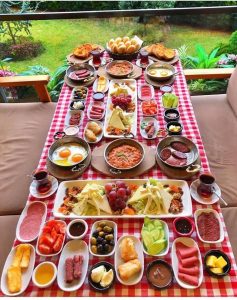 So much to see today and we proceed to visit a UNESCO World Heritage site, a 700-year old Ottoman village situated at the base of the northern slope of Uludağ. Then it's off for a walk in Cumalıkızık village where we'll enjoy Ottoman-style houses lining narrow, winding streets where overflowing streams trickle over the cobblestones. There are great photo ops of local craftsmen and fruit farmers peddle their wares from wooden booths and nooks in the stone walls along the streets. Tractors are parked in the alleyways and chickens run around in the gardens. We will stop to shop at old silk bazaar to learn about Bursa's historic artisans and traders.   Then opt to ride the cable car up the mountain for amazing photos.
Our afternoon is free to relax. Truly no trip to the region is complete without experiencing a traditional Turkish bath. The Hammam culture, a tradition that has come from ancient times, creates a relaxing and purifying effect for the body. While resting and renewing your body, it also nourishes your soul with its massages.  Our hotel has stunning hammams or visit the traditional one in the Old City.
After a refreshing afternoon, we will gather for our farewell dinner.
 Overnight at hotel Crown Plaza
Oct 13 –  Bursa -Istanbul         B
Two hours' drive to Istanbul and the International airport for your flight home.

Glorious Oman is a must extension. On October 13 our short flight departs at 8 PM to Muscat.  Our trip leaders are fighting to lead this adventure.
The land of  "Gold, Frankincense & Myrrh"   Oct 13-20, 2021  

Seeking an exotic adventure?  This Desert Kingdom is the Holy Grail of fun.  There aren't enough superlatives to describe Oman, a place of exquisite natural wonders, timeless villages, countless topaz waterholes, turquoise beaches, vast sands and rugged mountains. So pure, so exotic, so much to explore! We've timed this perfectly as an add-on to our AFS Turkey for a small group of adventurers.  Our last AFSers gushed over Oman, saying it exceeded all expectations.  It was like visiting a whole other world! Often bypassed for its ritzier UAE neighbors, glorious Oman is the best of 7 emirates, not overrun by tourists. Here is the biblical land of the Three Wise Men.  The serene Sultanate of Oman is the epicenter of ancient treasures, all so authentic, it will cast its spell on you.  Read more here…

-BOOK NOW  or call 770-432-8225 If full – WAITLIST 
Turkey Land Price $1795 pp twin share includes internal air
Deposit $250
 Not included:  Gratuities
 It is too early to price our group air. This will be offered as we get closer. If traveling on your own, you will be offered the chance to book the internal flights with the group.
Group Air:  We mat present group air later if demand is high

Land prices per person twin share. Trip price based on a minimum number of participants.

Single rooms limited with $ supplement.  Cost varies.  Email us for availability.  AFS will find you a roommate.

The earliest we present group air is 10 months prior. We'll send email to ask who wants it.  A minimum number of 12 is needed.

Please review AFS Terms and Conditions, Heading Abroad with AFS, Covid Policy.  Travel insurance is important nowadays.  It's rare, but we reserve the right to modify schedules, tour and hotels.

Read Trip Tips on its own tab next itinerary for latest details. 
Print
Group Air TBA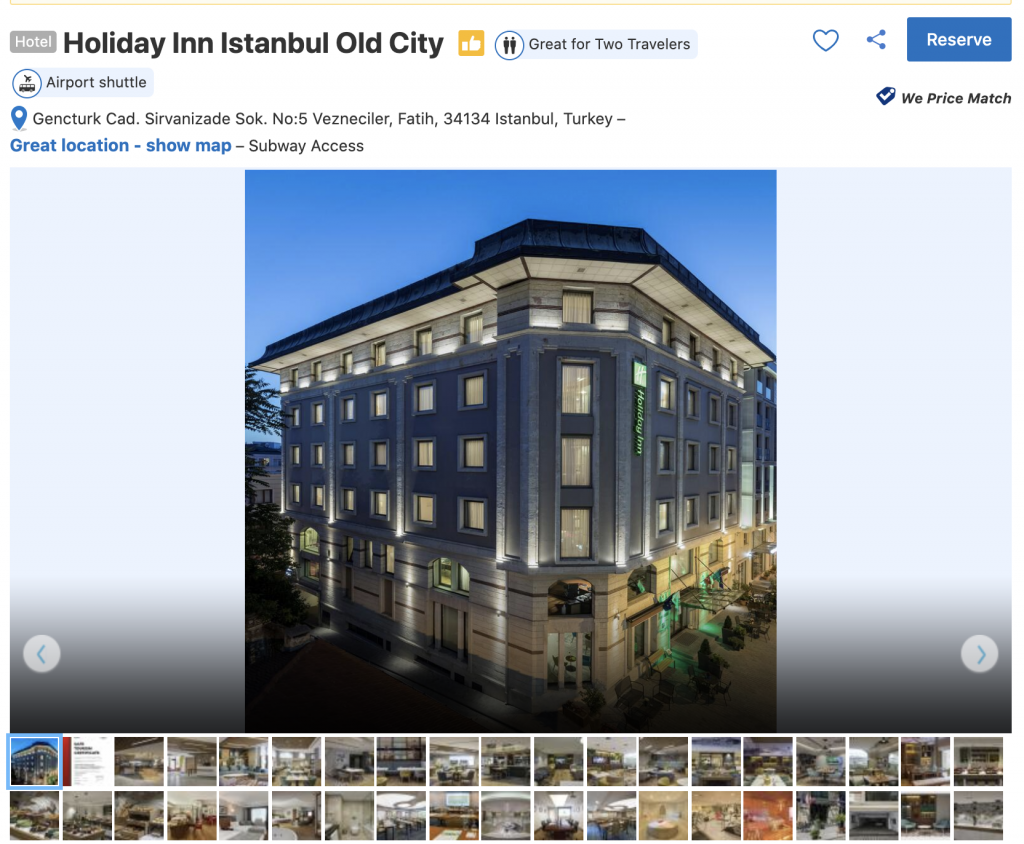 ocated in the Old City of Istanbul, Holiday Inn Istanbul – Old City is a 12-minute walk from the Grand Bazaar. Among the facilities of this property are a spa and fitness center, business center, restaurant, free valet parking, 24-hour front desk and room service, along with free WiFi throughout the property. The hotel is close to popular attractions like Sultanahmet Square, Hagia Sophia Museum, Blue Mosque, Topkapi Palace and Basilica Cistern.
Air conditioning, flat-screen TV, tea/coffee maker and mini-bar are standard in Holiday Inn Istanbul – Old City's rooms. Private bathrooms offer shower, hairdryer and free toiletries. The hotel has an open lobby where guests can enjoy all dining menu with local and imported drinks. A work station and board games are available for guests' use in the lobby.
The Modern restaurant and bar offer international and Turkish cuisines with vegetarian and gluten-free options.
At the spa, guests can relax in the traditional marble hammam or schedule a foam massage. There is also a fitness center to train before heading out to explore Istanbul's tourist attractions.


https://bwpremiercappadocia.com/?dil=en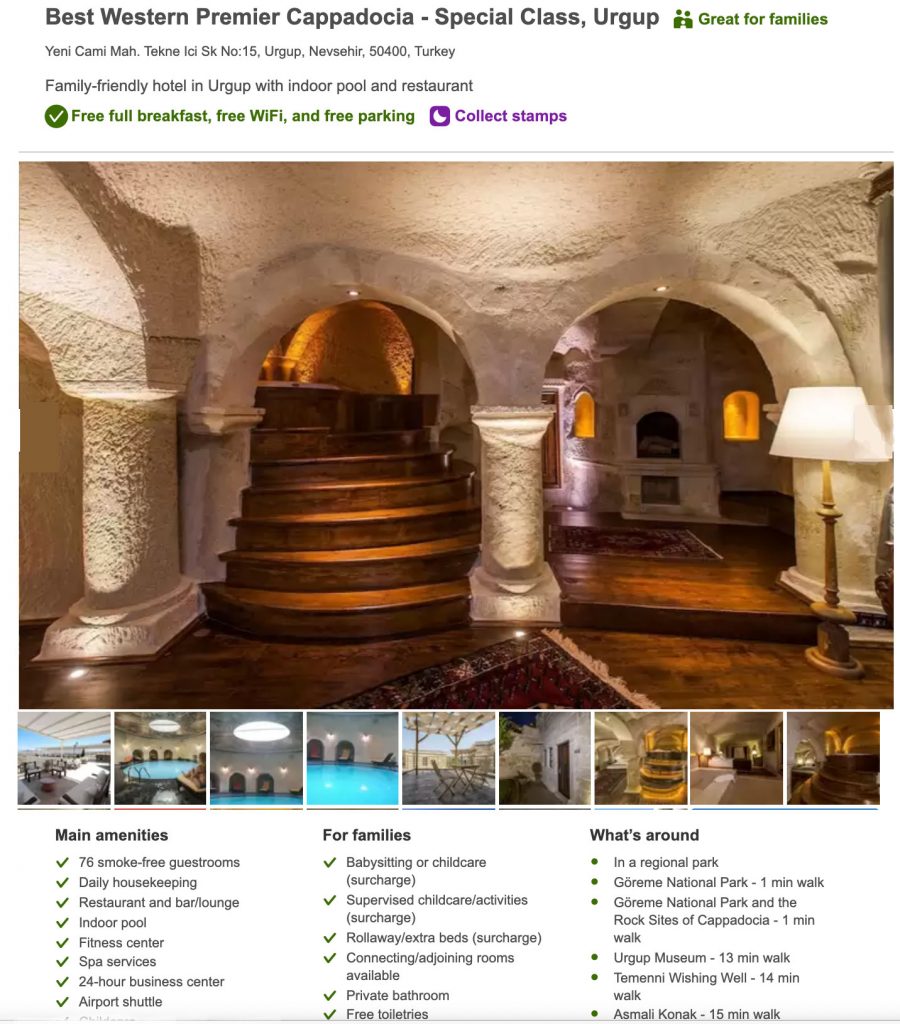 est Western Premier Cappadocia is an ideal Nevsehir lodging choice for your trip to Turkey. With numerous amenities for guests such as room service, premium movie channels, 24 hour front desk, you will wake up at Best Western Premier Cappadocia feeling ready to go every day for your time in Nevsehir. Don't let this amazing reservation opportunity pass you by, book your stay at Best Western Premier Cappadocia today to make the most of your time in Nevsehir, Turkey.

Here's what else you can look forward to:
Amenities
Room Service
Premium Movie Channels
24 hour front desk
Restaurant
Refrigerator
Hair Dryer
Alarm Clock
Currency Exchange
Ice Machine
Business Center
 All prices are per person twin share.  Single rooms limited per group and a single supplement applies.  Cost set by hotel/cruiseline and vary considerably.  AFS will find you a roommate match. All hotel rooms are "run of house."  

Please review AFS Terms and Conditions as well as Heading Abroad with AFS.  

Land – Price based on a minimum number of trip participants, as well as local currency exchange rates which can fluctuate.

We write our itineraries over a year in advance. Though unlikely, we always reserve the right to modify schedules, tours and 

hotels if necessary. 

Group air – Airlines may add surcharges to offset fuel inflation or taxes. The total ticket cost is not final until we receive your final payment and the group is ticketed. If doing own air, airport transfer may or may not be included depending on your air schedule. Do not buy air until the group air is set or we advise – though unlikely, airlines, times and dates can change!