Oct 5-13, 2021  "Whirling Dervishes, Ballooning, Baths and Bazaars"
Small-Group with  a few spaces available!
  BOOK NOW  or call 770-432-8225  Login / create account required

Here's a full plate of Turkish delights!  Rich in history, heritage and hospitality, everyone loves Turkey! This is our 5th AFS trip to this exotic land of whirling dervishes, silk carpets, bustling bazaars, the cuisine of the Sultans and ancient Turkish baths. Why do we keep coming back? Because you asked for it! This is truly a place that AFSers can't get enough of and October is a great time to visit.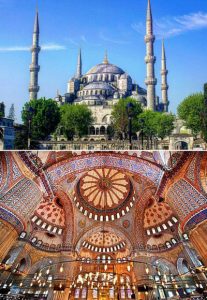 The adventure begins in vibrant Istanbul with a Welcome Dinner Cruise on the Bosporus that separates Europe and Asia.  Turkey is the only country that straddles two continents. East meets West in a blend of old and new.  We spend 3 days exploring all its ancient treasures of what was for 16 centuries known as Constantinople, taking in the wonders of the amazing Hagia Sophia, Blue Mosque, and Topkapi Palace before losing ourselves in the sights, sounds and shopping of the world's largest souk – the Grand Bazaar.
Incomparable Cappadocia can't truly be described.  Its geological formations are totally surreal, some say, "Heaven on Earth." Check off a bucket list item as you float in a hot air Balloon over the fairy chimneys against a lunar landscape for your best Instagram pics ever!  Explore the cave-churches of this World Heritage Site and the underground cities in Gaeme Valley. An entire city of pottery awaits in the town of Avarios. The landscape is as colorful as a Turkish carpet.   You'll love our Cave Hotel with the coolest troglodyte rooms.  
On to Bursa!..lying in the foothills of Mount Uludag.  This trendy city once the capital of the Ottoman Empire and is renowned for its fabulous thermal baths, mountains and silk filled bazaar.  Enjoy breakfast in an ancient Ottoman village. Wander through Bursa Castle, once home to Roman, Byzantine and Ottoman rulers.  Out Crowne Plaza has traditional hammams (a must), a snow fountain and an elegant spa.  
 The incredible vast land of Turkey truly offers something for everyone, stuffed with UNESCO World Heritage site and 7 Natural Wonders of the World. We've secured beautiful first-class hotels. This trip is ridiculously affordable and air is so easy on Turkish Air or Qatar. Come witness the unique creation of nature on this in-depth vacation of Turkish delights. Priceless memories await you.
BOOK NOW or call 770-432-8225 If full – WAITLIST Login / create account required

BOOK NOW or call 770-432-8225 If full – WAITLIST 

 
Our Glorious AFS Itinerary
BOOK NOW  If full – WAITLIST Login / create account required  
Print
 Oct 5 – Leave USA
You can easily book your own air round-trip to Istanbul for flexibility or wait until we set up group air and present in our Trip Tips.  Overnight flight landing in Istanbul the next day

Oct 6 –  Land starts.  Welcome to Istanbul!!          D
Hoşgeldiniz! Welcome to stunning Istanbul.  Our tour officially begins in the morning with our airport arrival where our guide will welcome us. Rich in history, this amazing city is set on the Bosporus peninsula, straddling Europe and part in Asia.
Our hotel is the Holiday Inn, located in the heart of the Old City. You'll have the afternoon free to explore or maybe enjoy a Hamman (Turkish bath) before we meet for a spectacular welcome dinner cruise aboard a boat along t he Bosphorus River. As we cruise, we can view Europe on one side and Asia on the other, including shoreline views ranging from villages to palaces.  Our delightful dinner of local delicacies includes a Turkish Folklore show featuring folk dance groups and belly dancers!
Overnight: Holiday Inn Old City (2 nights)

Oct 7 –  Guided Istanbul Tour       B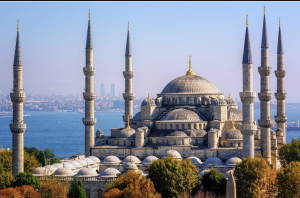 Our full day tour begins with a visit to the renowned Sultanahmet Mosque, known as The Blue Mosque for its blue Iznik (Nicaea) tiles and six minarets. Then it's on to the Hippodrome, a vast arena that once functioned as the heart of sporting events and political activities of the old city. From here you continue to the nearby the 6th century Hagia Sophia, the Church of Divine Wisdom which ranks as one of the greatest marvels of world architecture. It's then just a short walk to the Underground Cistern, the largest of the many underground cisterns built during the Byzantine Empire to supply the city with water. This cistern is especially fascinating because Byzantine builders used recycled columns and capital heads from earlier temples to create it.
Continue on to the Topkapi Palace, the imperial palace of the Ottoman Sultans. It includes tours of the imperial treasury, the Chinese porcelain section, the calligraphy section and many more. We'll wrap the day at the Grand Bazaar, the vast and legendary covered market that is the biggest souk in the world with nearly 4000 shops of antiques, jewelry and carpets. You'll have the rest of the day to explore on your own with countless fun options.
Overnight: Holiday Inn Old City (2 nights)
Oct 8 – Fly to Cappadocia            B/D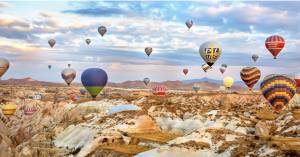 We have an early morning flight to Cappadocia (Kayseri airport). The moonscape-like surroundings of Cappadocia with its fairy chimneys and valleys was entirely sculpted by volcanic erosion. We'll have a short tour of the city and its bizarre geological formations which look like a Salvador Dali painting come to life before heading underground.  Christians dug out entire subterranean cities as well as elaborate churches and monasteries in the caves to hide from invaders.  Photos of these areas are incredible.
We'll check into our hotel and you have the afternoon free to explore more on your own.  So much to do here:  go horseback riding, hiking or relax in one of the many spas.
Tonight, you have the opportunity to attend the traditional Whirling Dervish performance. This is a captivating mystical ritual that connects one in infinite spinning to perfect harmony. You will never forget this mesmerizing experience of a lifetime.
 Overnight Hotel Best Western Premier  (3 nights)
Oct 9 –  Full Day Cappadocia Tour             B
The entire day is dedicated to exploring Cappadocia.  We know all will want to take advantage of the hot-air balloon ride (extra charge) in the early morning. Arrangements will be made a month prior to our arrival.  Over 200 AFSers loved it.  It's something that everyone should experience to get a birds-eye view of the land and its surroundings.
Following breakfast, we head in among the fairy chimneys and the Göreme Valley. Its Open-Air Museum holds the region's best collection of painted cave-churches. Medieval orthodox Christian monks (1000-1200 AD) carved the caves from the soft volcanic stone and decorated them with elaborate Byzantine frescoes.
We then continue with famous views of Cappadocia at Paşabağ y Zelve (Monks Valley) before heading to an incredible panorama from Uchisar castle of Cappadocia.
 Overnight Hotel Best Western Premier  (3 nights)

Oct 10 –  Underground City and Avanos Tour in Cappadocia                         B/L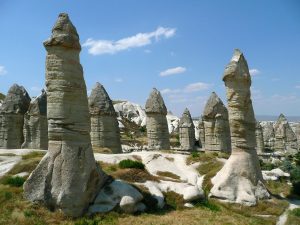 Another full day of Cappadocia and its surrounding. Begin with visit to the intriguing Kaymaklı Underground City. There are more than a hundred of underground settlements in the region, dating to the Byzantine period when countless invasions forced local residents to build underground cities for protection and religious purposes.
Post lunch visit Avanos, a lovely town noted for its pottery and ceramics using traditional methods. Then, take a hike through Pigeon Valley and finish our day visiting a local vineyard where we can sample some of the local wines of the region.  Turkey has excellent wines.
 Overnight Hotel Best Western Premier (3 nights)
Oct 11 – Welcome to Bursa!                B
After breakfast, we fly from Kayseri airport to Istanbul (Sabiha Gokcen) and then set out on about a 2-hour drive to the first capital of the Ottoman Empire, Bursa. This is the heart of the famed Silk Road, and with so much history here, the region resembles an open-air museum. Nestled at the foot of Mount Uludağ, the city is known for its lush, green scenery, healing hot springs and Turkish baths, and shopping!
We head directly to visit Bursa Castle, which dates back to the beginning of the 1st century B.C. Today the city walls are about 2 km long. There are two towers between Çakırhamam and Tophane, one of them round the other square.
Later in the evening check in at hotel where you enjoy a free evening.
 Overnight: Crown Plaza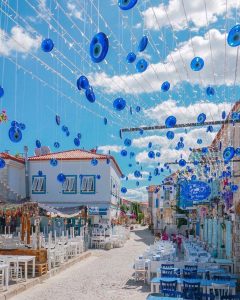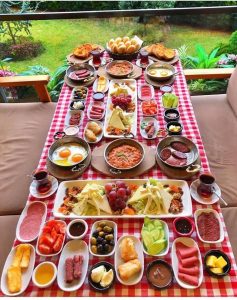 So much to see today and we proceed to visit a UNESCO World Heritage site, a 700-year old Ottoman village situated at the base of the northern slope of Uludağ. Then it's off for a walk in Cumalıkızık village where we'll enjoy Ottoman-style houses lining narrow, winding streets where overflowing streams trickle over the cobblestones. There are great photo ops of local craftsmen and fruit farmers peddle their wares from wooden booths and nooks in the stone walls along the streets. Tractors are parked in the alleyways and chickens run around in the gardens. We will stop to shop at old silk bazaar to learn about Bursa's historic artisans and traders.   Then opt to ride the cable car up the mountain for amazing photos.
Our afternoon is free to relax. Truly no trip to the region is complete without experiencing a traditional Turkish bath. The Hammam culture, a tradition that has come from ancient times, creates a relaxing and purifying effect for the body. While resting and renewing your body, it also nourishes your soul with its massages.  Our hotel has stunning hammams or visit the traditional one in the Old City.
After a refreshing afternoon, we will gather for our farewell dinner.
 Overnight at hotel Crown Plaza
Oct 13 –  Bursa -Istanbul         B
Two hours' drive to Istanbul and the International airport for your flight home.

BOOK NOW  or call 770-432-8225 If full – WAITLIST 
Turkey Land Price $1795 pp twin share includes Internal Air !
Deposit $250  ($100 non-refundable for internal air)
 Not included:  Gratuities
 It is too early to price our group air. This will be offered as we get closer. If traveling on your own, you will be offered the chance to book the internal flights with the group.
Good air on Turkish
5 Oct -21 : JFK/IST     flight TK 2 –  7PM /1150AM next day Oct 6
13 Oct-21 : IST/JFK     flight TK 1 – 130 PM / 520 PM

Land prices per person twin share. Trip price based on a minimum number of participants.

Single rooms limited with $ supplement.  Cost varies.  Email us for availability.  AFS will find you a roommate.

The earliest we present group air is 10 months prior. We'll send email to ask who wants it.  A minimum number of 12 is needed.

Please review AFS Terms and Conditions, Heading Abroad with AFS, Covid Policy.  Travel insurance is important nowadays.  It's rare, but we reserve the right to modify schedules, tour and hotels.

Read Trip Tips on its own tab next itinerary for latest details. 
Print
Group Air – None as not enough in the group wanted it.  Below is recommended schedule.  
5 Oct -21 : JFK/IST     flight TK 2 –  7PM /1150AM next day Oct 6
13 Oct-21 : IST/JFK     flight TK 1 – 130 PM / 520 PM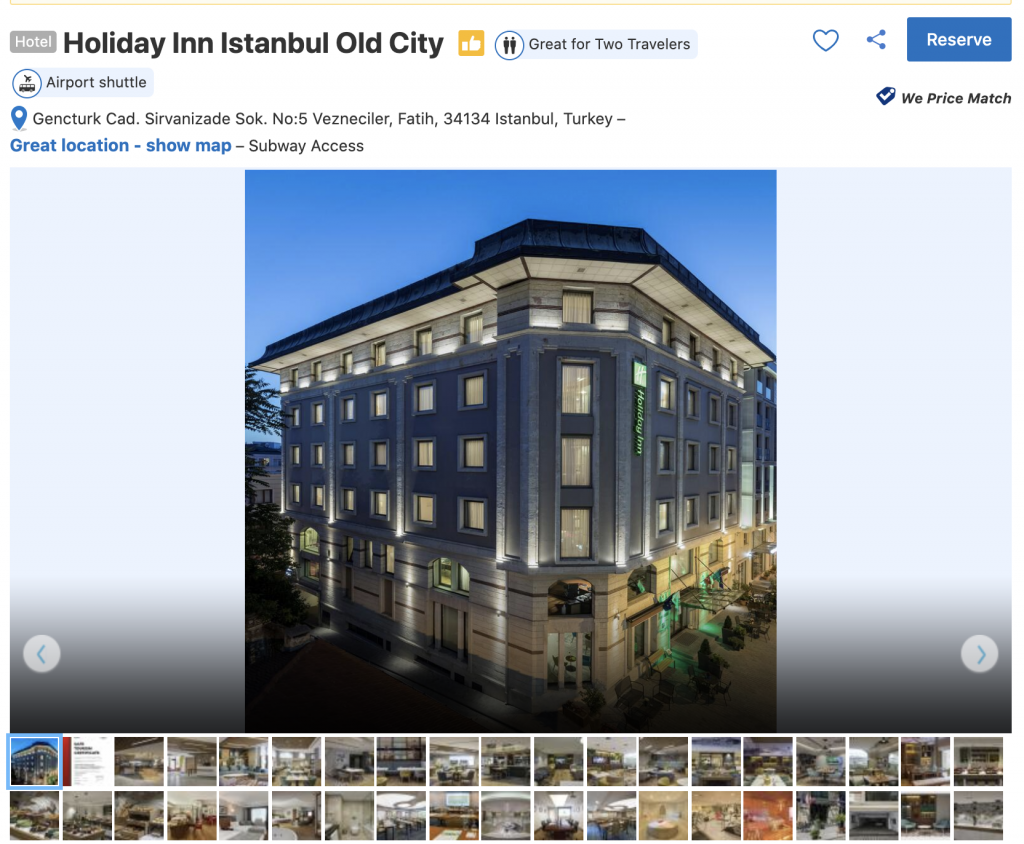 ocated in the Old City of Istanbul, Holiday Inn Istanbul – Old City is a 12-minute walk from the Grand Bazaar. Among the facilities of this property are a spa and fitness center, business center, restaurant, free valet parking, 24-hour front desk and room service, along with free WiFi throughout the property. The hotel is close to popular attractions like Sultanahmet Square, Hagia Sophia Museum, Blue Mosque, Topkapi Palace and Basilica Cistern.
Air conditioning, flat-screen TV, tea/coffee maker and mini-bar are standard in Holiday Inn Istanbul – Old City's rooms. Private bathrooms offer shower, hairdryer and free toiletries. The hotel has an open lobby where guests can enjoy all dining menu with local and imported drinks. A work station and board games are available for guests' use in the lobby.
The Modern restaurant and bar offer international and Turkish cuisines with vegetarian and gluten-free options.
At the spa, guests can relax in the traditional marble hammam or schedule a foam massage. There is also a fitness center to train before heading out to explore Istanbul's tourist attractions.


https://bwpremiercappadocia.com/?dil=en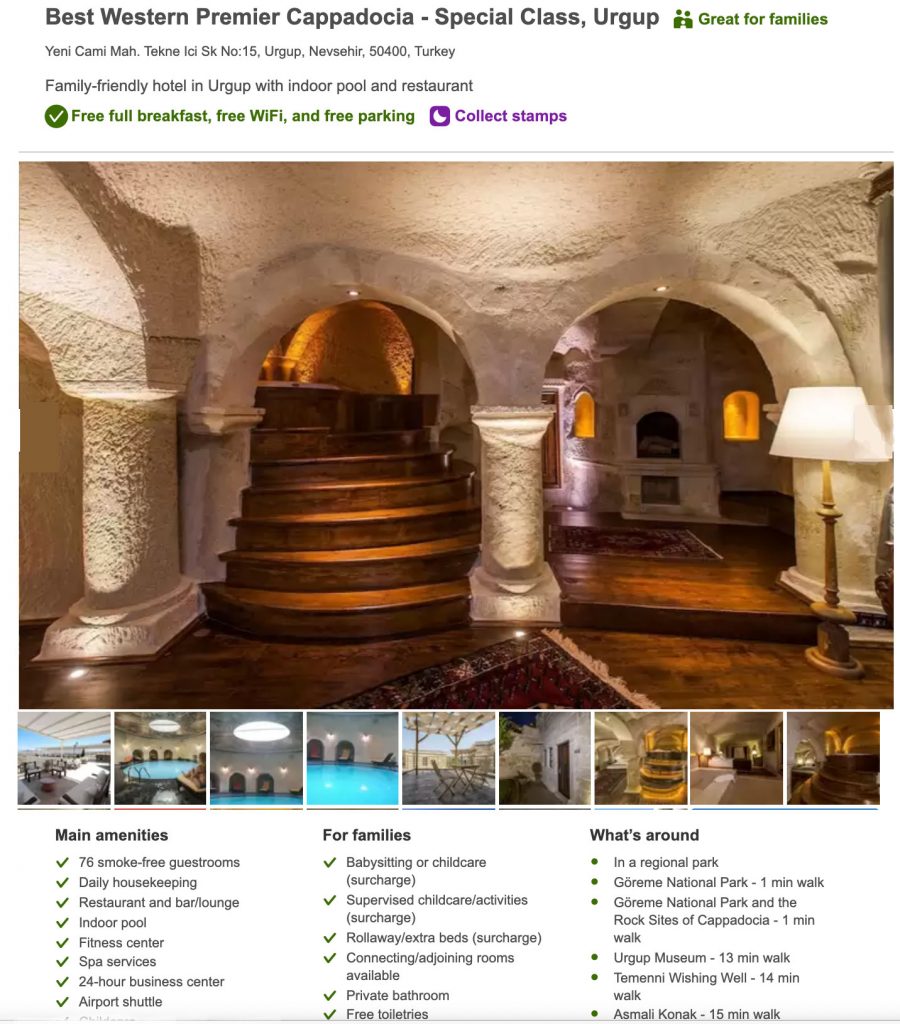 est Western Premier Cappadocia is an ideal Nevsehir lodging choice for your trip to Turkey. With numerous amenities for guests such as room service, premium movie channels, 24 hour front desk, you will wake up at Best Western Premier Cappadocia feeling ready to go every day for your time in Nevsehir. Don't let this amazing reservation opportunity pass you by, book your stay at Best Western Premier Cappadocia today to make the most of your time in Nevsehir, Turkey.

Here's what else you can look forward to:
Amenities
Room Service
Premium Movie Channels
24 hour front desk
Restaurant
Refrigerator
Hair Dryer
Alarm Clock
Currency Exchange
Ice Machine
Business Center
 All prices are per person twin share.  Single rooms limited per group and a single supplement applies.  Cost set by hotel/cruiseline and vary considerably.  AFS will find you a roommate match. All hotel rooms are "run of house."  

Please review AFS Terms and Conditions as well as Heading Abroad with AFS.  

Land – Price based on a minimum number of trip participants, as well as local currency exchange rates which can fluctuate.

We write our itineraries over a year in advance. Though unlikely, we always reserve the right to modify schedules, tours and 

hotels if necessary. 

Group air – Airlines may add surcharges to offset fuel inflation or taxes. The total ticket cost is not final until we receive your final payment and the group is ticketed. If doing own air, airport transfer may or may not be included depending on your air schedule. Do not buy air until the group air is set or we advise – though unlikely, airlines, times and dates can change!
Print
AFS TURKEY TRIP TIPS
Prepare to be thrilled by our Turkish delights adventure in an exotic land like no other. Our many past groups love Turkey for its rich heritage, warm hospitality and endless fun, from ballooning over lunar landscapes to rejuvenating Turkish baths.  At present we have a wonderful group of 28 travel lovers with a few spaces open so do tell your friends now.  Your trip leader Carol knows most of you AFSers and we welcome our new travelers. Buckle up for the joy ride to come!  After final payments are in, we will send you the contact and room lists.
March 29 update – Thank you for joining us. Together we will adapt to new norms for the privilege to travel. We've guided groups around the world over 34 years. Your safety and well-being is paramount to us. Read our AFS pledge below.  Things are changing weekly in each country now. Airlines are reinstating flights. Safety protocols and entry rules are ever evolving. No need for you to google country/.gov/CDC sites because these rules will  change before your departure.  Our expert and vetted supplier team has the most accurate info which they monitor daily. Will update you here with changes. As vaccines roll out fast now, we hope all restrictions will be lifted by your departure. Relax. Embrace the joy found in anticipation.
It is your responsibility to read our important emails and updated notes to these Trip Tips.  Let us sweat the small stuff as we strive to make your trip worry-free. This may well be the best time to go and fully enjoy your vacation!  Updates and addendums will be posted here.  Check back from time to time.
Note Sep 5 –  Covid Test Turkey from supplier…
 The Turkish airline announced that passengers travelling on domestic routes will be required to submit a Covid 19 vaccination certificate or a negative test result before boarding. This will be effective from September 6.  Our group guests would thus need to be fully vaccinated. If not, then before boarding domestic flight we need to have negative report at most 72 hours before. Cost for the same is USD 20 Per Person which passengers can pay directly. Test will be conducted in Istanbul.  Same rule is applicable for before boarding flight from Cappadocia to Istanbul. Cost will be USD 25 Per Person.
For return Journey (before boarding flight for home)
All passengers require negative RT PCR Test report at most 72 hours. This test will be conducted in Bursa. Cost for the same is USD 25 Per Person which passengers can pay directly.
——————————————————————————————-
Your fearless GTL Carol Huntington (Gracious Trip Leader, not a guide but liaison between our guides and group to ensure things run smoothly.)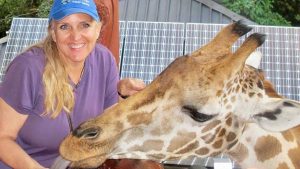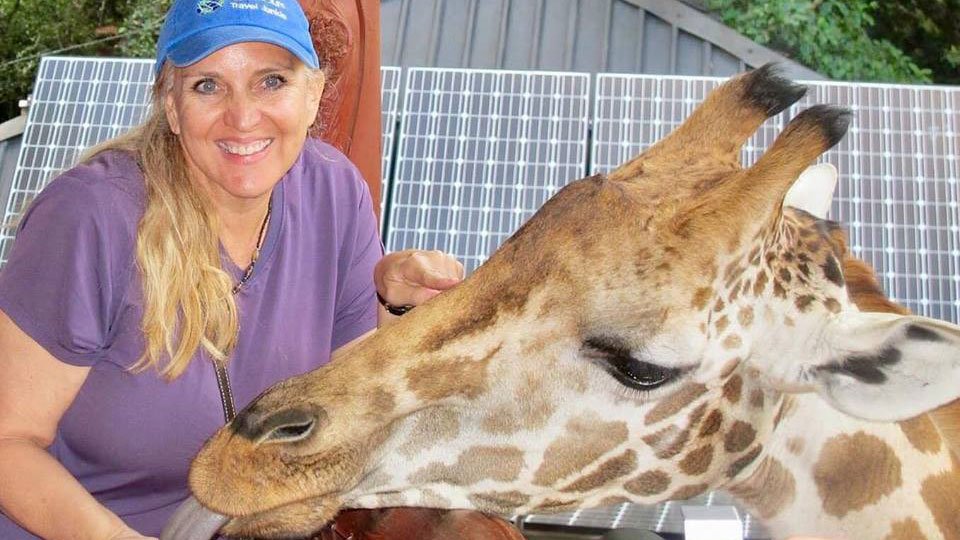 Carol has been on 20+ AFS trips over the years and has led many of our solo travel tours. She has been a ray of sunlight to each of those groups. She has a passion for seeing the world and experiencing new cultures. Having traveled to over 92+ countries and all 7 continents, she continues to pursue her dream, while working for the past 25 years in the banking industry. Her goal is to build relationships, problem solve and keep clients happy. She genuinely cares for people and is cool under pressure. These are great qualities for the business and the travel world.  During a recent sabbatical, Carol coordinated and lead a once in a lifetime journey around the world, visiting 13 countries! Carol's excitement to discover new things is complimented by her unique ability to get along with and relate to people of all backgrounds. She has a deep understanding of new and seasoned travelers with a knack to inspire all. Carol is all about the experience: from skydiving to trekking with the gorillas in Rwanda, leading a group to climb Mt Kilimanjaro and always making many new friends along the way.
=======================================================
Trip Prep:
Read the revised Heading Abroad with AFS, especially if you are new to AFS.
Ensure your passport is valid 6 months after return date with two blank pages.  We recommend renewing your passport well ahead of any planned international travel. Take a photo of your passport to store in the cloud or bring a copy.
To speed through US Customs download Mobile Passport.  Look in your App Store for details.
Notify bank and cc company of travel dates so they don't block charges.
Vaccines are rolling out faster than ever now. Be patient. I just got mine feeling it will eventually be necessary for travel. Many countries now are eliminating Covid test and quarantine for vaccinated visitors.  Don't laminate vaccine card as some countries won't accept it.  You can take photo of both sides and store on phone or copy both sides and laminate the copy.
All airline Covid rules differ.  Good news – no PCR test needed with proof of vaccine.  It is imperative to read your airline rules to ensure a smooth departure!  Click here for the latest info on PCR tests required to travel abroad.  Failure to get the correct test may cause the airline to turn you away.

Another update here June 13. Some still asking about group air. We sent emails and updated

Trip Tips

. Again, we released the seats on TK as only 3 were interested.
VISA –   Turkey now requires a travel Visa.  The new electronic visa is easy and you'll get it instantly. Good for only 90 days. Best to wait and do later in mid or late August.  
STEPS TO APPLY E-VISA FOR TURKEY   https://www.evisa.gov.tr/en/
STEP 1 : APPLY     You can check if you are eligible for e-Visa by clicking "Main Page > Apply" and selecting your country/region of travel document. Each traveler must obtain a separate e-Visa. You can find out about the e-Visa fee by clicking "Main Page > Apply" and selecting your nationality.
STEP 2 : PAYMENT     After you receive the "e-mail address verification message" within an hour, you must click the "approve" button and proceed with the payment within 48 hours. Otherwise, your application will time out, the system will not accept payment, and you will need to create a new application. You can only make payment by Mastercard, Visa and UnionPay credit/debit card. The card is not required to be under your name. Kindly make sure that your card has "3D Secure System" and is open to international transactions. The e-Visa fee can be made only in US Dollars.
Kindly inform the e-Visa Support Desk (Main Page > Contact Us > Contact Form) should you encounter any errors  during it, please do not create a new application or make a new payment unless otherwise advised. The Ministry will not be responsible for additional payments and no refund will be granted in case of such unfinished transactions.
STEP : DOWNLOAD  After you make payment, the link to download your e-Visa will be e-mailed to you. Passport control officers at the ports of entry can verify your e-Visa in their system. However, you are advised to keep your e-Visa with you either as a softcopy (on tablet pc, smartphone etc.) or as a hardcopy in case of any failure in the system. Once the e-Visa is processed, none of the information on it can be changed. The information on your e-Visa must be exactly the same as the information on your travel document. Otherwise, your e-Visa will be invalid and there will be no refund for it.
Fitness level – 2   (No trouble walking.)
Group Air –   it is wonderful to fly together on a great nonstop schedule we had arranged on Turkish. Sadly not enough chose this so I released seats.
Turkish Airlines (TK)  from New York is your most reliable choice for direct route, no PCR test, perfect schedule times, low price and dependability. Also for new safety protocols rated by Sky Trax with a diamond status certification
5 Oct -21 : JFK/IST     flight TK 12 –
13 Oct-21 : IST/JFK     flight TK 1 – 130 PM / 520 PM
Check-in at least three hours prior. Upon return, allow yourself at least two hours for connecting flight home.
Doing Own Air–  Oct 5-13 roundtrip to IST.  Trip dates are firm.  You may arrange your own air from your hometown.  We like Google Flights and Skyscanner.   New:  In today's air & hotel landscape, avoid booking tickets on third-party booking engine is like Expedia,  hotels.com and more. It's near impossible to change your ticket. Use sites only to view air prices. Then go directly to the airline  or hotel website and book through them for your best protection and price.
Airlines to Turkey include; Turkish Air, Air France, KLM, United, British, Lufthansa, Qatar and Emirates.  If you need help getting your own air, call our friend Raj who's an air expert at (281) 912-9173  raj8travel@gmail.com  Give him your exact airdates, destination, passport name and details with birthdate.  (If you go early and check-in AFS hotel before group arrives, it's your responsibility to change rooms with your roommate if necessary day one when trip begins. ) All should check airline websites often for any new CV news or schedule changes now.  Airlines or the country may require a Covid test prior departure.  See testfortravel.com and more below
• Air update (June 2021). Everyone, check your flights! Airlines are canceling routes left and right now, Many won't even inform you by email that there's been a change. If your flight has been canceled, they MUST rebook you book on any other carrier to accommodate your schedule. Stand firm. If you're not getting anyplace ask for their supervisor.   (Good news, conversely many airlines are adding other new routes which be a better fit for you.)  
Transfers-  We get only one airport transfer in and out to hotels.   Based on TK air JFK schedule above.  If your flight time coincides with the group, you may take our single airport group transfer.  It's your responsibility to find the group as they exit baggage claim.  If your flight time falls outside the group, you'll need to make your own transfer arrangements.  Consider Uber or sharing taxi ride with group member.
Meet Up With Group- On OCT 6  a time will be set to meet the group at the hotel for a briefing. More on this later.
Baggage– Think light to ease your burden, not like you're fleeing your homeland.  You change hotel properties several times. 1 carry-on bag& 1 medium suitcase not to exceed 45lbs – weigh on a bathroom scale – are ideal. This weight limit is set for our porterage and luggage vans.  If you overpack by adding side pre-or post-trip luggage, make prior plans as to where to stow the excess luggage. You may be responsible for any overage charges. The new hard cases are difficult to fit in coach storage. Be sure to attach ID to both bags. Leave space for great souvenirs.
Packing – Check Google Weather a week prior to departure. Temps should be 65 to 75 degrees.  Read Packing 101 in Heading Abroad with AFS https://www.afstravelers.com/heading-abroad/  Pack your hygiene kit and munchies in clear plastic bags.  Airport and inflight food service may be limited.  This trip is so easy. Simply pack summer clothing with a light jacket for nights and long flights. Think umbrella, daypack, wide-brim hat, sunscreen, comfy sneakers, swimsuit, wet shoes for baths.  Ladies dress more modest here – this means being covered to knees and elbows. Bring a head scarf for religious sites.
Electric– Bring EU 2 round pin plug.  Don't forget a portable backup charger, cords, gadgets, etc. Cell phones and tablets do not need a converter; you only need an adapter plug.  AFSers often leave charger cords in room, so be sure to double-check your room before check out. All properties have hairdryers.
See https://www.skyscanner.net/news/international-travel-plug-adapter-guide
————————————————————————————–
Money Matters – You will need some cash for personal tipping, meals, and shopping. $300 – 400 in cash should suffice. (Venmo may be convenient at home, but useless overseas, ATM may eat your card.  Always bring some cash!)   Change currency arrival at airport, bank, or hotels or withdraw local currency from an ATM.  Note -independent ATMs are risky due to skimmer scams. Safest ATMs are at airport and banks. Always shield your pin number when entering. Avoid using unless it's an emergency.
Currency  Exchange Rate  $1= 7.40 Turkish Lira
Follow the link below to create a conversion cheat sheet
Bring New Bills (dates after 2016) as countries may not accept older bills when changing money.
Credit cards are far safer than using your debit card. I convert half of it upon entry. I use my credit card for most purchases.  Many cards now offer no foreign transaction fees.
Gratuities – (Prepaid)  It's protocol to tip our local guides, assistants, porters, drivers and ground staff. Guidelines have increased globally, but around $10 to $15 per day should cover all for the trip.  A $85 total will be added to your invoice. Please understand this is only the suggested minimum.  For ease of distribution, your GTL will tip the different ground services for the entire group each day.
Tipping on own – If service is stellar, feel free to give more directly.  All we tourists leave behind is our reputation. I personally carry a personal stash of US ones in an envelope to draw from as needed. Bell staff/porters – AFSers roll bags to their room.  If you use a porter, please tip $2. Restaurants – 10%. For group lunches or dinners, please leave a dollar or two for waitstaff!
—————————————————————————————-
Communication–With smartphones, be sure to check with your provider for rates and coverage for international phone plans before departure. Data Roaming rates can be expensive. To reach home – Texting, iMessage, WhatsApp, and Facebook messaging when using WIFI. Without VPN never open attachments or view financial or personal accounts on the Internet while abroad.  Phone calls, text messages, and data usage of all kinds, it is crucial to understand that, unless you are connected to Wi-Fi, every use of your phone incurs a data toll. That means that viewing and downloading email, browsing the web, viewing social media, and mapping all incur data charges, as do applications that we sometimes assume to be "free," such as Skype and WhatsApp. Unless you are connected to Wi-Fi, however, WhatsApp is using cellular data, so you are getting charged at your provider's international roaming data rate.  You can buy a SIM card or another option for affordable data in many countries abroad is Skyroam. All the data you want to use Bluetooth for to access your devices are for just $10 per day for 5 devices. See https://www.skyroam.com for details.
Get Smart: Avoiding Hackers on Vacation.  Thieves not only want your money but also your data.    Change passwords often. Check device security settings before you leave for your trip. Back up, update, and encrypt your devices and data using a virtual VPN.
In hotel rooms, hide iPods or laptops to avoid "evil maids" that want to clone your tech.
Bottled water is always best abroad, as our gut isn't accustomed to local tap water. Eat clean food and avoid street vendors.
Pickpockets are everywhere now, especially at night.  Never carry your passport outside of the room.
It's wise to grab a business card from the desk before heading out on own.  To get back just show the card to a taxi driver- no memory or English needed.
Photography – Before taking pictures of locals, know it is polite to ask.  Your AFS Private Facebook Group Page is a great way to share your best shots with each other. AFS loves photos with group participants (not typical churches, monuments, or any shot that looks like you pulled it off of the net, etc.) for our website. The best photos are ones that include a group member with a local, children, animals, or at iconic sites in the same frame!
Retail Therapy – Fine rugs, jewelry, pottery, perfume oils, handicrafts, antiques, embroidery scarves, quality leather goods, designer knock-offs, coffee and spices.  Endless delights!  Google for specifics.  Bargain all! Especially in markets and the Grand Bazaar.
Websites of Interest:  https://www.goturkeytourism.com,    https://visit.istanbul/,
 Chewing-  Spiced meats like Köfte (meatball),   lahmacun aka 'Turkish pizza', kebaps, manti (dumpling), One of Istanbul's most iconic tourist snacks, balık ekmek is a sandwich containing grilled fish, onions, and salad, karnıyarık is baked eggplants filled with seasoned minced meat and parsley, then covered in a tomato sauce.  Great breads. For sweets, fill your bags home with dates and Turkish Delight.
Accommodations – Please see the itinerary Hotel tab for details.  Hotels can change, but it's rare. You can Google these or see web.
Roomies – Single supplements have significantly increased – if available at all.  Save money and buy yourself an awesome local gift. We all live alone, but save money when traveling by rooming together. Suzy spends a lot of time on roommate matching.  99% of our clients are wonderful and you're only in your room to sleep at night.   Note, kindness begets kindness.
Leisure Time –  For your free time, it's best to arrive and ask our local expert guides for suggestions.  We notice many newer clients pre-plan many activities on the AFS trip well before they arrive, often with disappointing results.  Our daily itineraries are pretty full, but there will be some free time. Expert travelers revel in the element of surprise in a new destination and allow the wind to blow them where it will. Use Google Maps on your phone to find everything nearby.
Amending tour pre-or post-trip or arranging private tours during free time.  We often see many AFSers on Facebook urging others to join them to countries before/after our trip. Stopovers are great to add, but understand AFS has nothing to do with this and is not responsible for the quality of these trips.
Private Facebook Group Page  – The benefit of the Private FB Group Page is that you have an opportunity to introduce yourself to your fellow travelers before departure and share trip photos during and after the tour.  Where can I find the FB link? Ask us for an invite.
(We found that some never read the Trip Tips jumping right to the Private FB Group Page assuming they will get all trip info needed. Often, they only receive rumors and misinformation. All important information is ALWAYS emailed to each participant and posted here in Trip Tips under UPDATES. Nobody misses a thing.)
Emergency Contact – AFS Phone 770-432-8225, or email us at https://www.afstravelers.com/contact-us/  and more contacts will be provided with your Final Docs email 2 weeks before departure. Your guide can handle all home for true Emergency.  Do not expect to use your trip leader's cell phone; you'll need to use your own cell phone.  3 weeks prior to departure more details on this will be emailed.
Cancellation Penalty:  At booking, we sent you our terms and conditions. Open the following link to review our terms again: https://www.afstravelers.com/terms-and-conditions/
Travel Insurance– If you would like the security of travel insurance and have a pre-existing condition (elderly parent, medical, etc.) or want to be covered for Covid caused delays, you must purchase insurance within 15 days from your initial trip deposit in order to assure full coverage.  The trip cost can be amended or adjusted as needed after your initial purchase (eg. adding an air ticket cost later). You can buy travel insurance at any time, just know that there may be some possible limitations if purchased outside the 15 day period.    All provide trip cancellation (not from fear), trip interruption, added medical protection. Call them to understand coverage. We are not responsible for any additional cost to do to quarantine or illness
Travel Psychology 101  – Prepare for your departure joyfully with no contempt before investigation upon arrival. Please understand that with travel, things are not like at home and changes may occur. Great trips work best for those with an open mind, flexible attitude and adventuresome spirit.  If changes occur, embrace them with serendipity. Who knows?… The unexpected may prove to be a better experience.  Adapt and go with the flow with a laid-back attitude.  Be spontaneous. Be tolerant of foreign cultures in respecting their centuries of traditions. Embrace the differences. Be curious, not shy. Smile – locals will sense your energy of kindness and kindness always begets kindness.  Our common goal is to experience different cultures, make new friends, get great photos, have large fun, and return home safely with memories worthy of recollection.
The best spirit of an Explorer requires the openness of a child – Suzy
"When traveling, remember that a foreign country isn't designed to make you comfortable.  It's designed to make its own people comfortable." – Clinton Fadiman
Please note that AFS is non-partisan – With our homogeneous groups, we all want to focus on the common denominator – our love of travel.  In today's divisive world, we suggest members not discuss politics and if you must, please practice my rule of TOK:  Tolerance, Open-mindedness and Kindness.
Covid News
Book AFS with Confidence 2021– The health of our Travelers comes first. As the world slowly opens, we are dedicated to creating responsible adventures!  All our trips are different, so specific plans in each region may be circumstantial. We work closely with our local suppliers to know the best practice in each country. That being said, we present a blanket procedure below to be followed on ALL AFS trips. Our local guides will brief you on arrival with the support of our Trip Leaders to ensure we follow local safety protocols. They are fully committed to aiding your well-being.
We will re-discover the world through more slow, easy and mindful travel. Our groups will be smaller.  All clients must take the AFS pledge that they are Covid free and will follow all safety protocols.  Booking travel now is complex because rules always change. Tour companies can't become "health and safety experts" when policies are inconsistent. Even experts are in the dark at times with the changing patchwork of government laws, but we'll do our best.  This is a learning process for all of us and as we go, we will strive to make each step as safe and seamless as possible for you.  Read all below on AFS detailed Terms & Conditions.
Thank you for booking! We are blown away by the support from all of you throughout this pandemic. It validates the trust and values AFS was built on over 30 years. As countries reopen, so will we. Travel is a shared experience. Together we press on and travel boldly. Below are new guidelines. We all must adapt and embrace any challenges with confidence for the freedom and privilege to travel.
As in life itself, travel comes with some inherent risk the minute we step out our door.   Travel isn't dangerous. Being irresponsible is. For your protection we want you to be proactive in following new health and safety protocols. They involve teamwork and personal responsibility, but they do not preclude you from having fun and enjoying your trip! Things constantly change and it's a huge challenge for airlines, airports, hotels, cruises and tour companies.  We will do our best to keep you up to date with any adjustments.
Please understand we reserve the right to amend any tour activities, if needed. To present responsible travel, we at AFS do our part: Our vetted suppliers uphold the highest standards under CDC guidelines.  At present, some international airlines may require a negative Covid test within 96 to 72 hours of departure. Details later as they come.  This may change as rules are always being revised.At present, you need RT-PCR test 72 to 94 hours prior to airline departure. By then, this rule may be eliminated. Don't stress, just refer to this if you need it. I've done 4 free PCR test runs with no problems.  Millions of passengers have gotten their PCR test to fly. You can too!Call your healthcare provider or Urgent Care near you. Or Google "free no cost Covid testing near me". Most state and federal programs provide this. Or Google airport to see if Test is available there (JFK $75). Rural areas are more challenging. You may need to drive to an appointment in a nearby city.  At present it's free at Walgreens and CVS. They will bill your insurance company of $119. (Best trick – if you say you may have been "exposed to a Covid person" or if you feel "symptoms" like fatigue or say CDC recommended, it must be free.Call or email to get appointment. Most are drive up. Schedule test within your 72 hours departure window, usually 3 days prior for email result needed in 24 hours. This way you still have a backup day in case you get a false positive. Bringf printed copy.New mail in-home kits – CDC announced today you can bring to do there for return into USA. (We will have tests at our resort if you want.) Note, however, outbound airlines won't accept this for departure.Don't forget to bring your vaccine card if you have one.

come.  This may change as rules are always being revised.

If you are in a high-risk group, it is suggested you do not travel.
It is your responsibility to check the resources below as well as your airline requirements for travel. You may need to show proof of wellness note. Click to see CDC , WHO
You may not travel if you have any symptoms such as sore throat, shortness of breath, fever and verify you have not been in contact with someone who tested positive for Covid in the last 14 days.
Safety measures on a trip; frequent handwashing, (bring personal sanitizer), exercise social distancing and wear a mask when applicable.
Helpful CV Resources–  Below are helpful links to facts and stats for you to reference as you gear up for all your travel domestically and abroad.
Facts about coronavirus-symptoms/transmission/precaution/treatment
https://www.who.int/emergencies/diseases/novel-coronavirus-2019/question-and-answers-hub/q-a-detail/q-a-coronaviruses
CDC entire situation summary
https://www.cdc.gov/coronavirus/2019-ncov/index.html\
US State Department Travel Advisories (Often old news)
https://travel.state.gov/content/travel/en/traveladvisories/ea/covid-19-information.html
We at AFS assure you we will continue to offer you quality trips to countries where you will feel protected – countries that are going to extraordinary lengths now to provide a safe visit. Each destination is far less crowded than ever before and that means better personal attention.  Planes are half full and we can trust our astute global suppliers when each country is clear to visit. We're taking great precautions and encourage you to remain positive.
Our Pledge to You – Our global, vetted suppliers uphold the highest standards under new CDC guidelines.
We ensure that heightened sanitation methods have been adopted in every place we visit and that all hotel properties and vehicles have passed cleanliness protocols.
Our guides and drivers must test negative and pass stringent safety measures.
Most of our groups will be limited to half the size of normal in the past.
We are choosing destinations with wide-open spaces for physical distancing.
Some private tours for groups of friends only can be arranged.
We'll monitor your trip closely and provide a 24/7 emergency number if your trip is disrupted.
All clients must take the AFS pledge that they are COVID-free and will follow all the safety protocols.
We relaxed booking conditions with most trip deposits at only $250 and final payment deadlines from 4 months out to 70 days before departure.  This is a learning process for all of us as we go. We will strive to make each step as safe and seamless as possible for you!
Your Pledge to AFS  – We ask you to assume personal responsibility to protect your health and the well-being of your fellow travelers, guides and locals.
Read and print all updated Trip Tips on AFS website
Get travel insurance with trip interruption
Stay healthy with vitamin D and zinc
Confirm within 14 days of departure but you have no symptoms of Covid nor being in close contact with anyone diagnosed with it.
You agree to assume any risk of participating in trip activities, comply with applicable government, airline and health authorities.
Exercise social distancing and local guides directions whenever possible.
Sanitize your hands and phone throughout.
Read more here –  https://www.afstravelers.com/terms-and-conditions/
Rapid COVID-19 PCR Tests
Rules are changing daily! At this time, we must rely on each airlines policy. Read Covid rules at the top of airline website up to a week before departure. Every airline and country differs. 2 weeks prior, will send you final AFS departure letter with instructions specific to your trip. Please wait!
As of January 26, 2021, a rapid PCR test is needed to enter most countries and needed to return to USA. We hope this will be eliminated by the time your trip goes. RT-PCR (by nose swab) is only test excepted. No mailing kits. All tests are free or covered by insurance, but these may have a line to wait. Now appointments are taken. To get fast with no wait, make an appointment at private lab. They are now thousands of labs around US. Also, more testing sites opening daily with easy drive through. Just google "Covid PCR test near me".
Outbound – Most airlines require negative PCR test within 96 to 72 hours prior to departure. This new rule makes travel more challenging, but we must follow to protect ourselves and those on the flight. Read specific airline rules on website, also any rules on connections in transit. Those vaccinated still need to show a test.
Get RT-PCR test with guaranteed results within 24 to 48 hours. They email result to you. Print out to bring at check in. Also screenshot copy on cell phone. Test must read "PCR". (We've had nobody test positive yet, if so, call us 770-432-8225. Many tests are inaccurate and a re-test shows negative.)
Homebound – Airline may require negative PCR test to board departure flight. Each carrier differs. We hope this is eliminated by your trip date. If test is necessary within 72 hours of departure, we can help arrange test for group in each country. Details later by email.
Covid travel rules are mutating faster than the virus itself.  To keep all groups up to date with the lasted information, we created a page that's updated as needed.  Set a reminder for yourself to check the Covid page 3 days before departure.  
Please open and read about traveling and Covid Rules
Covid Test Turkey from supplier…
 The Turkish airline announced that passengers travelling on domestic routes will be required to submit a Covid 19 vaccination certificate or a negative test result before boarding. This will be effective from September 6.  Our group guests would thus need to be fully vaccinated. If not, then before boarding domestic flight we need to have negative report at most 72 hours before. Cost for the same is USD 20 Per Person which passengers can pay directly. Test will be conducted in Istanbul.  Same rule is applicable for before boarding flight from Cappadocia to Istanbul. Cost will be USD 25 Per Person.
For return Journey (before boarding flight for home)
All passengers require negative RT PCR Test report at most 72 hours. This test will be conducted in Bursa. Cost for the same is USD 25 Per Person which passengers can pay directly.
For return Journey (before boarding flight for home)
All passengers require negative RT PCR Test report at most 72 hours. This test will be conduct in Bursa. Cost for the same is USD 25 Per Person which passengers can pay directly.