Gorillas in the Mist with Chimp Safari
August  5 – 13, 2022   
"Nothing can prepare one for the thrilling impact of encountering a full-grown silverback gorilla, up to three times the size of man, yet remarkably peaceful and tolerant of human visitors."
Small Group of 18 max

Join us on a once-in-a-lifetime journey into the heart of Africa.  High in the mountain jungles, 18 of you fortunate travelers will live the ultimate safari dream in tracking the elusive mountain gorillas in the wild.  This is a Livingstone type of adventure in itself, but the greatest reward comes form being able to get close as to these great apes just as Diane Fossey did.  Uganda's Bwindi Impenetrable Forest, UNESCO World Heritage Site of 200 square miles, is one of the last remaining refuges for these endangered human-like creatures.  As of this printing, there are just 604 left on earth.  There's nothing more humbling than being charged by a silverback or watching the playful suckling infants.  Just one moment will take your breath away.  As you follow the footsteps of your professional tracker, it takes patience and stamina but the payoff is unforgettable.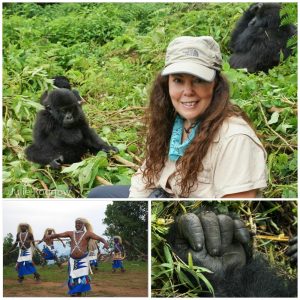 It's a photographer's dream here with lush mountain slopes, emerald lakes and dense rainforests.  You'll enjoy multiple game drives in Queen Elizabeth National Park.  See a wide array of wildlife from leopards to zebras as well as the famous tree-climbing lions.  This region holds 126 species of mammals, 346 species of birds, 202 species of butterflies and 163 types of trees.  Along the way you will experience a Chimp Walk,  cultural immersion with friendly villagers, boat trips, colorful markets for handicrafts.   Our past groups loved this trip.  You'll be pampered throughout with fine lodges that serve fresh delicious local cuisines.  This our 7th AFS group here.  We spent months trying to get you the best value with much included compared to other tours here.  
August is the perfect time to go.  Gorilla and Chimp permits are limited to only 18 tourists per day with reservations 2 years out.  Your vacation not only benefits you, but also contributes to the Gorilla Habituation Fund and aids local communities with sustainable tourism.  
 Mountain gorillas can only live in the wild, so the only way to see them is to trek into their natural habitat.  Sitting in silence for 60 minutes on the freezing ground of a Ugandan forest can be one of life's greatest luxuries.  There are less than 604 mountain gorillas left in the world, so gorilla trekking is a unique opportunity to observe these gentle, enigmatic primates in their natural habitat.   This will fill quickly.  Now is the time to book this epic adventure for the rarest encounter in the world!

Our Glorious AFS Itinerary

Print
Aug 5 – Depart USA to Entebbe Uganda. Full details to come in our AFS trip tips soon. Entebbe is a small quiet town on the shores of Lake Victoria with many things to see and easy to explore.
Aug 6 – Arrival – Entebbe –Kampala – 42km.
(Land begins) On arrival at the airport, you will be warmly welcomed by your Safari Guide from Churchill Safaris who will then transfer you to Kampala for the overnight at Papyrus guest house           B
Aug 7 – Kampala – Kibale Forest     (450KM  5-6 hours)

After breakfast, you will depart Kampala for Kibale Forest National Park arriving in the afternoon. The word Safari means Journey or to move on.  We have some long drives but scenic roads in our fun safari vehicles make them enjoyable.   Kibale Forest is a large protected block of rainforest, which has the highest number of primates in Africa such as Chimpanzees, Grey Cheeked Mangabey, Red Tailed monkeys and Red Colobus. Other optional and affordable afternoon activities include a unique walk-in Bigodi Wetlands Sanctuary or a Crater Lake hike through local villages and tree plantations or relax in the afternoon.

Overnight at Nyaika Hotel    F/B (= Full Board)  
Aug 8  Kibale Forest – Queen Elizabeth National Park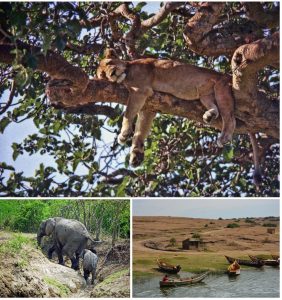 Chimp walk!  This morning, experienced guides will lead us for chimp tracking and be part of the team that goes to study the behavior of these primates in order to make them get used to human beings. The trek may be strenuous since primates are always on the move but well worth it, as our past groups loved this experience.   Spend the whole morning in the forest returning to the lodge in time for lunch.
Later in the afternoon, you will depart Kibale and then head for Queen Elizabeth National Park having a Game Drive while entering the park arriving in the evening. This park of 1978 sqkm lies on the western rim of the Great Rift Valley.  It's little wonder that Queen Elizabeth boasts one of the highest biodiversity ratings of any game park or reserve in the world, – from the open Savannah to Rain Forest, dense Papyrus Swamps and brooding Crater lakes to the vastness of Lake Edward.
Almost 100 mammal species that include Lions, Hippos, Buffaloes, Leopard, Spotted Hyena, Elephants and the elusive Giant Forest Hog plus remarkable 606 bird species that include the Black Chested Eagle, the Swallow Tailed Bee Eaters, to mention but a few.  The Primates include Chimps, Black and White Colobus Monkeys, Blue, Black Faced Red Colobus, and Red Tailed monkeys and Olive Baboons, Reptiles are the amazing huge Rock-Python, Puff adders, Spitting Cobras, Gabon vipers, Green Mambas, and Turtles etc. All these are regularly sighted around the tourist village on the Mweya Peninsula and all this makes a superb safari territory.
Overnight Baboon Safari Resort                  F/B 
Aug 9  Kasenyi to Queen Elizabeth National Park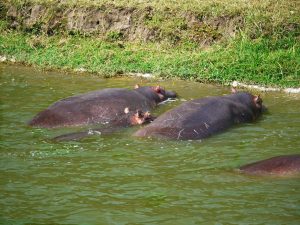 This morning, we will go for a morning Game Drive to the Kasenyi area returning to the lodge in time for breakfast.
Relax and then later go out for the afternoon boat trip along the Kazinga Channel in Queen Elizabeth NP.   Hippos huff and spray mere feet away from the boat, Buffalos linger in the shallows, a tremendous variety of birds grace the grasses on the shores.  Great White and Pink-Backed Pelicans, Great and Long-Tailed Cormorants, Open-Billed Stork, African Jacana, Malachite and Pied Kingfishers are commonly seen.  Great photo ops for shoreline villages and the Mweya Peninsula.
Overnight Baboon Safari Resort                  F/B 
Aug 10 –  Queen Elizabeth – Southern part of Bwindi  
After breakfast, you will have a game drive as you depart Queen Elizabeth for the southern part of Bwindi passing via Kabale with beautiful scenery of hills and valleys in between and terraced farming arriving at Lake Mulehe Gorilla lodge in the afternoon. This is a lodge on the shores of Lake Mutanda which overlooks the Virunga Volcanoes near Kisoro in the southwest.
Bwindi Impenetrable National Park is considered the most diverse forest in East Africa. The dense ground cover of lush lowlands and mountain habitats creates a rich ecosystem for many wildlife species – particularly the endangered Mountain Gorillas, with only 604 left on earth.  You will need to have a good night's rest to get ready for the following day's gorilla tracking.
Relax after lunch
Overnight at Lake Mulehe Gorilla Lodge            F/B
Welcome to Lake Mulehe Safari Lodge 
Welcome to Lake Mulehe Safari Lodge, we would like to make your lifetime dream of visiting Uganda come true by providing you a private and peaceful environment to stay and we will go an extra mile to make sure your stay is a memorable one!   The Lodge is a Peaceful Oasis where silence is broken by crickets, it is a destination of diversity, energy and culture.   
You can explore the wilderness and be pampered in splendor.  More activities include tracking the Golden monkeys in Mgahinga or Echuya Forest, enjoy the canoe boat cruise on lake Mulehe & experience the Bafumbira culture when you take the community walk and more.  
Aug 11 – Gorilla Trekking –Bwindi southern group

After breakfast at the lodge, we travel to national Park headquarters and meet our expert guides for the day to begin our gorilla tracking experience. After a full briefing, our guides and trackers will accompany us on an early morning trek into the dense rainforest on the mountain slopes. The journey through dense foliage and up steep climbs is abundantly rewarded with the lifetime experience being with these extremely rare massive primates. Usually, you smell the apes before seeing them. Suddenly from the silence, you'll hear their grunts. You may see a range of ages in the family including the silverback, patriarch of the group. You'll get within meters of the family and be privileged to spend time with them. This is an experience you'll never forget!

In the afternoon relax at the lodge. Time permitting, optional activities will be offered visit to experience the Bafumbira culture, an orphanage, boat cruise on Lake Mulehe or forest visits.  Also ask your lodge about a visit to the Pygmy people.

Overnight at Lake Mulehe Gorilla Lodge             F/B    
Aug 12-  Bwindi – Lake Mburo
This morning you will depart Bwindi for Lake Mburo National park enjoying a Game Drive while entering the park. This is Uganda's 4th largest National Park of 260sqkm of grasslands, wetlands and Acacia Woodland habitat.   Lake Mburo is an extension of the Tanzanian Plains with big herds of Zebra, Impala, Eland, leopard and other savannah species. For birders, this is one of the best places to find African Finfoot, Papyrus, Bush Shrike, etc. In the evening another joy-filled Game Drive when predators are most active.  A boat cruise can also be arranged to see hippos and crocs.
Overnight at Rwakobo Lodge            F/B

Our rock lodge sits on a hill with a scenic view over the park. There are 8 cottages spacious and a pool for your stay.  They offer an amazing dining experience that overlooks the water hole that attracts zebras, impallas, bushbucks and plenty of warthogs. You'll get a taste of the freshest food prepared by experienced chefs. Fun bar and free wifi.
Aug 13 –  Lake Mburo – Kampala – Fly out
After breakfast, you will depart Mburo for Entebbe.  Later, catch your evening flight back home.


Land Price $2695 pp twin share based on minimum 18 participants  plus $700 Uganda gorilla permit 
Deposit  $700 (to secure permit)
Included
Chimpanzee permit ($200)
Internal flight back to Entebbe
All Meals and accommodation as per the itinerary on F/B and B/B basis.
All ground transportation in a comfortable 4×4 vehicle.
Park entrance fees.
Services of a full-time English-speaking driver/guide.
Water, coffee or Tea while on safari.
A boat trip in Queen Elizabeth
All game drives.
All airport pickups and drops.
All activities at stipulated in the itinerary.
And all government taxes/levies.
Not included:  Gratuities for guides, hotels staff, drivers (est. $100 for trip), visas

Land prices per person twin share. Trip price based on a minimum number of participants.

Single rooms limited with $ supplement.  Cost varies.  Email us for availability.  AFS will find you a roommate.

The earliest we present group air is 10 months prior. We'll send email to ask who wants it.  A minimum number of 12 is needed.

Please review AFS Terms and Conditions, Heading Abroad with AFS, Covid Policy.  Travel insurance is important nowadays.  It's rare, but we reserve the right to modify schedules, tour and hotels.

Read Trip Tips on its own tab next itinerary for latest details. 
Print
Trip Tip to come.
Prepare to be thrilled by a gorilla trek experience like no other.  First, we thank you for your trust in booking this AFS trip. Together we will adapt to new travel norms for the Privilege of Travel.  We are constantly adapting to ever-changing developments to ensure you'll have a safe journey.  Carefully read the "AFS Confidence Pledge" below. Our vetted local teams in each city are fully trained in the latest health and safety protocols according to WHO and are happy to greet you.  Things are constantly monitored. Do not Google your destination on State/gov/CDC sites as they are often outdated to the updates our expert suppliers have.
It is your responsibility to read our important emails and updated notes here.  Let us sweat the small stuff as we strive to make your trip worry-free. This may well be the best time to go and fully enjoy your vacation!  Bookmark this page to conveniently find your way back.
Trip Tips are designed to answer trip-related questions. It's your responsibility to read this information.  Updates and addendums will be posted here.  Check back from time to time.
Covid Travel Rules are ever-changing depending on country and time of year.  Therefore, I created a single Covid rule page so everything can be up-to-date for participants on our trips.   Covid Rules Click Here
IMPORTANT  DATES
FINAL PAYMENT DUE May 2, 2022.    Our new data management system allows you to pay by check electronically without a fee. Simply follow the instructions. Credit cards will be assessed a processing fee at time of purchase.  As a small business, this helps mitigate costs and allows us to give you the very best price.   If you prefer to use the mail, make your payment to AFS or Adventures For Solo Travelers, 1907 Daniel Green Ct., Smyrna GA 30080
Trip officially begins Aug 6 and ends evening on Aug 13—————————————————————————————-
GTL (Gracious Trip Leader, not a guide but liaison between our guides and group to ensure things run smoothly.)  None.  This is a very small group and you will be hand carried upon arrival.  It would add too much to you price to have a GTL just to greet you.
=======================================================
Trip Prep:
Read the revised Heading Abroad with AFS, especially if you are new to AFS.
Ensure your passport is valid 6 months after return date with two blank pages.  We recommend renewing your passport well ahead of any planned international travel. Take a photo of your passport to store in the cloud or bring a copy. Scan your important documents – Covid tests, trip tips, passport etc. If you lose your passport, US embassies now except a digital copy from your email folder on your phone to re-issue new one quickly.
To speed through US Customs download Mobile Passport.  Look in your App Store for details.
Notify bank and cc company of travel dates so they don't block charges.
Vaccines – I got mine feeling it will eventually be necessary for travel. Many countries now are eliminating Covid test and quarantine for vaccinated visitors.  Bring your vaccine card.  Don't laminate vaccine card as some countries won't accept it.  You can take photo of both sides and store on phone or copy both sides and laminate the copy.  Login to your trip file booking form and answer question about Vaccine Yes (or will) or No.  Suppliers want this info.
All airline Covid rules differ.  It is imperative to read your airline rules to ensure a smooth departure!  Click here for the latest info on PCR tests required to travel abroad.  Failure to get the correct test may cause the airline to turn you away.   It's your responsibility to know the airline rules that can change right up to departure. They won't speak to us with reservation in your name. All websites post their Covid rules at top of landing page. All airlines in the process of making significant routing and scheduling changes now as they scramble ramping up hiring for the travel surge to come. How to reach them?  Call direct or request a callback time. Check to see if your questions can be resolved on the airlines mobile app or via Twitter or turn to their social media for assistance. Travelers get best results via Facebook message to the airline.
The local supplier and AFS may require you sign a Travel Pledge before departure.  If so, we'll email a form to you  prior.
Uganda visa – No longer can you get upon arrival. Cost is $100.  You will need the following for the eVisa process.   Passport personal details scan, Last page of passport (if applicable), Yellow fever vaccination card, Invitation letter (if applicable), Applicant photo   The official government eVisa site is  https://visas.immigration.go.ug
Covid Testing Rules tend to mutate faster than the virus itself.  Therefore a special webpage has been built so you can get the latest info… Click here  Failure to read this page can result in your airline preventing your boarding your flight!  Read the page, it's vital  https://www.afstravelers.com/basic-covid-info/
There is no mandatory quarantine requirement for passengers who have a valid negative COVID-19 PCR test certificate on arrival and do not show any symptoms of COVID-19. Travel from Uganda. If you are traveling from Uganda, you might be required to take a COVID-19 PCR test and present additional documentation at check-in.
Fitness level – 2   (No trouble walking.)
Doing Own Air–  Trip dates are firm.  Trip officially begins Aug 6, 2022.  Arrange your own air from your hometown.  We like Google Flights and Skyscanner.  We highly recommend that you not rush to buy air until a Group Air is set (when offered). If your arrival or departure times do not align with Group Air times, you'll need to arrange your own airport/hotel transfers.  If you need help getting your own air, call our friend Raj who's an air expert at (281) 912-9173  raj8travel@gmail.com  Give him your exact airdates, destination, passport name and details with birthdate.  If you go early and check-in AFS hotel before group arrives, it's your responsibility to change rooms with your roommate if necessary day one when trip begins.  All should check airline websites often for any new CV news or schedule changes.  Airlines or the country may require a Covid test prior departure.  See testfortravel.com  –  more later.
Everyone, check your flights! Airlines are canceling routes left and right now, Many won't even inform you by email that there's been a change. If your flight has been canceled, they MUST rebook you book on any other carrier to accommodate your schedule. Stand firm. If you're not getting anyplace ask for their supervisor.   (Good news, conversely many airlines are adding other new routes which be a better fit for you.)  
New:  In today's air & hotel landscape, avoid booking tickets on 3rd-party booking engines like Expedia, Google Flights, hotels.com and more! It's too difficult getting refund and it's nearly impossible to change your ticket. Use sites only to view air prices. Then go directly to the airline or hotel website and book through them for your best protection and price.
Transfers-  We will collect arrival and departure times about 4 weeks prior departure to assist with airport transfers.  Lights departing from to the USA leave early in the morning.  Our trip ends Aug 13, so do not get your return flight Aug 13 at 2AM as that's too soon.  AUG 13 after 10PM or later.
Meet Up With Group- On Day 1 a time will be set to meet the group at the hotel for a briefing. More on this later.
Baggage– Think light to ease your burden, not like you're fleeing your homeland.  You change hotel properties several times. 1 carry-on bag& 1 medium suitcase not to exceed 45lbs – weigh on a bathroom scale – are ideal. This weight limit is set for our porterage and luggage vans.  If you overpack by adding side pre-or post-trip luggage, make prior plans as to where to stow the excess luggage. You may be responsible for any overage charges. So many cool new luggage trackers with GPS available now to prevent lost baggage!  We like LugLoc, DynoTag, Samsung or Apple Trackers.   The new hard cases are difficult to fit in coach storage. Leave space for great souvenirs. Be sure to attach ID to carry-on and bag to assure your bag never gets left behind.
Packing –  Check Google Weather a week prior to departure. Temps should be in the the 65° low to 80° high.  There is not much rainfall in September.   Read Packing 101 in Heading Abroad with AFS
Pack your hygiene kit and munchies in clear plastic bags.  Airport and inflight food service may be limited.  This trip is so easy. Simply pack summer clothing with a light jacket for nights and long flights. Think umbrella, daypack, wide-brim hat, sunscreen, comfy sneakers, … swimsuit, beach gear, wet shoes, gifts for local children, etc.)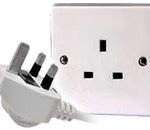 Electric– Don't forget a portable backup charger, cords, gadgets, etc. Cell phones and tablets do not need a converter; you only need an adapter plug.  AFSers often leave charger cords in room, so be sure to double-check your room before check out. All properties have hairdryers.
See https://www.power-plugs-sockets.com
————————————————————————————–
Money Matters – You will need some cash for personal tipping, meals, and shopping. $500 in cash should suffice. (Venmo may be convenient at home, but useless overseas, ATM may eat your card.  Always bring some cash!  Wise to have new crisp bills.)   Change currency arrival at airport, bank, or hotels or withdraw local currency from an ATM.  Note -independent ATMs are risky due to skimmer scams. Safest ATMs are at airport and banks. Always shield your pin number when entering. Avoid using unless it's an emergency.  Master Card and Visa widely accepted.  Amex rarely accepted.
Currency  Exchange Rate  $1= 3660 Uganda Shilling
Follow the link below to create a conversion cheat sheet
Be sure you bring New Bills (dates after 2016) as countries may not accept older bills when changing money.
Credit cards are far safer than using your debit card. I convert half of it upon entry. I use my credit card for most purchases.  Many cards now offer no foreign transaction fees.
Gratuities –  It's protocol to tip our local guides, assistants, porters, drivers and ground staff. Guidelines have increased globally, but $15 per day should cover all for the trip.  Bring a total of  $85 total in $5, 10, and $20's.  Also keep a stash of US $1 bills for porters, restaurants and such.   Please understand this is only the suggested minimum.
—————————————————————————————-
Communication– Internet is available. With smartphones, be sure to check with your provider for rates and coverage for international phone plans before departure. Data Roaming rates can be expensive. To reach home – Texting, iMessage, WhatsApp, and Facebook messaging when using WIFI. Be cautious using public Wi-Fi without using VPN. Without VPN never open attachments or view financial or personal accounts on the Internet while abroad.  Phone calls, text messages, and data usage of all kinds, it is crucial to understand that, unless you are connected to Wi-Fi, every use of your phone incurs a data toll. That means that viewing and downloading email, browsing the web, viewing social media, and mapping all incur data charges, as do applications that we sometimes assume to be "free," such as Skype and WhatsApp. Unless you are connected to Wi-Fi, however, WhatsApp is using cellular data, so you are getting charged at your provider's international roaming data rate.  Facebook Messenger Phone is an easy free way to make calls.
Get Smart: Avoiding Hackers on Vacation.  Thieves not only want your money but also your data.    Change passwords often. Check device security settings before you leave for your trip. Back up, update, and encrypt your devices and data using a virtual VPN.
In hotel rooms, hide iPods or laptops to avoid "evil maids" that want to clone your tech.
Bottled water is always best abroad, as our gut isn't accustomed to local tap water. Eat clean food and avoid street vendors.
Pickpockets are everywhere now, especially at night.  Never carry your passport outside of the room.
It's wise to grab a business card from the desk before heading out on own.  To get back just show the card to a taxi driver- no memory or English needed.
Photography – Before taking pictures of locals, know it is polite to ask.  Your AFS Private Facebook Group Page is a great way to share your best shots with each other.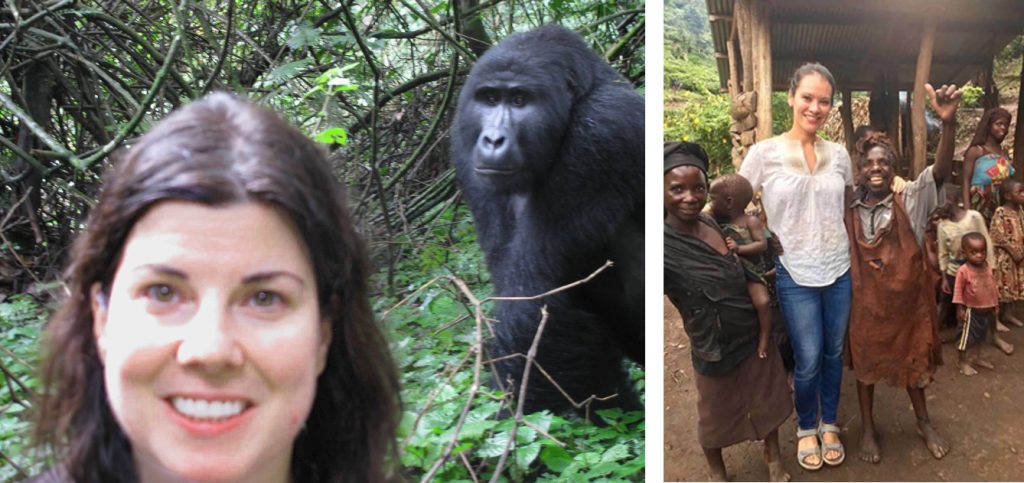 The best photos on a gorilla trek is when YOU are in the same frame as the apes.  Also, there is a village pygmies nearby Bwindi Forest.  Ask your hotel how you can visit them.
Accommodations – Please see the itinerary Hotel tab for details.  Hotels can change, but it's rare. You can Google these or see web.
Roomies – Single supplements have significantly increased – if available at all.  Save money and buy yourself an awesome local gift. We all live alone, but save money when traveling by rooming together. Suzy spends a lot of time on roommate matching.  99% of our clients are wonderful and you're only in your room to sleep at night.   Note, kindness begets kindness.
Recommended Options –  See Suzy
Leisure Time –  For your free time, it's best to arrive and ask our local expert guides for suggestions.  We notice many newer clients pre-plan many activities on the AFS trip well before they arrive, often with disappointing results.  Our daily itineraries are pretty full, but there will be some free time. Expert travelers revel in the element of surprise in a new destination and allow the wind to blow them where it will. Use Google Maps on your phone to find everything nearby.
Amending tour pre-or post-trip or arranging private tours during free time.  We often see many AFSers on Facebook urging others to join them to countries before/after our trip. Stopovers are great to add, but understand AFS has nothing to do with this and is not responsible for the quality of these trips.
Private Facebook Group Page  –  The benefit of the Private FB Group Page is that you have an opportunity to introduce yourself to your fellow travelers before departure and share trip photos during and after the tour.  Where can I find the FB link? Ask us for an invite.
(We found that some never read the Trip Tips jumping right to the Private FB Group Page assuming they will get all trip info needed. Often, they only receive rumors and misinformation. All important information is ALWAYS emailed to each participant and posted here in Trip Tips under UPDATES. Nobody misses a thing.)
Emergency Contact – AFS Phone 770-432-8225, or email us at https://www.afstravelers.com/contact-us/  and more contacts will be provided with your Final Docs email 2 weeks before departure.Your guide can handle a call home for a true emergency. Do not expect to use your trip leader's cell phone; you'll need to use your own cell phone.  3 weeks prior to departure more details on this will be emailed.
Cancellation Penalty –  At booking, we sent you our terms and conditions. Click here for our Terms & Conditions   Briefly, on land packages as of September 1, 2021  will refund your deposit less 50% until 8 weeks prior trip's final payment due date.   Any cancellation after this date will result in full forfeiture of your deposit. AFS reserves the right to resell or otherwise use the canceled space at our discretion.
Travel Insurance– While travel insurance is optional, in today's world we highly encourage you to get standard coverage to cover trip interruption and cancellation.  Call to ask what Covid coverage they have.   Some companies cover Covid related issues. Best source for all is www.insuremytrip.com.   CFAR or cancel for any reason covers Covid but is expensive.  Note that no company covers for fear.
Preexisting conditions – If you would like the security of travel insurance and have a pre-existing condition (elderly parent, medical, etc.), you must purchase insurance within 15 days from your initial trip deposit in order to assure full coverage.  The trip cost can be amended or adjusted as needed after your initial purchase (eg. like adding an air ticket cost later). You can buy travel insurance at any time, just know that there may be some possible limitations if purchased outside the 15 day period.  We like TravelSafe, World Nomads and Seven Corners.
Travel Psychology 101  – Prepare for your departure joyfully with no contempt before investigation upon arrival. Please understand that with travel, things are not like at home and changes may occur. Great trips work best for those with an open mind, flexible attitude and adventuresome spirit.  If changes occur, embrace them with serendipity. Who knows?… The unexpected may prove to be a better experience.  Adapt and go with the flow with a laid-back attitude.  Be spontaneous. Be tolerant of foreign cultures in respecting their centuries of traditions. Embrace the differences. Be curious, not shy. Smile – locals will sense your energy of kindness and kindness always begets kindness.  Our common goal is to experience different cultures, make new friends, get great photos, have large fun, and return home safely with memories worthy of recollection.
The best spirit of an Explorer requires the openness of a child – Suzy
"When traveling, remember that a foreign country isn't designed to make you comfortable.  It's designed to make its own people comfortable." – Clinton Fadiman
Please note that AFS is non-partisan – With our homogeneous groups, we all want to focus on the common denominator – our love of travel.  In today's divisive world, we suggest members not discuss politics and if you must, please practice my rule of TOK:  Tolerance, Open-mindedness and Kindness.
Book AFS with Confidence – Thank you for booking! We are blown away by the support from all of you throughout this pandemic. It validates the trust and values AFS was built on over 35 years. As countries reopen, so will we. Travel is a shared experience. Together we press on and travel boldly. Below are new guidelines. We all must adapt and embrace any challenges with confidence for the freedom and privilege to travel.
As in life itself, travel comes with some inherent risk the minute we step out our door.   Travel isn't dangerous. Being irresponsible is. For your protection we want you to be proactive in following new health guidelines. They involve teamwork and personal responsibility, but they do not preclude you from having fun and enjoying your trip! Things constantly change and it's a huge challenge for airlines, airports, hotels, cruises and tour companies.  We will do our best to keep you up to date with any adjustments.   Please understand we reserve the right to amend any tour activities, if needed. To present responsible travel, we at AFS do our part: Our vetted suppliers uphold the highest standards under CDC guidelines.
Safety measures on a trip; frequent handwashing, (bring personal sanitizer) and wear a mask when applicable. Insurance provides trip cancellation, but not from fear, trip interruption, added medical protection. Call them to understand coverage. We are not responsible for any additional cost to you due to quarantine or illness
Our Pledge to You – Our global, vetted suppliers uphold the highest standards under new CDC guidelines.
We ensure that heightened sanitation methods have been adopted in every place we visit and that all hotel properties and vehicles have passed cleanliness protocols.
Our guides and drivers must be vaccinated and pass stringent safety measures.
Most of our groups will be limited to half the size of normal in the past.
We are choosing destinations with wide-open spaces for physical distancing.
Some private tours for groups of friends only can be arranged.
We'll monitor your trip closely and provide a 24/7 emergency number if your trip is disrupted.
All clients must take the AFS pledge that they are COVID-free and will follow all the safety protocols.
Your Pledge to AFS  – We ask you to assume personal responsibility to protect your health and the well-being of your fellow travelers, guides and locals.  Know the COVID rules of the airlines you'll fly.  Get vaccinated (if you choose not, it's your responsibility to follow PCR tests.)
Read and print all updated Trip Tips on your trip's AFS webpage.
Get travel insurance with trip interruption
Stay healthy with vitamin D and zinc
Confirm within 14 days of departure but you have no symptoms of Covid nor being in close contact with anyone diagnosed with it.
You agree to assume any risk of participating in trip activities, comply with applicable government, airline and health authorities.  Some suppliers may request signature on waiver of liability.
Exercise social distancing and local guides directions whenever possible.
Sanitize your hands and phone throughout.
Read more here –  https://www.afstravelers.com/terms-and-conditions/
Covid Travel Rules are ever-changing depending on country and time of year.  Therefore, we created a single Covid rule page so everything can be up-to-date for participants on our trips.   Click Here for the latest Covid Travel Rules
Suzy's Africa Travel Tips
"The only man I envy is the man who has not yet been to Africa. For he has so much to look forward to."
"Africa changes you forever, like nowhere else. How can you describe its magic? How can you explain the fascination of the past and noble dusty continent, whose oldest roads are elephant paths? How are experiences here in a way no other place can? Maybe it's because Africa is the place of all our beginnings, the cradle of mankind. The happiest years of my life were spent here." Paul Theroux
Some travelers who've never been to Africa think a safari is non-stop action. Behold the stunning boredom! The fact is there's a lot of glorious downtime between early morning and evening game drives. Time in the bush is like entering a remnant of an earlier era. Everything slows down. Shade seeking lions flop over like house cats, zebras stand still as statues, leopards drape over branches to sleep. All game rests. With them, we engage in a communion of laziness. We relax. We observe.
Wildlife Encounters – All animals are wild and you are prey. Respect proximity. Wild animals are totally unpredictable. If you ever encounter a predator in the bush-never run! You will always be the slowest. Animals may roam into lodge camp. Never deviate off path or walk alone at night. Guards will escort you. Never walk near a riverbank or swim in lakes. Hippos hide well.
Game Drives – You will be divided into groups of 4-6 per safari vehicle. Do not interfere with or direct your expert rangers – guide who lived there. He's far more than a driver with years of experience and intense certifications. Your safety is their number one concern. They can spot everything from ground to sky. Suggested tip is $5 per game drive. If several days of drives, wait until the end.
Animal sightings are not guaranteed. AFS past groups have been extremely successful on all. Over 3 decades, we never had a bad safari. Big cats are usually present, but leopards and cheetahs tend to hide. Don't just search out the big mammals. You'll miss the marvels of small creatures like badgers to bushbabies and spectacular birdlife.
Photography- Rather than hauling big lenses, small digital cameras get incredible shots nowadays. Edit/delete each night. On drives, keep camera in the bag to protect it from dust and sun. Don't forget extra batteries! Best light on safaris is 6 to 10 AM and 4 to 6 PM. Rangers will assist with the best vantage points. There is usually a pair of binoculars to share in jeep. Always get consent before photographing local people.
On return home, share your pics on AFS private Facebook page or use Shutterfly.com. (I have over 8000 photos of elephants and lions. Please take human photos as well as wildlife. Better yet, take photos AFS humans with the wildlife.)
Expert Africa Packing: Bring only soft-sided luggage. No hard cases can fit in Safari vehicles. If we use small charter aircraft deep into bush like Botswana, I'll advise of strict weight restrictions for both bag and carry-on. Pack light and wear the same clothes more than once. Laundry is always available.
Neutral colored clothing (no bright colors or fragrances to alarm animals.) light cotton shorts and T-shirts by day. Jeans/pants with a long sleeve top at night. Early-morning drives always cold-bring warm jacket, fleece or sweater. Smart outfit for evening functions.
Hat with a brim for sun protection and chinstrap for drives. Bring a simple light day pack on drives. Sunglasses, sunscreen, insect repellent with DEET, swimsuit, adapter plugs, mini flashlight, toiletries.
Lodges or Camps – All first-class properties or "glamping" style tents. All food and water is purified. If water is not, guide will advise. Cover bathroom sink with a washcloth as a reminder not to use. Bottled water in the rooms and always available daily. Hydrate! African air is dry and sun is strong.
Lodges have a staff tip box. $5 to $10 is generous to give and will be shared with all staff.
Ask reception for charging station to plug-in phones, cameras and tablets.
THE BIG FIVE ANIMALS TO SEE ON SAFARI
Be mindful of everything around you, not just the Big 5. I'm a primate girl myself. In times gone by European hunters used to search out for the most difficult to hunt animals in Africa which led Safari club supreme a list of five key animals that were challenged to shoot. These were considered difficult for a number of reasons, including ferocity, visibility, and elusiveness.
Lions really are the kings of the savanna and are at the top of the food chain. As such, they need no introduction. Lions are widespread throughout southern and eastern Africa and you'll have a good chance of seeing them in most safari locations.
Black Rhino now critically endangered, the black rhino is not actually black, but more off-white. Despite its huge bulk and dangerous reputation, rhinos are herbivores who would rather graze on some grass than attack a person. There are a few rhinos left in a wild due to large increase in poachers hunting them for their horns.
Leopards are nocturnal and secretive, making them the most difficult number of the Big 5 to actually spot. When you do see one, chances are it will be lounging in a tree at sunset having just eaten dinner.
African Elephants as most people know are large thick-skinned herbivores. Elephants are numerous in Africa but nevertheless can be hard to spot in some areas due to their ability to hide in the bush and long grasses. Despite being widespread, elephants face a growing threat from poachers who hunt them for their ivory.
Cape Buffalo considered by many to be the most dangerous of the big five, reportedly causing the most hunter deaths, with wounded animals reported to ambush and attack pursuers.
Meds: Anti-malaria pills may be recommended. Ask your health care provider. Sometimes a Yellow Fever shot is recommended. You get it county health clinic and it's good for a lifetime. Our groups never had any problems with mosquitoes in two decades of trips to Africa. Phone me direct if you have specific questions 770-432-8225
About Anti-malaria drugs
This is a common question from our travelers to parts of Africa and So. America. It is a serious disease that can happen when being bitten by an infected female mosquito. However, it's extremely rare. While locals, tourism staff and guides there do not take pills, many travelers prefer to play it safe with either weekly or daily pills which starts a week before your arrival.
In the US, we are limited to only 3 choices; Malarone, Doxycycline or Atovaquone (Larium). Malarone can be costly, but now there's a generic. Wal-Mart or Kroger have best prices. See your doctor for a prescription. Sometimes one only needs a strong DEET repellent (roll-on best) and wearing pants and long sleeves at dusk.
Some clients go to CDC website which prepares all for the worst and creates unnecessary fear. We only stay in fine properties with clean food and water. We do not use needles, swim in rivers, work with the sick or have sex with locals.
I don't want you to over immunize yourself sick, spending hundreds for unnecessary dollars. Over 2 decades selling Africa and South America, no AFS client has ever contracted any disease. Ultimately, it's your decision on what's best for you.
Travelers' diarrhea can happen anywhere outside USA. It can be caused from the stress of travel, different diets and water that is contaminated. However, all lodge meals are hygienic clean meals. (Cause of infection may be a virus, parasitic or bacterial, so don't think Cipro is a cure-all.) You all know not to drink untreated tap water, use ice cubes. It is contagious so be scrupulous with washing your hands and using a clean towel to dry. And not to brush teeth with it.
If you get sick, rehydrate with oral rehydration salts, take Imodium or Lomatil. If it doesn't pass in a week, see doctor. Don't reach for ''stoppers'' right away. Allow toxins to pass. Fluids are essential.
Things for Children – Bring anything as all we be used. Think Dollar Store of Target. Some stores will even donate. (Get creative. I bring hair scrunchies and mirrors for girls and balloons for kids.). In poor places, school supplies can be useless with no paper to draw on. They need shoes, socks, clothes. The love caps, toys and inflatable balls. You can always donate cash to the headmaster or visit Packwithapurpose.com to see who needs what in each country.
African Jewelry – Many AFS women long for a piece to treasure their safaris like a Big 5 ring, bracelet or pendant. The best beyond any store is Kim in Capetown. See her website and say Suzy sent you. KimCloeteDesign.co.za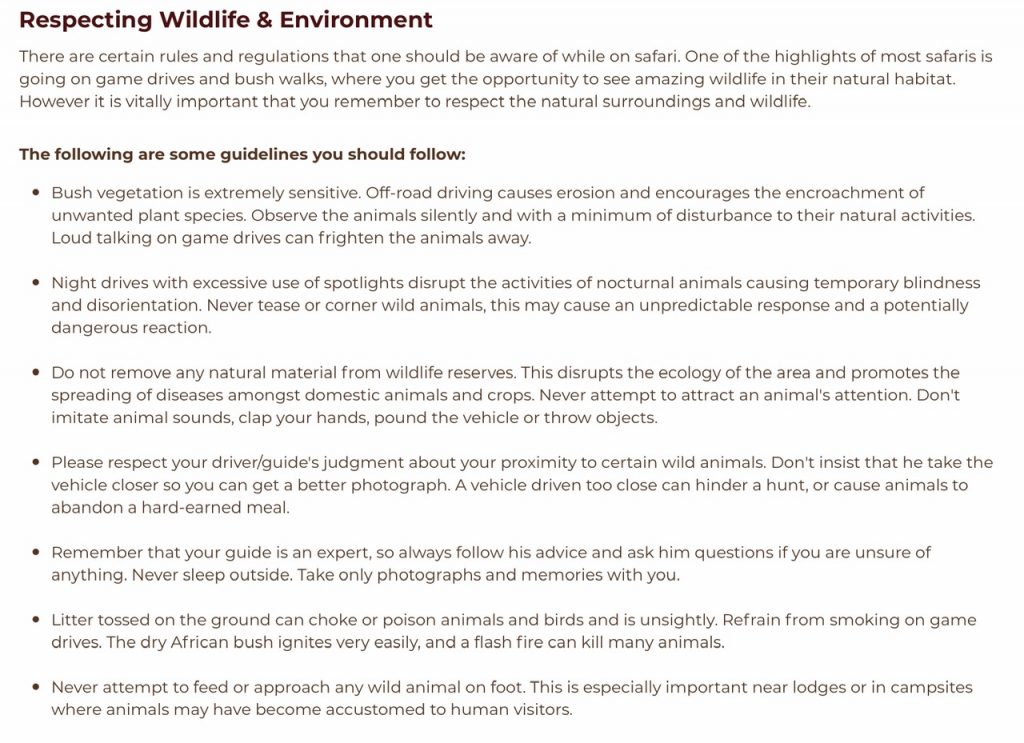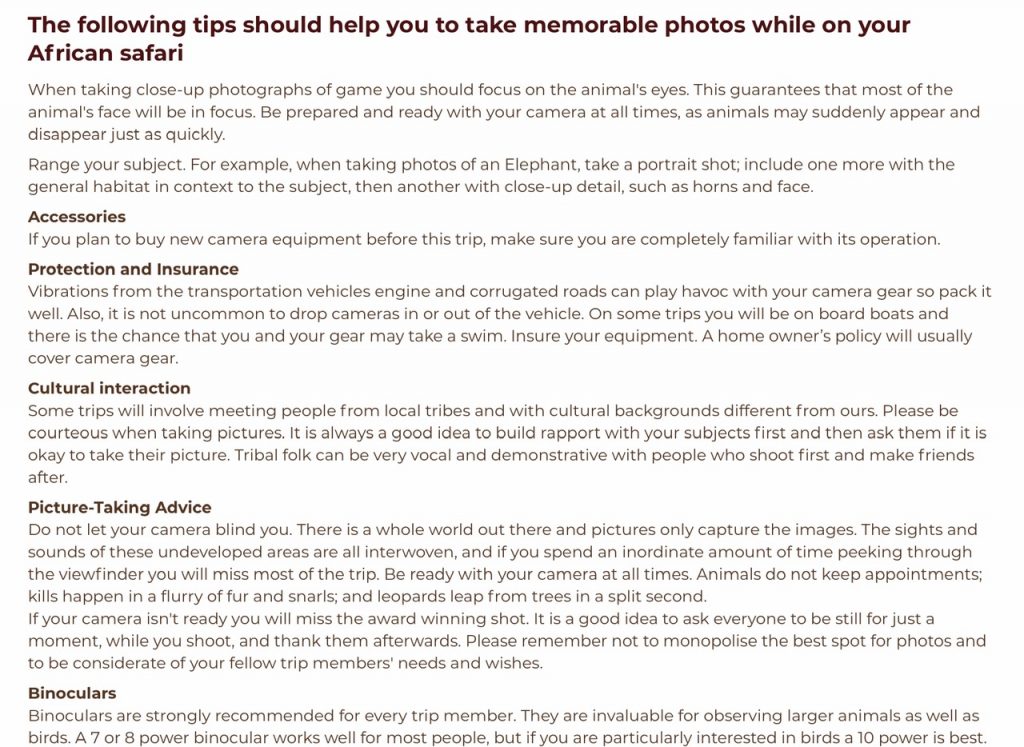 Covid travel rules seem to mutate faster than the virus.  To keep groups up to date with the latest information, we created a page that's up to date.  Set a reminder for yourself to check the Covid page 7 days before your departure.