Call to inquire about booking  770-432-8225  One Plus cabin available
All must login to Book or Wait

Come channel your inner explorer on a once in a lifetime voyage to the End of the World! There's nothing like the magic of the blue and white wonder that is Antarctica. The White Continent is hypnotically beautiful with its diverse landscapes – especially during the "Austral Summer."  December is the best time to visit when temps are tolerable and the sun stays in the sky until midnight, never truly getting dark. Everyone longs to have the 7thcontinent stamped in their passport and many state that it's their "best vacation ever!"
Keep your camera ready as we navigate through the Beagle Channel into the most pristine land on the planet. Picture a place with no roads, no trees –and aside from the sounds of giant seabird calls – it's a world of pure silence. Nothing is more thrilling than exploring by Zodiacs as we weave around iridescently blue icebergs in crystal waters set against a backdrop of towering glaciers. We venture ashore for guided walks with the best expedition team. The unique wildlife is spectacular! Look for omnipresent whales, seals, birdlife and belly-flopping penguins of all kinds! They are as curious about us as we are about them and it's a sheer joy to watch them waddle.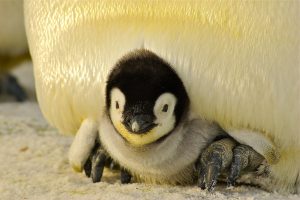 Fact: Antarctica costs a fortune to visit. Prices generally range from $12k to 18k. And yet, it's so popular now, one must book at 2 years out. How do we make it affordable? Because we found the best-valued supplier based there.   Our past AFS groups loved this line, not just for their onboard service, but because of their exceptional value. Our AFS adventure is half the cost of other voyages and we include port charges. The real difference between our cruise and others? You can't keep your parka that the ship provides. Seriously. That must be some jacket!!  You can save even more in a triple cabin. You're only in your room to sleep.
 You'll love our ice breaker expedition ship that was jusy totally refurbished with all the amenities that you desire. Understand visitors are now restricted as to where they can go ashore each day. Our smaller ship lends us the greatest opportunity to explore. She only holds 88 passengers. Our expedition leaders are the best and have a passion for sharing their in-depth knowledge with you.  You'll learn much about marine biology in the evening lectures. Onboard, it's laid back with an open bridge policy. Imagine your photos sitting next to the captain while watching whales play as you sail on.  
Demand is HOT now as travelers clamor to top off their bucket list. This sailing is sold out.  However, we blocked and deposited on your cabins 18 months ago. This trip is limited to a mini-group of only 18 lucky AFS travel lovers, so book fast! Air is easy into Ushuaia. Go early or add stopovers at the end in Argentina or Chile if you'd like.
 Now is the time to visit this delicate polar region as the ice melts and sea levels rise. Charles Darwin could never have imagined exploring Antarctica would be this good. It's the ultimate vacation destination that you truly don't want to miss.
Call to inquire about booking  770-432-8225 WAITLIST  


Fantastic trip! I can't say enough about the staff and expedition leaders. Very caring people and want everyone to have the best experience they can! The USHUAIA crew and staff are awesome! – Bonnie P.
Classic Antarctica
Expedition cruise to the Antarctic Peninsula & South Shetland Islands.  Aboard the USHUAIA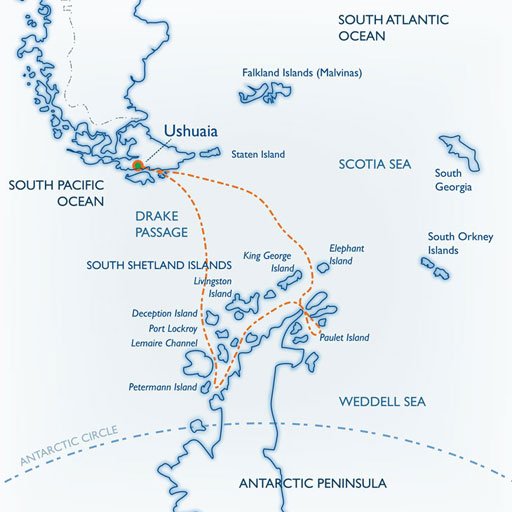 5 reasons to go to Antarctica
From Wanderlust Magazine
1. You'll have a real wilderness adventure
Antarctica is the last great untouched wilderness, a continent of stunning and alien beauty with a rich history of adventure and exploration. It's a world of white, blue and grey as far as the eye can see, with ice sheets, some two miles deep, ever-shifting crevasses, and, off the coastline, magnificent icebergs.
Larger than Europe, Antarctica's icy cover spreads out across the sea in winter, doubling its size and forming an impenetrable barrier. During the summer (November to March) the sea ice shrinks, allowing tourist ships, as well as station personnel, access to this magical world.
Most visitors arrive by ship, usually on ice-breakers or vessels with reinforced hulls. Inflatable dinghies with outboard motors are the best way to explore the islands and mainland.
The opportunity for adventure is endless. You can camp on the ice, kayak between icebergs, take the 'polar plunge' and swim in sub-zero waters, scuba dive and perhaps come face-to-face with a seal underwater, cross-country ski, or go mountaineering.
2. You can witness world-class wildlife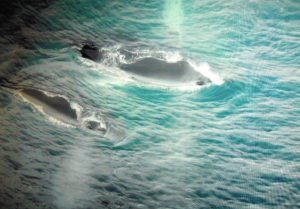 Antarctica is home to many creatures found nowhere else on the planet. Watch with horrified fascination as a Leopard Sealtosses an Adelie penguin in the air before it opens its enormous jaws and devours it.
Enjoy the gentler Crabeater Seals basking in the relatively warm summer sun on floating sea ice, or observe the flatulent Southern Elephant Seal, the largest seal in the world and perhaps the smelliest.
A majestic wandering albatross (with a wingspan up to nine feet) may follow your ship, and you're likely to hear the hiss of a humpback whale exhaling from its blowhole as it comes up for air, sometimes so close to the hull you may feel the spray on your face. When the tall dorsal fins of a pod of black and white Orcas break the water's surface, it takes your breath away.
If you arrive early in the season, you'll witness new life being born, including fluffy white seals and downy grey penguin chicks. Visiting a large penguin colony, like the one hundred thousand breeding pairs of Chinstrap Penguins on Deception Island, is an incredible experience, not just because of the noise they make, but because the inquisitive little fellows can't resist investigating your boots and camera bag.
3. You can discover the heroic history
Antarctica has a rich history of exploration, heroism and adventure. There are few of us who haven't heard the tales of Robert Falcon Scott, Roald Amundsen, Ernest Shackleton and Sir Edmund Hillary, and because the climate is so cold and dry (Antarctica is a desert), the historic huts and their contents remain in remarkably good condition.
As you enter Scott's Hut at Cape Evans, it's like stepping back in time to 1911. You can see bunk beds, kitchen pots and pans, medical supplies, books, even a big stack of seal blubber that they used in a blubber stove.
But there are also huts of less famous expeditions, such as Base 'W' on Detaille Island, which was abandoned by a small group of researchers in 1959.
In the windows hang green and white checked curtains. The tool room is full of everything needed to build and maintain the hut. Hanging over a stove in the kitchen is a pair of long johns, with rusted tins of Scotch Oats and bottles of HP Sauce in the cupboards. A jigsaw puzzle of a quant English village scene is part-completed. A World Sports magazine dated August 1953 lies open on a table. It's as if the inhabitants will return at any minute.
4. It's a photographer's dream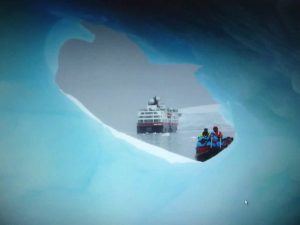 It's not just the wildlife and the historic huts that inspire photographers. The winds and waves carve amazing ice sculptures.
You'll marvel at two storey high icebergs in bizarre shapes, and get to touch startlingly blue ice that's blistered like bubble-wrap.
You can also peer down crevasses that could be hundreds of feet deep, or stand on virgin ice that no person has ever stood on before.
Depending on when you travel during the summer season, you may experience 24 hours of daylight, which means plenty of opportunity to take photos of the landscapes and wildlife.
5. It's one of a kind: a peaceful continent that nobody owns
Antarctica is unique in so many ways, but perhaps the most extraordinary is its peacefulness. Take time out from the screech of penguins squabbling or the bark of fur seals, and walk inland where you can sit quietly in this vast wilderness of ice. The silence is both cleaning and energizing, perhaps because in our busy lives, silence is nearly impossible to find.
I put Antarctica's cathartic quality down to its vast open spaces and the fact that nobody owns it. Antarctica is managed in a unique way: by a host of co-operating nations. The Antarctic Treaty is a goodwill agreement, and yet, so far, it has kept Antarctica protected and free from crime and exploitation.
Imagine if, like Antarctica, your country had never been to war, had no military presence, there had never been a single murder, and a group of nations worked together to maintain that peace.
Because of this Treaty, Antarctica remains a peaceful place of scientific discovery. As long as Antarctica is protected this way, it will remain one of the most unusual and breathtakingly beautiful places in the world to visit.
 Lonely Planet Says…
Welcome to Ushuaia
A busy port and adventure hub, Ushuaia is a sliver of steep streets and jumbled buildings below the snowcapped Martial Range. Here the Andes meets the famed Beagle Channel in a sharp skid, making way for the city before reaching a sea of lapping currents.
Ushuaia takes full advantage of its end-of-the-world status, and an increasing number of Antarctica-bound vessels call into its port. The town's mercantile hustle knows no irony: there's a souvenir shop named for Jimmy Button (a Fuegian native taken for show in England) and the ski center is named for the destructive invasive castor (beaver). That said, with a pint of the world's southernmost microbrew in hand, you can happily plot the outdoor options: hiking, sailing, skiing, kayaking and even scuba diving.
Tierra del Fuego's comparatively high wages draw Argentines from all over, and some locals lament the lack of urban planning and loss of small-town culture.
Welcome to Antarctica
No place on Earth compares to this vast white wilderness of elemental forces: snow, ice, water, rock. Antarctica is simply stunning.
Adventure
Antarctica's surreal remoteness, extreme cold, enormous ice shelves and mountain ranges, and myriad exotic life forms invariably challenge you to embrace life fully. Everyone – scientist, support worker, government official and tourist – who comes to this isolated continent, must 'earn' it, whether by sea voyage or flight. Ice and weather, not clocks and calendars, determine the itinerary and the timetable of all travel here. Today, it's even possible for visitors to climb Antarctic peaks or kayak icy waters. But there is nothing quite like the craggy crevasses of a magnificent glacier or the sheer expanse of the polar ice cap.
Wildlife
Preserved by the Antarctic Treaty, Antarctica is home to some of the world's most extraordinary species. Some, such as the enormous whales, migrate from afar, while others, including the Weddell seal and emperor penguin, remain close to the continent. Millions of seabirds skim the Southern Ocean, the world's most abundant, and species such as albatrosses and petrels circle the waters. Wildlife is generally unafraid of humans: visitors usually elicit no more than an uninterested yawn from seals and penguins focused on their young.
History
The names of explorers and their sovereigns and benefactors are written on Antarctica's shores. Renowned explorers from Cook to Amundsen and Scott all tried to penetrate this vast, mysterious land: each with varying degrees of success. Visitors can follow in their footsteps and imagine what it was like to forge through the pack ice on a creaking wooden boat or to haul sledges across the polar plateau. Some of the historic huts actually remain, preserved frozen in rime ice, to tell the story of adventures long past.
Inspiration
Antarctica possesses an unnameable quality. Call it inspiration, call it grandeur…it is simply the indescribable feeling of being a small speck in a vast, harshly beautiful land. A land where striated ice towers float among geometric pancake ice, literally untouched mountains rear from marine mist, and wildlife lives, year in and year out, to its own rhythms, quite apart from human concerns. To let our minds soar in a place nearly free of humankind's imprint: this is magic.