April 5 – 13, 2022, "Kingdom Of Happiness"

"The World has few secrets left but Bhutan is one of them" – Kartie Hickman (AUTHOR)

Namaste!  Perched high in the cradle of the Himalayas, Buddhist Bhutan is a magical and mystical Shangri la land of mighty mountains, sacred lakes, and idyllic villages. Deemed by many as the "happiest country on earth," come with us on this exhilarating AFS adventure and you'll understand why.  Our past groups loved it!  (This is a stand-alone vacation or an extension option to those on our Nepal escape.)   https://www.afstravelers.com/upcoming-adventures-best-solo-trip/nepal/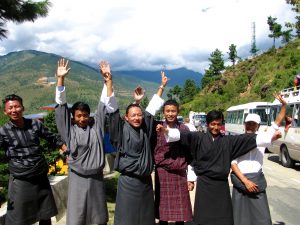 For centuries, the kingdom's remote location left Bhutan protected from the rest of the world and blissfully untouched. It is like time stood still in much of this tiny remote country. Here, you will find a people and a sacred culture so gentil and welcoming. Experience a joy that is not just a lifestyle but a moral obligation for the Bhutanese. Bhutan is known for its unique philosophy of "Gross National Happiness" and is the only place on earth where the constitution ensures spiritual wellbeing. There's no wonder the seat of government itself is called The Palace of Great Happiness. You'll feel it, too, as you take in spiritual and cultural treasures amid breathtakingly beautiful, rugged terrain.
 We packed so many wonders into this.  Where else will you find a stunning monastery called the Tiger's Nest defying gravity on the side of a jagged cliff?  It's truly like no other place you have ever been. It's not just the fairytale like temples and monastic fortresses that dot the landscape. Prepare to have your mind blown over the scenic treasures in an incredibly pristine and biodiverse hotspot that is home to indescribable creatures found nowhere else – endangered binterongs, takins, sloth bears, langurs and even snow leopards! Bhutan is one of the world's smallest countries, but yet it is a leader in conservation with a 73% forest cover and considered carbon negative. You can almost taste the purity in the air you breathe.
 We'll explore the exquisite shrines of the fertile Paro Valley, take in the spectacular landscapes of Tongsa and interact with the devoted monks who are trusted with maintaining these iconic sanctuaries. Watch the colorful prayer flags fly as eagles sore against the backdrop of snowcapped mountains. Enjoy the friendly smiles of the locals in their bustling markets. Bhutan is a true explorer's delight – a world that could have been lifted straight from the pages of a picture book but yet filled with large fun. We'll try our hand with archery, take hot stone baths, immerse ourselves in cultural shows, get our Zen on with a yoga session and experience an adrenaline rush with rafting one of Bhutan's glacier-fed rivers.
Bhutan offers the ultimate travel junkie bragging rights because few people can say they've been here. Come spin a prayer wheel! Grab your spot on what will be a limited offering with just 20 travelers.
An Introduction to Bhutan… A peaceful, isolated land nestled in the cradle of the Himalayas, Bhutan may not be greatly developed or
progressive from a modern point of view, yet it scores high on the happiness quotient. In 2006 Business Week rated Bhutan the eighth happiest country in the world. It's worth visiting Bhutan just to find out why! Bhutan's scenery is magnificent. Its location in the mighty Himalayas has protected it from the rest of the world and left it blissfully untouched through the centuries. The Drukpa Kagyupa school of Mahayana Buddhism is prevalent and has left the country with a rich culture and a fascinating history. The Bhutanese people have protected this sacred heritage and unique identity for centuries by choosing to remain shrouded in a jealously guarded isolation. Pristine surrounds, dramatic fort-like monasteries hang over precipitous drops, often wreathed in mist, and fertile valleys, high rugged mountain passes – all of which make Bhutan a varied and exhilarating destination.
It is also a country of surprises. This is not just a nation of saintly, other-worldly hermits. Bhutan is straddling the ancient and modern world and these days you'll find monks transcribing ancient Buddhist texts into computers as traditionally dressed noblemen chat on their mobile phones. Tourist attractions include the fertile Paro Valley, which houses some of the most exquisite monasteries and temples. Bumthang Valley is the religious hub of the nation while Tongsa showcases the most spectacular landscapes.
The kingdom is peopled sparsely, with a population approaching 552,996 of four main linguistic groups.  Opened for tourism in 1974, after the coronation of the fourth King, His Majesty Jigme Singye Wangchuck, Bhutan is perhaps the world's most exclusive tourist destination.  The country still retains all the charm of the old world, and travelers experience the full glory of this ancient land as embodied in the monastic fortresses, ancient temples, monasteries and stupas which dot the countryside, prayer flags fluttering above farmhouses and on the hillsides, lush forests, rushing glacial rivers, and – perhaps most important of all – the warm smiles and genuine friendliness of the people. Each moment is special as one discovers a country, which its people have chosen to preserve in all its magical purity.
Considered as mystical and inaccessible, this landlocked country of valleys and peaks has attracted an astounding number of visitors for decades. From the endorsers of 'Flower Power' in the hedonistic 60s to the daring adventure traveler.  This country is a draw for the well traveled.  Swarming with the sights sounds and experiences that make Bhutan such an incredible and astonishing place – From the dazzling regal and historical monuments to bustling markets to chaos of city life, from beautiful green pastures to the sand dunes, from roar of the Jungles to peaceful mountains, Bhutan is amazing!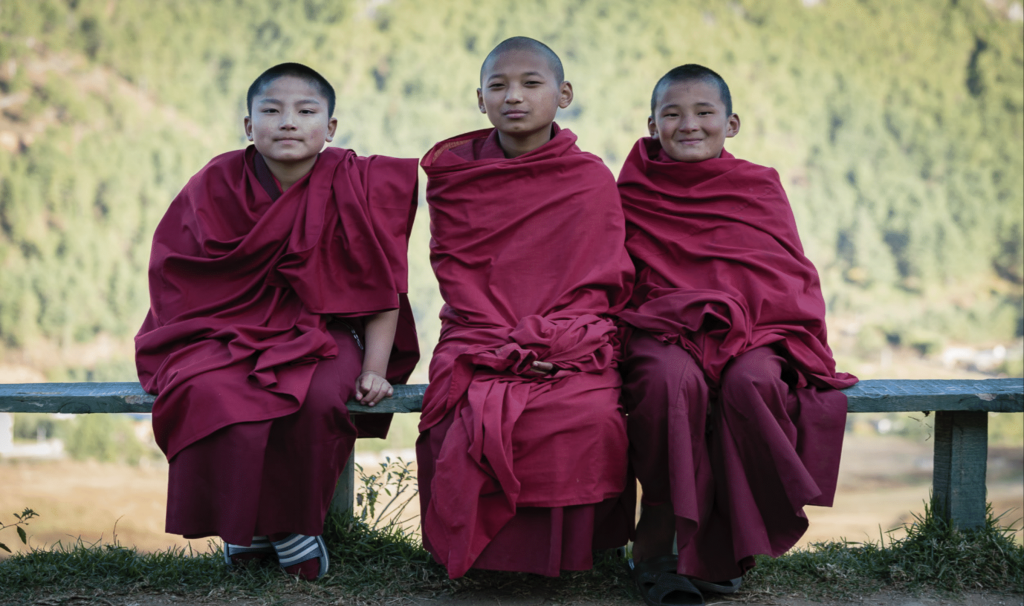 Our Glorious AFS Itinerary

Print
Apr  3 or 4 – Depart USA to Kathmandu 
The only way to reach Bhutan is by flights round-trip from Kathmandu. Our price includes your flights round-trip to Bhutan from Kathmandu. Details to come later in AFS trip tips.
Apr 5 – Welcome to Paro, Bhutan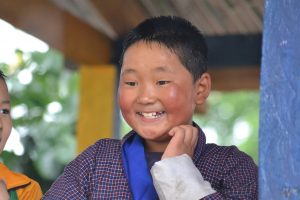 Land portion begins today.  Welcome to the Kingdom of Bhutan! Be sure to look out the window as you fly into Paro where great snow-capped peaks of the inner Himalayas rise up to the heavens. We will be met by our guide at the Paro International airport and check into our hotel in the capital city of Thimphu.
Bhutan is all about Gross National Happiness!  This evening we will have the privilege of meeting a GNH expert —  a private session with a guest speaker who is a specialist with in-depth knowledge on all Bhutan subjects. Our speaker will explain details and engage in discussions on understanding Bhutan's history, religion, culture, politics and more.  Time for Q&A followed by dinner at hotel.
Overnight Pelyang Boutique Hotel   D    (meals listed as B, L, D)
Apr 6 –    Arts & Culture Tour – Thimpu, Capital City of Bhutan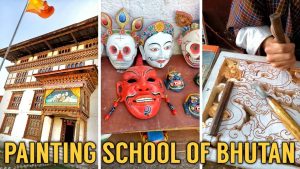 After breakfast, we start our day by visiting the acclaimed Painting School – where students learn thirteen different Bhutanese crafts including paper making, masonry, painting, sculpture, embroidery and much more.
Our next stop to visit King's Memorial Chorten – continuously circumambulated by people, murmuring mantras and spinning their prayer wheels. Construction of this landmark monument of peace was the idea of Bhutan's third king, His Majesty Jigme Dorji Wangchuk ("the father of modern Bhutan").   Weaving is an integral component of the culture and tradition of Bhutan and we end the day at the Royal Textile Museum and the Royal Textile Academy of Bhutan which preserve and promote this living art.
Overnight Pelyang Boutique Hotel     B
Apr 7 – Yoga, Monks, and Nuns in the Thimpu  Valley                                               
We include a wonderful spiritual activity of waking early for an authentic Buddhist Meditation and Yoga class.
After breakfast, we experience the best of the Himalayan Kingdom of Bhutan where we can breathe in fresh air, get calm, go slow, be present and tap into the healing power of nature that Bhutan has to offer. We head to Kuensel Phodrang (Buddha Point) for a stunning overview of the Thimphu valley. You can pay your obeisance and offer prayers to the Buddha, the largest statue in the country and then walk around and take a glimpse of the valley.
Stamp it – Bhutan's first postage stamps were issued in 1962, the same time the first drivable road was opened.  Ever since then, Bhutan has been known for the unusual designs and materials of its stamps.  We'll visit the post office where you can see the different stamps available in Bhutan. You can even create your very own personalized stamps with any picture downloaded from your phone. Send a postcard to your family and friends stamped with your Bhutan trip memories!  Enjoy lunch at local restaurant.
In the afternoon, we head to the Takin Preserve to see the national animal of Bhutan – the Takin… a sort of cross between a cow and goat.  We end with visit the peaceful and scenic Zilukha Nunnery, the largest in Bhutan. Known as Druthob Goemba, we'll not just meet the nuns and learn of their beliefs and lifestyle, but have spectacular views of the Tashichho Dzong monastery.
Overnight Pelyang Boutique Hotel   BLD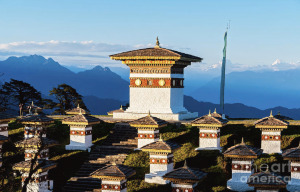 April 8 –  On to Punakha – Temples & Rafting!    
After breakfast, drive to Punakha via the Dochula pass – an hour's drive from Thimphu will take you to this pass (3140 m) where one can have a superb view of the Eastern Himalayas on a clear day with a powerful binocular telescope. Dochula Festival is held here at the Mountain pass. Punakha: Punakha (the "k" is almost silent) is a low-elevation (4100 ft) subtropical valley in central Bhutan. The warm climate allows two rice crops a year, plus oranges, mangos, bananas, and even pomegranate. Bright yellow fields of mustard add color to the late-winter in the valley. Itis the ex capital of Bhutan.
Visit to Chimi Lhakhag – The Chimi Lhakhang, situated on a hillock in the Centre of the valley, is also known as the temple of fertility. It is widely believed that couples who do not have children and wanting one, if they pray at this temple, they are usually blessed with a child very soon. A walk through the village near the temple will give you rare glimpses into the daily life and lifestyle of the villagers.
Also visit Punakha Dzong or (Palace of Great Happiness) – built in 1637 by Shabdrung Ngawang Namgyal, at the junction of the Phochu and Mochu rivers. This majestic dzong served as both the religious and the administrative center of Bhutan in the past. It measures some 600 by 240 feet and has a six-story, gold-domed tower. Inside are courtyards and religious statuary that hint at the depth of history and spiritual tradition embodied here. Your guide will illuminate your understanding of this intricate culture that is exotic to us, though long established here.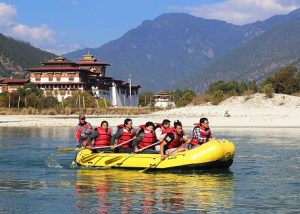 Adventure Zone Rafting – Class 2/3.  You can opt for White water Rafting on Mo Chu river at Punakha – A 6 km float on the Mochhu River passing by fields and the royal palaces. Look out for Mahseer fish that frequents the Punakha River. This species is said to grow up to 3 meters in length and 55kg in weight. Some folks call it the Indian Salmon as it travels to fresh rivers in the Himalayas for breeding. They spend most of their time in the ocean (Bay of Bengal). The other fish to look out for is the Gangetic Dolphin. This freshwater dolphin is believed to be found in Bhutanese rivers because the rivers are less polluted. There is no photo evidence of the sighting yet though many anglers tell their stories.  $38
Overnight RKPO Green Resort  B
April 9 –  The Stunning  Paro  Valley                            
After breakfast, we drive to Paro.  Visit Tachogang Lhakhang – one of the temples founded by a Tibetan saint who also designed and erected many iron suspension bridges in the early 15th century, making parts of Bhutan accessible for the very first time.
Then we stop for lunch at the Gangtey Palace Hotel in Paro with an interesting cultural show. Gangtey Palace featured in the National Geographic 1914, "Castles in the Air", Experiences and Journeys in Unknown Bhutan, by John Claude White. The palace offers a bird's eye view of the beautiful Paro valley on all three sides adorned with lush green paddy fields. An expert architect of the time, Zow Gendey was called to build his palace. He is also believed to have influenced major Bhutanese architectural designs in Bhutan.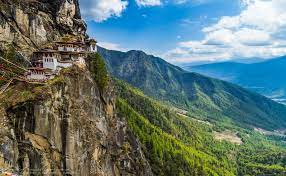 Paro, the beautiful valley encapsulates a rich culture, scenic beauty and hundreds of myths and legends. It is home to many of Bhutan's oldest temples and monasteries, the country's only airport, and the National Museum. Mt. Jomolhari (7,300m) reigns in white glory at the northern end of the valley, its glacial waters plunging through deep gorges to form the Pa Chu (Paro river).
The Paro valley is one of the kingdom's most fertile, producing the bulk of Bhutan's famous red rice from its terraced fields. Shops, restaurants and offices in richly carved traditional buildings line the main street of Paro, a couple of hour's drive from Thimpu, where two of eastern Bhutan's main rivers meet. The town's airport is Bhutan's principal arrival point for foreign travelers, but locals know it above all for the splendid Rinpung Dzong, reached via a covered cantilever bridge. The fortress-monastery's most valuable possession is a giant embroidered tapestry, or thondrol (thangka), depcting the dzong's founding father, Guru Rincpoche; the treasure is unrolled only once a year on the morning of the annual tsechu (festival).
Overnight Naksel Boutique Hotel & SPA   B L
April 10  –  Monasteries and Mix with Monks and Locals  Day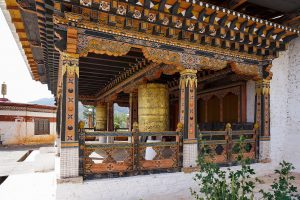 Today we explore an old hilltop watchtower that is home to the Paro National Museum, housed in. Built to resemble the shape of a conch shell, it houses a valuable collection of antique paintings, festival masks, religious statues and stone carvings.
Paro is best known for the splendid Rinpung Dzong, reached via a covered cantilever, wooden bridge that spans the Paro Chhu. The fortress-monastery's most valuable possession is a giant embroidered tapestry, or thondrol (thangka), depicting the dzong's founding father, Guru Rincpoche. Don't miss the unique painting of Milarelpa, considered the master of meditation by the Buddhists. We'll also have the chance to explore the 7th century Temple of Kyichu, one of the oldest temples in Bhutan.
For fun this afternoon, you can try your hand at the national sport of Bhutan – Archery. Our guide will demonstrate and explain the details of the game using the traditional bamboo bow and arrow.  Also enjoy butter tea (Suja) which is prepared with black tea mixed with butter and touch of cream and Himalayan salt.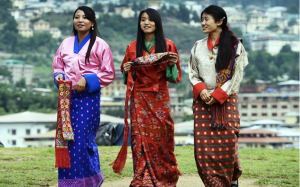 Late afternoon you could opt for Traditional dress-wearing – Bhutan's traditional dress is one of the most distinctive and visible aspects of the country. During our visit to Bhutan we could experience traditional dress wearing. Bhutanese is their traditional dress, unique. … Men wear the Gho, a knee- length robe. The kira is the national dress for women in Bhutan. It is an ankle-length dress consisting of a rectangular piece of woven fabric.  Our last groups loved it.
Overnight Naksel Boutique Hotel & SPA    B
April 11 – Our Joy Bomb – Tigers Nest!                   
A true highlight of this journey is a memorable hike to world-famous "Tiger's Nest" or Taktsang Palphug Monastery. This is for the adventurous and physically fit as this is truly a nest – located on the face of a sheer cliff above the floor of the Paro Valley. Only accessible by hiking, it is a strenuous uphill climb including over 700 steps. This sacred pilgrimage site is where legend has it the great tantric mystic, Padmasambhava flew on the back of a tiger and brought the teachings of the Buddhist Dharma to Bhutan. The Monastery clings to a cliff soaring 3,000 feet above the valley floor at an altitude of 10,000 feet.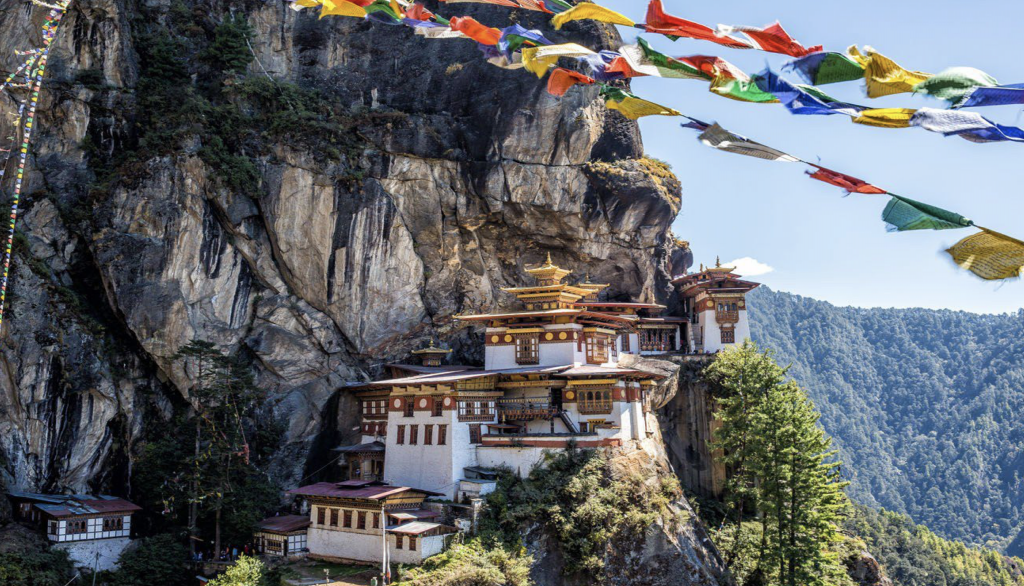 Along the way, you can hang prayer flags for world peace, or for people who are hungry, ill or in pain (in Buddhism, a prayer flag is considered a blessing). Stop for lunch and admire the breathtaking views from the cafeteria before slowly descending.
In late afternoon, you could opt for Hot Stone Bath at local farm to relax the muscles from a hard day's hike to the famous Tiger's Nest. ($36)  Very basic and rustic, river rocks are heated and then immersed in a wooden tub to heat the water known for mineral contents. This experience provides an authentic insight into the traditional hot stone bath practiced by the locals.  For a more luxurious experience, you could hot stone baths at luxury hotels are also available.
Overnight at the hotel in Paro.   B L
April 12 –  Head home                                       
 It's time to say farewell.  Check out from hotel and transfer to Paro airport to board your flight back to Kathmandu.  There you connect for flight home.  (Our Nepal group proceeds this trip and some are adding Bhutan.  If not on Nepal, simply meet the group in Kathmandu on April 4.  Details later.)    B


Land Price $2895 plus $90 internal air and Bhutan visa.  $90 pre-paid gratuities for guides and drivers also added to invoice.  Final payment is Due Jan 4, 2022
Deposit $500
A small group of 20 participants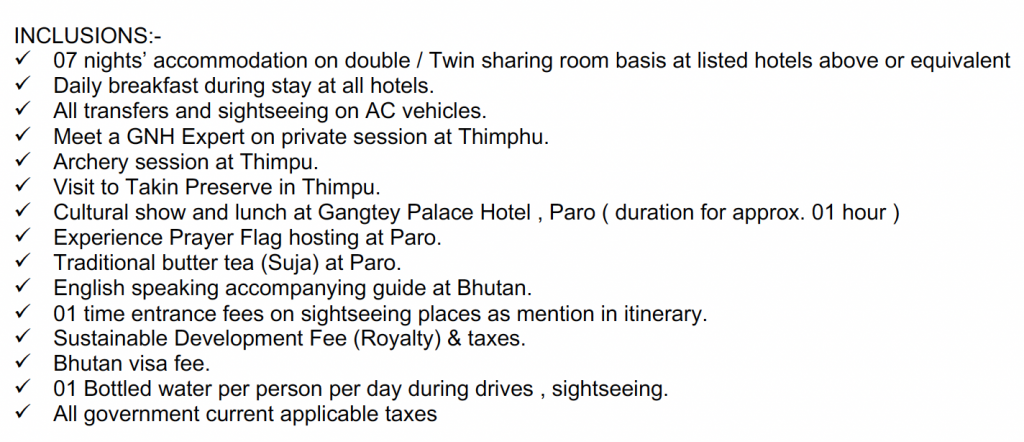 Land prices per person twin share. Trip price based on a minimum number of participants.

Single rooms limited with $ supplement.  Cost varies.  Email us for availability.  AFS will find you a roommate.

The earliest we present group air is 10 months prior. We'll send email to ask who wants it.  A minimum number of 12 is needed.

Please review AFS Terms and Conditions, Heading Abroad with AFS, Covid Policy.  Travel insurance is important nowadays.  It's rare, but we reserve the right to modify schedules, tour and hotels.

Read Trip Tips on its own tab next itinerary for latest details. 
Print
AFS Trip Tips
Updates will be posted here.  If you want a paper copy, copy and paste this into a document and print.  
Coming soon!
I know you want full Bhutan details, but we can't get any just yet in order to prepare your trip tips. Bhutan has not yet officially reopened to tourism. All tourist offices and hotels are closed at present. We are anticipating word soon from the government regarding timing for reestablishing tourism. At present, there are no flights running there except a few bubble flights from Delhi and we'll have better choices once the word comes.
Please wait on arranging your air until we hear final confirmation of dates. I'm told we'll have more accurate information by late November 2021. We believe borders will open in late December. Dates for final payments will be moved to Jan 16. We are waiting like you and will update all as soon as we get word of the formal announcement. Know that we are working on it nonstop.
Covid travel rules seem to mutate faster than the virus itself.  To keep all groups up to date with the lasted information, we've created a page that's updated as needed.  Set a reminder for yourself to check the Covid page 7 days before departure.