"Cathedrals, Vodka & Caviar Dreams"
May 2 – May 11, 2021
 WAITLIST All must login to Book or Wait
"Russia is a riddle wrapped in a mystery inside an enigma." – Winston Churchill
Talk about a vacation fit for a czar! Gilded palaces, onion-domed cathedrals, and walled medieval cities wait for you in 3 different countries.  Our past AFSers loved our Russia Commie-trips, but we raised the bar with this Balkin Odyssey.  From the splendor of Moscow to the beauty of St Petersburg, countless wonders are revealed.  By planes, trains and ferry we explore new regions, each with their own language, cultures and cuisines.  It's chockful of UNECO sites on a trip both educational and fun.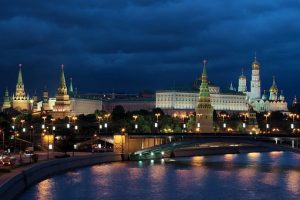 Mighty Moscow will astound you.  This electrifying 24-hour capital provides nonstop energy with its iconic must see's – gilded St Basils Cathedral, the Kremlin and grand Red Square to the incomparable Gorky Park.  Stroll cobbled Arbot Street filled with shops and cafes.  Savor the borsht and caviar with flavored vodkas.  Shop for nesting dolls, fine amber jewelry, crystal, and paintings.  Have your mind blown on our tour of the ultra-surreal 200 mile Underground filled with exquisite art.  Evenings come alive with fun and culture on dinner cruises or at the storied Bolshoi Ballet, theater and Moscow Circus. 
We high-speed it by train to dazzling St Petersburg, "Venice of the North" to follow footsteps of the czars.  So much history in this elegant and imperial city.  Visit the famous palaces, churches and magnificent Hermitage in 4 glorious days.  On to intriguing Latvia to enhance your passport stamps!  The Old Town in the capital Riga, is a World Heritage Site with architectural delights.  Here we enjoy a day at the Open Air Museum Village to teleport yourself back 300 years.
Our Baltic adventure continues by ferry to Tallinn Estonia – a photographers dream with its ancient walls and noble houses. Everyone loves the well-preserved Old Town here.  It feels like you've stepped into a fairytale among it's soaring towers.  May is the perfect time to beat the crowds, but the outdoor concerts and markets are in full swing.
See below what Lonely Planet has to say about these mysterious lands, vast and beautiful. Together, they hold more sparkle than a Faberge egg!  This AFS Baltic Dream is a unique combination of legendary treasures that must be experienced to fully appreciate.  They just may become your new favorite parts of our world.
 WAITLIST All must login to Book or Wait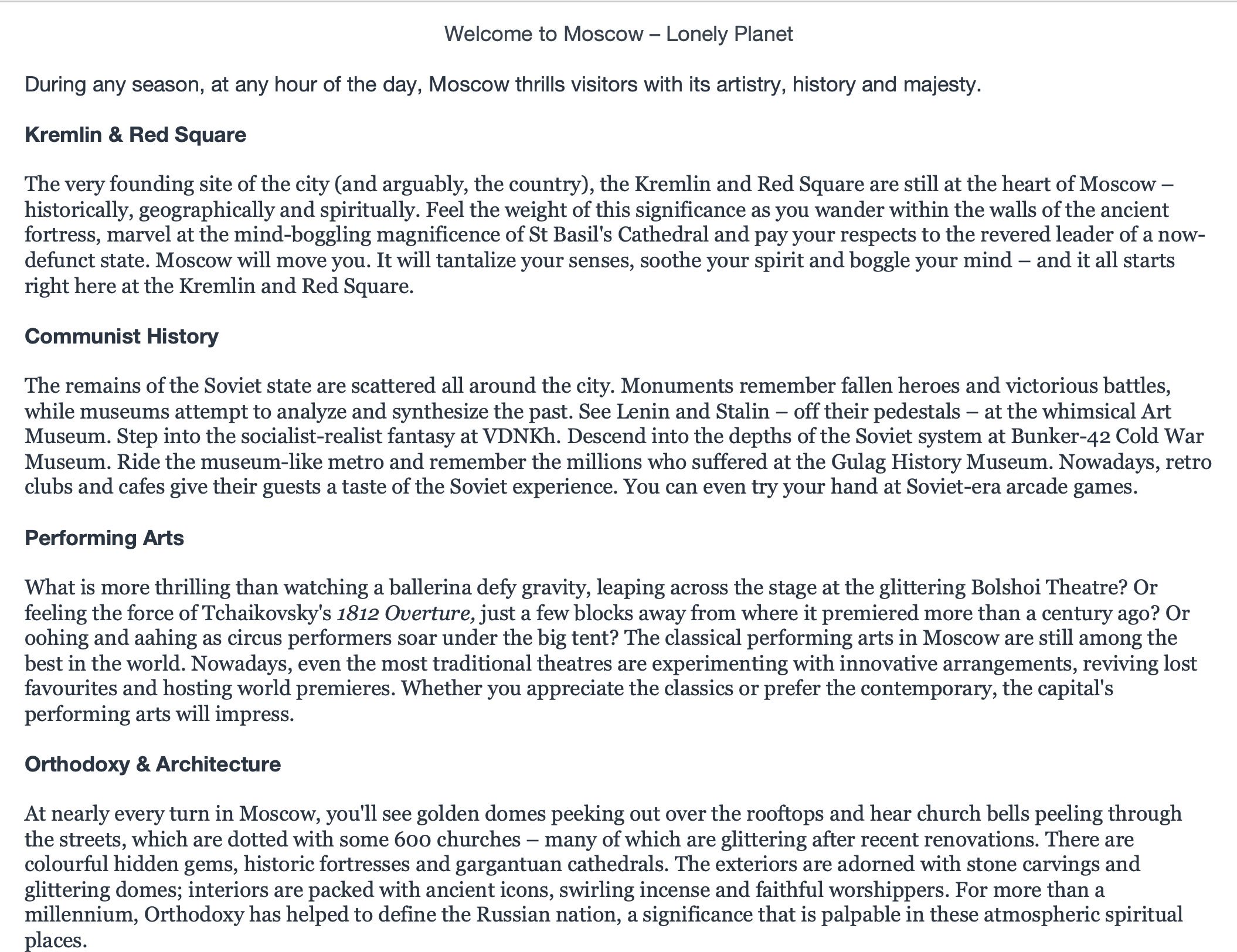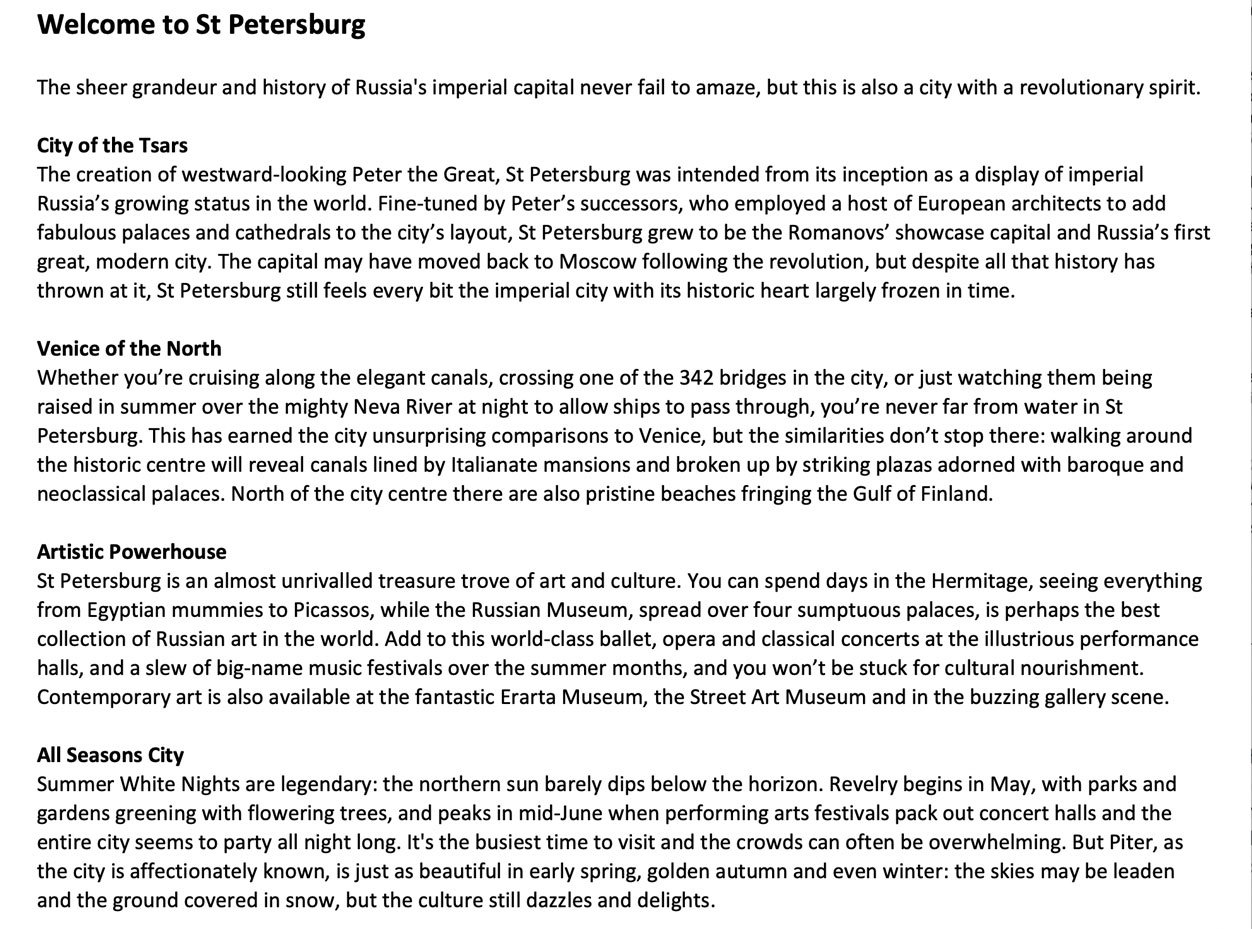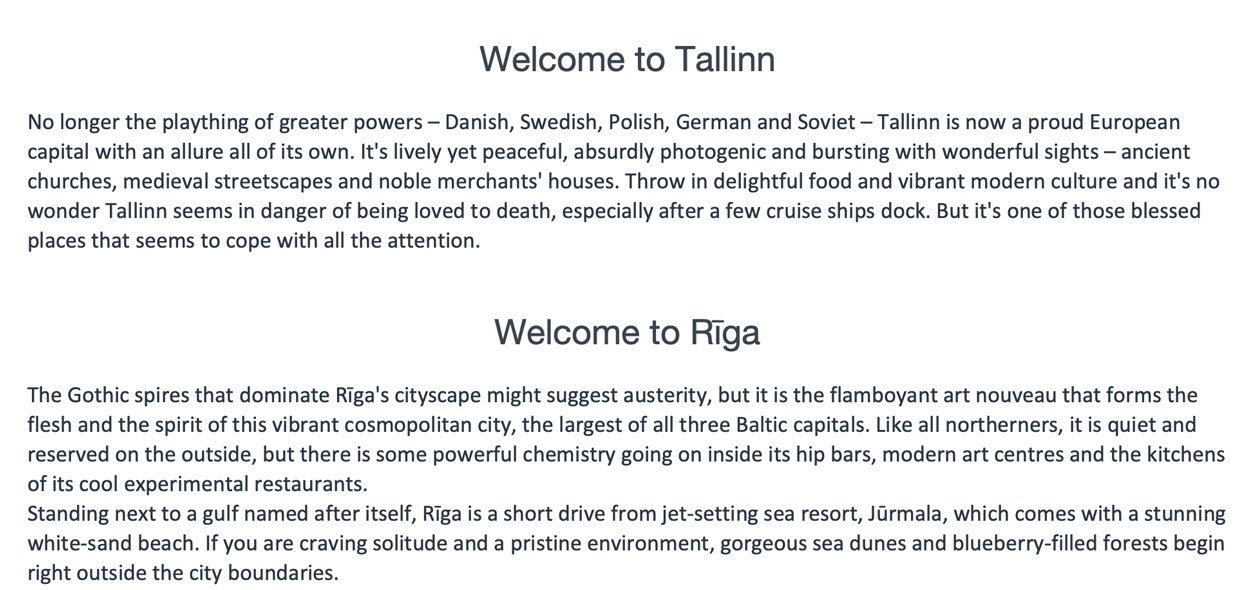 Our Glorious AFS Itinerary
Print
Depart the US May 02
Detailed trip tips coming soon by email with group air option.
May 03                  Welcome to Moscow!                  D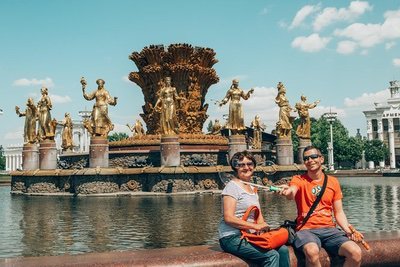 Our tour begins today in Moscow where after arrival, we are greeted and transfer to our hotel. TheRadisson Slavyanskaya is located in the heart of Moscow and overlooking the Moskva River. This gorgeous modern hotel has three restaurants, a pool and a fitness center, but you are walking distance to most of the city's most important sites.
The afternoon is free for you to settle in before we all get together for a scrumptious Welcome Dinner at a local restaurant.  Get to know your fellow AFSers.  (May move dinner to next day when you are not so tired.)
Overnight: Radisson Slavyanskaya (2 nights)
May 4  Moscow  – Full day city tour                                                     B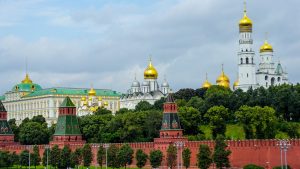 One of the largest cities in the world, Moscow is the symbolic heart and soul of Russia. Your sightseeing tour begins at Red Square, dominated by colorful St. Basil's Cathedral and by the massive red walls of the Kremlin. Visit the Armory Museum, with its impressive collection of Tsarist, Russian, and foreign jewelry, armor, and other artifacts. Then walk by Moscow University. Continue with a drive along the wide boulevards and a stroll through GUM, Russia's largest department store. Continue, on the north bank of the River Moskva, passing by the 16thcentury baroque Novodevichy (New Maidens) convent. We end our tour at the popular Arbat shopping district where we turn you lose to grab lunch and shop 'til you drop.  If time permits, check out the Vodka Museum or Gorky Park.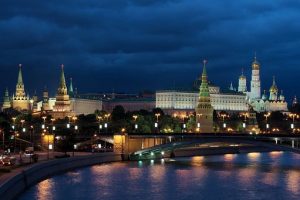 EVENING TOUR MOSCOW / METRO & RED SQUARE BY NIGHT
No visit of Moscow is complete without a tour of its elegant Subway Stations! These are not the stations you are used to by any stretch of the imagination. We will show you some of the most beautiful stations decorated with marble, brightly colored stained glass, mosaics, and chandeliers. Later, we take a stroll in Red Square, passing the tomb of Lenin and seeing the beautifully lit St. Basil's Cathedral.
Overnight: Radisson Slavyanskaya
May 5, 2020:     Moscow – St. Petersburg         B 
Our morning is free to relax or explore a bit more of Moscow. In the afternoon, we head to the railway station for our four-hour ultra-modern high-speed Sapsan train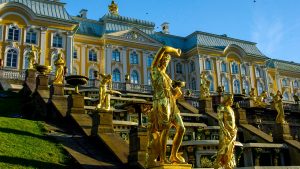 ride to spectacular St. Petersburg.
We head immediately to the world-famous Hermitage. Founded in 1764 by Catherine the Great, it is home to more than four million works of art and ranks among one of the largest and oldest museums of the world.
Afterwards, you will have free time to stroll this historic city with a leisurely evening on your own. Our home for the next three nights is the elegant Ambassador Hotel which is located near St. Nicholas Cathedral, the Mariinsky Theater and a ton of shopping and restaurants.
Overnight: Ambassador Hotel (3 nights)
May 6   St. Petersburg City Tour                                                                          B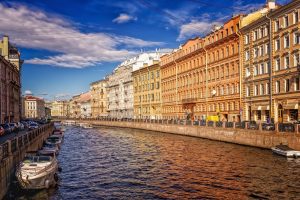 After buffet breakfast, we begin with a sightseeing tour of St. Petersburg including the Bronze Horseman statue of Peter the Great, the Stock Exchange, Senate Square, Vasilievsky Island, Smolny Cathedral, Admiralty, the Alexander Column, the Church of the Spilled Blood, the Kazan Cathedral, the Blue Bridge, and of course,  a trip down Nevsky Prospect, the main street. We also take an excursion to the Russian Vodka museum with tasting 3 types of vodka. We'll take a break for you to grab lunch on your own.
May 7   St. Petersburg – Free Time to Play or Peterhoff                                      B
You have a full day on your own to continue exploring this beautiful city. You can take time to climb to the top of St. Isaac's Basilica or venture out to Catherine the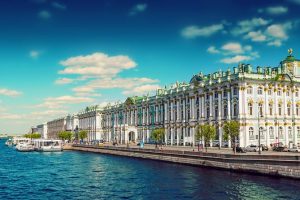 Great's Palace. Our hotel is so close to the Mariinsky Theater. Why not take a tour? Or check out the incredible works at the Faberge Museum.
Tour of the Peterhof Palace ($95 optional) – The former summer Residence of Czar Peter the Great, he built this to outshine Versailles. It is famed for its palaces, extensive gardens, terraces of gilded statues and fountain cascades on the Gulf of Finland. Relax and enjoy the elegant atmosphere of these baroque gardens and palaces on your visit.  Persoanlly I feel this is a must-do!  More details in Trip Tips emailed to all.
At night consider a theater or a river cruise through the canals and River Neva transforms the city into a magical place that has inspired generations of artists. On board, you can enjoy champagne, caviar, and vodka – talk about a Russian experience! Enjoy the sights of this classical city from a different perspective.
Overnight: Ambassador Hotel
May 8     St. Petersburg – Tallinn, Estonia  Walking Tour                                   B/L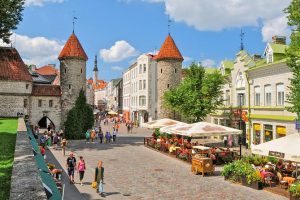 Today's journey takes us to the beautiful Baltic Sea country of Estonia. Our first stop is the picturesque city of Narva, set just across the border from Russia on the Narva River. We'll enjoy lunch here before continuing to Tallinn. Estonia's capital, Tallinn is a mesmerizing walled city situated on the southern coast of the Gulf of Finland.
Our afternoon includes a Walking Tour to visit the Dome Cathedral, Town Hall Square and medieval Town Hall, Toompea Hill and Castle, the Niguliste Church, St. Olav's church, and Alexander Nevsky Orthodox Cathedral. We'll explore the medieval walls and fortifications (no entrances included).  Look for the GOT sites and new chocolate boutiques.
We overnight at Hestia Europa, located near the port and convenient to restaurants and shops. Dinner on own.  There are endless affordable choices here for hearty peasant cuisines and great nightlife.
 Overnight: Hestia Europa (1 night)
May 9   Tallinn – Riga Welcome to Latvia!                                                                      B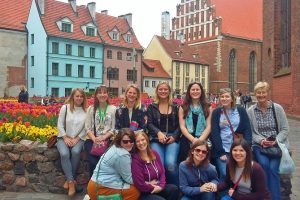 After breakfast, we travel south to historic Riga, Latvia. The drive through the Estonia countryside is beautiful! When we arrive, we'll do a City Tour which includes the Riga Castle on the banks of the Daugava River, the magnificent Dome Cathedral, St. Jacobs Cathedral, St. Peter's Church, the Parliament building, and Liberty Monument. Riga is known for its amazing architecture and Art Nouveau District and we'll get a real taste of what the fuss is all about.  We'll get to spend time at the Central Market to find treasures to take home.
The rest of the day is free to explore more, shop, or maybe sample Latvian crepes. Evening at leisure.
We'll be staying at local landmark Radisson Blu Latvija. Located right across from Riga's most popular park, the Esplanade, numerous shops and restaurants are all within walking distance.  Check out the award-winning ESPA Spa next door.
 Overnight: Radisson Blu Latvija (2 nights)
May 10 – Full Day in Riga                                                                                        B/D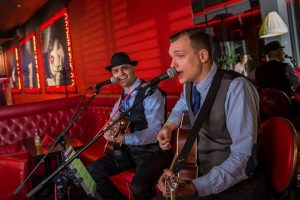 Morning free to explore this beautiful old city. A fun area to visit to the oldest section, the Vecriga, whose cobblestone streets and lined with shops, restaurants and museums. There's also the less explored Kalnciema Quarter, known for its outdoor markets and cafes. You may want to seek out a café and sample some of the local liquor called Riga Black Balsam, good on its own or mixed with just about anything. There are tons of art as well as just plain old quirky museums to sample. How about the Sun Museum?
Afternoon guided tour to the Open Air Ethnographic Museum were you will travel back in time to the 18thCentury. Located on the outskirts of Riga, it is set on 100 hectares of land in a pine forest on the banks of the Jugla Lake. The 118 historic structures include farmhouses, windmills, fishing villages, churches and other historic structures that have been rebuilt and preserved here to re-create a proper village preserved from this era.
In the evening, we gather with your fellow AFSers for a wonderful Estonian buffet Farewell Dinner at a local restaurant.
Overnight: Radisson Blu Latvija
May 11     Depart Riga for Home                                                                           B
Following breakfast, we head to the airport to return to the U.S.

 WAITLIST All must login to Book or Wait
Land Price:  $2395 pp twin share
Deposit $500
Based upon 30 participants
Not included:  Gratuities, visa

 All prices are per person twin share.  Single rooms limited per group and a single supplement applies.  Cost set by hotel/cruiseline and vary considerably.  AFS will find you a roommate match. All hotel rooms are "run of house."  

Please review AFS Terms and Conditions as well as Heading Abroad with AFS.  

Land – Price based on a minimum number of trip participants, as well as local currency exchange rates which can fluctuate.

We write our itineraries over a year in advance. Though unlikely, we always reserve the right to modify schedules, tours and 

hotels if necessary. 

Group air – Airlines may add surcharges to offset fuel inflation or taxes. The total ticket cost is not final until we receive your final payment and the group is ticketed. If doing own air, airport transfer may or may not be included depending on your air schedule. Do not buy air until the group air is set or we advise – though unlikely, airlines, times and dates can change!
Print
Group Air –  New schedule posted 10 months prior
FRA=Frankfort, RIX = Riga
Group Air with Airport Transfers– We fly into Moscow and out of Riga Latvia!  We're limited to just 25 group air seats on Lufthansa Airlines (LH) with an excellent rate and schedule!
It will fill fast email us to book.  To choose group air Login, option under invoice click the air or reply to the Russia Group Air email and we will add you on it. Note – if you reserve a group air seat and drop it after Dec 13, 2019, you will be penalized $100 to cover the fee AFS must pay LH.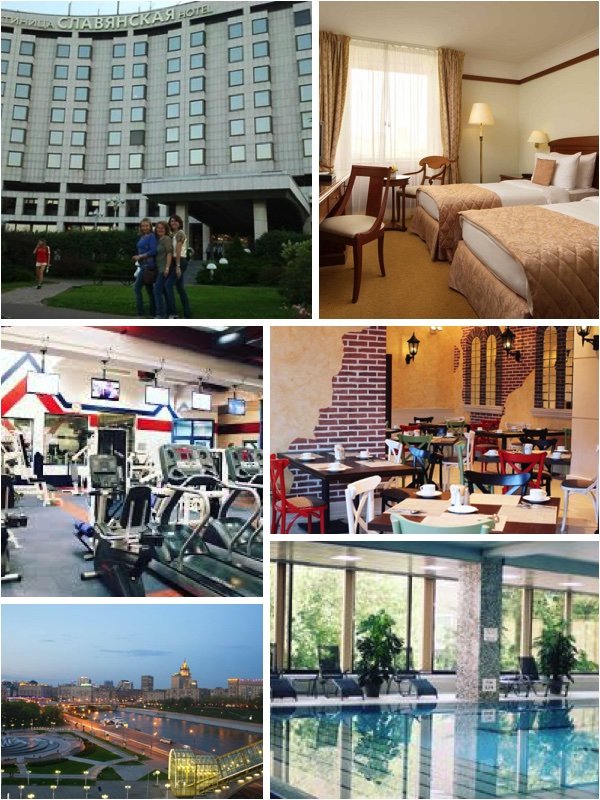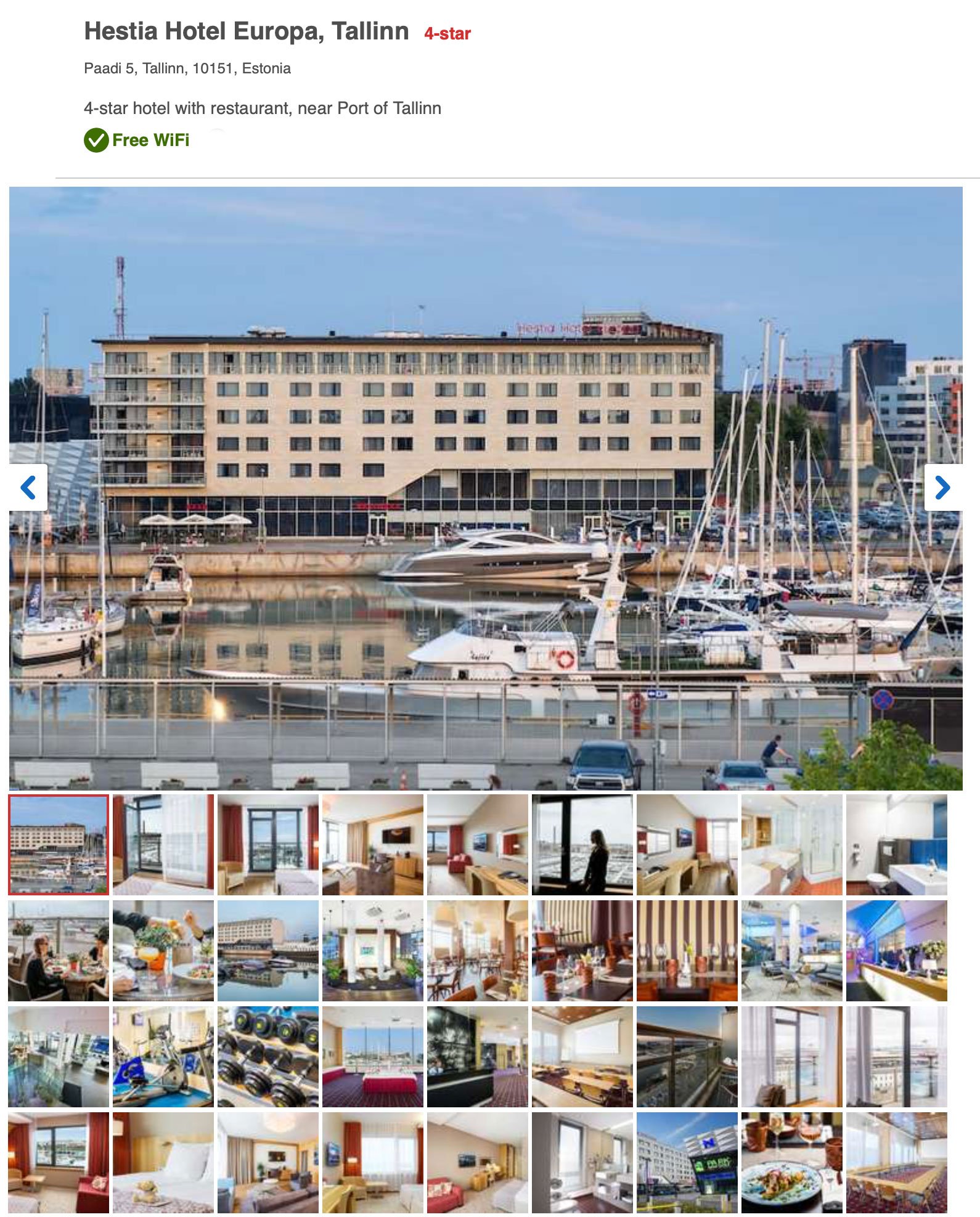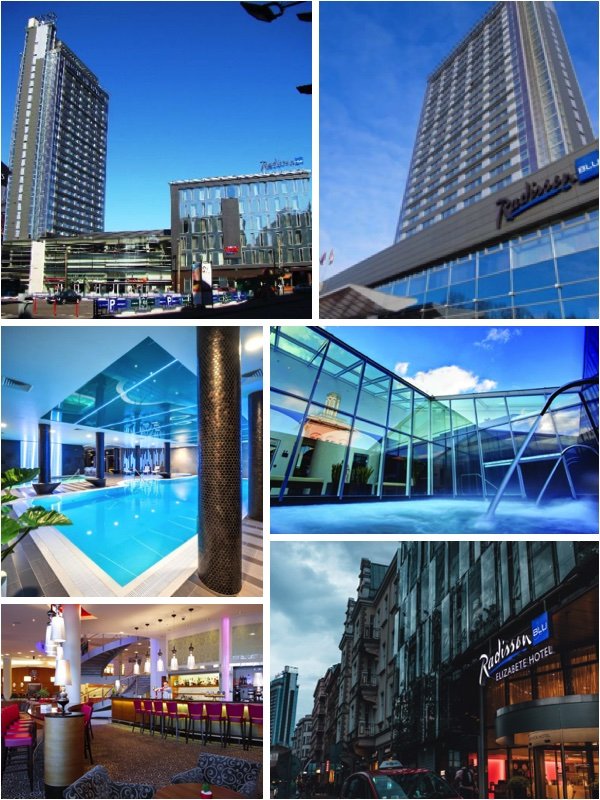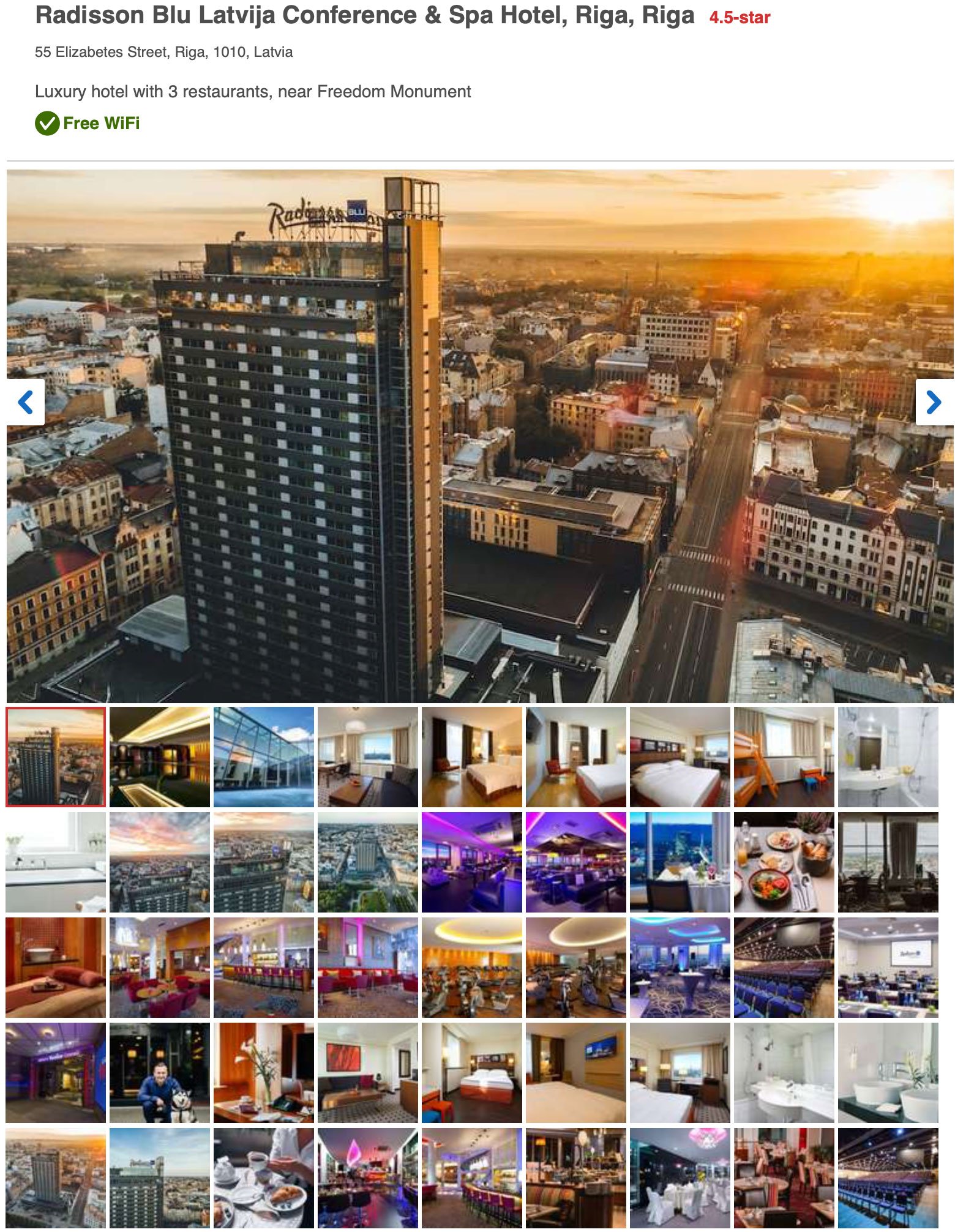 All prices are per person twin share.  Single rooms limited per group and a single supplement applies.  Cost set by hotel/cruiseline and vary considerably.  AFS will find you a roommate match. All hotel rooms are "run of house."  

Please review AFS Terms and Conditions as well as Heading Abroad with AFS.  

Land – Price based on a minimum number of trip participants, as well as local currency exchange rates which can fluctuate.

We write our itineraries over a year in advance. Though unlikely, we always reserve the right to modify schedules, tours and 

hotels if necessary. 

Group air – Airlines may add surcharges to offset fuel inflation or taxes. The total ticket cost is not final until we receive your final payment and the group is ticketed. If doing own air, airport transfer may or may not be included depending on your air schedule. Do not buy air until the group air is set or we advise – though unlikely, airlines, times and dates can change!
Print
AFS Trip Tips Russia, Latvia & Estonia (Postponed from 2020)
The tips are designed to answer all trip questions.  It's your responsibility to read this information and to bookmark this webpage to find your way back as all updates and addendums will be posted here.  (We find it disheartening when a guest is denied boarding because they missed vital information presented here.)
Make it to AFS or Adventures For Solo Travelers, 1907 Daniel Green Ct., Smyrna GA 30080.   If you won a contest on a past trip and have a coupon, mail it in, and we'll process it just like a payment made by check. You may check your balance, booking items and profile after login to www.afstravelers.com
——————————————————————————————-
Prepare to be thrilled by our new 3 country Baltic vacation like no other.  Our past groups loved Russia, but this is far more expansive with fun in Latvia and Estonia!  Not only is this educational but we added some epic hand picked activities to ensure you'll never forget the glorious regions on this trip.  You really want to do this on a guided group tour. Mother Russia is the worlds largest country filled with riches. There may be some bureaucratic inconveniences (like a visa), but it's all part of the travel experience here. We have it covered so you can relax and enjoy the differences found here. Updates will be sent right up until departure!
We have a wonderful group of 36 travel lovers. It's a perfect medium size group for us and you'll return home with so many new friends. In mid-December after 2nddeposit is due and group is almost set, we'll send you the Facebook Group Page link so you can connect.
We have a wonderful group of 38 solo travelers.  After final payments are in and group is set, we'll send you the contact and room lists and access information to your private Facebook group.
Your fearless GTL (gracious trip leader, not a guide but liaison between our guides and group to ensure things run smoothly.).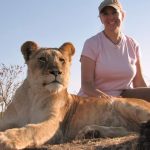 Carol has been on 20+ AFS trips over the years and has led many of our solo travel tours. She has been a ray of sunlight to each of those groups. She has a passion for seeing the world and experiencing new cultures. Having traveled to over 92+ countries and all 7 continents, she continues to pursue her dream, while working for the past 25 years in the banking industry. Her goal is to build relationships, problem solve and keep clients happy. She genuinely cares for people and is cool under pressure. These are great qualities for the business and the travel world.
During a recent sabbatical, Carol coordinated and lead a once in a lifetime journey around the world, visiting 13 countries! Carol's excitement to discover new things is complimented by her unique ability to get along with and relate to people of all backgrounds. She has a deep understanding of new and seasoned travelers with a knack to inspire all. Carol is all about the experience: from skydiving to trekking with the gorillas in Rwanda, leading a group to climb Mt Kilimanjaro and always making many new friends along the way.
=======================================================
Trip Prep:
Ensure your passport is valid 6 months after return date (Nov 24, 2020) with two blank pages.  We recommend renewing your passport well ahead of any planned international travel. Take a photo of your passport to store in cloud or bring a copy.
To speed through US Customs download Mobile Passport.  Look in your App Store for details.
Be Smart" – Avoiding Hackers on Vacation"
Experts say!..  Thieves not only want your money, but your hard-earned Frequent Flyer Points!
Change passwords often.  Check device security settings before you leave for your trip.  Back up, update and encrypt your devices and data using a virtual VPN.  It's worth the cost.
In hotel room, hide iPad or laptop to avoid "evil maids" that want to clone your tech.
Stay off public WIF without using VPN, if possible.  If not, never open attachments, view financial or personal accounts.
Visa –  WAIT until we advise!   You need a visa to enter Russia. Officials are extremely fussy.  If you make a mistake, you'll pay for each change or be blocked from entry.  Rules often change. We'll send you an Invitation Letter to start the application process for Single Entry Visa for around $198 + process fees. (Cost can change without notice).  It's only valid for 3 months.  After Feb 15, we'll send your exact docs and instructions.
How to get a tourist visa for Russia?
Have a valid passport.
Set your itinerary: Cities and Hotels.
Get a letter of invitation or visa support.
Fill out the Visa Application Form.
Print the form, sign it, and attach a photo.
Take all of your documents to the Russian Visa Center (or consulate)
Collect your passport.
Travel insurance (optional)
Russia is notoriously picky and the visa application must be perfect.  A reputable visa service will make the process easier and is worth the fee.  You can google a visa service or call our friend Marc Gilland of Passport/Visa Advisors    Ph:  ‭(704) 246-6373‬. Email: info@passportvisaadvisors.com.
Fitness level – 2   (No trouble walking.). There are walking tour daily
Group Air with Airport Transfers– We fly into Moscow and out of Riga Latvia!  We're limited to just 25 group air seats on Lufthansa Airlines (LH). This was booked in 2020 and moved to new dates.  Exact details posted later.
We will present the new air schedule when it is available, about 11 months prior.
Transfers- Airport transfer upon arrival and departure are included with Group Air. If your flight time coincides with the group, you may take our single airport group transfer. It's your responsibility to find the group as they exit baggage claim.   
Without Group Air no arrival transfer provided– Fewer people booking our group air nowadays because they find better rates on their own directly from their hometown or use points. When everyone flies on their own, they arrive at scattered times, making it impossible to provide a group transfer on arrival. Therefore you'll need to consider Uber or sharing a taxi ride with a group member. Here is a great planning resource – www.taxifarefinder.com.
We will have a single return airport transfer at the end of the trip at a time that will accommodate most schedules. If your time doesn't work out, you'll need to make your private transfer or taxi.
Doing Own Air– You may arrange your own air from your hometown. We like Google Flights and Skyscanner. We highly recommend that you not rush to buy air until a Group Air is set (when offered). If your arrival or departure times do not align with Group Air times, you'll need to arrange your own airport/hotel transfers.
If you need help getting your own air, call our friend Rizwana who's an air expert. Call or text here at (734) 752-9331‬. Give her your exact airdates, destination, passport name and details with birthdate. 
If you go early and check-in AFS hotel before group arrives, it's your responsibility to change rooms with your roommate if necessary day one when trip begins. 
Meet Up with Group – May 15 meet the group in the hotel for a briefing 7PM.  More on this later.
Accommodations – Please see the Air/Lodging tab on this website for details. Hotels can change, but it's rare. Google each to see how cool the properties are.
Moscow, Russia:
Radisson Slavyanskaya
https://radisson-slavyanskaya.moscow-hotels.org/en/
St. Petersburg, Russia:
Ambassador Hotel
http://www.saint-petersburg.com/hotels/ambassador-hotel/
Tallinn, Estonia:
Hestia Hotel Europa
https://www.hestiahotels.com/europa/en/
Riga, Latvia:
Radisson Blu Latvija Conference & Spa Hotel
https://www.radissonhotels.com/en-us/hotels/radisson-blu-conference-riga-latvija-spa
Baggage–  Please think light to ease your burden, not like you're fleeing your homeland.  You change hotel properties several times.  1 carry-on & 1 medium suitcase not to exceed 45lbs, weigh on bath scale. This weight limit is for our porterage and luggage vans.  If you overpack with adding side pre or post trip, plan where to stow your excess luggage.  You may be responsible for any overage charge.   The new hard cases are hard to fit in coach storage.  Be sure to attach ID to both large bag and hand luggage.  Leave space for great souvenirs.
Don't Over Pack!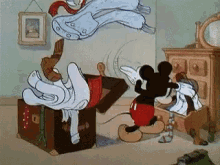 Packing – Google weather in Moscow a week prior departure – should average 59°F to 68°F.  Read Packing 101 in Heading Abroad with AFS https://headingabroadwithafs.tumblr.com
This trip is so easy. Simply pack casual spring clothing.  Bring water resistant jacket, sweater or fleece to layer, umbrella, sunscreen, comfy sneakers, swimsuit for spas.  Consider extra collapsible bag for souvenirs.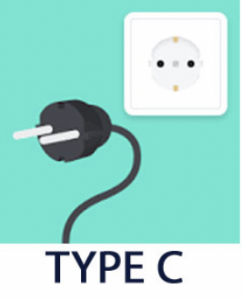 Electric – Don't forget chargers, cords, gadgets, batteries etc.  Cell phones and tablets do not need a converter, you only need an adapter plug.  AFSers often leave charger cords in room, be sure to double check before check out.  All properties have hairdryers.
————————————————————————————–
Money Matters – You need some cash for personal tipping, meals and shopping. $350 should suffice. Change on arrival at airport, bank, hotels. Or draw from ATM. Note independent ATMs are risky due to skimmer scams.  Safest ATMs are at airport and banks.   Avoid using ATM unless it's an emergency. If you must use an ATM, use them at airport or banks.  Always shield your pin number when entering.  Credit cards far safer than your debit card.   I know $350 cash is plenty of money for a week for me.  I convert half of it upon entry.   I use my credit card for most purchases.  Many cards now offer no foreign transaction fees.
Currency – Exchange Rate  $1= 63 Russian Rubles, $1= 63 Latvian Lats, $1 = 14 Estonian Kroon
Follow link below to create a conversion cheat sheet
https://www.oanda.com/currency/travel-exchange-rates
Bring two major credit cards. Inform your bank you'll be overseas during the trip, so they don't shut down your cards.
Gratuities – (Prepaid) It's protocol to tip our local guides, assistants, porters, drivers and ground staff. Guidelines have increased globally, but around $10 to $15 per day should cover all for the trip.  A $90 total will be added to your invoice. Please understand this is only the suggested minimum.  For ease of distribution, your GTL will tip the different ground services for the entire group each day.
Tipping on own –  If service is stellar, feel free to give more directly.  All we tourists leave behind is our reputation.   I carry a personal stash of US ones in an envelope to draw from as needed.  Bellstaff/porters – AFSers roll bags to the room.  If you use a porter, please tip $2.   Restaurants 10%.  For Group lunches or dinners, please leave a dollar or two for waitstaff.
An article link about tipping when traveling below
Click to read article -  Huffington Post on new tipping guidelines
—————————————————————————————-
Communication – Internet available.  Cell/smartphone be sure to check with your provider for rates and coverage before departure. Roaming rates (used by Facebook and other apps) are expensive. To reach home – Texting, iMessage, WhatsApp and Facebook messaging when using WIFI is best!  I don't know anyone who makes calls home nowadays.
Want affordable data in many countries abroad?  We've been using Skyroam.  All the data you want Bluetooth to your devices for just $10 a day.  See https://www.skyroam.com for details.
Retail Therapy – The famous wooden dolls within dolls, Faberge eggs, crystal bowls, leather bags, fine woolen sweaters, amber and gold jewelry, paintings, exquisite   lacquer boxes and painted wooden dishware, pottery, porcelain, vodkas and fun commie souvenirs.  Bargain!
Photography –
Before taking pictures of locals, please know it is always polite to first ask for permission.  Your Private Facebook Group Page is a great way to share your best shots with each other. AFS loves photos with group participants (not typical churches, monuments, or any shot that looks like you pulled it off of the net, etc.) on our website. The best photos are ones that include a group member with a local, children, animals, or at iconic sites in the same frame!
Websites of Interest – 
Google these for awesome in-depth info…
https://www.visitrussia.com/citiesguide/moscow/moscow.htm
https://www.visitrussia.com/citiesguide/spb/spb.htm
https://www.lonelyplanet.com/russia
https://www.travelandleisure.com/travel-guide/russia
https://www.lonelyplanet.com/the-baltic-states
https://www.travelandleisure.com/travel-guide/estonia
https:/www.latvia.travel/en
https://www.travelandleisure.com/travel-guide/latvia
Cuisines –
Russia:
Try a bliny (Russian pancake or crepe), sirniki (bliny with cottage cheese), kasha (buckwheat), pelmeni (meat or fish dumplings), varenekki (filled dumplings), pirog (baked dough filled with sweet or savory filling), borscht (sour beetroot soup), and okroshka (cold yogurt based soup). For those with a sweet tooth, sample varenye (homemade jam) or a priyaniki (sweet bread or cookie). As is well known, Russia is famous for its infinite variety of vodkas, great beers, but poor wines.
Estonia:
Estonia is known for its rye bread, sult (aspic (savory meat-filled jelly)), anything pickled, smoked fish, smoked sprat open faced sandwiches, rosolje (potato salad), semla (sweet roll), kali (similar to a root beer), kohuke (sweet snacks), and chocolate goodies. Local Estonian beers are definitely worth a taste. Vannin Tallinn, a rum-based herb-infused liqueur, is an acquired taste.
Latvia:
Traditional Latvian dishes are simple and include potatoes, pork, stewed fish, dry-curd cottage cheese, tomatoes and cucumbers, summer berries, stewed sauerkraut, and rye bread pudding. Fresh juices from wild berries are refreshing. Riga's Black Balsam is a thick, black alcoholic herbal drink containing ginger, oak bark, bitter orange peel and cognac and has been produced since 1700. The exact recipe is a closely guarded secret!
Roomies – 
Single supplement rates have significantly increased – if available at all. Save money and buy yourself an awesome local gift. We all live alone, but you can save money when traveling by rooming together. Suzy spends a lot of time on roommate matching. 99% of our clients are wonderful, and besides, you're only in your room to sleep at night.
(If you know you snore, please buy a mouth guard ($25 to $50). Walgreens, Amazon, and CVS have different types. A link for the best example of a product that works: https://snoredoc.com/product/snore-doc-anti-snore-mouthpiece/. Another suggestion is to use a white noise app. Other recommended options – See Suzy.
Leisure Time –
AFS travelers revel in the element of surprise in new destinations and allow the wind to blow them where it will. It's best to ask our local expert guides for suggestions upon arrival. Our trip is filled with awesome daily tours, but there will also be some free time. Just Google "Things to Do". We like Time Out, Trip Advisor, and Viator for some ½ day ideas.
Moscow, Russia:
You have a choice of over 80+ museums – the best being the KGB Espionage Museum and the Vodka Museum. Visit the Tretyakov Art Gallery, shop Arbat Street, and spend time at Gorky Park with paddleboats and beer halls. A foodie's dream is GUM department store! In the PM, plan for a performance at the Moscow Circus or Bolshoi Theater.
St.Pete's, Russia:
Things to consider are the Museum of Erotica, Military Museum, Kresty Prison Museum and its historic dungeons, and St. Catherine's Palace. Enjoy Segway tours in the city, explore Nevsky Prospekt Street, and travel the city's rivers, canals, and islands via boats and cruises. Stroll through the beautiful Summer Gardens. In the PM, plan a dinner cruise or attend a performance at the Marinsky Theater.
Riga, Estonia:
Have fun marveling and photographing the lovely architecture and churches in Old Town, indulge at the Central Market, and visit the Riga Cathedral and Jewish Museum. For extra pleasure, choose to relax at one of the city's many amazing spas – the best is ESPA Riga. In the PM, enjoy the vodka-fueled nightlife.
Tallinn, Latvia:
Get lost in Old Town, relish the local art scene and chocolate boutiques, or explore the city by taking a scooter tour. Fans – visit some of the Game of Thrones sites! Try not to miss the Estonian Open Air Museum, an incredible life-sized reconstruction of an 18th century rural fishing village.
Arranging Pre- or Post- Trip Plans –
We often see AFSers on your Private Facebook Page urging others to join them in traveling to other countries before or after our trip. Stopovers are great to add, but understand AFS has nothing to do with this nor is it responsible for side trips.
Emergency Contact – 
Please call the AFS phone at: 770-432-8225, or email us at: info@afstravelers.com. Your guide can handle a call home for a true emergency. Do not expect to use your trip leader's cell phone; you'll need to use your own cell phone.
Cancellation Penalty –
At booking, we sent you our terms and conditions. Open the following link to review our terms again:
https://www.afstravelers.com/terms-and-conditions/
Optional Travel Insurance –
If you would like travel insurance and have a pre-existing condition (elderly parent, medical, etc.), you must purchase insurance within 21 days of your Initial Deposit in order to ensure coverage. For more details, click Travel Insurance 101 or follow the link: http://travelinsurance101.tumblr.com.
Click Purchase Travel Insurance online or click on one of the links below to purchase travel insurance:
If you need assistance, I will email the form to you upon request.
Travel Psychology 101
Prepare for your departure joyfully with no contempt before investigation upon arrival. Please understand that whenever you travel, things are not like at home and changes may occur. Great trips work best for those with an open mind, flexible attitude and adventuresome spirit.  If changes occur, embrace them with serendipity. Who knows?…The unexpected may prove to be a better experience.  Adapt and go with the flow with a laid-back attitude.
Be spontaneous. Be tolerant of foreign cultures in respecting their centuries of traditions. Embrace the differences. Be curious, not shy. Smile – locals will sense your energy of kindness and kindness always begets kindness. (This goes for your roommate, too. Most of us are used to living on our own; but, have fun while being accommodating and patient when sharing a room with another fellow traveler). Our common goal is to experience different cultures, make new friends, get great photos, have large fun, and return home safely with memories worthy of recollection.
The best spirit of an Explorer requires the openness of a child – Suzy
"When traveling, remember that a foreign country isn't designed to make you comfortable.  It's designed to make it's own people comfortable." – Clinton Fadiman
Cool Articles for Exploring Your Destination Cities – 
Moscow:
https://www.nytimes.com/2010/10/03/travel/03hours.html
https://www.huffpost.com/entry/moscow-a-city-guide-to-ru_b_10384206
St. Pete's:
https://www.travelandleisure.com/travel-guide/st-petersburg-russia
https://www.huffpost.com/entry/how-to-spend-24-hours-in_b_6489242?guccounter=1&guce_referrer=aHR0cHM6Ly93d3cuZ29vZ2xlLmNvbS8&guce_referrer_sig=AQAAABndRx1q9oUPudVx4s-bDB9JmLoi3yAc5tTfp8KkZrm7a-KdwqGaHpU7i6Bp3JJRxPq28pcr51cOZ2gIFyT54gFq-kLdAwQjyChBYhLmOlFREwLnUSh9t3J-PM9D7IlwwsEZ3yLi40i0Q47Y0Ii_AfHnxLE4IInZ3VBoaJyCxhej
Talldinn, Estonia:
https://www.travelandleisure.com/articles/tallinn-making-it-new
https://www.travelandleisure.com/articles/estonia
Riga, Latvia:
https://www.sfgate.com/travel/article/Riga-Latvian-capital-overlooked-by-U-S-travelers-6389646.php
https://www.theguardian.com/travel/2018/sep/17/locals-guide-to-riga-latvia-10-top-tips-biennale
Recommended Option:
Optional ST. PETERSBURG / PETRODVORETS (PETERHOF) $95
Join our private AFS guided full-day tour by hydrofoil to Peterhof, the former summer Residence of Czar Peter the Great was his Russian recreation of Versailles. So worth it.  (Watch the movie "Catherine the Great" to get inspired.) It is famed for its palaces, extensive gardens, terraces of gilded statues and fountain cascades on the Gulf of Finland. Relax and enjoy the elegant atmosphere of these baroque gardens and palaces on your visit. Transport is by Hydrofoil and our private coach.  Mind boggling opulence with 66 fountains and 8 miles of gardens constructed in 1700's.  Our past groups loved it and it's a Must See.
Emergency Contact: Phone 770-432-8225  or email us at info@afstravelers.com.  Your guide can handle call home for True Emergency.  Do not expect to use your trip leader's cell phone – you'll need to use your cell phone.
Cancellation Penalty: At booking, we sent you our terms and conditions. Open this link to review our terms again.  https://www.afstravelers.com/terms-and-conditions/
Optional Travel Insurance – If you want travel insurance and have a pre-existing condition (elderly parent, medical, etc), you must purchase insurance within 21 days of deposit to be covered.
Click to follow this link to purchase travel insurance online
https://www.travelsafe.com/agent-insurance-plans?a=116C7AB9-8B4C-47AF-AE9E-7D26AB3A6A0E
Phone them at 888-885-7233 and give code "ADVGA02"
Read Travel Insurance 101 for details.  http://travelinsurance101.tumblr.com* Click to follow this link to purchase travel insurance online  https://www.adventuresforsinglesinc.com/need-travel-insurance* Phone them at 888-885-7233 and give code "ADVGA02"* If all else fails, upon your request I will email the form to you.
Precautions –  Bottled water is always best abroad as our gut isn't accustomed to local tap water.  Eat clean food and avoid street vendors.  Pickpockets are everywhere now, especially at night.  Never carry your passport outside the room.
Facebook Group Link –  We will present this here about 4 to 5 months prior departure.
 A bit more…
Welcome to Moscow – Lonely Planet
Kremlin & Red Square
The very founding site of the city (and arguably, the country), the Kremlin and Red Square are still at the heart of Moscow – historically, geographically and spiritually. Feel the weight of this significance as you wander within the walls of the ancient fortress, marvel at the mind-boggling magnificence of St Basil's Cathedral and pay your respects to the revered leader of a now-defunct state. Moscow will move you. It will tantalize your senses, soothe your spirit and boggle your mind – and it all starts right here at the Kremlin and Red Square.
Communist History
The remains of the Soviet state are scattered all around the city. Monuments remember fallen heroes and victorious battles, while museums attempt to analyze and synthesize the past. See Lenin and Stalin – off their pedestals – at the whimsical Art Museum. Step into the socialist-realist fantasy at VDNKh. Descend into the depths of the Soviet system at Bunker-42 Cold War Museum. Ride the museum-like metro and remember the millions who suffered at the Gulag History Museum. Nowadays, retro clubs and cafes give their guests a taste of the Soviet experience. You can even try your hand at Soviet-era arcade games.
Performing Arts
What is more thrilling than watching a ballerina defy gravity, leaping across the stage at the glittering Bolshoi Theatre? Or feeling the force of Tchaikovsky's 1812 Overture, just a few blocks away from where it premiered more than a century ago? Or oohing and aahing as circus performers soar under the big tent? The classical performing arts in Moscow are still among the best in the world. Nowadays, even the most traditional theatres are experimenting with innovative arrangements, reviving lost favourites and hosting world premieres. Whether you appreciate the classics or prefer the contemporary, the capital's performing arts will impress.
Orthodoxy & Architecture
At nearly every turn in Moscow, you'll see golden domes peeking out over the rooftops and hear church bells peeling through the streets, which are dotted with some 600 churches – many of which are glittering after recent renovations. There are colourful hidden gems, historic fortresses and gargantuan cathedrals. The exteriors are adorned with stone carvings and glittering domes; interiors are packed with ancient icons, swirling incense and faithful worshippers. For more than a millennium, Orthodoxy has helped to define the Russian nation, a significance that is palpable in these atmospheric spiritual places.
Welcome to St Petersburg
The sheer grandeur and history of Russia's imperial capital never fail to amaze, but this is also a city with a revolutionary spirit.
City of the Tsars
The creation of westward-looking Peter the Great, St Petersburg was intended from its inception as a display of imperial Russia's growing status in the world. Fine-tuned by Peter's successors, who employed a host of European architects to add fabulous palaces and cathedrals to the city's layout, St Petersburg grew to be the Romanovs' showcase capital and Russia's first great, modern city. The capital may have moved back to Moscow following the revolution, but despite all that history has thrown at it, St Petersburg still feels every bit the imperial city with its historic heart largely frozen in time.
Venice of the North
Whether you're cruising along the elegant canals, crossing one of the 342 bridges in the city, or just watching them being raised in summer over the mighty Neva River at night to allow ships to pass through, you're never far from water in St Petersburg. This has earned the city unsurprising comparisons to Venice, but the similarities don't stop there: walking around the historic centre will reveal canals lined by Italianate mansions and broken up by striking plazas adorned with baroque and neoclassical palaces. North of the city centre there are also pristine beaches fringing the Gulf of Finland.
The Hermitage
It would take approximately nine years to cast even a glance at each of the museums 150,000 works on display and that's only 5% of the museum collection! It's a never-ending maze at the Hermitage Museum's 1000 rooms.
The Hermitage boasts over 2.7 million exhibits and displays a diverse range of art and artifacts from all over the world and from throughout history (from Ancient Egypt to the early 20th century Europe). The Hermitage's collections include works by Leonardo da Vinci, Michelangelo, Raphael and Titian, a unique collection of Rembrandts and Rubens, many French Impressionist works by Renoir, Cezanne, Manet, Monet and Pissarro, numerous canvasses by Van Gogh, Matisse, Gaugin and several sculptures by Rodin. The collection is both enormous and diverse and is an essential stop for all those interested in art and history. The experts say that if you were to spend a minute looking at each exhibit on display in the Hermitage, you would need 11 years before you'd seen them all. However, we recommend you opt for a guided tour instead!
The Winter Palace was built between 1754 and 1762 for Empress Elizabeth, the daughter of Peter the Great. Many of the palace's impressive interiors have been remodeled since then, particularly after 1837, when a huge fire destroyed most of the building. Today the Winter Palace, together with four more buildings arranged side by side along the river embankment, houses the extensive collections of the Hermitage. The Hermitage Museum is the largest art gallery in Russia and is among the largest and most respected art museums in the world.
Welcome to Tallinn
No longer the plaything of greater powers – Danish, Swedish, Polish, German and Soviet – Tallinn is now a proud European capital with an allure all of its own. It's lively yet peaceful, absurdly photogenic and bursting with wonderful sights – ancient churches, medieval streetscapes and noble merchants' houses. Throw in delightful food and vibrant modern culture and it's no wonder Tallinn seems in danger of being loved to death, especially after a few cruise ships dock. But it's one of those blessed places that seems to cope with all the attention.
Welcome to Rīga
The Gothic spires that dominate Rīga's cityscape might suggest austerity, but it is the flamboyant art nouveau that forms the flesh and the spirit of this vibrant cosmopolitan city, the largest of all three Baltic capitals. Like all northerners, it is quiet and reserved on the outside, but there is some powerful chemistry going on inside its hip bars, modern art centres and the kitchens of its cool experimental restaurants.
Standing next to a gulf named after itself, Rīga is a short drive from jet-setting sea resort, Jūrmala, which comes with a stunning white-sand beach. If you are craving solitude and a pristine environment, gorgeous sea dunes and blueberry-filled forests begin right outside the city boundaries.