Exclusive "Cry of the Kalahari"    Deep into Africa!
March 27-April 4, 2022    Small Group!


You may be an "AFS Afroholic" yet never experienced the depth of the mighty Kalahari that is blessed with the greatest wildlife spectacle on earth! Botswana, renowned for its animal protection and 200,000 elephants, takes "Safari" to the next level for the ultimate bush experience. Wild and unspoiled, it's my favorite African country. Our past 3 groups here were mesmerized by the roar of black-maned lions, the ancient wisdom of the Bushmen tribes and flaming sunsets under the Kalahari skies.
This is our most special high-end "Fly in Safari" by our chartered planes to whisk us deep into the bush-from Maun to Kwai, Moremi Game Reserve, Okavango Delta and Central Kalahari Game Reserve.  It took a year of planning with the best luxury tented camps to pamper our small group. In March, the "Kalahari summer", is the time of zebra migration. Fresh spring grass draws dramatic game and it's the time many species are giving birth.
It's so diverse. First, the Water World where we explore waterways in dugout canoes among hippos and magnificent birdlife. Then we fly into the Dry World of the Kalahari, big cat territory where cheetahs, leopards and countless lions run wild. There's never a dull moment here witnessing the interplay between predator and prey! This vast desert of salt pans, baobabs, meerkats and rare painted dogs is home to the indigenous San Bushman. 
Our unique journey is inclusive with gourmet meals, thrilling game drives, village visits, walking safaris, bush dinners under the stars, Glamping in style and more. Read The Last Lion or Cry of the Kalahari books to grasp the depth of how remotely wild this AFS Out of Africa adventure truly is.    If you want a true National Geographic moment, I believe this will be your best footsteps in Africa. Some things only come around once and this exclusive safari of intense animal encounters is it! Book now. Limited to only 16 participants.

Lonely Planet says…Nature's Abundance
The Okavango Delta – there's nowhere quite like it on earth. This is a place where wild creatures roam and rule, where big cats and much bigger elephants walk free in one of the world's last great wildernesses. The delta is a byword for abundance – for animal numbers, for the variety of species, for the birdlife, for floods of Biblical proportions. And it is also a place of singular and unparalleled beauty where safari possibilities can seem as endless as the waters themselves.
Stark Desert Beauty  The Kalahari Desert, the largest unbroken stretch of sand on the planet, is not your ordinary desert. From the salt pans of Makgadikgadi, the baobabs of Nxai Pans, and the spare magnificence of Kubu Island in the north, to the wonderful wildlife of Kgalagadi in the south, this is a desert of exceptional variety. Throw in the fossil river valleys, swaying golden grasses, black-maned lions and the echoes of the indigenous San people in the Central Kalahari Game Reserve and there are few more beautiful deserts on Earth.
Exclusive Travel  Botswana didn't just turn its back on mass tourism. It ushered in an era of utterly exclusive safari experiences, the likes of which are seen nowhere else. These are sumptuous lodges and remote tented camps, especially in the Okavango Delta and surrounds that are sometimes contemporary in style, and at other times problematically awash in colonial nostalgia. And they will provide you a front-row seat for wildlife spectacles that you may just have all to yourself.
Africa's Best Camping  You can experience Botswana by renting your very own 4WD vehicle that doubles as an ingenious camping home away from home. This is about experiencing wild Africa at your own pace, traveling from one campsite to the next, where you may lie awake at night listening to lions roar their bone-trembling roar, or hippos, elephants, or the chilling saw-like grunt of a leopard. Build a campfire, gaze at the stars and feel at one with this gloriously beautiful country.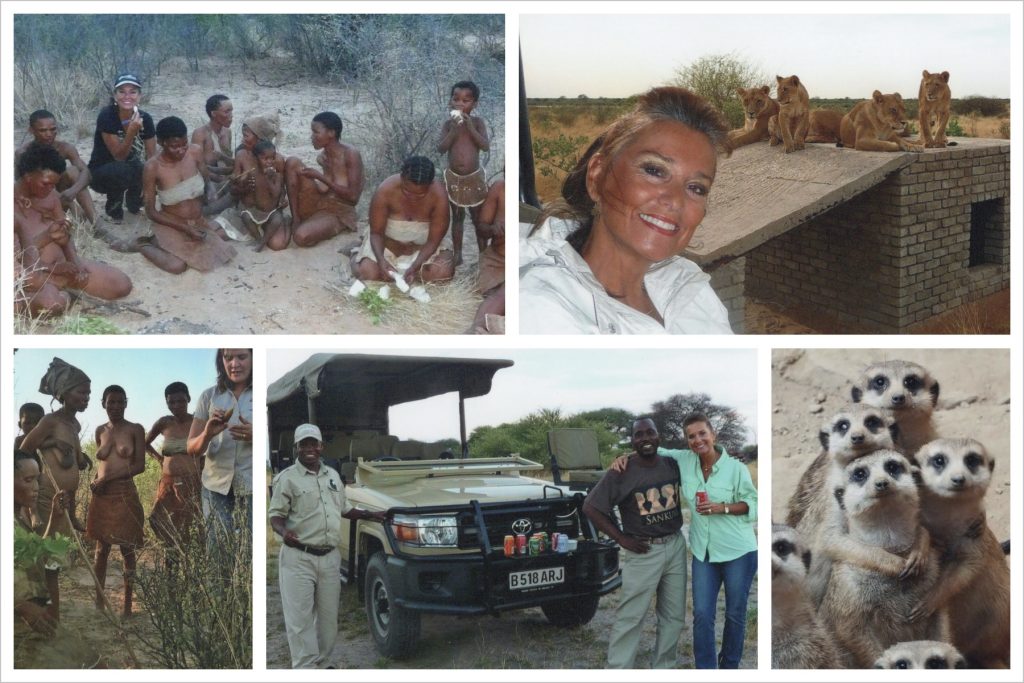 What makes Khwai unique:  Nestled in between the northeast edges of the Okavango Delta and the world- famous Moremi Reserve, the constant flowing Khwai river provides a permanent water source for migrating animals throughout Botswana.   Khwai is incredibly beautiful with many diverse landscapes. Offering a patchwork of lagoons, shallow flood plains, woodlands and grasslands, this concession has a bit of everything, It is known for its high concentrations of lions, leopards, wild dog, cheetah and hyena as well as the large herds of elephant, buffalo and plains game. It is also a birders paradise and known for its high concentration of eagles.
What are the benefits of visiting a private concession?
A concession does not have hard open and closing times (sunrise and sunset). Instead, you can stay out on game drives as late as you want or get started as early as you want. This gives you more flexibility.
You can go on nature walks with your safari guide. These unique walking safaris allow you to see the African bush in a whole new way.
The Khwai River also makes this area a great location for mokoro safaris. Your mokoro guide will propel you through the calm waters of the waterways in a two-person dugout canoe. This is the most relaxing and peaceful way to capture the incredible beauty of your surroundings. The waterways are carpeted in both day and night lilies.
Being on a private reserve allows you the opportunity to go out on night drives to see the nocturnal animal such as porcupine, civet, bushbabies, bats, owls. And of course, the night skies are spectacular- a great opportunity to explore the southern stars.
Finally in a private reserve, you're able to off-road which you cannot do in the touristy government reserves enabling you to track the game into the bush when necessary.
Some interesting facts about the Kalahari which makes it unique:

One of the most interesting Kalahari Desert facts is that it is not a desert in the strictest sense of the word, as it receives too much rainfall – between 5 and 10 inches annually. However, any rain filters rapidly through the vast expanses of sand, leaving nothing on the surface, turning the Kalahari into the "thirstland". The name "Kalahari" is derived from the Tswana word Kgala, meaning "the great thirst", or Kgalagadi, meaning "a waterless place".
The Kalahari Desert covers approx 900,000 square kilometres (350,000 sq mi). It is a gently undulating, sand-covered plain, and all of it is 900 metres or more above sea level. The Kalahari Desert was formed over 60 million years ago. Back then, the desert area was actually a shallow basin. It is thought that the Okavango, the Kwando and Zambezi rivers all flowed through one single channel across the Kalahari. Seismic movements caused a 'superlake' which later dried out, leaving behind salt deposits that form a part of the desert we know today.
The wildlife found in the Kalahari Desert has to be able to survive the arid conditions. The wetter north has a richer and greater variety of wildlife than the dryer south. Arid-adapted game includes springbok, gemsbok, wildebeest, kudu, steenbok and duiker. The Kalahari is home to desert specialties such as meerkat, bat-eared foxes, cape fox and brown hyena. One of the more unexpected Kalahari Desert facts is that all three African big cats can be found here – cheetah, leopard and the famous black-maned Kalahari lions.
Kgalagadi Transfrontier Park in the southern Kalahari is Africa's first Peace Park, one of many that aim to transcend man-made borders and conserve the wildlife.
The earliest inhabitants were the Khoisan people who lived as hunter-gatherers here. Today there are still a significant number of San people in the areas of the Kalahari region. They live in small tribes and form one of the oldest cultures known to man with tradition being at the core of their society. They live a hunter-gatherer lifestyle and their knowledge of the landscapes and wildlife is exceptional.
The Rare Taa language (sounds like a click language) is spoken by less than 5,000 people in the world. Most speakers of this unique Khoisan language currently live in Botswana and the roots of this native tongue arise in the Kalahari Desert population. Taa is also notable for having more vowels and consonants than any other language spoken.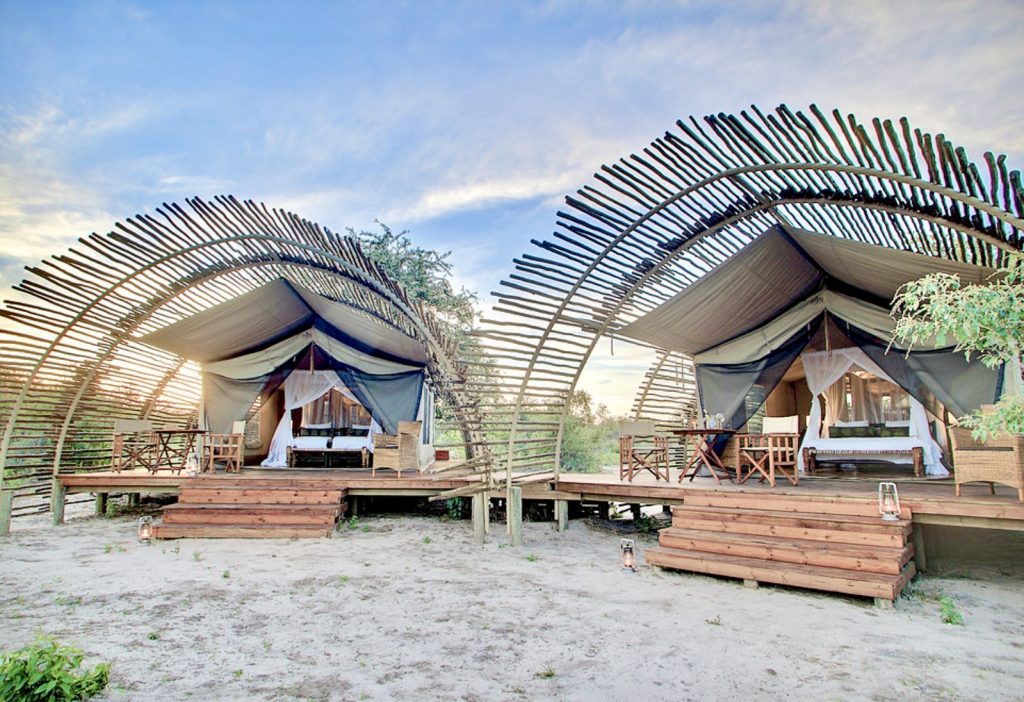 Our Glorious AFS Itinerary

Print
Mar 26-27  – Depart USA to Johannesburg (JNB) or Maun, Botswana.  All air and details to come in Trip Tips.
Mar 28 –  Maun           D
Land begins.  Fly direct to Maun or meet at Johannesburg airport for your flight to Maun with our group air.  Upon arrival, you will be met and transferred to Thamalakane Lodge just 19 km outside of Maun en route to the Moremi Reserve. Spend the afternoon relaxing at the river's edge in preparation for your African adventure

Overnight: Thamalakane River Lodge
The lodge is ideally located an easy 20-minute drive from Maun Airport en route to the famous Moremi Game Reserve. It is a secluded haven of tranquillity nestled in a grove of mature riverine trees on the bank of the Thamalakane River. The rambling lodge has an idyllic setting and is committed to service excellence.  Character en-suite stone chalets, some with private splash pools are positioned in the shade of the riverine forest, overlooking the river. All chalets and common areas have terraces that take advantage of the serene 180-degree view of the riverbanks lined with fluttering reeds visited by an ever-changing array of waterfowl and birds.  It is a delightful place to come home to after a day spent exploring.
Mar 29 –  Moremi,  Luxury Tented Camp                                 (meals) BLD

After breakfast, transfer to Mogotlho Lodge in a private concession on the banks of the Khwai River. This is a 2 ½ hour road transfer. Arrive in time for lunch before afternoon game drive. This area is known for its incredible diversity of wildlife and dense concentration of game!   What an amazing place this is. We arrive to a welcome song and dance by the awesome camp staff. There are gourmet cuisines, excellent service and luxury tents.  We had elephants right outside our tents last time.

Overnight Mogotlho Lodge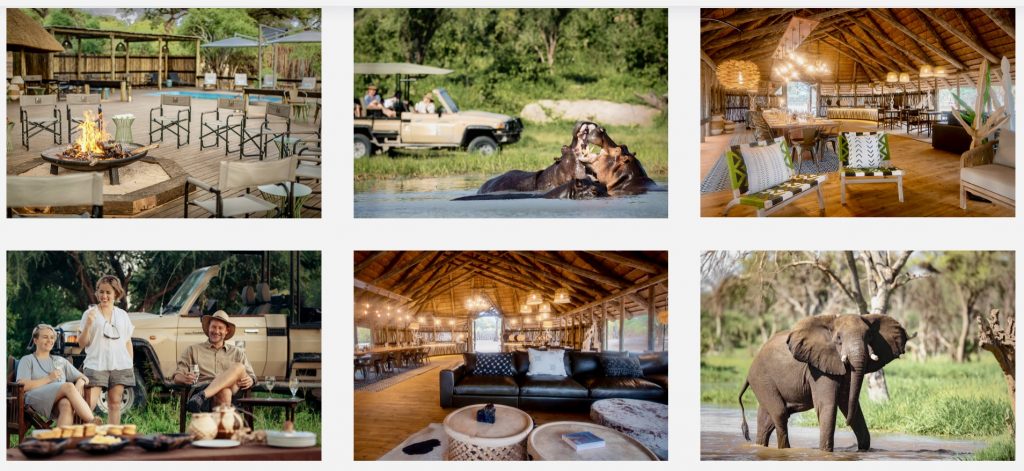 Mogotlho area is nestled deep in the wild heart of Africa… a tranquil place, along a lazily meandering river and surrounded by ancient, majestic Camelthorn trees. Imagine a place bursting with a rich diversity of life, where the air is pure and the stars are breathtakingly radiant in the night sky.  With a spectacular setting on the Khwai River, Mogotlho Safari Lodge is the perfect destination to indulge in first class hospitality and experience the magnificent wildlife of Mababe and the greater Khwai area.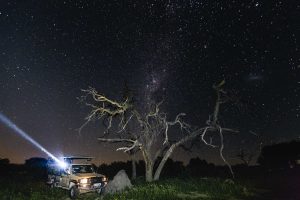 Mogotlho Safari Lodge is situated in the heart of a 50 000 ha private concession on the banks of the beautiful Khwai River within a greater, pristine wildlife area in Northern Botswana.  With 13 beautiful, newly refurbished safari tents and a charming thatched-roof public area overlooking the Khwai River, Mogotlho Safari Lodge is an ideal destination for visitors wishing to experience authentic African hospitality in the heart of the bush.  Night drives, bush dinners and sundowners at strategic water holes on the Khwai Riverbank are just a few of the activities on offer at Mogotlho Safari Lodge.  This is an unfenced lodge so you will be escorted to your rooms at night as game can wander through camp.
Room facilities:   The tented suites all with en suite bathrooms with shower, All with unspoiled panoramic views over the African bush, Large open mosquito gauze windows, Solar geyser and solar lights, Recharging station for cameras and phones, In room fan.  Private deck overlooking the river.  All guest amenities including shampoo, conditioner, hand and body lotion, foam bath, liquid gel and soaps are sourced from eco-friendly suppliers, who are endorsed by Beauty without Cruelty, and where possible, use organic ingredients which are biodegradable.  There is no wifi in the tents.  Mosquito repellent, rechargeable torches, Room safe, Laundry service available.


Lodge facilities:  A beautiful thatched-roof lounge, wildlife library, dining area and bar, as well as a swimming pool and boma area with views over the river.  The entire lodge runs off solar power connected to an inverter and batteries.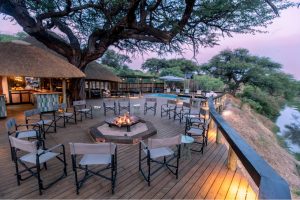 Activities:  Game drives with qualified, professional and knowledgeable guides take place daily in the cooler hours of the morning and afternoon. Our guides are passionate about sharing their knowledge of the bush and providing a game viewing experience of the highest quality.
 Night drives in the concession provide a unique opportunity to discover the unusual and secretive nocturnal members of the animal kingdom. We go out on a two-hour drive where we get a chance to see a different world of nocturnal species including owls and a variety of predators.
 Our guided bush walks along the banks of the Khwai River will get you even closer to nature and provide an opportunity to learn more about the indigenous flora and traditional medicinal uses of plants. This time also allows our guides to impart their tracking knowledge with hands-on experience and share the rich history of Botswana. A bush walk is a sensory experience, spending time observing, listening, learning and reconnecting to the African animal kingdom.
 For bush lovers wanting more, we offer a full-day excursion to neighboring Moremi Game Reserve and the surrounding Khwai area. Exploring the waterways of the Delta in a mokoro and game viewing from water level is a surreal and exhilarating experience that can be arranged with the day trip.
 We are proud to be in partnership with our local community from Mababe. Cultural experiences in the village can be arranged for those wanting to learn more about the people who have inhabited and co-existed with wildlife in this area for centuries.
Mar 30         Bush Walk, Game Drives                                                                               BLD

Botswana is one of the few African countries that offer walking safaris. This morning our experienced armed ranger will silently guide us on a bush walk. Anything can suddenly happen. Our last group here had some wonderful surprises.

After lunch, relax in the afternoon when the game sightings are slight.  Depart for candlelit bush dinner under a star-filled sky at a remote spot on the banks of the Khwai River.  Later enjoy a night game drive and star safari where the highlights of the Southern star constellations will be pointed out to you. Our professional rangers here are passionate about sharing their knowledge of the bush.

Overnight Mogotlho Lodge

Mar 31    Okovango  Delta                                                                  BLD

Full-day excursion to the Moremi Reserve to explore this incredible tract of land.  You'll experience a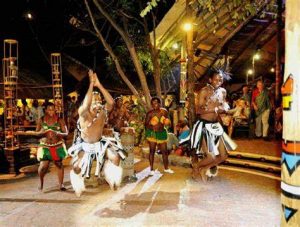 mokoro trail as you silently glide through the stunning waterways. Board your mokoro – a traditional dugout canoe of the Baye people. The guide stands in the back and quietly propels you through the watery wonderland to view large and small game up close.  You may see elephants on the edge, a Kingfisher above and reed frogs leaping off lily pads. Your heightened senses might hear the bellow of hippo as you enter their world. Game viewing by mokoro is unlike any other experience in Africa.  Game drive and walking safari if time permits.  Enjoy a packed lunch en route. Come home to traditional dancing around the fire followed by a traditional Botswana dinner.
Overnight Mogotlho Lodge
Apr 1       Fly to Kalahari                                                    BD

The word "Safari" means to move.  After breakfast, we visit the village of Mababe for a community experience before heading to Maun.  Then we depart Maun airport for your AFS charter flight into the Kalahari – 45 minute flight.  Small plane means small bags.  After checking in you will enjoy an afternoon game drive on the reserve.

Overnight Haina Kalahari Lodge

Haina Kalahari Lodge is a private setting in the amazing landscape of Botswana, which provides exclusive full-day game drives and bird watching. This lodge is a perfect destination if you want to witness the wildlife of desert-adapted animals. This exclusive and secluded Lodge has the most unique tents that define contemporary luxury deep in the wilderness.
Highlights:  An excellent destination for desert-adapted wildlife.  Cultural encounters & walks with San Bushmen.  Pool, wellness spa, Wi-Fi & fitness center.  Solar-powered lighting & recharging facilities.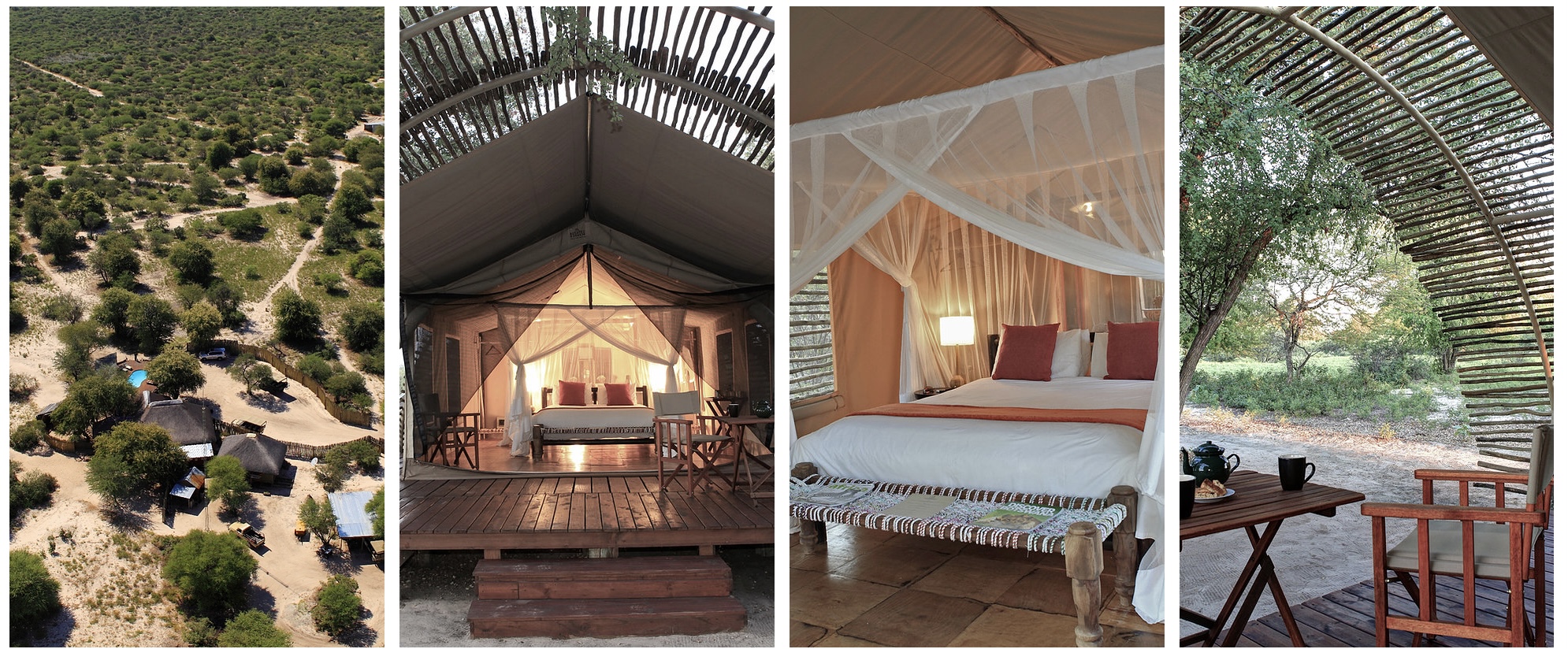 Apr 2      Game Drives and Bushman                                                                  BLD

Morning game drive on the reserve. Game viewing here is exceptional. The region is well known for sightings of leopards, cheetahs, rare brown hyena and black maned Kalahari lions. Our game drives with professional trackers take place early morning and evening when it is cooler. And the time when predators are most active. Night drives provide sights of unusual nocturnal members of the animal kingdom and are always dramatic.

Enjoy lunch and an afternoon with the San Bushman people!  It's such a rare experience to journey on foot into the desert with the San people who will passionately share an authentic and traditional experience. Learn about their ancient culture, lifestyle, history and how they survive in the harsh conditions of the Kalahari.  Dinner at the lodge

Overnight Haina Kalahari Lodge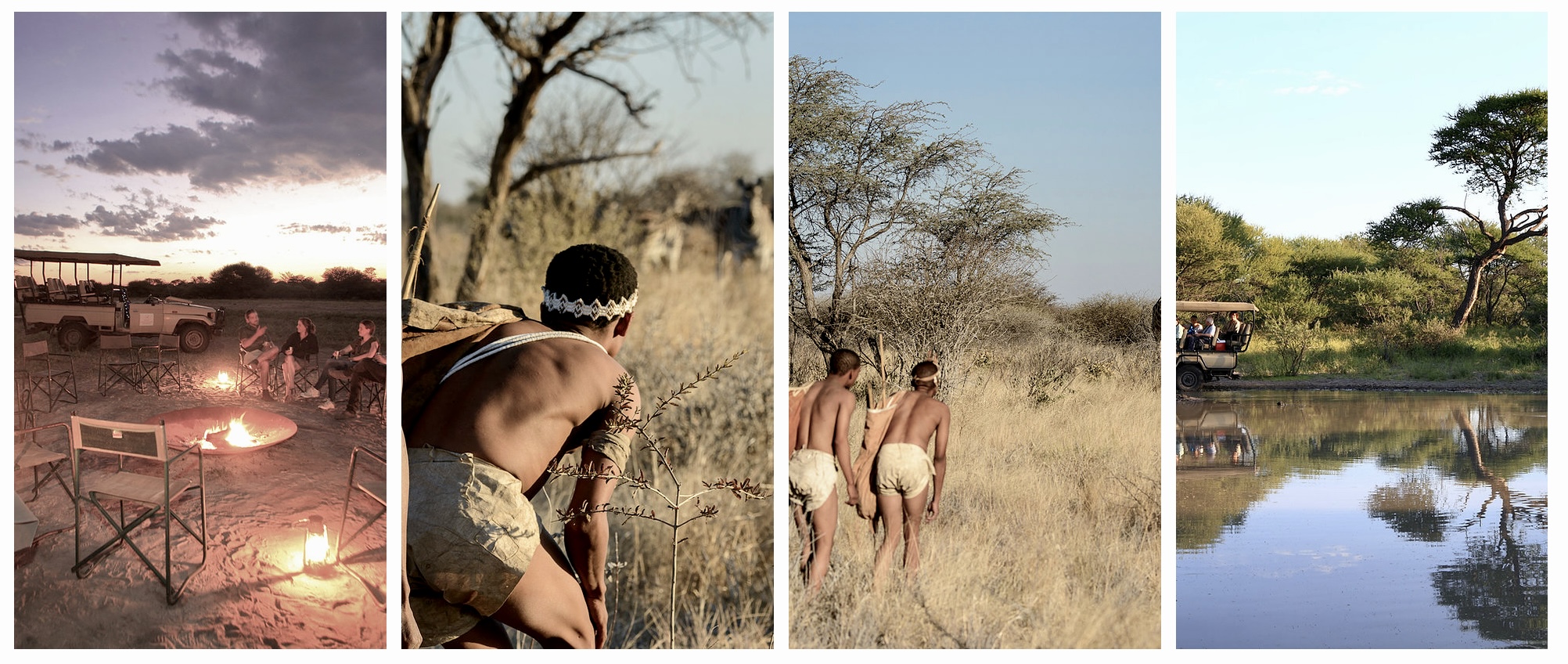 The Evolve Back Gham Dhao Lodge, formerly known as Haina Kalahari Lodge, is situated on the northern border of the Central Kalahari Game Reserve in Botswana. Classically African in style with a relaxed informal ambiance, the Lodge is your perfect gateway to the Kalahari.
Room facilities:
Hot and cold running water (not suitable for drinking)

​Indoor and outdoor showers

​In room safe

​His/hers gown and slippers

Slatted gum pole canopy

​Solar-powered

Double / Twin bed(with mosquito net cover)

​Gas tea/coffee making facilities
Lodge facilities
The main lodge consists of a lounge, dining room and bar area housed beneath a pitched thatch and timber structure.

Spacious lounge & dining area

​Water-hole in front of the lodge

​Expansive Boma eating area

​Fully stocked bar

Wi-Fi and battery charging facilities in lounge area

​Swimming pool with sundeck

​Registered Airfield

​Gym with outdoor shower
Activities   Let us introduce you to every aspect of the Kalahari from its famed night skies and unique wildlife to the resident San people and their ancient culture.
Early morning, afternoon and night game drives are on offer. Each drive is conducted by professional and experienced guides in open-sided 4×4 vehicles.
The area is well-known for sightings of the Black maned Kalahari Lion, Leopard, Cheetah and the elusive Brown Hyena. Regular sightings include antelope species such as Gemsbok, Blue Wildebeest and Eland.
Journey on foot into the bush with our resident San People who will passionately share an authentic and traditional experience. Learn about their ancient culture and how they once survived in harsh and arid conditions.
While large mammals are always exciting to see, it is often the diverse and incredible bird-life that fascinates visitors. The area offers excellent bird-watching opportunities with over 250 bird species positively identified.
Day trips to the Central Kalahari Game Reserve can be organized. Guests get an opportunity to experience the immensity and the wild, mysterious beauty of this unique landscape.
Sun-downers are the perfect way to end your afternoon safari as the Kalahari sun dissipates, transforming the sky into an artful canvas of beauty.
A Bush Dinner deep in the African wilderness is a wonderful and primal experience best enjoyed under the Kalahari skies. Served 'Al fresco', it is a great bonding experience with the vast Kalahari landscape providing the perfect backdrop.
Apr 3     Game Drives and Activities                           BLD
Today you will do a full day experience into the Central Kalahari Game Reserve to explore this vast landscape including breakfast and lunch in the park.
Overnight Haina Kalahari Lodge

Apr 4
Morning game drive, before we board our charter aircraft for our flight back to Maun.  Fly-in safaris allow you to maximize your time with the animals and cut long drive times.  
Connect with the flight to Johannesburg landing around 3pm.   Evening flights from JNB will arrive in USA in the morning of Apr 5.


Land Price $3975  pp twin share
Deposit $600
Limited to just 18 participants max.
Includes: AFS GTL,  all meals and tours listed, entrance fees, safari vehicles, lodges, ranger guides
Not included:  Gratuities
Group Air:  Small group, no international group air

Land prices per person twin share. Trip price based on a minimum number of participants.

Single rooms limited with $ supplement.  Cost varies.  Email us for availability.  AFS will find you a roommate.

The earliest we present group air is 10 months prior. We'll send email to ask who wants it.  A minimum number of 12 is needed.

Please review AFS Terms and Conditions, Heading Abroad with AFS, Covid Policy.  Travel insurance is important nowadays.  It's rare, but we reserve the right to modify schedules, tour and hotels.

Read Trip Tips on its own tab next itinerary for latest details. 
">
Print
AFS Kalahari Trip Tips
Prepare to be awed by the amazing wildlife on our most special Africa adventure. The Kalahari is my favorite region and our past three groups raved about it. I spent months designing this for you AFS Afroholics. With the pandemic, we decided to make the itinerary simple with only one Covid test, yet still intense with adventure.  Now it is perfect. You'll be so pampered in our luxe camps with gourmet meals and the staff is so eager to welcome you! They have implemented the highest safety standards and will still maximize your thrills each day on safari. This is the best time to go.  From Kwai to Moremi, Okavango to Kalahari – with bushbabies to meerkats, Botswana has it all. 
We have a wonderful small group 12 AFS traveler lover now. We need 18 to protect the price, so please tell your fiends.  Carol and I know most of you and we welcome our new travelers. After final payments are in from the group, will send you the contact and room list. For now, get to know each other on your private Facebook group page.  Email us for the FB link and then from the group page, ask to join.  
March 29 update – Thank you for joining us.
It is your responsibility to read our important emails and updated notes to these Trip Tips.  Let us sweat the small stuff as we strive to make your trip worry-free. This may well be the best time to go and fully enjoy your vacation!
FINAL PAYMENT DUE DEC 27, 2021  Our new booking platform by WeTravel allows you to pay by check electronically without a fee. Simply follow the instructions. Credit cards will be assessed a processing fee at time of purchase.  As a small business, this helps mitigate costs and allows us to give you the very best price.   If you prefer to use the mail, make your payment to AFS or Adventures For Solo Travelers, 1907 Daniel Green Ct., Smyrna GA 30080
—————————————————————————————-
Your fearless GTL (Gracious Trip Leader, not a guide but liaison between our guides and group to ensure things run smoothly.)
Carol Huntington has been on 20+ AFS trips over the years and has led many of our solo travel tours. She has been a ray of sunlight to each of those groups. She has a passion for seeing the world and experiencing new cultures. Having traveled to over 92+ countries and all 7 continents, she continues to pursue her dream, while working for the past 25 years in the banking industry. Her goal is to build relationships, problem solve and keep clients happy. She genuinely cares for people and is cool under pressure. These are great qualities for the business and the travel world.
=======================================================
Trip Prep:
Read the revised Heading Abroad with AFS, especially if you are new to AFS.
Ensure your passport is valid 6 months after return date with two blank pages.  We recommend renewing your passport well ahead of any planned international travel. Take a photo of your passport to store in the cloud or bring a copy. Scan your important documents – Covid tests, trip tips, passport etc. If you lose your passport, US embassies now except a digital copy from your email folder on your phone to re-issue new one quickly.
To speed through US Customs download Mobile Passport.  Look in your App Store for details.
Notify bank and cc company of travel dates so they don't block charges.
Vaccines – I got mine feeling it will eventually be necessary for travel. Many countries now are eliminating Covid test and quarantine for vaccinated visitors.  Bring your vaccine card.  Don't laminate vaccine card as some countries won't accept it.  You can take photo of both sides and store on phone or copy both sides and laminate the copy.  Login to your trip file booking form and answer question about Vaccine Yes (or will) or No.  Suppliers want this info.
All airline Covid rules differ.  It is imperative to read your airline rules to ensure a smooth departure!  Click here for the latest info on PCR tests required to travel abroad Latest Covid Testing Info.  Failure to get the correct test may cause the airline to turn you away.   It's your responsibility to know the airline rules that can change right up to departure. They won't speak to us with reservations in your name. All websites post their Covid rules at top of landing page. All airlines in the process of making significant routing and scheduling changes now as they scramble ramping up hiring for the travel surge to come. How to reach them?  Call direct or request a callback time. Check to see if your questions can be resolved on the airlines mobile app or via Twitter or turn to their social media for assistance. Travelers get best results via Facebook message to the airline.
The local supplier and AFS may require you sign a Travel Pledge before departure.  If so, we'll email a form to you  prior.
No visa or shots
Covid Testing Rules tend to mutate faster than the virus itself.  Therefore, a special webpage has been built so you can get the latest info… Click here  Failure to read this page can result in your airline preventing your boarding your flight!  Read the page, it's vital  https://www.afstravelers.com/basic-covid-info/   Because rules always change, final details will be sent to you a month out. Currently you need a negative Covid test within 72 hours of departure to South Africa as well as Botswana. Arrange your own PCR test here in USA. Our supplier will arrange your PCR test there needed for Botswana- Cost settled directly with clinic, reasonable.
Malaria – although Botswana is considered a malaria zone, it's the end of the rains in March. Please consult your health provider. Anti-malaria meds are a personal decision. We've sent countless AFSers to Africa over 35 years with no problems. See my notes below. At dawn and dusk, Carol will remind you to wear a long sleeves and pants. Use repellent on exposed areas or use the easy repellent ankle and wrist bracelets. Lodges provide repellent spray and mosquito nets.
Fitness level – Easy
Air–  Land dates Mar 28-Apr 4, 2022  (Departure USA Mar 25-27)   At present, we don't offer a group air from USA as this is a small group of seasoned travelers. You can book all your air USA round trip to Maun if you like.
Or it's easy to book airfare round-trip to Johannesburg JNB with many choices! Delta has great rates now. United has nonstop from Newark. Then we can ticket you together on group air with Airlink flights to Maun. You must be ready in Johannesburg airport March 28 by 9:30 AM to check in. We advise you to overnight to rest in Johannesburg. All our groups love the Sunrock B&B – around $70 including airport transfers and breakfast.  Our friend Ian is owner holder us 15 rooms now.  Please book t[your room emailing – info@sunrock.co.za or n.delmulle@africanspiral.com
Example –
Mar 26 fly USA to JNB.  Land 3/37 and overnight
Mar 28 – airport checkin 9AM for flight to Maun.
Apr 4 – Fly Maun back to JNB at 3:50PM. All international flights back to USA depart in the evening.
Maun Group Air – $595 we are holding 18 seats.  Go to  https://tri.ps/24zPN  and login to update and reserve booking.
Mar 28 JNB-Maun 12-1:40PM
Apr 4  Maun – JNB  2:15-3:50PM
Transfers and Meeting Group – More on this later closer to departure.
Baggage– Think light to ease your burden, not like you're fleeing your homeland.  You change hotel properties several times.  For all small charter planes in Botswana, luggage must be soft sided, weighing no more than 20 KG (40lbs) including your hand carry-on.  Dimensions 12" wide, 13" high, 28" long.
If you overpack by adding side pre-or post-trip luggage, make prior plans as to where to stow the excess luggage. You may be responsible for any overage charges. So many cool new luggage trackers with GPS available now to prevent lost baggage!  We like LugLoc, DynoTag, Samsung or Apple Trackers.   The new hard cases are difficult to fit in coach storage. Be sure to attach ID to both bags. Leave space for great souvenirs.
Packing – the word "safari" means to journey or move. You must pack light. Casual clothing of neutral colors is all you need. Sneakers are fine for walking in the bush. For village visits, please bring some goodies for the children.   Check Google Weather a week prior to departure. November is summer in this part of the world and the perfect time to visit.  Temps should be in the 90's.  Read Suzy's Africa below and Packing 101 in Heading Abroad with AFS https://www.afstravelers.com/heading-abroad/
Pack your hygiene kit and munchies in clear plastic bags.  Airport and inflight food service may be limited.  Safaris are totally casual. Mornings are always cool so pack a jacket that is warm.  Dress in layers! Shorts and T-shirts fine by day. Long pants and sleeves after dusk. Bring a day pack, DEET insect repellent, wide rim hat with chin strap, sunglasses, sunscreen, swimsuit, sandals and comfy sneakers or walking shoes.  More below.
Electric– Don't forget a portable backup charger, cords, gadgets, etc. Cell phones and tablets do not need a converter; you only need an adapter plug.  AFSers often leave charger cords in room, so be sure to double-check your room before check out. All properties have hairdryers. All countries use the same round 3 pin plug (WA-10) , so only one adaptor needed.Check Amazon for adapters.  See https://www.power-plugs-sockets.com
All 4 countries – South Africa , Botswana, use the round 3 prong plugs or round 2 prong plugs
————————————————————————————–
Money Matters – You will need some cash for personal tipping, meals, and shopping. $300 in cash should suffice. Always bring some cash!  Wise to have new crisp bills.   Change currency arrival at airport, bank, or hotels or withdraw local currency from an ATM.  Note -independent ATMs are risky due to skimmer scams. Safest ATMs are at airport and banks. Always shield your pin number when entering. Avoid using unless it's an emergency.  Currency  Exchange Rates…
Be sure you bring New Bills (dates after 2016) as countries may not accept older bills when changing money.
Credit cards are far safer than using your debit card. I convert half of it upon entry. I use my credit card for most purchases.  Many cards now offer no foreign transaction fees.  You can use CC to pay for most things except craft markets. Here they will accept USD and possibly give change in local currency which can then be used for tipping.  A reminder that Visa and Mastercard accepted everywhere – Amex more difficult in Africa due to very high cc charges.
Gratuities –  It's protocol to tip our local guides, assistants, porters, drivers and ground staff. Guidelines have increased globally.  The staff and game rangers in each large give you their utmost attention and make you feel like family.
Tipping on safaris can be complex as you will have your allotted ranger throughout your stay whom you'll get to know and love. Rangers average $10 per day. Lodge staff $8 dollars per day. Carol will advise there on distribution.  Please bring envelope of $140 in Tens and Twenties for all tips.  If service is stellar, feel free to give more directly.  All we tourists leave behind is our reputation. I personally carry a personal stash of US ones in an envelope to draw from as needed.
—————————————————————————————-
Communication– Internet is available. With smartphones, be sure to check with your provider for rates and coverage for international phone plans before departure. Data Roaming rates can be expensive. To reach home – Texting, iMessage, WhatsApp, and Facebook messaging when using WIFI. Be cautious using public Wi-Fi without using VPN. Without VPN never open attachments or view financial or personal accounts on the Internet while abroad.  Phone calls, text messages, and data usage of all kinds, it is crucial to understand that, unless you are connected to Wi-Fi, every use of your phone incurs a data toll. That means that viewing and downloading email, browsing the web, viewing social media, and mapping all incur data charges, as do applications that we sometimes assume to be "free," such as Skype and WhatsApp. Unless you are connected to Wi-Fi, however, WhatsApp is using cellular data, so you are getting charged at your provider's international roaming data rate.  Facebook Messenger Phone is an easy free way to make calls.
Get Smart: Avoiding Hackers on Vacation.  Thieves not only want your money but also your data.    Change passwords often. Check device security settings before you leave for your trip. Back up, update, and encrypt your devices and data using a virtual VPN.
In hotel rooms, hide iPods or laptops to avoid "evil maids" that want to clone your tech.
Bottled water is always best abroad, as our gut isn't accustomed to local tap water. Eat clean food and avoid street vendors.
Pickpockets are everywhere now, especially at night.  Never carry your passport outside of the room.
It's wise to grab a business card from the desk before heading out on own.  To get back just show the card to a taxi driver- no memory or English needed.
Photography – Before taking pictures of locals, know it is polite to ask.  Your AFS Private Facebook Group Page is a great way to share your best shots with each other. AFS loves photos with group participants (not typical churches, monuments, or any shot that looks like you pulled it off of the net, etc.) for our website. The best photos are ones that include a group member with a local, children, animals, or at iconic sites in the same frame!
Retail Therapy – There is wonderful shopping in this part of Africa. Even non-shoppers will find themselves tempted by local goodies. Our past groups have come back with the coolest stuff.  Wise tip – Do ALL shopping at end in JNB airport store "Out Of Africa"!  They have everything and can even ship.
Sought-out treasures are African tribal art, diamonds, tanzanite, masks, beaded anything, wines, painted ostrich eggs, safari wear, and endless crafts. For any items over $60, ask for a VAT receipt to receive a 15% tax refund to be collected at airport departure.  Crafts and artwork are favorites for souvenirs and gifts, as they represent the ancient cultures and beliefs of the region. Traditional handicrafts include wood carvings and vibrantly colored masks (Makonde masks and figurines are popular due to their individuality and tribal significance). Also, traditional tribal jewelry, garnet, soapstone and malachite carvings, printed textiles and batiks, mats and baskets woven from reeds, pottery, decorative homewares, leather items, and salts and spices.
Cuisines–  Meals are listed on itinerary and included.  All food and water at properties are purified. Fresh meals and desserts here are so delicious, you'll put on pounds.
 Websites of Interest:
co.bv
com,
com/kalahari,
com
Roomies – We all live alone, but save money when traveling by rooming together. Suzy spends a lot of time on roommate matching.  99% of our clients are wonderful and you're only in your room to sleep at night.   Note, kindness begets kindness.
Leisure Time –  For your free time, it's best to arrive and ask our local expert guides for suggestions.  We notice many newer clients pre-plan many activities on the AFS trip well before they arrive, often with disappointing results.  Our daily itineraries are pretty full, but there will be some free time. Expert travelers revel in the element of surprise in a new destination and allow the wind to blow them where it will. Use Google Maps on your phone to find everything nearby.
Amending tour pre-or post-trip or arranging private tours during free time.  We often see many AFSers on Facebook urging others to join them to countries before/after our trip. Stopovers are great to add, but understand AFS has nothing to do with this and is not responsible for the quality of these trips.  Visas and shots can become complex.
Private Facebook Group Page  –  The benefit of the Private FB Group Page is that you have an opportunity to introduce yourself to your fellow travelers before departure and share trip photos during and after the tour.  Where can I find the FB link? Ask us for an invite.
Emergency Contact – AFS Phone 770-432-8225, or email us at https://www.afstravelers.com/contact-us/  and more contacts will be provided with your Final Docs email 2 weeks before departure. Your guide can handle all home for true Emergency.  Do not expect to use your trip leader's cell phone; you'll need to use your own cell phone.  3 weeks prior to departure more details on this will be emailed.
Cancellation Penalty –  At booking, we sent you our terms and conditions. Click here for our Terms & Conditions   Briefly, on land packages as of September 1, 2021  will refund your deposit less 50% until 8 weeks prior trip's final payment due date.   Any cancellation after this date will result in full forfeiture of your deposit. AFS reserves the right to resell or otherwise use the canceled space at our discretion.
Travel Insurance– While travel insurance is optional, in today's world we highly encourage you to get standard coverage to cover trip interruption and cancellation.  Call to ask what Covid coverage they have.   Some companies cover Covid related issues. Best source for all is www.insuremytrip.com.   CFAR or cancel for any reason covers Covid but is expensive.  Note that no company covers for fear.
Preexisting conditions – If you would like the security of travel insurance and have a pre-existing condition (elderly parent, medical, etc.), you must purchase insurance within 15 days from your initial trip deposit in order to assure full coverage.  The trip cost can be amended or adjusted as needed after your initial purchase (eg. like adding an air ticket cost later). You can buy travel insurance at any time, just know that there may be some possible limitations if purchased outside the 15 day period.  We like TravelSafe, World Nomads and Seven Corners.
Travel Psychology 101  – Prepare for your departure joyfully with no contempt before investigation upon arrival. Please understand that with travel, things are not like at home and changes may occur. Great trips work best for those with an open mind, flexible attitude and adventuresome spirit.  If changes occur, embrace them with serendipity. Who knows?… The unexpected may prove to be a better experience.  Adapt and go with the flow with a laid-back attitude.  Be spontaneous. Be tolerant of foreign cultures in respecting their centuries of traditions. Embrace the differences. Be curious, not shy. Smile – locals will sense your energy of kindness and kindness always begets kindness.  Our common goal is to experience different cultures, make new friends, get great photos, have large fun, and return home safely with memories worthy of recollection.
The best spirit of an Explorer requires the openness of a child – Suzy
"When traveling, remember that a foreign country isn't designed to make you comfortable.  It's designed to make its own people comfortable." – Clinton Fadiman
Covid News
Book AFS with Confidence – Thank you for booking! We are blown away by the support from all of you throughout this pandemic. It validates the trust and values AFS was built on over 35 years. As countries reopen, so will we. Travel is a shared experience. Together we press on and travel boldly. Below are new guidelines. We all must adapt and embrace any challenges with confidence for the freedom and privilege to travel.
As in life itself, travel comes with some inherent risk the minute we step out our door.   Travel isn't dangerous. Being irresponsible is. For your protection we want you to be proactive in following new health guidelines. They involve teamwork and personal responsibility, but they do not preclude you from having fun and enjoying your trip! Things constantly change and it's a huge challenge for airlines, airports, hotels, cruises and tour companies.  We will do our best to keep you up to date with any adjustments.   Please understand we reserve the right to amend any tour activities if needed. To present responsible travel, we at AFS do our part: Our vetted suppliers uphold the highest standards under CDC guidelines.
Safety measures on a trip; frequent handwashing, (bring personal sanitizer) and wear a mask when applicable. Insurance provides trip cancellation, but not from fear, trip interruption, added medical protection. Call them to understand coverage. We are not responsible for any additional cost to you due to quarantine or illness
Our Pledge to You – Our global, vetted suppliers uphold the highest standards under new CDC guidelines.
We ensure that heightened sanitation methods have been adopted in every place we visit and that all hotel properties and vehicles have passed cleanliness protocols.
Our guides and drivers must be vaccinated and pass stringent safety measures.
Most of our groups will be limited to half the size of normal in the past.
We are choosing destinations with wide-open spaces for physical distancing.
Some private tours for groups of friends only can be arranged.
We'll monitor your trip closely and provide a 24/7 emergency number if your trip is disrupted.
All clients must take the AFS pledge that they are COVID-free and will follow all the safety protocols.
Your Pledge to AFS  – We ask you to assume personal responsibility to protect your health and the well-being of your fellow travelers, guides and locals.  Know the COVID rules of the airlines you'll fly.  Get vaccinated (if you choose not, it's your responsibility to follow PCR tests.)
Read and print all updated Trip Tips on your trip's AFS webpage.
Get travel insurance with trip interruption
Stay healthy with vitamin D and zinc
Confirm within 14 days of departure but you have no symptoms of Covid nor being in close contact with anyone diagnosed with it.
You agree to assume any risk of participating in trip activities, comply with applicable government, airline and health authorities.  Some suppliers may request signature on waiver of liability.
Exercise social distancing and local guides directions whenever possible.
Sanitize your hands and phone throughout.
Read more here –  https://www.afstravelers.com/terms-and-conditions/
Covid Travel Rules are ever-changing depending on country and time of year.  Therefore, we created a single Covid rule page so everything can be up-to-date for participants on our trips.   Click Here for the latest Covid Travel Rules
++++++++++++++++++++++++++++++++++++++++++++++++++++++++++++++++
Suzy's Africa Travel Tips
"The only man I envy is the man who has not yet been to Africa. For he has so much to look forward to."
"Africa changes you forever, like nowhere else. How can you describe its magic? How can you explain the fascination of the past and noble dusty continent, whose oldest roads are elephant paths? How are experiences here in a way no other place can? Maybe it's because Africa is the place of all our beginnings, the cradle of mankind. The happiest years of my life were spent here."    Paul Theroux
Some travelers who've never been to Africa think a safari is non-stop action.  Behold the stunning boredom!  The fact is there's a lot of glorious downtime between early morning and evening game drives.  Time in the bush is like entering a remnant of an earlier era.  Everything slows down.  Shade-seeking lions flop over like house cats, zebras stand still as statues, leopards drape over branches to sleep.  All game rests.  With them, we engage in a communion of laziness.  We relax.  We observe.
Wildlife Encounters – All animals are wild and you are prey. Respect proximity. Wild animals are totally unpredictable. If you ever encounter a predator in the bush-never run! You will always be the slowest. Animals may roam into lodge camp. Never deviate off path or walk alone at night. Guards will escort you. Never walk near a riverbank or swim in lakes. Hippos hide well.
Game Drives – You will be divided in 6-7 per safari vehicle.  Do not interfere with or direct your expert rangers – guide who lived there.  He's far more than a driver with years of experience and intense certifications. Your safety is their number one concern. They can spot everything from ground to sky.   The suggested tip is $10 per game day. If several days of drives, wait until the end.  Animal sightings are not guaranteed. AFS past groups have been extremely successful on all. Over 3 decades, we never had a bad safari. Big cats are usually present, but leopards and cheetahs tend to hide. Don't just search out the big mammals. You'll miss the marvels of small creatures like badgers to bushbabies and spectacular birdlife.
Photography-   Best light on safaris is 6 to 10 AM and 4 to 6 PM.   Rangers will assist for best vantage points. There is usually a pair of binoculars to share in jeep. Always get consent before photographing local people.
On return home, share your pics on AFS private Facebook page or use Shutterfly.com.  (I have over 8000 photos of elephants and lions. Please take human photos as well as wildlife. Better yet, take photos AFS humans with the wildlife.)  Expert Africa Packing: Bring only soft-sided luggage. No hard cases can fit in Safari vehicles. If we use small charter aircraft deep into bush like Botswana, I'll advise of strict weight restrictions for both bag and carry-on.   Pack light and wear the same clothes more than once. Laundry is always available.  Neutral colored clothing (no bright colors or fragrances to alarm animals.)   light cotton shorts and T-shirts by day. Jeans/pants with long sleeve tops at night. Early-morning drives always cold-bring warm jacket, fleece or sweater.   Smart outfit for evening functions.  Hat with a brim for sun protection and chinstrap for drives.   Bring simple light day pack on drives. Sunglasses, sunscreen, insect repellent with DEET, swimsuit, adapter plugs, mini flashlight, toiletries.
Lodges or Camps –  All first-class properties or "glamping" style tents.   All food and water is purified. If water is not, guide will advise.  Cover bathroom sink with a washcloth as a reminder not to use. Bottled water in the rooms and always available daily. Hydrate! African air is dry and sun is strong.  Lodges have a staff tip box. $5 to $10 is generous to give and will be shared with all staff.  Ask reception for charging station to plug in phones, cameras and tablets.
THE BIG FIVE ANIMALS TO SEE ON SAFARI
Be mindful of everything around you, not just the Big 5.   I'm a primate girl myself.  In times gone by European hunters used to search out for the most difficult to hunt animals in Africa which led Safari club supreme a list of five key animals that were challenged to shoot. These were considered difficult for a number of reasons, including ferocity, visibility, and elusiveness.
Lions really are the kings of the savanna and are at the top of the food chain. As such, they need no introduction. Lions are widespread throughout southern and eastern Africa and you'll have a good chance of seeing them in most safari locations.
Black Rhino now critically endangered, the black rhino is not actually black, but more off-white. Despite its huge bulk and dangerous reputation, rhinos are herbivores who would rather graze on some grass than attack a person. There are a few rhinos left in a wild due to large increase in poachers hunting them for their horns.
Leopards are nocturnal and secretive, making them the most difficult number of the Big 5  to actually spot. When you do see one, chances are it will be lounging in a tree at sunset having just eaten dinner.
African Elephants as most people know are large thick-skinned herbivores. Elephants are numerous in Africa but nevertheless can be hard to spot in some areas due to their ability to hide in the bush and long grasses. Despite being widespread, elephants face a growing threat from poachers who hunt them for their ivory.
Cape Buffalo considered by many to be the most dangerous of the big five, reportedly causing the most hunter deaths, with wounded animals reported to ambush and attack pursuers.
Meds:  Anti-malaria pills may be recommended. Ask your health care provider. Sometimes a Yellow Fever shot is recommended. You get it county health clinic and it's good for a lifetime.  Our groups never had any problems with mosquitoes in two decades of trips to Africa.  Phone me direct if you have specific questions at 770-432-8225
About Anti-malaria drugs
This is a common question from our travelers to parts of Africa and So. America.  It is a serious disease that can happen when being bitten by an infected female mosquito.  However, it's extremely rare.  While locals, tourism staff and guides there do not take pills, many travelers prefer to play it safe with either weekly or daily pills which start a week before your arrival.
In the US, we are limited to only 3 choices; Malarone, Doxycycline or Atovaquone (Larium). Malarone can be costly, but now there's a generic.  Wal-Mart or Kroger has the best prices.  See your doctor for a prescription.  Sometimes one only needs a strong DEET repellent (roll-on best) and wearing pants and long sleeves at dusk.
Some clients go to CDC website which prepares all for the worst and creates unnecessary fear.  We only stay in fine properties with clean food and water.  We do not use needles, swim in rivers, work with the sick or have sex with locals.
I don't want you to over immunize yourself sick, spending hundreds of unnecessary dollars.  Over 2 decades selling Africa and South America, no AFS client has ever contracted any disease.  Ultimately, it's your decision on what's best for you.
Travelers' diarrhea can happen anywhere outside USA.  It can be caused from the stress of travel, different diets and water that is contaminated.  However, all lodge meals are hygienic clean meals.  (Cause of infection may be virus, parasitic or bacterial, so don't think Cipro is a cure-all.)  You all know not to drink untreated tap water, use ice cubes.  It is contagious so be scrupulous with washing your hands and using clean towel to dry.  And not to brush teeth with it.
If you get sick, rehydrate with oral rehydration salts, take Imodium or Lomatil.  If it doesn't pass in a week, see doctor. Don't reach for ''stoppers'' right away. Allow toxins to pass. Fluids are essential.
Things for Children –  Bring anything as all we be used.  Think Dollar Store of Target.  Some store will even donate.  (Get creative.  I bring hair scrunchies and mirrors for girls and balloons for kids.). I poor places school supplies can be useless with no paper to draw on.  They need shoes, socks, clothes. They love caps, toys and inflatable balls.  You can always donate cash to the headmaster or visit Packwithapurpose.com to see who needs what in each country.
African Jewelry –  Many AFS women long for a piece to treasure their safaris like a Big 5 ring, bracelet or pendant.  The best beyond any store is Kim in Capetown. See her website and say Suzy sent you.  KimCloeteDesign.co.za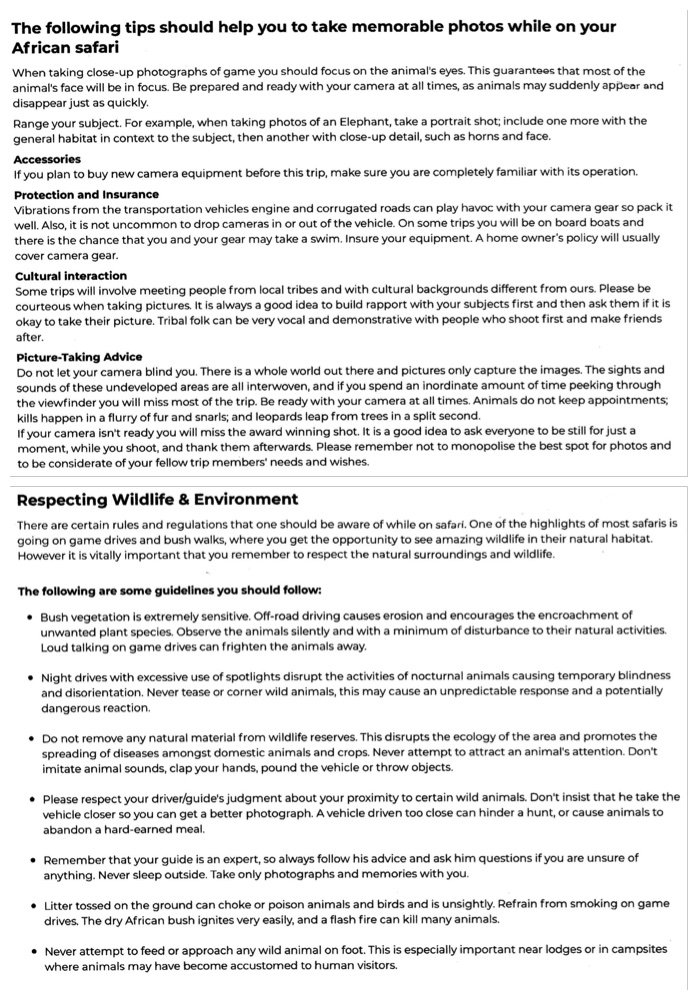 Covid travel rules seem to mutate faster than the virus.  To keep groups up to date with the latest information, we created a page that's up to date.  Set a reminder for yourself to check the Covid page 7 days before your departure.