Jun 29- July 7, 2021    Chateaus, Castles, Balloons & Beaches  (and Mont  St. Michele!)
Small Group!

BOOK NOW  or call 770-432-8225 If trip full – WAITLIST Login / create account required
Oo-la-la!! Yes, we seasoned travelers may have all been to Paris, but so many of you have begged for a deep dive into the best of France with its most iconic locations. Good wines tell good stories. You'll have many

to share as we explore the land of art, romance, dreamy landscapes and fine cuisines. Believe me, this is it – and it doesn't get any better. We're offering the ultimate French emersion that will turn AFSers to Francophiles. What better way to celebrate the 4th of July than toasting with world-class wines in The Loire Valley?
It's been 18 years since our last France trip.  We now choose to do France right. Rather than going in the cheaper off-season when you are likely to get wet, we go high season in the heart of sunny summer when France truly comes alive! The travel trend now is to "stay put" with easy air to maximize tour time in one country. This air is so easy, and France is totally trending in 2021, we had to fight to secure hotels.
For you bucket-listers, the medieval monastery of Mont St.-Michel is ours to explore. We'll cross the tidal sands to visit this almost mythical place with a private tour that gives us amazing access. You'll almost hear thunder of D-Day battle guns as our exclusive tour takes us to walk the historic beaches of Normandy. With each day, we mark off the must-sees of France – Honfleur, Ambroise, Tours, Caen, Château de Villandry, Château Clemenceau, Leonard da Vinci's home in Clos Luce, and the castle and abbeys of the notorious William the Conqueror. Stroll the gardens of Giverny with its water lilies and irises, brought to life by Monet. Savor the finest French wine and cheeses in the heart of the fabled Loire Valley, home to the world's grandest chateaus and its legendary wine caves.
Later we can take to the skies in a hot air balloon ride of a lifetime.  Float over UNESCO listed landscapes of the Loire, Indre and Cher Valleys to gaze out at endless vineyards and fairytale-like castles which are even more impressive from on high. Celebrate a safe landing with a champagne toast! Back in Paris enjoy a walking tour with free time to discover its hidden gems. The finale of our trip ends with traditional Parisian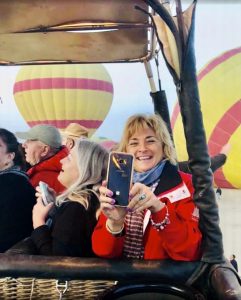 cuisine on a dinner cruise along the Seine with the lights of the Eiffel Tower twinkling above us.
This is unlike any trip to France you may have ever taken and for first-timers – you're getting the best of the best. It's almost hard to fathom all of the gorgeous gardens, chateaus and stunning countryside we'll experience. Oh, and don't forget the amazing food! There is simply so much to see and experience that this group will fill up fast. Count of this being the ultimate Bon Voyage!!!
BOOK NOW or call 770-432-8225 If trip full – WAITLIST

BOOK NOW  or call 770-432-8225 If trip full – WAITLIST

Our Glorious AFS Itinerary
   BOOK NOW  or call 770-432-8225 If trip full – WAITLIST Login / create account required
Print
Jun 29 – Depart USA to Paris (CDG)  Group air details to follow in Trip Tips. But it's so easy to arrange your own air roundtrip to Paris on dozens of airlines.  This lends flexibility so you can add an extension pre or post-trip.   Land starts June 30 at 2PM.
Jun 30 – Arrive Paris                                                           D                                 
Bienvenue a Paris!!! Welcome to Paris!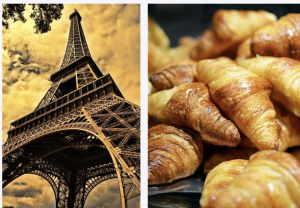 If you are arriving with the group, we will arrange for transportation to our hotel, the Crowne Plaza République. It is located right on the bustling Place de la République in what is known as the Marais district. Here you have 5 metro subway lines outside our hotel at your disposal.
You'll have time to rest, check out the shops and restaurants in the neighborhood, or even explore further. Take advantage of your time. So many options on free time here.  You can learn how to make macaroons at Galleries Lafayette or even take the train to taste champagne at Mumms Cellars! Or simply stroll the Champs-Elysee!
In the early evening, we meet in the lobby to walk to a nearby restaurant Che Jenny for a three-course Welcome Dinner to get to know your fellow travelers.  www.chez-jenny.com
Overnight: Hotel Crowne Plaza République (1 night)
Jul 01 –  Giverny, Honfleur and Normandy                         B
After breakfast, we make our way to the village of Giverny, home to artist Claude Monet. We will visit the painter's final studio, the former Café Baudy, Monet's tomb at the local church and the amazing water garden where Monet captured in his vivid Water Lilies paintings.
We continue through the beautiful Normandy countryside and visit a Dairy to learn about, as well as sample, authentic Camembert cheeses! Discover the differences between various cheeses while seeing the process from start to tasty finish.
Our drive to Caen is an incredibly scenic one and there is so much to take in on arrival. This is a medieval area dating to William the Conqueror's time. Here, we find not only his castle but the Abbaye aux Hommes and the Abbaye aux Dames, built for himself and his wife.
In World War II, D-Day operations kicked off just down the Orne River, British airborne troops famously securing the vital Pegasus Bridge.  Our historic hotel survived the bombs of WWII and sits in the heart of Caen, so you can easily explore the many monuments nearby as well as great shops and French cafes. Your evening is on own to explore.
Overnight: Hotel Best Western Plus Le Moderne (3 nights)

Jul 02 – Mont Saint-Michel Abbey         B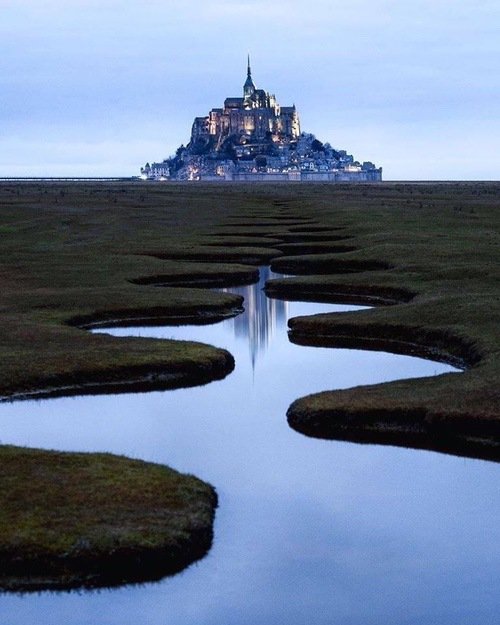 Get your cameras ready for a sight so beautiful it looks surreal!  This is an extraordinary day because we enjoy a private full-day tour of the incomparable Mont Saint Michel. One of France's most popular and iconic sights, the magnificent island of Mont Saint Michel and its bay are listed by UNESCO as World Heritage sites. The stunning medieval abbey at the top of the rocky island is a genuine historical masterpiece, while the bay below changes with the rise and fall of the tides.
We'll walk right up to the top of the island to see the fascinating and unique Benedictine abbey. Dating back to the 8th Century, it is a wonder of Gothic architecture on three floors, dedicated to the Archangel Michael.

Our evening is free to explore the pedestrian-only zone of enchanting Caen.
Overnight: Hotel Best Western Plus Le Moderne (3 nights)
Jul 03 – D-Day Landing Beaches        B
Again, we have a rare day by experiencing a private full-day tour of the D-Day landing beaches of World War II to get you in the spirit of the 4th of July. We visit the Pointe du Hoc which overlooks the hundred-foot-high cliffs between Utah and Omaha beaches. Stormed by the American Rangers on June 6, it was one of the key German fortified sites along the Normandy coast and was equipped, at that time, with extensive heavy artillery.
We then visit the famous American Cemetery at Saint Laurent, located just above Omaha Beach, near the town of Colleville-sur-Mer. This 170-acre site used in many movies is home to 9,387 white marble headstones, lined up perfectly across the grass, a memorial, a chapel, and the Garden of the Missing. It is one of the 25 notable permanent military burial sites in the United States and abroad and pays tribute to soldiers that died during the Battle of Normandy. Follow the small trail down the hill to Omaha Beach, where we will walk across the sand where men died, and history was made.  Overnight: Hotel Best Western Plus Le Moderne

Jul 04 – Amboise and Loire Valley                           B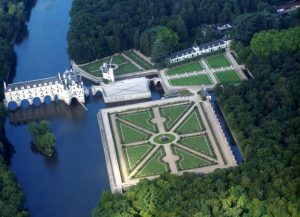 Happy July 4!  What a profound way to celebrate this day.    After breakfast, it's on the magnificent Loire Valley. Our hotel is the Château Belmont, located in the heart of the Loire castle region. Known for its beautiful grounds, including gardens and forests, the château also includes a world-class spa.  Charming Amboise is like a postcard, high above the river Lorie and lined with boats you can rent.  It's crowned by a magnificent chateau.
We arrive in time for you to explore the grounds and take advantage of several activities which include visits to the Clos Lucé- where Leonard da Vinci called home, or the spectacular Château de Chenonceau.
But you won't want to miss the optional sunset hot air balloon ride from Amboise. The sweeping vineyards, lush forests and fairy-tale castles of the Loire Valley are even more stunning from above and this 3-hour hot-air balloon experience is the ideal way to enjoy an aerial view. Float over the UNESCO-listed landscapes of the Loire, Indre or Cher Valleys. Here, you can spot landmarks like ChâteauChenonceau or the magnificent formal gardens of Villandry. And of course, there is champagne to toast when you land!  (You can book on arrival to ensure weather will be fine.  Prices avg. $240 and worth every cent.  More detail in Trip Tips.)
You'll love your elegant hotel in the heart of Tours set in a majestic park.  Enjoy the spa and Turkish Hamman!    Overnight: Hotel Château Belmont (2 nights)

Jul 05 – Loire Valley Castles and Wine Tasting                                                                              B
(Optional morning ballooning will be offered again followed by breakfast – see Trip Tips for details.)
It's all about castles and wine today. The historic castles of Azay-le-Rideau, Rivau, and Villandry are three of the Loire Valley's most popular attractions and we'll spend the day exploring. Rivau has the world's finest rose garden with 460 varieties.  They're spread throughout the region and hidden in the hillsides. Our full-day tour includes a tasting of Loire Valley wines in the authentic setting of a troglodyte cave. Located 30 feet below the surface is a wine cave carved into the rock of the region, these bottles are raised with care, bottled and aged. We'll delve into and truly experience centuries of Loire Valley history and gaze out over the majestic Loire River.
For free time in Tours, visit the Cathedral, museums, market and taste the best pastries on the planet.    Overnight: Hotel Château Belmont!

Jul 06 –  Paris         B/D
We make our way back to Paris for an afternoon Walking Tour of one of the most beautiful cities in the world. ​This is truly "The City of Light," where we make history come to life at every stop!  We can drop you off at the Louvre or fabulous Montmartre.
We end the day and our trip with an unforgettable dinner cruise on the river Seine with a scrumptious 3-course French Gourmet menu. Watch the lights of the city come alive from our unique vantage point of the Seine, rediscovering the most emblematic monuments of Paris as we float along.
Even if you've been to Paris before, there are countless more hidden gems to discover… Like food he tours, hop on bus, Notre Dame cathedral, Musee de Orsay, Moulin Rouge, and even Versailles.
Overnight: Hotel Crowne Plaza République (1 night)


Jul 07 – Adieu to France  B
After breakfast, we head back to the airport for our flights back to the U.S.

** BON VOYAGE **

BOOK NOW  or call 770-432-8225 If trip full – WAITLIST Login / create account required
Land Price $2398 pp twin share
Deposit $250
 Not included:  Gratuities
 It is too early to price our group air. This will be offered as we get closer. If traveling on your own, you will be offered the chance to book the internal flights with the group.
Group Air: We may present if enough in the group wants it.

Land prices per person twin share. Trip price based on a minimum number of participants.

Single rooms limited with $ supplement.  Cost varies.  Email us for availability.  AFS will find you a roommate.

The earliest we present group air is 10 months prior. We'll send email to ask who wants it.  A minimum number of 12 is needed.

Please review AFS Terms and Conditions, Heading Abroad with AFS, Covid Policy.  Travel insurance is important nowadays.  It's rare, but we reserve the right to modify schedules, tour and hotels.

Read Trip Tips on its own tab next itinerary for latest details. 
Print
Group Air:  $771 + $239 taxes
Jun 29 AF 23 JFK/CDG 1630/0555 (next day)
Jul 07 AF 22  CDG/JFK 0800/1015  (same day)
We will ask via email if you want this.  A minimum of 14 must want air to be considered a group by the airline.  Geroup air included airport – hotel transfers.  If there are any airline time changes, you need do nothing, we'll handle everything.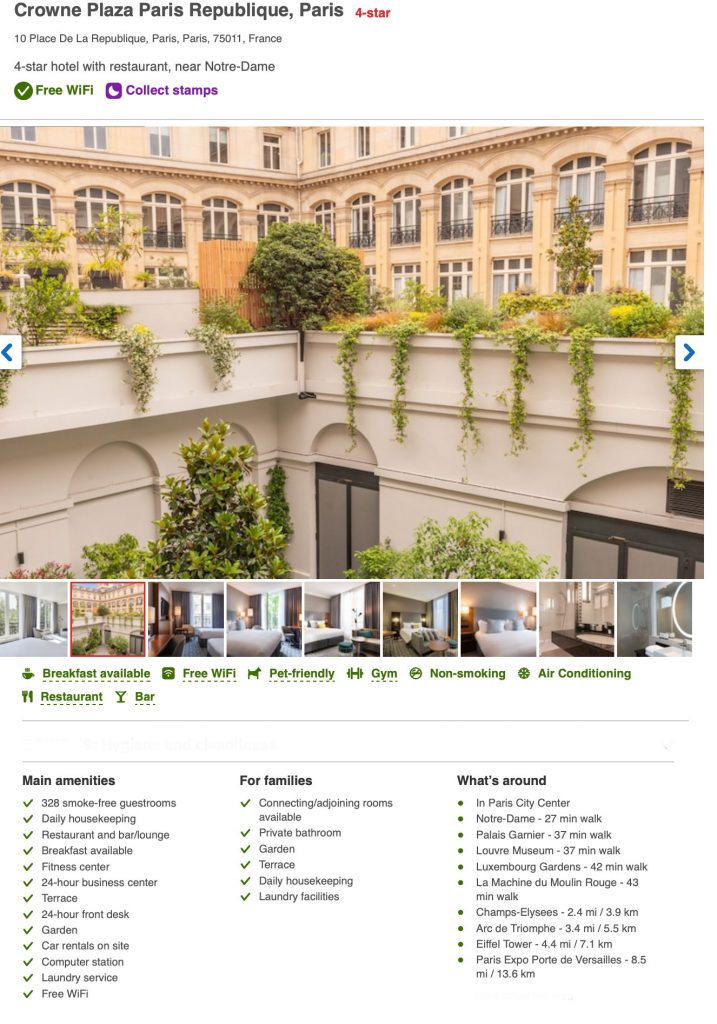 All prices are per person twin share.  Single rooms limited per group and a single supplement applies.  Cost set by hotel/cruiseline and vary considerably.  AFS will find you a roommate match. All hotel rooms are "run of house."  

Please review AFS Terms and Conditions as well as Heading Abroad with AFS.  

Land – Price based on a minimum number of trip participants, as well as local currency exchange rates which can fluctuate.

We write our itineraries over a year in advance. Though unlikely, we always reserve the right to modify schedules, tours and 

hotels if necessary. 

Group air – Airlines may add surcharges to offset fuel inflation or taxes. The total ticket cost is not final until we receive your final payment and the group is ticketed. If doing own air, airport transfer may or may not be included depending on your air schedule. Do not buy air until the group air is set or we advise – though unlikely, airlines, times and dates can change!