Nov 9 – 18, 2022    "Waterfalls, Wine & Gauchos"


Seeking a sweeping South American adventure of dazzling diversity? We have the perfect escape to 3 must-see regions with an intoxicating blend of rainforest, wines, urban wonders and countless waterfalls.
No visas needed. We'll make it so easy for you with group air to say Hola, Argentina and Chile! It's not just the scenic wonders, sizzling cultures, and historic sites. We've packed in fun to play with the gauchos, dance the tango and taste the wines with countless Instagram-worthy moments!
 We begin in the capital of awesome Argentina – Buenos Aires – "Paris of South America." I can't say enough about this seductive city that has such a European feel with its Parisian architecture and vitality that rivals Manhattan. Its famous for the legendary Eva Peron, the world's best leather shopping and Texas-sized steaks, BA is like several cities in one with its distinctive Barrio neighborhoods. Alive 24-hours a day, it offers countless enticements to awaken your senses.
 There are so many highlights on this.  We fly north to behold the scenic wonder of majestic Iguazu Falls, one of the world's most inspiring sights. Higher than Niagara – wider that Victoria Falls – it's no wonder it's a UNESCO World Heritage Site. Witness 275 separate waterfalls plunging over a 2-mile precipice with an earth-shaking roar and delivering endless rainbows. Our past groups loved standing on the edge of Devil's Throat and our thrilling safari boat rides right underneath the wet thunder!! It's an exhilarating experience that will leave you spellbound. Also, spend a full day on the pampas with gauchos, watching these skilled cowboys demonstrate their horse-riding. A traditional Argentinian barbeque awaits with more delicious food than you could eat in a lifetime!
Then it's on to uber-cool Chile. Everyone loves this sliver of a country with its 2600-mile-long coastline, a land of extremes from deserts to glaciers. No wonder it is now in Virtuosos' Top 10 List of travel destinations for 2020. Our home – the cosmopolitan capital of Santiago, framed by snowcapped Andes Mountains. This vibrant city is bustling with events, markets, theater, parks and plazas and is a foodie's paradise. We follow the Wine Route into the lush Maipo Valley of sprawling vineyards to visit a wine estate for tastings and learn about Chile's wine culture. Sample award-winning pedal vintages and pedal your way through the idyllic setting of the historic estate on a new "Pedal Bar."
 From world-class shopping and world-class wines, the best cuisines and greatest photos ever, this is one of those rare combo trips that can knock off a lot of bucket list desires. Come feel the Latin passion in spots listed in "Places to See Before You Die." It's urban, It's nature, it's exhilarating… all in one sizzling vacation designed to make your heart leap! 




Our Glorious AFS Itinerary

Print
Nov 9  – Depart USA
Depart the U.S. for an overnight flight south to Buenos Aires.  All trip details with group air coming soon in our Trip Tips.
 Nov 10 – Buenos Arrives D
Welcome to Beautiful Buenos Aires! We are met just outside customs and head to our hotel, the Kenton Palace, in the heart of the historic sand funSan Telmo District. This beautiful hotel has everything, including a great spa, but its location is perfect to get out and see the funky, artistic district that is San Telmo. Named for the 13thCentury Spanish Saint Pedro Gonzalez Telmo, this is the oldest and most artistic of Buenos Aires barrios and is known for its markets and galleries. Our rooms may not be ready when we arrive, but you can store your luggage and explore. (Check-in time varies from 2pm to 4pm).  You'll some free time to explore.  Best places:  Famous Recoleta Cemetery, La Boca neighborhood, shop San Calmo Market, 24 museums and more.  Evenings Puerto Madero Port area comes alive at night.
In the evening, we'll celebrate with a welcome dinner at a local restaurant
 Overnight: Kenton Palace Hotel (3 nights)
Nov 11 – Buenos Aires B
 We head out after breakfast for a half day tour. The city is divided into distinctly different barrios and there is plenty to see.  Enjoy Buenos Aires' most iconic highlights such as the impressive National Congressand its gorgeous grounds, Plaza de Mayowhich is just across from Casa Rosadawhere Evita Peron notably gave her famous speech, the stunning Metropolitan Cathedral, and the distinctive Spanish colonial period city hall, the Cabildo. You will also see the famous Colon Theatre, considered one of the best Opera Houses in the world.
We'll tour our own historic San Telmoneighborhood before heading over to the colorful La Boca barrio. The first settlement for the Italian immigrants, it if known for its vibrant colors and architecture as well as people dancing the tango in the streets! Pass busy Puerto Maderoon the way to Palermo, the largest residential neighborhood of the city. Here, we find the Palermo Parks, City Zoo and the Planetarium. Finally, it's on to Recoleta, the most elegant neighborhood of the city with its famous cemetery, boutiques, gourmet restaurants and sidewalk cafes. The tour ends back at our hotel and the rest of the day is ours to explore.
This evening, you may want to take in two Argentinian staples – dinner and a Tango show! Also called "Baille Con carte," meaning "Dance with the rest," the Tango is one of the most fascinating of all dances. Originating in Spain or Morocco, the Tango was introduced to the New World by the Spanish settlers, eventually coming back to Spain with Black and Creole influences. Enjoy this spectacle with a tasty dinner and beverages
Overnight: Kenton Palace Hotel (3 nights)
Nov 12 – Gaucho Time! Full day at Estancia Santa Susana  B L
Today is all about fun and food. We spend an exhilarating full-day with true gauchos on a working ranch or estancia outside of Buenos Aires.  Estancia Santa Susana is a historic 3000-acre cattle ranch that introduces us to the lifestyle of the gaucho, giving us the opportunity to even try our hand at learning some of their skills. Our day includes carriage and horse riding, allowing us to fully experience the Argentine countryside charm amid Susana's cultivated fields.
And it's nor a complete day without an authentic diet-busting "Asado" barbeque featuring every type of meat imaginable as well as homemade Argentinian dishes such as empanadas and lots of delicious regional wines. About the time we're to the point where we can hardly move, folk music starts and we are entertained with a traditional dance show. The gauchos will also treat us to a show of their skills including the "sortija" horse racing.
Overnight: Kenton Palace Hotel (3 nights)
Nov 13 – Iguazu  B
Head out in the morning to the airport where we fly to the town of Iguazu, Argentina. We'll go immediately to our hotel in Puerto Iguazu, the spectacular Panoramic Hotel. Surrounded by a lush garden, the hotel has wonderful views of the Iguazu River. It's also within walking distance to town.
Your evening is free, so take advantage of the hotel's close proximity and explore the quaint little downtown known for its shops and cafes. You could even wander down to Avineda Fronteras (Borders Avenue) and look across the river and see the meeting point of three countries – Brazil, Paraguay and Argentina.
Overnight: Panoramic Hotel Iguazu (2 Nights)
Nov 14 – Iguazu Falls  B L
It's a full day of exploring the Argentinian side of these amazing falls! (Visiting the Brazil side would require a prearranged visa.) Named by the Guarani natives who lives on the river's edge, Iguazu means "Great Waters." We board a train near the Visitor's Center, traveling through thick, tropical jungle along the Senero Verde (Green Trail). You can hear the thunder of the falls as we stop Garganta del Diablo(Devil's Throat) Station. Walk via the catwalks out and over the river, reaching out to the goosebumps-inducing vista of the Devil's Throat, the highest of all of the mighty Iguazu Falls. There is a 230-foot drop to where several branches of the Iguazu River converge, churning together in a spectacular sight.
Return to the station and reboard the train back to the Visitor Center where we start the Upper Trail walk. The Upper Trail is a relatively easy half-hour walk up a small incline with no stairs, taking us deep into the Jungle and over the precipice of the many falls on the Argentinean side.
We will have earned our lunch, which will be at El Fortin Restaurant located inside the Iguazu Falls National Park.
Optional Gran Aventura Boat Safari – Those who want can take an optional boat tour among the falls. We'll travel by 4 wheel drive vehicle through the forested area of the park to the boat dock on the river. Once at the dock near Isla San Martin, we board a speed boat for our heart thumping trip across to the base of both the Brazil and Argentinean falls. Tour the Iguazu River with over a mile of rapids finally, reaching the base of the Garganta del Diablo falls covered in the obligatory mist! We will certainly get wet!!  ($90 and worth it).
Overnight: Panoramic Hotel Iguazu (2 Nights)
Nov 15 – Santiago  B
We head to the airport after breakfast to fly back toBuenos Aires's domestic airport. A guide will meet us and help to transfer us to the International airport for our flight to Santiago.
The flights are just more than 2 hours. We arrive in Santiago and head to our hotel, the Atton El Bosque. Located in the El Golf neighborhood, the area is known as the financial district but is also known as being a gastronome's paradise because of the many nearby restaurants. Your evening is free to check out some of these fantastic eateries.
 Overnight: Hotel Atton El Bosque (3 nights)
Nov 16 – City Tour Santiago  B
After breakfast, we set out for a half-day city the tour to see the main sights of the city including being able to take in the vistas from Cerro San Cristobal high above the city. We'll visit the heart of Santiago and the historic Plaza de Armas, the stunning Catedral de Santiago and explore the amazing architecture of the Correo Central.  We'll be dropped back at the hotel and the rest of the day is free.  So much to do from cooking classes to Segway tours.  If time allows visit Valparaiso, colorful Bohemian town on the sea.
There are plenty of things to do including climbing to the top of Sky Costanera. Rising almost 1000 feet above the city. It is the highest viewpoint in South America and offers 360-degree views of the city.  Or you could pay a visit to the Artisans Village where you can see artisans creating their works and learn about some of their traditional methods.
Overnight: Hotel Atton El Bosque (3 nights)
Nov 17 – Santa Rita Winery                   B L
Today, it's all about Chile's rich wine culture! We make our way to the nearby to the town of Alto Jahuelin the stunning Maipo Valley, known for its fertile soil – perfect for growing grapes. The Santa Rita Winery was founded in 1884 by Domingo Fernandez Concha and has become a premium destination for its historical interest and the quality of the wines they produce. Walkthrough sculpted gardens and learn not just about the region's viticulture and winemaking, but about the history of Chile as well.  Highlights we'll see include the winery's chapel, a visit to the historic "Bodega 1" building made of masonry as well as the famous "Bodega 120 Patriotas" – The Cellar of the 120 Patriots, considered a national monument.  There's so much to see and do here, including the possibility of the new Pedal Bar tour on a traveling wine bar.
A traditional Chilean lunch awaits at "Restaurant Dona Paula." Considered by many as one of the best restaurants in all of Chile, this landmark eatery changes its menu according to the season and pairs its food with Santa Rita Wines.  Our tour ends with a tasting of 2 reserve wines. We return to Santiago for a free evening.
Overnight: Hotel Atton El Bosque (3 nights)
 Nov 18 – Back to USA   B
We'll transfer to the airport for our return flights to the U.S.



Land Price $ 1895 pp twin share plus $85 gratuities for guides and drivers
Deposit $250
Based upon 30 participants
 It is too early to price out group air. This will be offered as we get closer. If traveling on your own, you will be offered the chance to book the internal flights with the group.
Group Air:  We will present a group air option 10 months prior in the tab labeled Trip Tips.

Land prices per person twin share. Trip price based on a minimum number of participants.

Single rooms limited with $ supplement.  Cost varies.  Email us for availability.  AFS will find you a roommate.

The earliest we present group air is 10 months prior. We'll send email to ask who wants it.  A minimum number of 12 is needed.

Please review AFS Terms and Conditions, Heading Abroad with AFS, Covid Policy.  Travel insurance is important nowadays.  It's rare, but we reserve the right to modify schedules, tour and hotels.

Read Trip Tips on its own tab next itinerary for latest details. 
Print
Group Air NOV 10-20
After much research, we have a great schedule and price on LATAM, the best South American carrier, a One World partner with a dozen other airlines. (All 6 legs are $1195 plus $198 taxes.) There are several internal flights. Group air makes it hassle-free and fun for you while you journey with your fellow AFS travelers.  (Note – we use 2 different airports in Buenos Aires and they are about an hour apart.)
Group – with International & Domestic flights – 20 SEATS
Times, dates  and cost are from 2021  New air will be present soon
AR1303 10NOV  MIA-EZE  0830AM  1930
AR1720 13NOV  AEP-IGR  0935  1125
AR1721 15NOV  IGR-AEP  1205  1400    

*Need to transfer between domestic & International

AR1290 15NOV  EZE-SCL  1815  2035
AR1287 18NOV  SCL-EZE  1915  2115
AR1302 18NOV  EZE-MIA  2300  0610 +1 19NOV
NETT RATE $1,390 USD per person includes fuel & tax
Group – with Domestic Only  flights – 14 SEATS
AR1720 13NOV  AEP-IGR  0935 AM 1125
AR1721 15NOV  IGR-AEP  1205  1400  

*Transfer between domestic & International airports by coach

AR1290 15NOV  EZE-SCL  1815  2035
PRICE: $630 USD per person includes fuel and tax
Check-in airline counter three hours prior to departure. Look for pre-trip hotel in Miami with free shuttle to the airport and arrive the night before.  On return, home plan two hours for connecting flights
KEY:  MIA=Miami, SCL=Santiago, EZE= Buenos Aires, AEP=Buenos Aires, IGR=Iguazú
Kenton Palace Hotel 
Panoramic Hotel Iguazu
Hotel Atton El Bosque
 All prices are per person twin share.  Single rooms limited per group and a single supplement applies.  Cost set by hotel/cruiseline and vary considerably.  AFS will find you a roommate match. All hotel rooms are "run of house."  

Please review AFS Terms and Conditions as well as Heading Abroad with AFS.  

Land – Price based on a minimum number of trip participants, as well as local currency exchange rates which can fluctuate.

We write our itineraries over a year in advance. Though unlikely, we always reserve the right to modify schedules, tours and 

hotels if necessary. 

Group air – Airlines may add surcharges to offset fuel inflation or taxes. The total ticket cost is not final until we receive your final payment and the group is ticketed. If doing own air, airport transfer may or may not be included depending on your air schedule. Do not buy air until the group air is set or we advise – though unlikely, airlines, times and dates can change!
Print
AMAZING ARGENTINA & CAPTIVATING CHILE TRIP TIPS
Prepare to be thrilled with the cultural wonders on our South American adventure! There's great diversity in the three areas you'll explore. I wonder what part will be your fave? Our past AFS groups loved this trip but we enhanced this one to make it even more special for you. Be sure to check out all the details in the tourism website below. These tips will be updated as departure nears.  Updates will be added here as departure nears.  You're fortunate to get on this popular trip   We have a wonderful group of 37 AFS travel lovers. I know most of you and can promise there will be a lot of laughter.  After final payments are in, we will send you contact and room list. The Faceboook private page is only for those booked and the link is emailed, ask to join.   
Trip Tips are designed to answer trip-related questions. It's your responsibility to read this information.  Updates will be posted here. Please check back from time to time.
IMPORTANT PAYMENT DATES –
2nd DEPOSIT: None
FINAL PAYMENT: July 9
We prefer checks for Final Payment. Credit card fees are costly for a small company to absorb. While we build costs into smaller deposits, we incorporate a $60 credit card convenience fee as a line item on each invoice in order to defray processing costs. When paying by check, deduct $60.
Make your payment out to AFS or Adventures For Solo Travelers, 1907 Daniel Green Ct., Smyrna GA 30080. If you won a contest on a past trip and have a coupon, mail it in and we'll process it just like a payment made by check. You may review at any time your balance, booking information, and profile after logging into www.afstravelers.com.
——————————————————————————————-
Your Fearless GTL (Gracious Trip Leader, not a guide but liaison between our guides and group to ensure things run smoothly)
Salanda has decades of experience in the travel industry and has worked over 12 years as a travel consultant for one of the world's largest management companies!  She has been on dozens of AFS solo travel tours over the years. With a passion for nature and unique culture is, she chooses and has led some of our most exciting adventures – (Kilimanjaro, Mt Everest base camp and Galapagos to name a few.)
I call her "gadget girl" because she always comes equipped with the coolest new travel items – pocket-sized washing machine and video recording sunglasses.  She video-recording 6 continents, 60+ countries, all 50 states, and countless islands!  Her preferences are international destinations with action and a focus on nature.  But she's thrilled to fly you anywhere. We received many emails praising her excellent performance and attention to detail. Salanda has never met a stranger in this friendly to all. Everyone will appreciate her leadership and astute leadership skills.
=======================================================
Trip Prep –
Ensure your passport is valid 6 months after your return date and has two blank pages. We recommend renewing your passport well ahead of any planned international travel. Take a photo of your passport to store in the cloud or bring a copy.
To speed through US Customs, download Mobile Passport. Look in your App Store for details.
Notify bank and cc companies of travel dates so they don't block charges.
Visas – All new – No visa are needed for US citizens.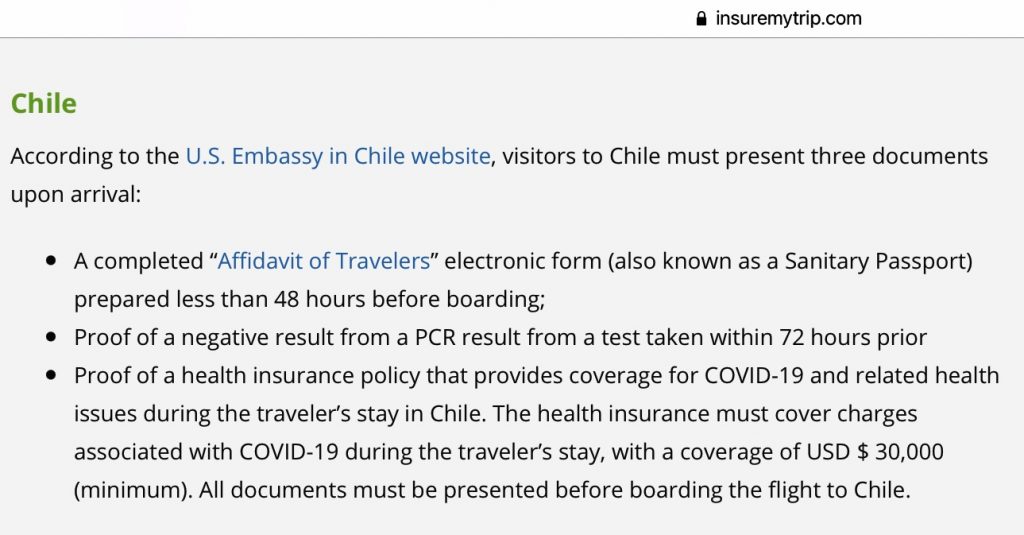 Fitness level – 2 (No trouble walking)
Group Air –  Group Air NOV 10-20
After much research, we have a great schedule and price on LATAM, the best South American carrier, a One World partner with a dozen other airlines. (All 6 legs are $1195 plus $198 taxes.) There are several internal flights. Group air makes it hassle free and fun for you while you journey with your fellow AFS travelers.  (Note – we use 2 different airports in Buenos Aires and they are about an hour apart.)
See Air & Lodging tab
AR1303 10NOV  MIA-EZE  0830  1930
AR1720 13NOV  AEP-IGR  0935  1125
AR1721 15NOV  IGR-AEP  1205  1400    *Need to transfer between domestic & International
AR1290 15NOV  EZE-SCL  1815  2035
AR1287 18NOV  SCL-EZE  1915  2115
AR1302 18NOV  EZE-MIA  2300  0610 +1 19NOV
MIA=Miami, SCL=Santiago, EZE= Buenos Aires, AEP=Buenos Aires, IGR=Iguazú
Group – with Domestic Only  flights – 14 SEATS
AR1720 13NOV  AEP-IGR  0935  1125
AR1721 15NOV  IGR-AEP  1205  1400   *Need to transfer between domestic & International airports
AR1290 15NOV  EZE-SCL  1815  2035
Note if doing All Own Air (no flights), our supplier included the cost of transfers in the air ticket price.  $40 will be added to your invoice to cover the connecting flights transfer cost.
Doing Own Air:
Depart  November 9th, 2021- November 10th, 2021 [Land tour begins November 11th
Return November 18th, 2021
You can arrange your own air from your hometown on November 10th to Buenos Aires and out of Santiago on November 19th.  Note, BA has 2 airports.  EZE is international and AEP is domestic to Iguassu. You must plan on being on the same internal flights as the group.
Transfers-   Meet at hotel or airport on November 11th, we will transfer as a group to the hotel. If your flight time falls outside of this time, you'll need to make your own arrangements.  Taxis are quite expensive. The most popular taxi services are Uber and BA Taxis. Taxi stands are safe, although there is usually a wait. A great planning resource is: www.taxifarefinder.com.
Meet Up With Group- On Day 1 on November 10th, we will meet at Kenton Hotel at  2PM for a briefing. More on this later.
Accommodations –  Please see the Air/Lodging tab on this website for details. Hotels can change, but it's rare. Google each to see how cool the properties are.
Buenos Aires, South Argentina:
Kenton Palace Hotel Buenos Aires – http://kentonpalacebsas.com.ar
 Iguazu, Argentina:
Panoramic Grand Iguazu –  https://www.panoramicgrand.com/en/index.html
Santiago, Chile:
Plaza El Bosque Nueva Condes – https://www.plazaelbosque.cl/en/
Baggage –
Think light to ease your burden – not like you're fleeing your homeland! This trip involves you moving to different properties 3 times. 1 carry-on bag & 1 medium suitcase not to exceed 45 lbs are standard. Weigh on a bathroom scale. This weight limit is set for our porterage and luggage vans that have limited space.  If you pack pre- or post- trip luggage, please make plans in advance as to where to stow excess baggage. Be sure to attach an ID tag to both pieces of luggage. Leave space for great souvenirs and gifts.
Don't Over Pack!
Packing – This trip is so easy and think multiple layers for a moderately warm climate. Pack casual summer clothing including a light jacket for long flights and warm sweater for evenings. Also bring sun protection, a daypack, a wide brim hat, comfy sneakers/walking shoes, swimwear for the beach, pools, and spa.  Bring raingear for falls – raincoat or poncho with hood.
Weather – As our trip falls during the region's summer, you can expect a pleasant, dry climate, plenty of sun, and almost no rain in Argentina. Temps should be within the 64-84 degree range in November. Chile will tend to be a bit cooler, with temperatures ranging from 48-79 degrees. Check Google Weather for climate in Argentina and Chile a week prior to departure.
Electric – Cell phones and tablets don't need a voltage converter, but you will need an adapter plug.
In Argentina and Chile there are two associated plug types: however a type C aka "Euro plug" works in both.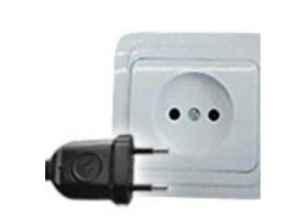 AFSers often leave charger cords in their rooms, so be sure to double-check your room before check out.
————————————————————————————–
Money Matters – You will need some cash for personal tipping, meals, and shopping – $300 should suffice. I convert half of it upon entry. Be cautious when withdrawing local currency from an ATM. The safest ATMs to withdraw from are at airports, banks, or hotels. Independent ones are risky. Always shield your pin number when entering info.
Credit cards are far safer than using your debit card. I use my credit card for most purchases. Many cards now offer no foreign transaction fees.
Currency – Current Exchange Rate (approximate)
 $1 USD = 60 Argentine Peso
$1 USD = 777 Chilean Peso
Follow the link https://www.oanda.com/currency/travel-exchange-rates to create an up to date conversion cheat sheet.
Gratuities – It's protocol to tip our local guides, assistants, porters, drivers, ground staff, etc.  Guidelines have increased globally, but around $12 to 16 per day should cover all for the trip.  $85 is added to your invoice for ease of distribution by Salanda.  Please understand that this is only the suggested minimum. For ease of distribution, your GTL can help advise you as to the customary local tipping etiquette.
Tipping on own – If service is stellar, feel free to give more directly. All we tourists leave behind is our reputation. I personally carry a stash of $US ones in an envelope to draw from as needed. Bring new crisp dollars, as old bills are not accepted. AFSers will roll bags to their own rooms. If you choose to use bell staff or a porter, please tip $2 USD. Restaurants – 10-15% unless you note that tip is already included. For group lunches or dinners, please leave $1-2 USD for wait staff.
—————————————————————————————-
Communication – Internet is available. With cell phones/smartphones, be sure to check with your provider for rates and coverage for international phone plans before departure. Roaming rates (used by Facebook and other apps) are expensive. To reach home – Texting, iMessage, What'sApp and Facebook messaging when using Wi-Fi are best!  I don't know anyone who makes calls home nowadays. Stay off of public Wi-Fi without using VPN if possible. Never open attachments or view financial or personal accounts on the Internet while abroad.
Want affordable data in many countries abroad? We've been using Skyroam. All the data you want to use Bluetooth for to access your devices is for just $10 per day for 5 devices. See https://www.skyroam.com for details.
Be Smart –
"Avoid Hackers on Vacation," experts say! Thieves not only want your money, but also your hard-earned frequent flyer points. Change passwords often. Check device security settings before you leave for your trip. Back up, update, and encrypt your devices and data using a virtual VPN. It's worth the cost. In hotel rooms, hide iPads or laptops to avoid "evil maids" that want to clone your tech.
Grab a hotel business card before heading out in case you get lost.
Pickpockets are everywhere – especially at night. Never carry your passport outside of the room.
Bottled water is always best abroad, as our gut isn't accustomed to local tap water. Eat clean food and avoid street vendors.
Retail Therapy – There is wonderful shopping in both Argentina and Chile. Even non-shoppers will find themselves tempted by local goodies. Our past groups have come back with the coolest stuff.
Argentina: Sought out treasures are mate sets for tea, asado knives (facones – grilling meat knives), leather bags, cowhide rugs, Dulce de Leche (caramel sauce), a box of Alfajores (sugary snack), tango shoes, and rhodocrosite jewelry. Many travelers also come home with exquisite leather jackets, bottles of malbec wine, polo boots and shirts, tango art, and fernet (hard liquor).
Chile: Crafts, clothes and fabrics, and artwork are favorites for souvenirs and gifts, including a huaso (Chilean cowboy outfit), alpaca, Crin 9Fabrics of woven horse hair), presanado de flores y frutas (trays and kitchenware decorated with thinly sliced and preserved fruits), Chilean wine, Chilean Carico (Chilean golden papaya), Lapis Lazuli jewelry, Rapanui (Easter Island Moai miniature statues), and copper art and jewelry. Other great take homes include traditional Mapuche woven fabrics and musical instruments, leather goods, traditional masks, and bottles of Pisco (liquor).
Photography – Before taking pictures of locals, please know it is always polite to first ask for permission.
Your Private Facebook Group Page is a great way to share your best shots with each other. AFS loves photos with group participants (not typical churches, monuments, or any shot that looks like you pulled it off of the net, etc.) on our website. The best photos are ones that include a group member with a local, children, animals, or at iconic sites in the same frame!
Websites of Interest – Google these sites for awesome in-depth info…
Cuisines:
 Argentina:
Argentina is known for its delicious foods inspired by European and Mediterranean flavors, influenced by Spanish, Italian, and French cuisines. Particularly known as a meat and especially beef country, you will enjoy sample a variety of recipes.  Succulent meats, hearty stews, spicy sausages, drool-worthy desserts, and a blooming street food scene are just examples of what you should expect.
Popular Argentinian dishes include locro (traditional stew), asado and parrilas (traditional barbecue), empanadas (pastries filled with meat); choripan (chorizo sandwich); dulce de leche (sweetened milk), faina (pizza), milanesa (schnitzel), provoleta (grilled cheese), humita en chala (flavorful corn snack), and medialunas (croissant). Sip on an Argentinian Malbec, an aloja de chaucha (alcoholic drink made of fermented fruit of white or black carob), a Torrontés Riojano (aperitif), or a hesperidina, which is characterized by its aromas of fresh oranges and herbs.
Chile:
Traditional cuisine of the Chileans is very similar to Argentinian foods and is actually quite simple. Popular dishes include pastel de choclo (corn casserole with meat stuffing); empanadas (pastry filled with meat, cheese or mussels); cazuela (homemade stew with beef, chicken, corn, rice and potatoes); asado (barbecue of beef, pork, or chicken); reineta, congrio, corvina (the most typical types of fish); locos (a rare type of mollusks); jaiva (shrimp, crab); and centolla (king crab with tender meat of reddish color). Enjoy your meal with an excellent Chilean wine and go ahead and have one or two pisco sours!
Roomies –  Single supplement rates have significantly increased – if available at all. Save money and buy yourself an awesome local gift. We all live alone, but you can save money when traveling by rooming together. Suzy spends a lot of time on roommate matching. 99% of our clients are wonderful, and besides, you're only in your room to sleep at night.
If you know you snore, please buy a mouth guard ($25 to $50). Walgreens, Amazon, and CVS have different types. A link for the best example of a product that works: https://snoredoc.com/product/snore-doc-anti-snore-mouthpiece/. Another suggestion is to use a white noise app. Other recommended options – See Suzy.
 Leisure Time – AFS travelers revel in the element of surprise in new destinations and allow the wind to blow them where it will. It's best to ask our local expert guides for suggestions upon arrival. Our trip is filled with awesome daily tours, but there will also be some free time.
Buenos Aires:
There are countless fun things to do in Buenos Aires, a destination known as the "Paris of South America". The city is waiting with its amazing steaks, malbecs, and plenty of sites to occupy you for days on end with its endless cafes, nightclubs, delicious foods, and European architecture. This city rarely sleeps and you'll have chance to explore many weekend ferias or markets, great dining establishments, historic sites, plazas, and 70 museums during your visit. Sip on a glass of malbec, eat an empanada in the park, or go out and practice your tango skills. Stop by the Recoleta Cemetery and visit Eva Peron's tomb, and have a peek inside the Basilica de Nuestra Señora del Pilar next door. Eat at one of the great steak establishments in the city including Don Julio and La Cabrera – and if you feel like splurging – there's the ever-popular Cabana Las Lilas. Dance tango at a milonga, be blown away by the arts at the Museo Nacional de Bellas Artes, and grab a snack at the still charming Café Tortoni. Take in a show at Tetatro Colon. Stroll around the Feria de San Telmo, a very colorful, crowded Sunday street fair, and check out the fashion designers, have a beer, or watch a horse-racing or polo match in the ever-popular Palermo Soho. There is so much more, and, this city awaits you in every direction!
Iguassu – Many options:  Helicopters, great Bird Park, world's largest hydro dam.
Santiago:
Santiago sits in a valley surrounded by the breathtaking snow capped Andes Mountains.  Locals will tell you that Santiago IS Chile, and it really won't take long before you agree, as the city is very cosmopolitan and filled with history, cultural events, fine-dining, and incredible nature. Plaza de Armas is the city's colonial heartbeat. Here you'll find two extraordinary landmarks, the Royal Court Palace, home of the National History Museum, and the Metropolitan Cathedral, built in the 18th century. Visit the fascinating home Pablo Neruda. Each neighborhood has its own distinct vibe and it's a fun game to see which one feels most like home for you. In free time, go on a small group street tour or wine tour, find a viewpoint that takes in breathtaking views of the entire city.
In the evenings, check out Barrio Bellavista and Barrio Brasil for the crazy all-night parties.  Visit the cool town of bohemian Valparaiso and shop Central Market.
Arranging Pre- or Post- Trip Plans –
We often see AFSers on your Private Facebook Page urging others to join them in traveling to other countries before or after our trip. Stopovers are great to add, but understand AFS has nothing to do with this nor is it responsible for side trips.
Emergency Contact –  Please call the AFS phone at: 770-432-8225, or email us at: info@afstravelers.com. Your guide can handle a call home for a true emergency. Do not expect to use your trip leader's cell phone; you'll need to use your own cell phone.
Cancellation Penalty – At booking, we sent you our terms and conditions. Open the following link to review our terms again:
https://www.afstravelers.com/terms-and-conditions
Optional Travel Insurance – If you would like travel insurance and have a pre-existing condition (elderly parent, medical, etc.), you must purchase insurance within 21 days of your Initial Deposit in order to ensure coverage. For more details, click Travel Insurance 101 or follow the link: https://www.afstravelers.com/solo-travel-trip-insurance-101/.
Click Purchase Travel Insurance online or click on one of the links below to purchase travel insurance:
If you need assistance, I will email the form to you upon request.
Travel Psychology 101
Prepare for your departure joyfully with no contempt before investigation upon arrival. Please understand that whenever you travel, things are not like at home and changes may occur. Great trips work best for those with an open mind, flexible attitude and adventuresome spirit.  If changes occur, embrace them with serendipity. Who knows?…The unexpected may prove to be a better experience. Adapt and go with the flow with a laid-back attitude.
Be spontaneous. Be tolerant of foreign cultures in respecting their centuries of traditions. Embrace the differences. Be curious, not shy. Smile – locals will sense your energy of kindness and kindness always begets kindness. (This goes for your roommate, too. Most of us are used to living on our own; but, have fun while being accommodating and patient when sharing a room with another fellow traveler). Our common goal is to experience different cultures, make new friends, get great photos, have large fun, and return home safely with memories worthy of recollection.
The best spirit of an Explorer requires the openness of a child – Suzy
"When traveling, remember that a foreign country isn't designed to make you comfortable.  It's designed to make it's own people comfortable." – Clinton Fadiman
Cool Articles for Exploring Your Destination Cities –
Book AFS with Confidence 2021– Thank you for booking! We are blown away by the support from all of you throughout this pandemic. It validates the trust and values AFS was built on over 35 years. As countries reopen, so will we. Travel is a shared experience. Together we press on and travel boldly. Below are new guidelines. We all must adapt and embrace any challenges with confidence for the freedom and privilege to travel.
We've faced many challenges over decades and the health of our travelers always comes first. As the world slowly opens, we are dedicated to creating responsible adventures!  All our trips are different, so specific plans in each region may be circumstantial. We work closely with our local suppliers and vetted partners to know the best practice in each country. That being said, we present a blanket procedure below to be followed on ALL AFS trips. Our local guides will brief you on arrival with the support of our Trip Leaders to ensure we follow local safety protocols. They are fully committed to aiding your well-being.
We will re-discover the world through more slow, easy and mindful travel. Our groups will be smaller.  All clients must take the AFS pledge that they are Covid free and will follow all safety protocols.  Booking travel now is complex because rules always change. Tour companies can't become "health and safety experts" when policies are inconsistent. Even experts are in the dark at times with the changing patchwork of government laws, but we are committed to doing our best.  This is a learning process for all of us and as we go, we will strive to make each step as safe and seamless as possible for you.
As in life itself, travel comes with some inherent risk the minute we step out our door.   Travel isn't dangerous. Being irresponsible is. For your protection we want you to be proactive in following new health guidelines. They involve teamwork and personal responsibility, but they do not preclude you from having fun and enjoying your trip! Things constantly change and it's a huge challenge for airlines, airports, hotels, cruises and tour companies.  We will do our best to keep you up to date with any adjustments.   Please understand we reserve the right to amend any tour activities, if needed. To present responsible travel, we at AFS do our part: Our vetted suppliers uphold the highest standards under CDC guidelines.
Safety measures on a trip; frequent handwashing, (bring personal sanitizer), exercise social distancing and wear a mask when applicable. Insurance provides trip cancellation, but not from fear, trip interruption, added medical protection. Call them to understand coverage. We are not responsible for any additional cost to you due to quarantine or illness
Helpful CV Resources–  Below are helpful links to facts and stats for you to reference as you gear up for all your travel domestically and abroad.
Facts about coronavirus-symptoms/transmission/precaution/treatment
https://www.who.int/emergencies/diseases/novel-coronavirus-2019/question-and-answers-hub/q-a-detail/q-a-coronaviruses
CDC entire situation summary
https://www.cdc.gov/coronavirus/2019-ncov/index.html\
US State Department Travel Advisories (Often old news)
Our Pledge to You – Our global suppliers uphold the highest standards under new CDC guidelines.  We at AFS assure you we will continue to offer you quality trips to countries where you will feel protected – countries that are going to extraordinary lengths now to provide a safe visit. Each destination is far less crowded than ever before and that means better personal attention.  We can trust our astute suppliers when each country is clear to visit. We're taking great precautions and encourage you to remain positive.  We will strive to make each step as safe and seamless as possible for you!
We ensure that heightened sanitation methods have been adopted in every place we visit and that all hotel properties and vehicles have passed cleanliness protocols.
Our guides and drivers must test negative and pass stringent safety measures.
Most of our groups will be limited to half the size of normal in the past.
We are choosing destinations with wide-open spaces for physical distancing.  You will be spaced at meals to socialize safely.
Some private tours for groups of friends only can be arranged.
We'll monitor your trip closely and provide a 24/7 emergency number if your trip is disrupted.
All clients must take the AFS pledge that they are COVID-free and will follow all the safety protocols.  Most AFSers have gotten vaccinations now.
Your Pledge to AFS  – We ask you to assume personal responsibility to protect your health and the well-being of your fellow travelers, guides and locals.
Read and print all updated Trip Tips on AFS website
Consider travel insurance with trip interruption
Stay healthy with vitamin D and zinc.  Confirm within 14 days of departure but you have no symptoms of Covid nor being in close contact with anyone diagnosed with it.
You agree to assume any risk of participating in trip activities, comply with applicable government, airline and health authorities.
Exercise social distancing and local guides directions whenever possible.
Sanitize your hands and phone throughout.
Read our terms here –  https://www.afstravelers.com/terms-and-conditions/
——————————————————————————————-
Rapid COVID-19 PCR Tests – Rules are changing daily! At this time, we must rely on each airlines policy. Read Covid rules at the top of airline website up to a week before departure. Every airline and country differ. 2 weeks prior we will send you final AFS departure letter with instructions specific to your trip.
At present, a Rapid (RT) PCR test is needed for international flights and to enter most countries and needed to return to USA.   RT-PCR is a PCR test with Rapid Results within 24 hour of testing.  We hope this will be eliminated by the time your trip goes. RT-PCR is best some airlines are accepting other tests now.  No mailing kits. All tests are free or covered by insurance.  To get fast with no wait, make appointment at private lab for a fee. They are now thousands of labs around US. Also, more testing sites opening daily with easy drive through. Call your healthcare provider or Urgent Care near you. Or Google "free no cost Covid testing near me". Most state and federal programs provide this. Or Google airport to see if Test is available there (JFK $75). Rural areas are more challenging. You may need to drive to an appointment in a nearby city.  At present it's free at Walgreens and CVS. They will bill your insurance company of $119. (Best trick – if you say you may have been "exposed to a Covid person" or if you feel "symptoms" like fatigue or say CDC recommended, it must be free.)
Outbound – Most airlines require negative PCR test within 96 to 72 hours prior to departure of your first flight.  This new rule makes travel more challenging, but we must follow to protect ourselves and those on the flight. Read specific airline rules on website, also any rules on connections in transit. Those vaccinated still need to show a test, but may change.   Get RT-PCR test with guaranteed results within 24 to 48 hours. They email result to you. Print out to bring at check in. Also screenshot copy on cell phone. Test must read "PCR". (We've had nobody test positive yet, if so, call us 770-432-8225. Many tests are inaccurate and a re-test shows negative.)  Don't forget to bring your vaccine card if you have one!
 Homebound – Airline may require negative PCR test to board departure flight. Each carrier differs. We hope this is eliminated by your trip date. If test is necessary within 72 hours of departure, we can help arrange test for group in each country. Details later by email.  As of May 10 new mail in-home kits the CDC announced you can now bring to do there for return into USA. The CDC only certifies kits from eMeds- 6pack $150, however, outbound some airlines may not accept this for departure.