"Fire & Ice Under the Midnight Sun!"   5-star Grand Voyage
Aug 27 – Sept 5, 2022   small group
The Vikings wanted to keep the wonders of this stunning place to themselves, calling it "Iceland" to discourage visitors. You'll understand why they wanted to keep it a secret as we make our way to the Arctic Circle on a luxury cruise designed to give you access that no land tour could to geological marvels that will blow your mind. Our past groups raved about Ponant and you too deserve a first-class vacation this year! 
There is truly no other place on earth that can match the stark beauty of the rugged terrain and pure, clear waters of Iceland. Our past 6 AFS groups to Iceland fell in love with the unimaginable dramatic landscapes of iridescent glaciers, slumbering volcanoes, boiling geysers, thundering waterfalls, vertiginous fjords, and rugged lava fields. They've been begging for more and boy, do we have it. While previous trips were in the winter to make it affordable, this time, we're splurging in the summer with the puffins in high season to take advantage of the almost 23 hours of daylight. We're going first class with a magnificent voyage that is also a rare opportunity to see Iceland from not just the land, but by sea – circumnavigating the country!   Discover hidden coves that are inaccessible from land and all from aboard the most prestigious expedition vessel sailing the Arctic waters – the exquisite yacht-like Le Bellot. You may see other Icelandic land or cruise offers but there is nothing that compares to our exquisite Le Bellot. 
 Experience 7 breathtaking ports of call starting in the capital, Reykjavik. We'll set sail on the bay of Grundarfjordur, reach the remote island of Grimsey, explore Akureyri and the almost-desert landscapes of the Westman Archipelago, seeing Arctic wildlife and seabirds along the way. Each day, you'll be able to opt from a mind-boggling array of excursions that include; Zodiac excursions, whale watching, thermal baths, culinary tours, lava walks, cave hikes, thrilling super jeep safaris and more as we explore the shores and outlying islands.
 Considered a top destination for 2022, Iceland can be a pricey destination, but AFS's favored rate with Ponant.  They offered us an exclusive discount price and many enticements for AFS only!  Included in our trip are airport transfers, an open bar, all gratuities, all your $390 port charges, unlimited Wi-Fi, gala dinners and some epic shore excursions (valued over $700.)   We even added a pre-cruise night package and tour of delightful Reykjavik for 9 glorious days. 
Don't miss the boat. This trip will never come around again.  Such an easy 5-hour flight from the east coast, this trip will fill up faster than you can say Snaefellsnes. Get your inner Viking on and come sail with us on the crystal waters around Iceland, Europe's best kept secret.  So pure, so adventurous, this Grand Voyage will melt your heart. 
Our Glorious AFS Itinerary
Print
Aug 27  – Depart USA to Iceland (Detailed Trip Tips coming soon.)
AUG 28 –   Welcome to Iceland!
We'll land at Keflavík Airport and drive across moonscape terrain of ancient lava fields to our Reykjavík hotel. Part of the Reykjanes Peninsula, these fields are a UNESCO Geopark because of their unique volcanic features. This is the only place in the world where tectonic plates are visible on the earth's surface. You will have the rest of the day free to enjoy Iceland's pristine capital city. Stroll along the Skólavördustígur and the Laugavegur, two lively streets with charming small shops or even venture out to the thermal pools of the legendary Blue Lagoon Spa.
Overnight Grand Hotel  SIGTUN 28 , REYKJAVIK, 105 855-516-1090
29 August – Tour of Reykjavik and cruise  
After breakfast, we take in Reykjavik on a morning City Tour, exploring the old town center, Parliament, the National Museum (outside only), and the bustling harbor area. From atop the viewing platform of the iconic the Pearl (Perlan) we can get a 360-degree view of this part of Iceland with lush, green landscapes, the harbor and glaciers all in view. We also stop at Hallgrímskirkja Church whose high steeple is a landmark visible from all over the city and beyond. Have a photo op at the statue of the Icelandic hero and explorer Leif Erikson.
After the city tour, we head to the harbor to board our elegant ship at 6PM.
Overnight aboard Le Bellot
30 August – Grundarfjördur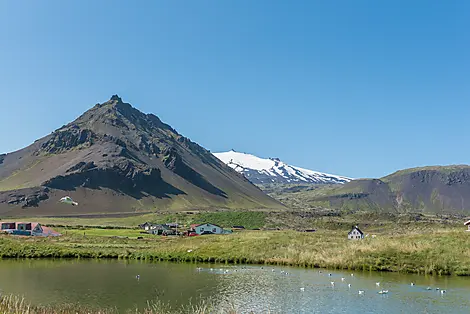 Sailing through the stunning fjord, we arrive in this secret boreal hideaway midday. Located at the foot of the Kirkjufell on Snaefellsnes Peninsula, the best views of the lava-stone rock standing like a sentinel at the entrance to the bay can only be had from the water. The quant town of Grundarfjörður lies sheltered behind this cone-shaped rock. A stone's throw from the jetty, crystal clear waters, tundra and beaches give way to the cerulean waters of the magical town of Breiðafjörður. Its quaint houses with emerald-colored lawns are so welcoming.
There are two possibilities for excursions
1 – The Snaefellsnes Peninsula – This almost 5-hour long adventure from Grundarfjordur takes us through several small fishing villages along the famous Snæfellsjökull glacier-capped volcano. After a stop at Djupalonssandur, take a short refreshing walk to the shore of the Atlantic Ocean. Snæfellsjökull was made popular in 1864 by the French writer Jules Verne in his novel A Journey to the Centre of the Earth, where he located the entrance to the subterranean journey inside the Snæfellsjökull crater. Afterwards, you will pass the cliffs of Londrangar and join the tiny fishing village of Arnarstapi which offers splendid multicolour lava formations and an abundance of bird life. You return to your ship through Budir, famous for its beautiful surroundings of black lava and its long beach of yellow sand. Continue over Frodarheidi Heath to the north coast of the peninsula, back to Grundarfjordur.
2 – Caves, Craters & Coves – An adventurous tour exploring some of the area's best loved coastal hiking trails, coupled with approximate 45-minute cave exploration, all at the base of the famous Snaefellsjokull glacier! It includes a refreshing walk amongst the craters at Saxholl. The 30-minute hike offers great views and a chance to walk around a volcanic crater rim and peer inside. Next, discover some of the beautiful coves and take a half mile scenic hike from the beautiful, pebbled beaches of Djupalonssandur to the picturesque cove of Dritvik. Take in magnificent views from the cliff tops and look out for the ancient labyrinth built by fishermen. Finally, head to the Vatnshellir cave and take a journey into the underground along a 200-yard lava tube that was the inspiration for Jules Verne's Journey to the Centre of the Earth. You'll descend 115 feet below the surface to see amazing colors and lava formations and explore both the upper and lower chambers. Scientists believe Vatnshellir was created in an eruption 6,000 to 8,000 years ago.
Overnight aboard Le Bellot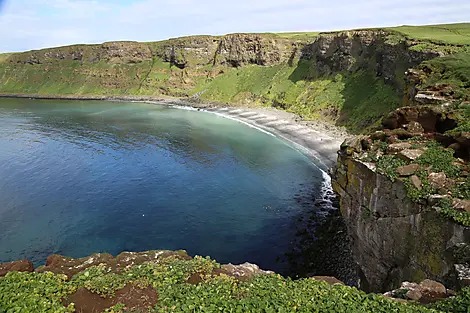 We arrive in Grímsey in early afternoon. This is the northernmost island of Iceland with the Arctic circle running through the heart of the island. You'll earn a certificate noting your Artic Circle accomplishment by being here! Grimsey's contrasted contours are surprising. Great photo ops here.  From Grímseyjarhreppur, the island's only town located on the west coast, then heading due south, you can take in the beauty of the hillsides, lushly carpeted with moss and grass. The rest of the coastline is marked by its imposing basalt cliffs inhabited by flocks of sea birds, many of them found only in this area.   Overnight aboard Le Bellot
Godafoss & Akureyri –  Excursion included.  This half-day tour gives us a view of what remains of the old town of Akureyri before crossing the fjord and heading on to Godafoss, "Waterfall of the Gods." Through the wide-open valley Fnjoskadalur, drive into the part of the valley known as Dalsmynni. Formations on the hillsides suggest that a once large pro-glacial lake occupied the valley only to be let down by stages as the ice melted. Next, continue to the Laufas Folk Museum, which originally served as a manor farm and vicarage. The turf farmhouse dates to 1866 and contains the usual household and agricultural implements used by the gentry during that period and earlier.  Upon arrival in Akureyri and before heading back to the pier, visit the Botanical Gardens which house examples of every species indigenous to Iceland and an extensive collection of high-latitude and high-altitude plants from around the world.  GODAFOSS & AKUREYRI  More
Other options:  
1 – Discover Lake Myvatn –  This full-day trip leaves from the pier where you head south towards Godafoss, "Waterfall of the Gods." Legend has it that in 1000, Thorgeir, chieftain of Ljosavatn district and Lawspeaker of the Althing or parliament at that time, threw his statues of the pagan Norse gods into the waterfall after deciding the island should accept the Christian faith. Godafoss literally means "waterfall of the pagan gods".  Continue to Lake Myvatn, a large 14-mile-long lake that is one of Iceland's natural treasures. With the dormant Hverfell volcano looming over the Eastern shores, it offers a protected nesting area to tens of thousands of birds, representing dozens of species of ducks. The landscape offers some interesting geological features, including numerous pseudo-craters at Skutustadir to explore before continuing to Dimmuborgir, a magnificent lava landscape with strange formations, columns and arches.  The striking geothermal field, next to Namafjall Mountain, is another highlight of this tour, full of mudpots, steam vents, sulfur deposits, boiling springs and fumaroles. Lunch will be served in one of the local restaurants of the Myvatn Area. The tour continues along the shores of Lake Myvatn and then heads back to Akureyri, where a short city tour will be made before joining the pier and your ship.  DISCOVER LAKE MYVATN   More
2 – Thermal Bath & Godafoss  – Another full day tour, we travel by coach to Husavik, a town on the north coast of Iceland, 60 miles south of the Arctic Circle. We stop at Godafoss, one of the most spectacular waterfalls in Iceland. After a drive through the scenic northern landscape, you will arrive in Husavik, where a dive into the warm water of geothermal sea baths awaits you, a very genuine wellness wonder. Enjoy this rejuvenating experience for body and soul in the natural tranquility of the Icelandic fjords, with the view of the mountain range to the west, Skjálfandi Bay beneath the cliffs and the Arctic Circle itself on the horizon. Following the bathing experience, you will appreciate a relaxing light lunch in the modern yet welcoming dining area.  Afterward, we visit the church of Husavik, built in 1907 from Norwegian wood and in the form of a cross. You will visit the inside of the church and view the simple Scandinavian architecture of this Lutheran church before returning to Akureyri.
Overnight aboard Le Bellot
02 September – Isafjördur   
 The lovely Le Bellot takes us to the heart of the fjords of North-West Iceland, a wild land of lost valleys and steep cliffs. In this very isolated region, we find the Isafjörður fjord, undoubtedly one of the most beautiful in the country, mainly for its relief, forged by many very ancient basaltic flows. The town of Isafjörður, which nestles at the back of its fjord, between imposing mountains, is a delightful little town that lives exclusively from fishing. The capital of the Western fjords, its old wooden houses bear witness to its past as a major fishing port.
Included excursion:  Maritime Culture & Traditions – Begin your 3-hour excursion by driving the narrow coastal road to the tiny town of Bolungarvik, here there will be a chance to visit the church. Your next stop will be at Osvor, a former fisherman's home that was restored in 1988 and once harbored boats. Osvor is a stunning example of nature's grandeur and perfectly illustrates just how difficult life was for Icelandic fishermen up until the 20th century.  The village of Bolungarvik is nestled in the heart of a spectacular bay surrounded by neighboring mountains and bathed by the Isafjardardjup or "Djup" fjord, the biggest on Iceland's east coast. You will drive alongside these impenetrably deep waters to return to Isafjördur via the valley of Tungudalur, enjoying a short stop to take in the view of the valley's landscapes.  On your return, pass through the historic old town and its 18th-century buildings before visiting the Maritime Museum. This is one of Iceland's oldest houses, a monument in itself, next to three other buildings that have also been renovated and date back to 1780. A typically Icelandic tasting will be served at the end of your visit giving you an opportunity to savor local specialties such as Schnapps, dried fish and locally canned fish cooked the Icelandic way.
 Other options –
Icelandic Encounters –  On this 2-hour delight, your guide will meet you at the pier dressed like a fish worker from the 19th century. You'll have an easy walk through the historic center of the charming town of Isafjördur where you will discover the well-preserved city center. Along the way, you will be able to meet the locals in an intimate setting as you are invited into their homes to enjoy a moment with them and taste some local homemade specialties, with a variety of traditional and modern foods. From one house to another, enjoy these Icelandic encounters through the history and culture of the Westfjords. A walk full of culinary surprises! At the end of the tour, you will walk back to the pier.  Limited to 10 people.
Guided Walk On Vigur Island –  This 3-hour walk give you a great introduction to the lovely island of Vigur. Just 1.2 miles long and a quarter-mile wide, it is a green oasis in the blue waters of the fjord Isafjardardjup. The island is a nesting place for countless birds. It has been the home of the same family since 1884, and today three generations still live there under the same roof. They are farmers and live off the treasures of the island.  After a 30-minute boat tour to Vigur, take a leisurely walk around the island and get a perfect opportunity to see an abundance of birds in their natural environment. Eiderducks nest here in great numbers. The farmer protects the nests and is rewarded with the down from the nests, as the ducks pluck their own chests for down, to shelter their eggs. You will also be seeing Puffins, Arctic Terns, Black Guillemots and various other birds in large numbers.  Read more online.
Overnight aboard Le Bellot
03 September – Heimaey, Vestmannaeyjar 
We arrive in Heimaey around midday, land of the puffins!   This land seated off the southern coast of Iceland is the largest of the Vestmann islands and is the only inhabited island in the archipelago. The steep Edfell volcanoes and the green prairies of Herjólfsdalur offer rich contrast of nature. On the Stórhöfði road, look out over grey sand beaches and cliffs carved out by the Arctic Ocean. From here, you can also see the bronze landscapes of the mountaintops. You could visit Eldheimar, an ultra-modern and interactive museum that traces the volcanic eruption has experienced by Heimaey in 1973.
Shore Excursion Included-  Circumnavigation of Heimaey – We begin our 2-hour tour from the harbor that for a long time has been a shelter for the Icelandic fishing fleet. The fleet was almost lost in the volcanic eruption on the island in 1973. We'll walk around the harbor before embarking aboard a boat to discover the island from the sea. Sail past the cliffs surrounding the harbor to start an interesting and informative journey passing bird colonies with millions of inhabitants and exploring caves that can only be visited by boat.
The birdlife you get a chance to see on this tour is magnificent, as the Westman Islands have one of the largest varieties of sea bird species in Iceland. These include puffin colonies of an estimated 6 to 8 million puffins. Nowhere else in the world can such a large number of puffins be found in such close proximity to man. In addition, the islands also house one of the world's largest gannet and guillemot colonies. Numerous other species of nesting sea birds can also be seen. In addition to the birdlife, whales are also often sighted, including orcas, dolphins and porpoises.  After viewing the island and bird cliffs from every angle, the boat tour (approximately 1 ½ hour) ends by sailing into Klettshellir (Cliff Cave) where a musical instrument is played through the sound system on board to demonstrate how the acoustics in the cave provides a sensational experience. From there, return to the harbor.
Overnight aboard Le Bellot
04 September – Full Day Touring Reykjavik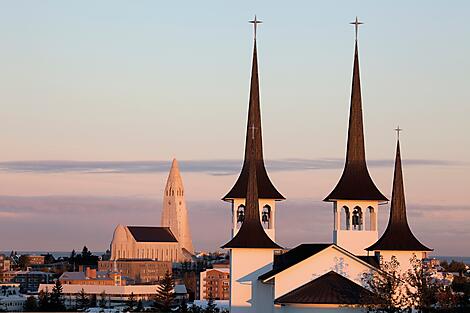 We return to Reykjavík in the morning, but overnight onboard.  You can choose to enjoy this charming city or take advantage of the one excursion being offered.
Shore excursion Included – Volcanic Landscape & Viking History:   Leave from the pier for this half-day trip to the enchanting Kleifarvatn Lake, one of the deepest lakes in Iceland, where a brief stop will be made to take some pictures. Next, you will drive on across the impressive volcanic plateau of Reykjanes. Your tour continues to Krysuvik, a colorful hot-springs area, which contrasts sharply to the sand and the lava fields of the area. In Krysuvik, we can really witness the powerful jets of steam escaping from deep below the earth's crust and multicolored pools of boiling mud of the solfataras. The landscape contrast continues as we ride down to the sea towards a green bay and then up towards the mountains through lava and lush green meadows. You will make a quick stop at the bridge between continents, where you will get the chance to cross from the Eurasian tectonic plate over to the North American tectonic plate.  Our last stop is the town Njardvik, where we find the newly built Viking Museum in which stands "Icelander" (Islendingur), a fully seaworthy replica of an average-sized Viking vessel, this in those times would have carried a crew of 70. Read more online.
Overnight aboard Le Bellot
05 September –  We disembark our luxury ship at 7:30AM.   Airport transfers are provided for your flight home.
Land & Cruise Price from $5395 based on 22 participants. Before this exquisite 2022 voyage sold out months ago, we were able to secured 11 cabins discounted for you into 2 categories all with balconies.

Choose your category 
Deluxe Stateroom   $5395 
We could only get 3 cabins for 6 people.  Private balcony, Individually-controlled air-conditioning, King-size bed or twin beds, Shower, Minibar, Flat screen, Satellite TV, Desk with stationery, Ipod(TM) players, Video on demand, Safe, Hairdryer, Bath robes, Satellite direct line telephone, 110/220 volts outlet, French bath products, 24hr room service, Internet access wifi.   
Prestige Deluxe Staterooms $5795
Private balcony, Individually-controlled air-conditioning, King-size bed or twin beds, Shower, Minibar, Flat screen, Satellite TV, Desk with stationery, Ipod(TM) players, Video on demand, Safe, Hairdryer, Bath robes, Satellite direct line telephone, 110/220 volts outlet, French bath products, 24hr room service, Internet access wifi, 1 stateroom for people with reduced mobility.  
Land prices per person twin share. Trip price based on a minimum number of participants.

Single rooms limited with $ supplement.  Cost varies.  Email us for availability.  AFS will find you a roommate.

The earliest we present group air is 10 months prior. We'll send email to ask who wants it.  A minimum number of 12 is needed.

Please review AFS Terms and Conditions, Heading Abroad with AFS, Covid Policy.  Travel insurance is important nowadays.  It's rare, but we reserve the right to modify schedules, tour and hotels.

Read Trip Tips on its own tab next itinerary for latest details. 
Print
AFS Iceland Trip Tips 2022
Updates will be posted here.  If you want a paper copy, copy and paste this into a document and print.  
Prepare to be thrilled on our unique arctic adventure to the land of fire and ice, filled with geological wonders! We've sent 8 AFS groups to Iceland and they all loved it. This grand voyage is extra special as we circumnavigate regions few tourists ever see and all in the lap of five-star luxury.   You can cruise with confidence on Ponant with their exceptional safety protocols. On arrival, you'll be briefed on their "anti-Covid health bubble" with daily control, monitoring and free lux magic masks. Read the full detailed page at www.ponant.com.  Onboard there is free Wi-Fi, an open bar including your mini-bar, movies on demand in each cabin, heated swimming pool, fitness room, spa, solarium, daily informational presentations and entertainment each night. No worries on seasickness on our new yacht-like ship Le Bellot with her state-of-the-art stabilizer fins. Some of you sailed Ponant with us before and already know how remarkable this top cruise line truly is.  
We have a wonderful group of 19 solo travel lovers so far. We have several more spots to fill so please help us and tell your friends about this now. In July, I'll send you your cruise docs with all final details. There's nothing you need to do to prepare. Just connect on your private Facebook page to get to know each other now and revel in the anticipation of the joy that awaits you in magical Iceland. 
It is your responsibility to read our important emails and updated notes here.  Let us sweat the small stuff as we strive to make your trip worry-free. This may well be the best time to go and fully enjoy your vacation!  Bookmark this page to conveniently find your way back.
Trip Tips are designed to answer trip-related questions. It's your responsibility to read this information.  Updates and addendums will be posted here.  Check back from time to time.
Covid Travel Rules are ever-changing depending on country and time of year.  Therefore, I created a single Covid rule page so everything can be up-to-date for participants on our trips.   Covid Rules Click Here
IMPORTANT PAYMENT DATES
SECOND DEPOSIT APRIL 20 and FINAL PAYMENT DUE on MAY 20 Pay by check directly online digitally. Simply follow the instructions. Credit cards will be assessed a processing fee at time of purchase.  As a small business, this helps mitigate costs and allows us to give you the very best price.
Your fearless GTL Salanda Williams (Gracious Trip Leader, not a guide but liaison between our
guides and group to ensure things run smoothly.)
Salanda has decades of experience in the travel industry and has worked over 12 years as a travel consultant for one of the world's largest management companies!  She has been on dozens of AFS solo travel tours over the years. With a passion for nature and unique culture is, she chooses and has led some of our most exciting adventures – (Kilimanjaro, Mt Everest base camp and Galapagos to name a few.)
Trip Prep:
Read the revised Heading Abroad with AFS, especially if you are new to AFS.
Ensure your passport is valid 6 months after return date with two blank pages.  We recommend renewing your passport well ahead of any planned international travel. Take a photo of your passport to store in the cloud or bring a copy. Scan your important documents – Covid tests, trip tips, passport etc. If you lose your passport, US embassies now except a digital copy from your email folder on your phone to re-issue new one quickly.
To speed through US Customs download Mobile Passport.  Look in your App Store for details.
Notify bank and cc company of travel dates so they don't block charges.
Vaccines – nearly all of our travelers are vaccinated. Email us if not.
All airline Covid rules differ.  It is imperative to read your airline rules to ensure a smooth departure!  Click here for the latest info on PCR tests required to travel abroad Latest Covid Testing Info.  Failure to get the correct test may cause the airline to turn you away.   It's your responsibility to know the airline rules that can change right up to departure. They won't speak to us with reservations in your name. All websites post their Covid rules at top of landing page. All airlines in the process of making significant routing and scheduling changes now as they scramble ramping up hiring for the travel surge to come. How to reach them?  Call direct or request a callback time. Check to see if your questions can be resolved on the airlines mobile app or via Twitter or turn to their social media for assistance. Travelers get best results via Facebook message to the airline.
The local supplier and AFS may require you sign a Travel Pledge before departure.  If so, we'll email a form to you prior.
Fitness level – 2   (No trouble walking.)
AIR –  Land dates are firm August 28 to September 5 so you will fly out on August 27.
At present, we are not offering group air as this is a small group of seasoned travelers. If however, I find some great deal, I'll let you know. It's easy to arrange your own round-trip air from USA to Reykjavík (KEF)  Aug 27-Sep 5.  You will have more flexibility to extend your trip or add a stop over somewhere fabulous enroute.
Airlines to consider – JetBlue, United, Icelandair, KLM, Air France, Delta, Lufthansa, American, Air Canada, Finnair, Swiss, British Airways.
If you arrange own air –  Everyone, check your flights! Airlines are canceling routes left and right now, Many won't even inform you by email that there's been a change. If your flight has been canceled, they MUST rebook you book on any other carrier to accommodate your schedule. Stand firm. If you're not getting anyplace ask for their supervisor.   (Good news, conversely many airlines are adding other new routes which be a better fit for you.)  In today's air & hotel landscape, avoid booking tickets on 3rd-party booking engines like Expedia, Google Flights, hotels.com and more! It's too difficult getting refund and it's nearly impossible to change your ticket. Use sites only to view air prices. Then go directly to the airline or hotel website and book through them for your best protection and price.
Transfers-  We get only one airport transfer in and out to hotels and will give you set times closer to departure. Chosen times will be based on the majority of arrivals of airlines. If your flight time coincides with the group, you may take our single airport group transfer.  It's your responsibility to find the group as they exit baggage claim.  If your flight time falls outside the group, you'll need to make your own transfer arrangements.  Consider Uber or sharing taxi ride with group member. There's good bus service from KEF into town.
Meet Up With Group-   Aug 28 meet at 5PM lobby bar at Grand Hotel.
Baggage– Think light to ease your burden, not like you're fleeing your homeland.   1 carry-on bag& 1 medium suitcase not to exceed 45lbs – weigh on a bathroom scale – are ideal. This weight limit is set for our porterage and luggage vans.  So many cool new luggage trackers with GPS available now to prevent lost baggage!  We like LugLoc, DynoTag, Samsung or Apple Trackers.   The new hard cases are difficult to fit in coach storage. Leave space for great souvenirs. Be sure to attach ID to carry-on and bag to assure your bag never gets left behind.
Packing – Check Google Weather a week prior to departure.  This trip is easy. Just pack casual spring/fall clothing. Where in layers as temps can change quickly in Iceland. Bring a day pack, wide brim hat, sun protection, comfy walking shoes, umbrella and swimwear for pools. Also bring one dressy outfit for the captain's dinner.
Pack your hygiene kit and munchies in clear plastic bags.  Airport and inflight food service may be limited.
Electric– Don't forget a portable backup charger, cords, gadgets, etc. Cell phones and tablets do not need a converter; you only need an adapter plug.  AFSers often leave charger cords in room, so be sure to double-check your room before check out. All properties have hairdryers.  The ship has US plugs, the hotel will not.
https://www.power-plugs-sockets.com
————————————————————————————–
Money Matters – You will need some cash for personal tipping, meals, and shopping. $500 in cash should suffice. (Venmo may be convenient at home, but useless overseas, ATM may eat your card.  Always bring some cash!  Wise to have new crisp bills.)   Change currency arrival at airport, bank, or hotels or withdraw local currency from an ATM.  Note -independent ATMs are risky due to skimmer scams. Safest ATMs are at airport and banks. Always shield your pin number when entering. Avoid using unless it's an emergency.  Master Card and Visa widely accepted.  Amex rarely accepted.
Currency  Exchange Rate  $1= 130 ISK (Iceland Krona)
Follow the link below to create a conversion cheat sheet
Credit cards are far safer than using your debit card. I convert half of it upon entry. I use my credit card for most purchases.  Many cards now offer no foreign transaction fees.
Gratuities – It's protocol to tip our local guides, assistants, porters, drivers and ground staff. Guidelines have increased globally, but around $10 to $15 per day should cover all for the trip. Please understand this is only the suggested minimum.  For ease of distribution, your GTL will tip the different ground services for the entire group each day.
All your tips are included on the 8 day cruise portion! However not on your time in Reykjavík. Please bring envelope of $24. Hand to Salanda for ease of distribution day 1.
Tipping on own – If service is stellar, feel free to give more directly.  All we tourists leave behind is our reputation. I personally carry a personal stash of US ones in an envelope to draw from as needed. Bell staff/porters – AFSers roll bags to their room.  If you use a porter, please tip $2. Restaurants – 10%.
—————————————————————————————-
Communication– Internet is available. With smartphones, be sure to check with your provider for rates and coverage for international phone plans before departure. Data Roaming rates can be expensive. To reach home – Texting, iMessage, WhatsApp, and Facebook messaging when using WIFI. Be cautious using public Wi-Fi without using VPN. Without VPN never open attachments or view financial or personal accounts on the Internet while abroad.  Phone calls, text messages, and data usage of all kinds, it is crucial to understand that, unless you are connected to Wi-Fi, every use of your phone incurs a data toll. That means that viewing and downloading email, browsing the web, viewing social media, and mapping all incur data charges, as do applications that we sometimes assume to be "free," such as Skype and WhatsApp. Unless you are connected to Wi-Fi, however, WhatsApp is using cellular data, so you are getting charged at your provider's international roaming data rate.  Facebook Messenger Phone is an easy free way to make calls.
Get Smart: Avoiding Hackers on Vacation.  Thieves not only want your money but also your data.    Change passwords often. Check device security settings before you leave for your trip. Back up, update, and encrypt your devices and data using a virtual VPN.
In hotel rooms, hide iPods or laptops to avoid "evil maids" that want to clone your tech.
Bottled water is always best abroad, as our gut isn't accustomed to local tap water. Eat clean food and avoid street vendors.
Pickpockets are everywhere now, especially at night.  Never carry your passport outside of the room.
It's wise to grab a business card from the desk before heading out on own.  To get back just show the card to a taxi driver- no memory or English needed.
Photography – Before taking pictures of locals, know it is polite to ask.  Your AFS Private Facebook Group Page is a great way to share your best shots with each other. AFS loves photos with group participants (not typical churches, monuments, or any shot that looks like you pulled it off of the net, etc.) for our website. The best photos are ones that include a group member with a local, children, animals, or at iconic sites in the same frame!
Retail Therapy – You'll find the coolest souvenirs here even if you're not a shopper. Consider quality Nordic woolen outerwear and wraps, Icelandic pure candies and licorice, paintings and lava rock art, jams, honey, Viking saga books, dried fish packs, Blue Lagoon skin products, special arctic liquors like Brennivin and more.
Chewing-  food costs a fortune here but all your meals are included onboard. Top chefs create culinary wonders using local products for delicious cuisine. There's high tea, French à la cart dinners and 24/7 room service.
Accommodations –Accommodations – Our itinerary has links to each hotel.  Our's are extraordinary.  Hotels can change, but it's rare.
Roomies – Single supplements have significantly increased – if available at all.  Save money and buy yourself an awesome local gift. We all live alone, but save money when traveling by rooming together. Suzy spends a lot of time on roommate matching.  99% of our clients are wonderful and you're only in your room to sleep at night.   Note, kindness begets kindness.
Recommended Options –  See itinerary for Abu Dhabi Day Tour.
Leisure Time –  For your free time, it's best to arrive and ask our local expert guides for suggestions.  We notice many newer clients pre-plan many activities on the AFS trip well before they arrive, often with disappointing results.  Our daily itineraries are pretty full, but there will be some free time. Expert travelers revel in the element of surprise in a new destination and allow the wind to blow them where it will. Use Google Maps on your phone to find everything nearby.
Amending tour pre-or post-trip or arranging private tours during free time.  We often see many AFSers on Facebook urging others to join them to countries before/after our trip. Stopovers are great to add, but understand AFS has nothing to do with this and is not responsible for the quality of these trips.
Private Facebook Group Page  –  The benefit of the Private FB Group Page is that you have an opportunity to introduce yourself to your fellow travelers before departure and share trip photos during and after the tour.  Where can I find the FB link? Ask us for an invite.
(We found that some never read the Trip Tips jumping right to the Private FB Group Page assuming they will get all trip info needed. Often, they only receive rumors and misinformation. All important information is ALWAYS emailed to each participant and posted here in Trip Tips under UPDATES. Nobody misses a thing.)
Emergency Contact – AFS Phone 770-432-8225, or email us at https://www.afstravelers.com/contact-us/  and more contacts will be provided with your Final Docs email 2 weeks before departure.  Your guide can handle a call home for a true emergency. Do not expect to use your trip leader's cell phone; you'll need to use your own cell phone.  3 weeks prior to departure more details on this will be emailed.
Cancellation Penalty –  At booking, we sent you our terms and conditions. Click here for our Terms & Conditions   Briefly, we will refund your deposit less 50% until 6 weeks prior trip's final payment due date.   Any cancellation after this date will result in full forfeiture of your deposit. AFS reserves the right to resell or otherwise use the canceled space at our discretion.
Travel Insurance– While travel insurance is optional, in today's world we highly encourage you to get standard coverage to cover trip interruption and cancellation.  Call to ask what Covid coverage they have.   Some companies cover Covid related issues. Best source for all is www.insuremytrip.com.   CFAR or cancel for any reason covers Covid but is expensive.  Note that no company covers for fear.
Preexisting conditions – If you would like the security of travel insurance and have a pre-existing condition (elderly parent, medical, etc.), you must purchase insurance within 15 days from your initial trip deposit in order to assure full coverage.  The trip cost can be amended or adjusted as needed after your initial purchase (eg. like adding an air ticket cost later). You can buy travel insurance at any time, just know that there may be some possible limitations if purchased outside the 15 day period.  We like TravelSafe, World Nomads and Seven Corners.
Travel Psychology 101  – Prepare for your departure joyfully with no contempt before investigation upon arrival. Please understand that with travel, things are not like at home and changes may occur. Great trips work best for those with an open mind, flexible attitude and adventuresome spirit.  If changes occur, embrace them with serendipity. Who knows?… The unexpected may prove to be a better experience.  Adapt and go with the flow with a laid-back attitude.  Be spontaneous. Be tolerant of foreign cultures in respecting their centuries of traditions. Embrace the differences. Be curious, not shy. Smile – locals will sense your energy of kindness and kindness always begets kindness.  Our common goal is to experience different cultures, make new friends, get great photos, have large fun, and return home safely with memories worthy of recollection.
The best spirit of an Explorer requires the openness of a child – Suzy
"When traveling, remember that a foreign country isn't designed to make you comfortable.  It's designed to make its own people comfortable." – Clinton Fadiman
Please note that AFS is non-partisan – With our homogeneous groups, we all want to focus on the common denominator – our love of travel.  In today's divisive world, we suggest members not discuss politics and if you must, please practice my rule of TOK:  Tolerance, Open-mindedness and Kindness.
Book AFS with Confidence – Thank you for booking! We are blown away by the support from all of you throughout this pandemic. It validates the trust and values AFS was built on over 35 years. As countries reopen, so will we. Travel is a shared experience. Together we press on and travel boldly. Below are new guidelines. We all must adapt and embrace any challenges with confidence for the freedom and privilege to travel.
As in life itself, travel comes with some inherent risk the minute we step out our door.   Travel isn't dangerous. Being irresponsible is. For your protection we want you to be proactive in following new health guidelines. They involve teamwork and personal responsibility, but they do not preclude you from having fun and enjoying your trip! Things constantly change and it's a huge challenge for airlines, airports, hotels, cruises and tour companies.  We will do our best to keep you up to date with any adjustments.   Please understand we reserve the right to amend any tour activities if needed. To present responsible travel, we at AFS do our part: Our vetted suppliers uphold the highest standards under CDC guidelines.
Safety measures on a trip; frequent handwashing, (bring personal sanitizer) and wear a mask when applicable. Insurance provides trip cancellation, but not from fear, trip interruption, added medical protection. Call them to understand coverage. We are not responsible for any additional cost to you due to quarantine or illness
Our Pledge to You – Our global, vetted suppliers uphold the highest standards under new CDC guidelines.
We ensure that heightened sanitation methods have been adopted in every place we visit and that all hotel properties and vehicles have passed cleanliness protocols.
Our guides and drivers must be vaccinated and pass stringent safety measures.
Most of our groups will be limited to half the size of normal in the past.
We are choosing destinations with wide-open spaces for physical distancing.
Some private tours for groups of friends only can be arranged.
We'll monitor your trip closely and provide a 24/7 emergency number if your trip is disrupted.
All clients must take the AFS pledge that they are COVID-free and will follow all the safety protocols.
Your Pledge to AFS  – We ask you to assume personal responsibility to protect your health and the well-being of your fellow travelers, guides and locals.  Know the COVID rules of the airlines you'll fly.  Get vaccinated (if you choose not, it's your responsibility to follow PCR tests.)
Read and print all updated Trip Tips on your trip's AFS webpage.
Get travel insurance with trip interruption
Stay healthy with vitamin D and zinc
Confirm within 14 days of departure but you have no symptoms of Covid nor being in close contact with anyone diagnosed with it.
You agree to assume any risk of participating in trip activities, comply with applicable government, airline and health authorities.  Some suppliers may request signature on waiver of liability.
Exercise social distancing and local guides directions whenever possible.
Sanitize your hands and phone throughout.
Read more here –  https://www.afstravelers.com/terms-and-conditions/
Covid Travel Rules are ever-changing depending on country and time of year.  Therefore, we created a single Covid rule page so everything can be up-to-date for participants on our trips.   Click Here for the latest Covid Travel Rules
Covid travel rules seem to mutate faster than the virus itself.  To keep all groups up to date with the lasted information, we've created a page that's updated as needed.  Set a reminder for yourself to check the Covid page 7 days before departure.