June 8 -18, 2021  "Private Kruger Reserves & Marvelous Beaches in Mozambique"
Small Group!
-BOOK NOW  or call 770-432-8225 If full WAITLIST

 Login / create account required

Incredible wildlife, tribal dancing with African bush feasts and breathtaking landscapes. Couple this with white sandy beaches is in azure warm waters at a tropical paradise resort and you have the perfect dual-destinations vacation.  Our last group loved it but we tweaked it with new regions and resorts. It's the best of both the African bush and spectacular beaches teaming with marine life.
 Part 1: Yes, our AFS Afriholics may have been to legendary Kruger National Park, but few get to delve into its private reserves with Glamping in Luxurious Safari tents.   Get
your full safari on with exhilarating game drives both morning and night in this famous animal kingdom as we search for the Big Five! We also visit HESC Endangered Species Center where cheetahs are rehabbed and released into the wild.
Part 2:  We'll travel along South Africa's historic Panoramic Route filled with natural wonders in the Drakensburg Mountains.  You'll love our home here, Hippo Hollow Country Estates on the Sabie River with its tribal Boma Feasts.  See Blydes River Canyon and interact with ellies at the incomparable Elephant Whisperers.  This region is our playground for tubing, ziplines, bush hikes and river rafting. It has a true Out of Africa vibe along with adventure.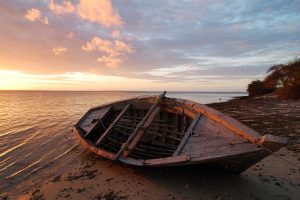 Part 3:  Just when you think it can't get better, we fly you north in our charter plane Vilanculos Mozambique, the "Unspoiled Africa", and home to Africa's best beaches. This is the place postcards are made of… and very few tourists. Wait 'til you'll meet your butlers at our beach resort here. Each morning, sandbars appear like a mirage when the tide rolls out.  The turquoise Bazaruto Archipelago is filled with unique and incredible marine life. After our Private Sunset Catamaran sailing, relax at the spa. There's horse riding on the beach, drift snorkeling off reefs, sandbar picnics, scuba, fishing, traditional Dhow sailing boats and an evening canoe safari you'll never forget.
June is winter with temps in the 70s and its whale season.  Save the Humpbacks!  Also, plenty of rays, whale sharks and wild dolphins.  Moz is so popular now, we reserved a year ahead and could only get 31 spots, so book now!
You'll get the best Instagram photos in three different worlds from big game to glorious sunsets. Our Africa trips are always dramatic and the moments on this adventure are magnified like no other place on earth. Reward yourself with this dream trip for both "Animal Overload and Barefoot Bliss" that is wildly luxurious!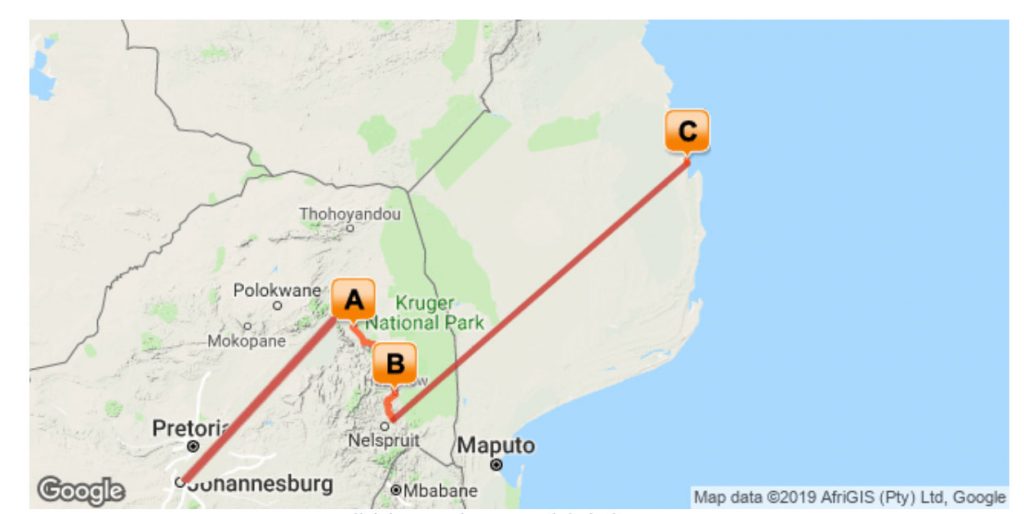 Click here to view your Digital Itinerary
Our Glorious AFS Itinerary
-BOOK NOW  or call 770-432-8225 If full WAITLIST  

Login / create account required
Print
Jun 8 Air is so easy round-trip to Jo'burg (JNB)!  Full details to come on this in AFS Trip Tips with info about flights, overnight options, packing, etc.  We urge you to fly in a day early to arrive Jun 9.  Full details to come on all air options, overnight options and packing in AFS trips tips.
Jun 10       Fly to Kruger… Chisomo Safari Camp, Kruger Private Reserves
Our land tour officially begins! We gather early morning at JNB Airport and fly an hour to Kruger.  Fly SA Flight Morning Time TBD
We arrive in time for lunch and a short rest before heading out on your first game drive!
South Africa
This vast country is undoubtedly one of the most culturally and geographically diverse places on earth. Fondly known by locals as the 'Rainbow Nation', South Africa has 11 official languages and its multicultural inhabitants are influenced by a fascinating mix of cultures. Witness remarkably untamed wilderness with its astonishing range of wildlife roaming freely across massive unfenced game reserves such as the world-famous Kruger National Park. With all of this variety on offer, it is little wonder that South Africa has fast become Africa's most popular tourist destination.
Kruger Private Reserves
Scattered along the unfenced western boundary of the world-renowned Kruger National Park, private game reserves combine with the Kruger to establish one of the world's largest game reserves. This incredible destination offers visitors excellent Big Five game viewing opportunities and an array of luxury safari accommodation complete with world-class cuisine, relaxing spas and private pools. Visitors can look forward to fascinating night-drive safaris, guided nature walks, and open-top safari adventures.
Overnight: Chisomo Safari Camp View iBrochure
Chisomo Safari Camp is the ideal camp for group traveling. Luxury safari tents face the beautiful Makhutswe River and wildlife may be watched from the decks as it emerges from the reeds for grazing Kudu, Nyala, Bushbuck are as common a sight as elephant and even the elusive leopard. Guests enjoy dinners at the luxuriously furnished, thatched public area overlooking the river and the bush or a traditional braai at a specially created bush dinner site where traditional dishes are served under the stars. The camp is easily accessible by tour bus and vehicle parking space is provided just outside the reception area. Chisomo is a perfect hub for exploring the tourism hotspots of the Valley of the Olifants as the camp is located close to both the Blyde River Canyon and the Kruger National Park. Chisomo Safari offers a range of excursions that can be booked on spot. Game viewing on the Karongwe is exceptional with an unequaled variety of flora and fauna add to the famous Big Five.
All meals included at the magnificent thatched lodge overlooking the river.
All tents have en-suite bathrooms with a shower, mini-bar, fan, heater, blow dryers, multi-plug, tea & coffee making facilities and a private deck with chairs for guest's viewing pleasure.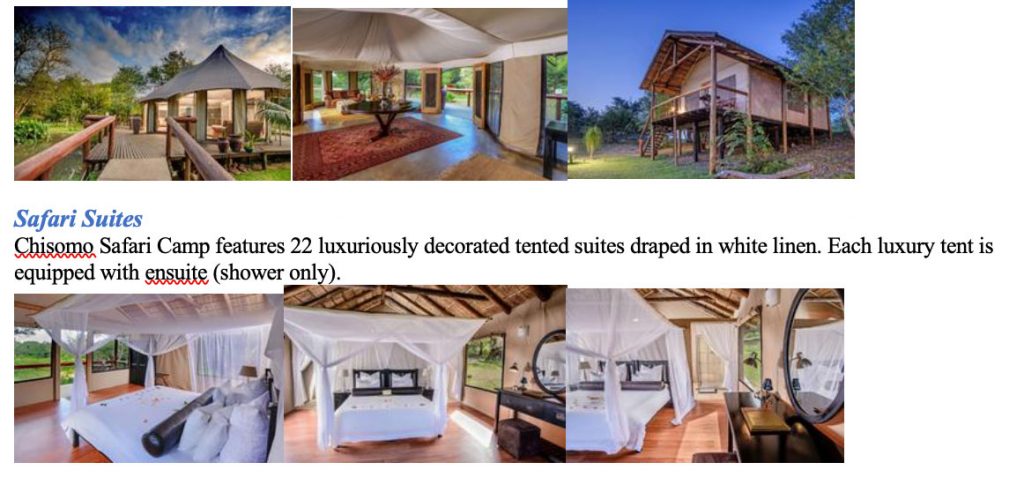 Tonight we enjoy Bush Dinner under the stars with tribal dancers and full BBQ buffet of local cuisines. 
June 11      Kruger Private Reserves Safari Day…   Chissomo   
Have your cameras ready for both early and late-game drives with rangers by jeeps when the animals are most active! Guests enjoy early morning and late afternoon safaris in open 4×4 safari vehicles conducted by experienced guides and trackers. The friendly staff at Chisomo ensure that guests are given personal attention and service at all times. During the day, guests may relax at the pool or retire to one of the beautifully decorated lounges.
Chissomo
Sun, June 12      Kruger and Wildlife Centre  
Wake early for coffee, enjoy a thrilling game drive returning to lodge for full buffet breakfast. After your morning game drive you will be collected and taken to the Hoedspruit Endangered Species Centre for a 2 hour tour, getting you back in time for a late lunch followed by evening game drive
Hoedspruit Endangered Species Centre
The Hoedspruit Endangered Species Centre focuses on the conservation of rare, vulnerable and endangered animal species. Cheetah Conservation is one of its core disciplines.
The center is actively involved in research; breeding of endangered animal species; the education of learners, students and the general public in conservation and conservation-related activities; tourism; the release and establishment of captive-bred cheetahs in the wild; the treatment and rehabilitation of wild animals in need (including poached rhinos); and anti-poaching initiatives on the reserve.
HESC houses a number of animal species including cheetah, African wild dog, lion, African wild cat, Ground hornbill, Sable antelope, to name just a few. Visitors can view the resident animals in close proximity, in a habitat simulating what they would experience in the wild. Guests are also afforded the opportunity of watching rare African vultures feeding at the Vulture Restaurant.
Full Board and Activities. Enjoy the camp's facilities like massage, free WIFI, same day laundry followed by night game drives, if time permits. These are most dramatic when predators on the chase.  Then gather for a buffet dinner.

June 13    Hippo Hollow Country Estate, Hazyview.  B
Hazyview – AFSers love this property and town with so much to do!  Surrounded by subtropical fruit orchards, Hazyview is a small farming town and a gateway to the southern part of the Kruger National Park and the Panorama Escarpment. The town and its spectacularly scenic surroundings serve as a popular adventure capital with a remarkable array of exhilarating outdoor activities on offer to suit all ages, tastes and fitness levels. These include, among others: mountain biking, quad biking, zip lining, tubing, abseiling, and river rafting. Whether you are eager to hike the Panorama Route with its breath-taking views and impressive waterfalls, visit the Shangana Cultural Village, or horse ride along the banks of the magnificent Sabie River, Hazyview has something for just about everyone.
We transfer by coach via the majestic Panorama Route, visiting the Three Rondawels ( Blyde River Canyon look out point), Lisbon Falls and Gods Window.  There will be a stop for lunch en route for own account.
Panorama Route
Connecting the Lowveld and the spectacular Drakensberg, sandwiched between the Kruger National Park and the Highlands Meander, the historical Panorama Route is a scenic road in the Mpumalanga Province. The route features sensational views of breath-taking natural wonders, fascinating rock formations, impressive waterfalls, scenic hiking trails, and a myriad of fauna and flora. The quaint little town of Graskop serves as the gateway to this wonderful route. Panorama's highlight is the verdant splendor of Blyde River Canyon, one of the world's largest green canyons featuring lush subtropical vegetation. Some other popular natural attractions along the route include the spectacular Lisbon, Berlin, and Mac Mac Falls, Bourke's Luck Potholes, the Three Rondavels and the astonishing God's Window.
Shangaan River Club
Based at Hippo Hollow Country Estate in Hazyview, the Shangaan River Club welcomes all to the festivities under the thatched Boma where traditional South African and Shangaan cuisine form a feast in the true sense of the word.
Immerse yourself in a wealth of culture with a night of Shangaan dance and song enthusiastically provided by children from a local AIDS orphanage, which provides shelter and education for abandoned street children. The children's participation ensures they are re-united with their true African heritage, thus preserving the legacy for generations to come. With each song, the local chief narrates a song or proverb from tribal legend, sharing the rich heritage and customs of the Shangaan people (please bring goodies for kids.)
An African banquet with an impressive selection of Shangaan and South African mouth-watering dishes served from traditional cast-iron pots completes your enlightening and entertaining Shangaan experience.

Overnight: Hippo Hollow Country Estate             View iBrochure
Hippo Hollow Country Estate is situated outside Hazyview on the Sabie River between the Drakensberg Mountains to the west and the low-lying bushveld to the west. It is the ideal destination from which to access the reserves of the Lowveld and the sights of Mpumalanga.
Hippo Hollows is only ten minutes from the Kruger National Park and the panoramic route which includes Pilgrim's Rest, Graskop, Bourkes Luck Potholes, God's Window, the Blyde River Canyon, and the many fantastic waterfalls of the escarpment is close by. Hippo Hollow Country Estate provides the ideal breakaway from the rigorous of city life. The hotel has an 'Out of Africa ' feel about it, and leaves you feeling totally relaxed and refreshed.

Hotel Room
The 54 air-conditioned hotel rooms overlook the picturesque gardens with two swimming pools.  These include rooms with Twin Beds, Baths and Showers, Air Conditioning, Satellite Television, Ceiling Fans, Tea / Coffee making facilities and a number of inter-leading rooms available.
June 14  Free at Last…   Adventure day!!               B,D                                                     
Enjoy your day at leisure with a host of optional activities to enjoy in the nearby area.  Hazyview is an adventure capital offering countless activities.  Book with our guide or the estate.
Optional activities include:
Elephant Whispers Elephant Interaction

Elephant Whispers are dedicated to securing the future of the African Elephant, and welcome people of all ages to share in the excitement of close encounters with these magnificent creatures. Experience the privilege of little Lindiwe's compassionate nature, witness Medwa's remarkable memory and enjoy the thrill of interacting with Tembo. The interaction with the elephant offers you the opportunity to touch the elephant, exchange trunk greetings and offer tasty treats. Experienced Elephant Handlers share their in-depth knowledge of fascinating elephant behavior.
Your visit to Elephant Whispers ensures these six incredible mammals continue in their important role as wildlife ambassadors for their own kind.
Skyway Trails
Skyway Trails offers two different types of treetop experiences such as the longest Aerial Cable Trail which is a canopy trail that slides through the forest canopy of the Sabie River valley and stops along the way on a number of elevated platforms as it descends to the ground.

Induna Adventures Rafting Sabie River
Induna Adventures is located on the banks of the Sabie River. The Sabie River flows over massive waterfalls on its way into the Lowveld. It provides a rafting stretch for the whole family or for any corporate group in Induna Adventures. Each trip is assisted by a qualified first aider and experienced river guides. The rapids are not the only attraction as guests are bound to see an abundance of birdlife, lush indigenous forest scenes and also get a chance to bum slide halfway at the picnic stop.

June 15   Fly to Moz …  Vila do Paraiso, Vilanculos, Mozambique  B,D
Mozambique
Situated on the east coast of Africa, this tropical paradise is blessed with 2500 kilometers of spectacular coastline. With its idyllic beaches fringed with palm trees and lapped by crystal-clear waters brimming with a dazzling array of marine life, this enchanting African nation is an ideal adventure holiday destination, with an abundance of activities on offer such as snorkeling, sunset cruises, horse-riding, dolphin tours and world-renowned scuba diving. However, you choose to spend your time in this exceptionally scenic destination you are likely to leave with a heavy heart and a burning desire to return time and time again.
Vilanculos
Situated in the Mozambican province of Inhambane, Vilanculos is a laidback town featuring some lovely beaches lapped by crystal-clear turquoise waters. It is stocked with all the amenities needed for a fantastic seaside holiday. This bustling coastal town has its own international airport and serves as a great base for exploring the idyllic islands of the Bazaruto Archipelago. The town itself offers good diving, a wide range of accommodation choices and a lively nightlife. Visitors can jump on a traditional dhow boat and venture to the pristine Bazaruto Archipelago, browse for fresh produce and locally-made souvenirs in the bustling market in the center of town, and spend the day soaking up the sun on an array of idyllic beaches. Other popular activities include horse riding, game fishing, kitesurfing, scuba diving, snorkeling and sailing.
Today we jet off by private plane to a tropical paradise.  Moz has 1500 miles of spectacular coastline.
With its idyllic beaches fringed with palm trees and lapped by crystal-clear waters brimming with a dazzling array of marine life, this enchanting African nation is an ideal adventure holiday destination, with an abundance of activities on offer such as snorkeling, sunset cruises, horse-riding, dolphin tours and world-renowned scuba diving. However, you choose to spend your time in this exceptionally scenic destination you are likely to leave with a heavy heart and a burning desire to return time and time again.
You will transfer from Hazyview to Kruger airport for your flight to Vilanculos in Mozambique. Easy visa on arrival in Mozambique – currently USD50.
Vilanculos is a laidback town on the Mozambique mainland which offers a host of activities in the area. Not only this, but it lies opposite the famous Bazaruto archipelago which is accessible by boat.  Crystal clear turquoise waters, white sandy endless beaches, a bustling town market, an array of restaurants within walking distance and many optional activities such as diving, snorkelling, horse riding, quad biking, village visits, kayaking, fishing and sailing.
First off is an afternoon AFS Sunset Catamaran Cruise followed by Welcome Dinner!
Overnight: Vila do Paraiso
Here you will be accommodated in superb luxury villas right on the beach. Each villa sleeps 8 people in 4 bedrooms en suite, each with private plunge pool and own Mozambican butler.  Your butler will be happy to shop for you and cook up a magnificent Mozambican dinner in your own villa.  Our past groups loved it raving about the friendly staff and gourmet meals.
Vila do Paraiso is your springboard to unlimited adventure in the tropical paradise of Vilanculos, Mozambique.  The resort offers numerous ocean and land-based activities to keep you occupied, whilst you are accommodated in style in the luxury villa's right on Mahaque Beach.  Our past groups loved it raving about the friendly staff and gourmet meals.  Each villa accommodates 8 guests in 4 double rooms with en-suite facilities and a butler. Although the basic layouts of each villa are the same, each has its own special charm and setting, which is complemented with its own unique decor and some minor variations in layout.
Activities include:
Boating around the islands.
Diving in Bazaruto
Beach and town excursions.  Also, you can enjoy beach horse rides, snorkeling, village visit and canoe safari.

    Fully furnished self-standing, double-story Villa with 4 en-suite bedrooms, lounge with DSTV, kitchen and outdoor dining area and plunge pool on deck
Thurs, Jun 16 – A Day to Play in Paradise                B
An entire day to do what you please and there is so much to choose from!  The resort has boats for a sand bar picnic, beach bicycles and canoes for our exclusive use, and we can arrange massages for those who just want to relax.
Other activities include options for a full day diving and snorkeling in the crystal-clear waters to view the abundant colorful fish and corals. These waters are populated with manatee, sharks, rays, many whale species and a variety of fish like clownfish, angelfish.  Or you could house to go deep-sea fishing for giant kingfish, king mackerel, yellowfin tuna and barracuda.  Your house butler can even cook your catch for you in the evening.
July is whale season with Humpback whales along the coastline and whale watching tours are offered.
Go horseback riding on the beach or take a traditional dhow out to explore the local waters. A new favorite activity is the Govuro River Canoes through unspoiled wetlands with the pristine waters and incredible birdlife. (Last group loved)  You have the option of doing an early morning canoe trail or late afternoon trip, which allows sightseeing of frogs, birds, fireflies, and stargazing.  Villa De Paraiso can also arrange a driver to take you into town where you can indulge your late into bargaining skills and go shopping in the local market, or well-crafted souvenirs.
Jun 17 Full Day Island Sailing                          B, L, D
After breakfast, we all sit out for a blissful day on the water as we spend our day sailing on the Indian ocean with a look at some of the local Islands. Will pull into Santa Carolina mid-day, or you can walk on the beach, swim or snorkel while the crew set up for a wonderful beach lunch.
We will return to the resort in late afternoon and enjoy and AFS Farewell Dinner and toast all our new friends.
June   18    Heading home.       B
After breakfast, we head to airport for noon check-in and flight back to JNB.
Arrive JNB. 3:30 PM, perfect timing as all USA flights depart in the early evening.  Or you can arrange own post-trip extension to any place in Africa.

Limited to only 34 participants. Don't delay, book now.
 Land Price:  $2895 plus $190 for three internal air flights. (See below) pp twin share.  Rate based on currency exchange dollar to rand.  Limited to 30 participants.
Deposit: $500  second $500 deposit Jan 18 and final payment Feb 18
Includes:
Airfare Johannesburg/ Hoedspruit – Nelspruit/ Vilanculos/ Johannesburg
Road transfer from Hoedspruit airport to Karongwe Reserve
3 nights Chisomo Tented Camp including all meals and two game activities per day
Morning tour to the Hoedspruit Endangered Species Centre
Road transfer via the panorama route including the Three Rondawels, Lisbon falls and Gods Window to Hazyview 2 nights Hippo Hollow in a standard room, B/B
Evening Shangaan Cultural show
Road transfer to Nelspruit airport
Return road transfers in Vilanculos
3 nights Vila do Paraiso in 8 sleeper chalets with private plunge pools
Evening sunset catamaran cruise
Welcome dinner on arrival and final farewell dinner and all meals as listed.
Full day outing by boat to the island with lunch and park fees included
Not included: Gratuities (added to  your invoice for convenience) and $50 Moz Visa.
Group Air – No Int'l group air from USA.  All fly USA to Jo'burg, details in emailed Trip Tips after booking.  Internal air flights are part of the land package.

Land prices per person twin share. Trip price based on a minimum number of participants.

Single rooms limited with $ supplement.  Cost varies.  Email us for availability.  AFS will find you a roommate.

The earliest we present group air is 10 months prior. We'll send email to ask who wants it.  A minimum number of 12 is needed.

Please review AFS Terms and Conditions, Heading Abroad with AFS, Covid Policy.  Travel insurance is important nowadays.  It's rare, but we reserve the right to modify schedules, tour and hotels.

Read Trip Tips on its own tab next itinerary for latest details. 
Chisomo Safari Camp  Kruger Private Reserves
Amenities in the room:
En suite bathrooms – shower only
Mini bar stocked with mineral water
Standing Fan
Heater fans for winter
Hairdryers
Multiplug
Mosquito nets
Tea and coffee making facilities
Safe
Private deck with chairs
200V plugs – adaptors available in the dressing table drawer
Shaving plugs in the bathrooms
Facilities at the camp:
Main area swimming pool
Boma ( weather permitting)
Dining area
Same-day laundry service available for an additional cost
WIFI available
Limited cell phone reception
Hippo Hollow Country Estate –   Hazyview
Amenities in the rooms:
En suite bedrooms with bath and shower
Air conditioning
Satellite television
Ceiling Fans
Tea / Coffee making facilities
Facilities at the hotel:
Two Swimming Pools in Lush Gardens
 Hippo Hollow Restaurant
Public Lounge & Bar Area
Shangaan River Club on-site
Free Wi-Fi
Well Stocked Curio Shop
Guest Laundry Service
Mpumalanga Helicopters on-site
Perry's Bridge Trading Post Lifestyle Centre 1km up the road
Vila do Paraiso
Beyond your imagination, a playground of ocean adventures, island explorations, kite surfing, scuba diving, horse riding, quad bikes or ….relaxation, spa treatments, sunrise, sunset beach strolls …you decide…..Views of the magnificent Bazaruto Archipelago all day every day.
Situated on the Beachfront 6 luxury thatched Villas self-catering or various catered options. Each Villa sleeps 8 people in 4 fully air-conditioned en suite bedrooms and has a beautiful deck with sea views, private plunge pool, Satellite TV, and a dedicated Villa butler to take care of your needs, surrounded by lush tropical vegetation.
Amenities:
Personal House Butler
4 en-suite bedrooms
Air – conditioning
Mosquito nets in each bedroom
Living room with TV and Satellite
Fully kitted out kitchen
Large deck with dining table plus private plunge pool
Full catered or self-catering options available
Hotel facilities:
Shopping service available for VDP guests (at an additional fee)
Set right on the beach with sun loungers, infinity pool and unmatched island views
Beach bar with friendly barmen who keeps stock of all local beverages and select imported wines and spirits
Restaurant with professional Chef who prepares meals or tailored menu's for guests
Super catamaran
Fishing, Islands and Whale Watching
Set up for game fishing
Licensed Skipper and Gilly accompany guests out
Sound system on board
Fishing equipment, terminal tackle and bait provided
Gazebo, table and chairs provided
Webber braai onboard
Fighting chair
Fish finders / Radar onboard
Cooler boxes provided and deep freezer on board
Meals, drinks and ice available at Bar for guest convenience
A surcharge of an additional $100 for a professional fishing guide on request
Snorkeling equipment onboard
Water Activities
Dhow trips
Kite surfing
Diving and Snorkelling
Canoe trails
Land Activities
Horse-riding
Curio Shopping and Market trips
Quad biking

 All prices are per person twin share.  Single rooms limited per group and a single supplement applies.  Cost set by hotel/cruiseline and vary considerably.  AFS will find you a roommate match. All hotel rooms are "run of house."  

Please review AFS Terms and Conditions as well as Heading Abroad with AFS.  

Land – Price based on a minimum number of trip participants, as well as local currency exchange rates which can fluctuate.

We write our itineraries over a year in advance. Though unlikely, we always reserve the right to modify schedules, tours and 

hotels if necessary. 

Group air – Airlines may add surcharges to offset fuel inflation or taxes. The total ticket cost is not final until we receive your final payment and the group is ticketed. If doing own air, airport transfer may or may not be included depending on your air schedule. Do not buy air until the group air is set or we advise – though unlikely, airlines, times and dates can change!
Print
AFS  2021  Bush & Beach – SA / Moz Trip Tips
Prepare to be awed by nature's wonders on this thrilling land and sea safari.  Our bush and beach combos are loved by our past groups for the diversity.  Each day provides Kodak moments with wild game in South Africa and stunning marine life in Mozambique (just rated world's best diving region now.)  There's nothing to prep for, just show up for a vacation of a lifetime.  You'll be pampered throughout in our fine properties.
We've outdone ourselves in finding the best of both of the African Bush and its spectacular beaches. You've never seen Africa quite like this. While many know of South Africa's legendary Kruger National Park, few get to delve into its private reserves with luxurious safari tents overlooking rivers abundant with wildlife. You'll get your full safari on with exhilarating game drives in the famous animal kingdom as we search for the Big Five! We'll see firsthand some of the Dark Continent's most endangered species while visiting the famous Hoedspruit Endangered Species Centre where cheetahs are rehabbed and reintroduced into the wild.  So much is included in 5 different regions along the panoramic route all the way up to Bazaruto archipelago of Mozambique.  Past AFS groups loved it.  I wonder what'll be your favorite?
We have a wonderful group of 32 solo travel lovers, a perfect medium size group for us with space for a few more.  Please tell your friends.   After final payments are we will send you contact and room lists.  For now get to know each other on your private FB Grope Page.  Look for an email with this link and ask to join.  All important information is ALWAYS emailed to each participant and posted here in Trip Tips under UPDATES. Nobody misses a thing.
Trip Tips are designed to answer trip-related questions. It's your responsibility to read this information.  Updates and addendums will be posted here.  Check back from time to time.
IMPORTANT PAYMENT DATES.  This is a postponed trip from 2020
Make your payment out to AFS or Adventures For Solo Travelers, 1907 Daniel Green Ct., Smyrna GA 30080. If you won a contest on a past trip and have a coupon, mail it in, and we'll process it just like a payment made by check. You may review your balance, booking items, and profile after logging into www.afstravelers.com. You may check your outstanding balance at any time on your profile after login. Reminder emails will always be sent.
——————————————————————————————-
I longed to lead to this but Carol really wanted it because it's that good!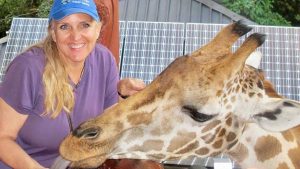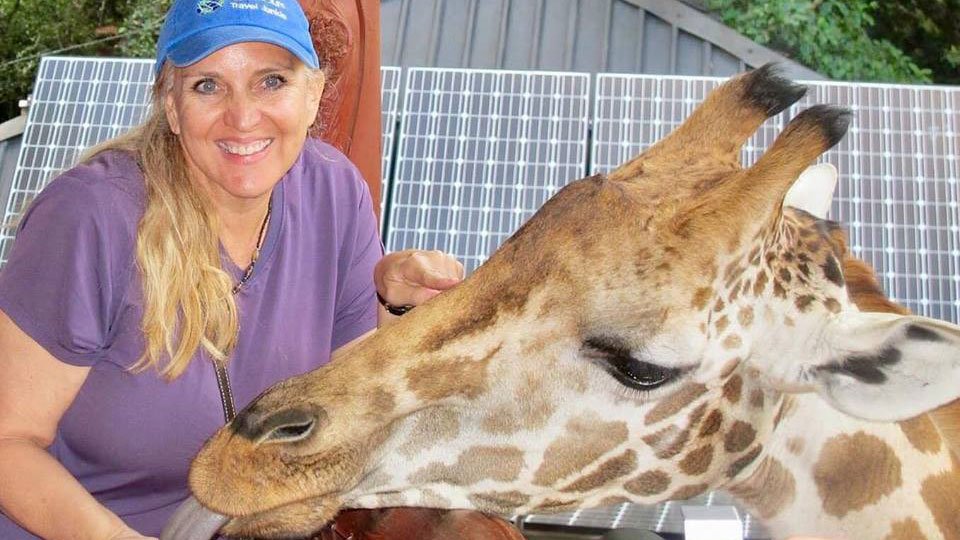 Your fearless GTL Carol Huntington (Gracious Trip Leader, not a guide but liaison between our guides and group to ensure things run smoothly.) Many wanted to lead this one but Carol is our AFS Africa expert.
Carol has been on 20+ AFS trips over the years and has led many of our solo travel tours. She has been a ray of sunlight to each of those groups. She has a passion for seeing the world and experiencing new cultures. Having traveled to over 92+ countries and all 7 continents, she continues to pursue her dream, while working for the past 25 years in the banking industry. Her goal is to build relationships, problem solve and keep clients happy. She genuinely cares for people and is cool under pressure. These are great qualities for the business and the travel world.
During a recent sabbatical, Carol coordinated and lead a once in a lifetime journey around the world, visiting 13 countries! Carol's excitement to discover new things is complimented by her unique ability to get along with and relate to people of all backgrounds. She has a deep understanding of new and seasoned travelers with a knack to inspire all. Carol is all about the experience: from skydiving to trekking with the gorillas in Rwanda, leading a group to climb Mt Kilimanjaro and always making many new friends along the way.
=======================================================
Trip Prep:
Read the revised Heading Abroad with AFS, especially if you are new to AFS.
Ensure your passport is valid 6 months after return date with two blank pages.  We recommend renewing your passport well ahead of any planned international travel. Take a photo of your passport to store in the cloud or bring a copy.
To speed through US Customs download Mobile Passport.  Look in your App Store for details.
Notify bank and cc company of travel dates so they don't block charges
Visa – Moz is $50 US at airport arrival.
Travel Meds – no shots needed.  Anti-malaria pills suggested, not required.  Call me if questions on this.  Read more below.
Fitness level – 2   (No trouble walking.)
(For Fit Trips – Should be able to complete 5k in 40 minutes.)
Air – Best dates JUN 17-27 roundtrip USA-JNB (Johannesburg) 
Without Group Air no arrival transfer provided– Fewer people booking our group air nowadays because they find better rates on their own directly from their hometown or use points. When everyone flies on their own, they arrive at scattered times, making it impossible to provide a group transfer on arrival. Therefore you'll need to consider Uber or sharing a taxi ride with a group member. Here is a great planning resource – www.taxifarefinder.com.
We will have a single return airport transfer at the end of the trip at a time that will accommodate most schedules. If your time doesn't work out, you'll need to make your private transfer or taxi.
Doing Own Air– You may arrange your own air from your hometown. We like Google Flights and Skyscanner. We highly recommend that you not rush to buy air until a Group Air is set (when offered). If your arrival or departure times do not align with Group Air times, you'll need to arrange your own airport/hotel transfers.
If you need help getting your own air, call our friend Rizwana who's an air expert. Call or text here at (734) 752-9331‬. Give her your exact airdates, destination, passport name and details with birthdate. 
If you go early and check-in AFS hotel before group arrives, it's your responsibility to change rooms with your roommate if necessary day one when trip begins. 
* Land Portion officially begins at 7AM at JNB, June 19.  It's best to go in a day early to arrive June 18 and rest.  Depart USA JUN 17 to arrive next day!  Our groups love to stay at Sunrock B&B (free shuttle transfers, meet & greet – around $60nt.)  http://www.sunrock.co.za.  If they sell out, there are dozens of hotels around JNB.  Just Google JNB airport hotels.  Return JUN 27 you arrive back to JNB at 330PM, perfect timing to make USA evening flights home.
Meet Up With Group- All meet in JNB arrivals Hall by 7AM JUN 19 to catch flight to Kruger.  You can't miss our guide with AFS sign.
Included on invoice – Internal Group Air:  This is your air package of 3 legs invoiced at $190. Air times TBA in July
•  JUN JNB-Kruger
• JUN Kruger – Vilanculos
•  JUN VIL – JNB
Baggage– Think light to ease your burden, not like you're fleeing your homeland.  You change hotel properties several times. 1 carry-on bag& 1 medium suitcase not to exceed 45lbs – weigh on a bathroom scale – are ideal. This weight limit is set for our porterage and luggage vans.  Soft-side bags only please.  If you overpack by adding side pre-or post-trip luggage, make prior plans as to where to stow the excess luggage. You may be responsible for any overage charges. The new hard cases are difficult to fit in coach storage. Be sure to attach ID to both bags. Leave space for great souvenirs.
Packing – It's dry season and the best time to visit.  July is winter in SA, but tropical in Moz.  Pack fall and summer in clothing for temps 55 to 85 degrees.  Nothing special to purchase. Safaris are totally casual with pants, jeans, shorts, etc. See more below.  In South Africa, it's springtime where evenings and early game drives get cold, so bring warm clothing to layer.  Google Jo'berg weather a week prior to departure.  Bring a hat with chinstrap, insect repellent with DEET, daypack, umbrella and comfy sneakers.
Moz is in the 80s. Don't forget swim gear, sunscreen, wet shoes, sandals. Resort can provide snorkel gear. Dive shop is nearby. All properties have hairdryers.  Consider bring some gifts, goodies or school supplies for poor children in Moz.
Check Google Weather for a week prior to departure.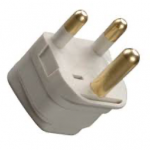 Electric– Don't forget chargers, cords, gadgets, batteries etc.  Cell phones and tablets do not need a converter, you only need an adapter plug.  AFSers often leave charger cords in room, be sure to double check before check out.  All properties have hairdryers.
Mozambique and South Africa use the same plug.  You can buy on Amazon cheap.
————————————————————————————–
Money Matters – Most activities and meals are included!  You will need some cash for personal tipping, meals, and shopping. $300 in cash should suffice. (Venmo may be convenient at home, but useless overseas, ATM may eat your card.  Always bring some cash!)   Change currency arrival at airport, bank, or hotels or withdraw local currency from an ATM.  Note -independent ATMs are risky due to skimmer scams. Safest ATMs are at airport and banks. Always shield your pin number when entering. Avoid using unless it's an emergency.
Currency –
SA Rand Exchange Rate $1= 14 R
MOZ Metical $1 = 63 MZM
Follow the link below to create a conversion cheat sheet
https://www.oanda.com/currency/travel-exchange-rates
Credit cards are far safer than using your debit card.  Avoid using an ATM unless it's an emergency. If you must use an ATM, use them at airport or banks.  Credit cards far safer than your debit card.   I know $300 cash is plenty of money for a week for me.  I convert half of it upon entry.   I use my credit card for most purchases.  Many cards now offer no foreign transaction fees.
Gratuities – (Prepaid)
It's protocol to tip our local guides, assistants, porters, drivers and ground staff. Guidelines have increased globally, but around $12 to $18 per day should cover all for the trip.  A $90 total will be added to your invoice. Please understand this is only the suggested minimum.  For ease of distribution, your GTL will tip the different ground services for the entire group each day.
Tipping on own – If service is stellar, feel free to give more directly.  All we tourists leave behind is our reputation. I personally carry a personal stash of US ones in an envelope to draw from as needed. Bell staff/porters – AFSers roll bags to their room.  If you use a porter, please tip $2. Restaurants – 10%. For group lunches or dinners, please leave a dollar or two for waitstaff!
An article link about tipping when traveling is below
Click to read article –  Huffington Post on new tipping guidelines
—————————————————————————————-
Communication–  Internet is available. With cell phones/smartphones, be sure to check with your provider for rates and coverage for international phone plans before departure. Roaming rates (used by Facebook and other apps) are expensive. To reach home – Texting, iMessage, What'sApp and Facebook messaging when using WIFI are best!  I don't know anyone who makes calls home nowadays.
Stay off public Wi-Fi without using VPN, if possible. If not, never open attachments or view financial or personal accounts on the Internet while abroad.
Are you interested in affordable data in many countries abroad?:  We've been using Skyroam. All the data you want to use Bluetooth for to access your devices are for just $10 per day. See https://www.skyroam.comfor details.
Be Smart: "Avoiding Hackers on Vacation," Experts say! …Thieves not only want your money but also your hard-earned Frequent Flyer Points!  Change passwords often. Check device security settings before you leave for your trip. Back up, update, and encrypt your devices and data using a virtual VPN. It's worth the cost. In hotel rooms, hide iPods or laptops to avoid "evil maids" that want to clone your tech.
Bottled water is always best abroad, as our gut isn't accustomed to local tap water. Eat clean food and avoid street vendors.
Pickpockets are everywhere now, especially at night.  Never carry your passport outside of the room.
It's wise to grab a business card from the desk before heading out on own.  To get back just show the card to a taxi driver- no memory or English needed.
Retail Therapy – There is wonderful shopping in both South Africa and Mozambique. Even non-shoppers will find themselves tempted by local goodies. Our past groups have come back with the coolest stuff.  Wise tip – Do ALL shopping at end in JNB airport store "Out Of Africa"!  They have everything and can even ship.
South Africa: Sought out treasures are African tribal art, diamonds, tanzanite, masks, beaded anything, wines, painted ostrich eggs, safari wear, and endless crafts. For any items over $60, ask for a VAT receipt to receive a 15% tax refund to be collected at airport departure.
Mozambique – Crafts and artwork are favorites for souvenirs and gifts, as they represent the ancient cultures and beliefs of the region. Traditional handicrafts include wood carvings and vibrantly colored masks (Makonde masks and figurines are popular due to their individuality and tribal significance). Other great take homes include traditional tribal jewelry, garnet, soapstone and malachite carvings, printed textiles and batiks, mats and baskets woven from reeds, pottery, decorative home wares, leather items, and salts and spices.
Photography – Before taking pictures of locals, please know it is always polite to first ask for permission.
Photography for Africa: For those with a digital SLR, did you know you can rent a zoom lens?: Check out http://www.lensrentals.com. Also bring extra batteries. Best light is during 6-10 AM or 4-6 PM. Guides will assist for best vantage points.
Your Private Facebook Group Page is a great way to share your best shots with each other. AFS loves photos with group participants (not typical churches, monuments, or any shot that looks like you pulled it off of the net, etc.) on our website. The best photos are ones that include a group member with a local, children, animals, or at iconic sites in the same frame!
Cuisines-  Meals are listed on itinerary  B= Breakfast, L = Lunch , D = Dinner  Meals not included are very affordable.  Drinks- alcoholic beverages extra, but there's a great selection of affordable local beers and South African wines.  Try Roibos teas.  All food and water at properties is purified. Fresh meals are so delicious you'll put on pounds.
South Africa:
South Africa is known for its delicious African and Malay cuisine, seafood, wild game, exotic fruits, great desserts, local beers, and excellent wines. Popular South African dishes include amasi (fermented milk), chakalaka (vegetable dish), mealie (a maize meal served on the cobb or made into a beer), biltong (a salty dried meat similar to beef jerky), potjekos (vegetable/meat stew), and many other meat-based meals cooked in various ways. Other local delicacies: bunny chow (chicken or pork curry), boerewors (spicy sausage), malva pudding (sweet spongy cake), bredie (stew), amadumbe (sweet potato), and vetkoek (pastry).  Sip on a South African port wine or pinotage, or enjoy a beer made by South African breweries or an African imported beer.
Mozambique:
Traditional cuisine of the Mozambicans revolves around fresh seafood, stews, corn porridge, millet (maize meal), arroz (rice), and mandioca (cassava pudding). Meats such as bifel (steak) and frango (chicken) are often accompanied by beans, cassava chips, cashew nuts, coconut, batata (potatoes), and a variety of spices, including garlic and peppers (a Portuguese influence). Seasonal fruta (fresh fruit – Mozambique's papaya and pineapples are known as some of the juiciest in the world), puddings made of fruits and rice, and fried balls of flour paste (similar to doughnuts) are also worth trying.\
Fresh seafood include fish, prawns, calamari, crab, lobster, and crayfish that are often served with arroz or batata fritas (fries, known as "chips"). Matata, a seafood and peanut stew, is a typical local dish. Aside from the widely served coffee and tea, adults may enjoy locally brewed beer made from maize, a Mozambican staple food. The thick and sweet drink is often drunk from a common pot and shared by everyone present on special occasions. Madeira, a Portuguese wine, is very popular.
Accommodations – Please see the Air/Lodging tab on this website for details. Google each to see how cool the properties are.
Hoedsprit, South Africa:
Chisomo Safari Camp, Kruger Private Reserves – https://www.karongweportfolio.com/chisomo/
Mpumalanga, South Africa:
Hippo Hollow Country Estate – https://www.hippohollow.co.za
Vilanculos, Mozambique: Note – each Villa sleep 6 to 8 people with your own private butler!  7 pools, beach bars, catamarans and more.
Vila do Paraiso – https://www.viladoparaiso.com
Roomies – Single supplements have significantly increased – if available at all.  Save money and buy yourself an awesome local gift. We all live alone, but save money when traveling by rooming together. Suzy spends a lot of time on roommate matching.  99% of our clients are wonderful and you're only in your room to sleep at night.   Note, kindness begets kindness.
Leisure Time –  For your free time, it's best to arrive and ask our local expert guides for suggestions.  We notice many newer clients pre-plan many activities on the AFS trip well before they arrive, often with disappointing results.  Our daily itineraries are pretty full, but there will be some free time. Expert travelers revel in the element of surprise in a new destination and allow the wind to blow them where it will. Use Google Maps on your phone to find everything nearby.
If you go early…
Johannesburg, South Africa:
There are plenty of fun things to do in Johannesburg, a destination that has finally shrugged off the shadow cast by its sister city, Cape Town. You may stop by the Apartheid Museum, King of the Jungle (Joberg's lion park) to glimpse lions and cheetahs, the Maboneng Precinct (an revitalized neighborhood known for art, cutting-edge cuisine, and a collaborative, creative atmosphere). Visit the township of Soweto, and stop at Nelson Mandela's former residence on Vilakazi Street, which has excellent street markets or for stopping for a quick beer at a local brewery.
Vilanculos, Mozambique: Our past groups loved the Horse Safari and Canoe Trails!
Too many to list! Diving, snorkeling and dune climbing in Maguruque, horseback riding and experiencing magnificent sunsets aboard a dhow are just a few fun activities around Vilanculos.  You can also learn how to kite surf due to the beaches' shallow waters, have a picnic on the beach, whale watch, or go big game fishing. Explore the local market and Machilla Magic, as this is the cultural hub that is always full of activity that is authentically Mozambican. Here, you'll be able to purchase a traditional capolana, a colorful piece of fabric that is a key part of life here, as it is used as a backpack, worn as a skirt, dress, turban, shawl, or even a baby carrier.  Activities include:  Island hopping, deep-sea fishing, beach games, tuk tuks into town, nearby craft market, sailing in a dhow, horse rides on beach, seafood picnics on sandbars and more.   Viladoparaiso.com
Amending tour pre-or post-trip or arranging private tours during free time.  We often recognize this, as well as see AFSers on Facebook urging others to join them to countries before or after our trip. Stopovers are great to add, but understand AFS has nothing to do with this and is not responsible for the quality of these trips.  Note if you add another Africa country before our trip, Yellow Fever shot may be required.
Websites of Interest –
Google these sites for awesome in-depth info…. Hippo Hollow County Estate, Chisomo Safari Camp
https://www.southafrica.net/us/en/
https://www.lonelyplanet.com/south-africa
https://www.visitmozambique.net
Emergency Contact – AFS Phone 770-432-8225, or email us at https://www.afstravelers.com/contact-us/  and more contacts will be provided with your Final Docs email 2 weeks before departure. Your guide can handle all home for true Emergency.  Do not expect to use your trip leader's cell phone; you'll need to use your own cell phone.
Cancellation Penalty:
At booking, we sent you our terms and conditions. Open the following link to review our terms again: https://www.afstravelers.com/terms-and-conditions/
Optional Travel Insurance– If you would like the security of travel insurance and have a pre-existing condition (elderly parent, medical, etc.), you must purchase insurance within 15 days from your initial trip deposit in order to assure full coverage.  The trip cost can be amended or adjusted as needed after your initial purchase (eg. like adding an air ticket cost later). You can buy travel insurance at any time, just know that there may be some possible limitations if purchased outside the 15 day period.
Click here to Purchase Travel Insurance online
Phone them at 888-885-7233 and give code "ADVGA02"
Click to learn about Travel Insurance 101.
Or copy this link  https://www.afstravelers.com/solo-travel-trip-insurance-101/
If you need assistance, I will email the form to you upon request.
Travel Psychology 101
Prepare for your departure joyfully with no contempt before investigation upon arrival. Please understand that whenever you travel, things are not like at home and changes may occur. Great trips work best for those with an open mind, flexible attitude and adventuresome spirit.  If changes occur, embrace them with serendipity. Who knows?… The unexpected may prove to be a better experience.  Adapt and go with the flow with a laid-back attitude.
Be spontaneous. Be tolerant of foreign cultures in respecting their centuries of traditions. Embrace the differences. Be curious, not shy. Smile – locals will sense your energy of kindness and kindness always begets kindness.(This goes for your roommate, too. Most of us are used to living on our own; but, have fun while being accommodating and patient when sharing a room with another fellow traveler).Our common goal is to experience different cultures, make new friends, get great photos, have large fun, and return home safely with memories worthy of recollection.
The best spirit of an Explorer requires the openness of a child – Suzy
"When traveling, remember that a foreign country isn't designed to make you comfortable.  It's designed to make it's own people comfortable." – Clinton Fadiman
(See Suzy for Africa or cruise trip tips)
(Must add a cool article about the destination to close the sale. eg. Lonely Planet, Explore worldwide, excite holidays etc.)
(Contact Suzy for Africa or cruise Trip Tips)
++++++++++++++++++++++++++++++++++++++++++++++++++++++++++++++++
FOR TRIPS TO AFRICA
Suzy's Africa Travel Tips
General Stuff
"The only man I envy is the man who has not yet been to Africa. For he has so much to look forward to."
"Africa changes you forever, like nowhere else. How can you describe its magic? How can you explain the fascination of the past and noble dusty continent, whose oldest roads are elephant paths? How are experiences here in a way no other place can? Maybe it's because Africa is the place of all our beginnings, the cradle of mankind. The happiest years of my life were spent here."    Paul Theroux
Some travelers who've never been to Africa think a safari is non-stop action.  Behold the stunning boredom!  The fact is there's a lot of glorious downtime between early morning and evening game drives.  Time in the bush is like entering a remnant of an earlier era.  Everything slows down.  Shade seeking lions flop over like house cats, zebras stand still as statues, leopards drape over branches to sleep.  All game rests.  With them, we engage in a communion of laziness.  We relax.  We observe.
Wildlife Encounters – All animals are wild and you are prey. Respect proximity. Wild animals are totally unpredictable. If you ever encounter a predator in the bush-never run! You will always be the slowest. Animals may roam into lodge camp. Never deviate off path or walk alone at night. Guards will escort you. Never walk near a riverbank or swim in lakes. Hippos hide well.
Game Drives – You will be divided in 6-7 per safari vehicle.  Do not interfere with or direct your expert rangers – guide who lived there.  He's far more than a driver with years of experience and intense certifications. Your safety is their number one concern. They can spot everything from ground to sky.   The suggested tip is $5 to 10 per game drive. If several days of drives, wait until the end.
Animal sightings are not guaranteed. AFS past groups have been extremely successful on all. Over 3 decades, we never had a bad safari. Big cats are usually present, but leopards and cheetahs tend to hide. Don't just search out the big mammals. You'll miss the marvels of small creatures like badgers to bushbabies and spectacular birdlife.
Photography-   Best light on safaris is 6 to 10 AM and 4 to 6 PM.   Rangers will assist for best vantage points. There is usually a pair of binoculars to share in jeep. Always get consent before photographing local people.
On return home, share your pics on AFS private Facebook page or use Shutterfly.com.  (I have over 8000 photos of elephants and lions. Please take human photos as well as wildlife. Better yet, take photos AFS humans with the wildlife.)
Expert Africa Packing: Bring only soft-sided luggage. No hard cases can fit in Safari vehicles. If we use small charter aircraft deep into bush like Botswana, I'll advise of strict weight restrictions for both bag and carry-on.   Pack light and wear the same clothes more than once. Laundry is always available.
Neutral colored clothing (no bright colors or fragrances to alarm animals.)   light cotton shorts and T-shirts by day. Jeans/pants with long sleeve tops at night. Early-morning drives always cold-bring warm jacket, fleece or sweater.   Smart outfit for evening functions.
Hat with a brim for sun protection and chinstrap for drives.   Bring simple light day pack on drives. Sunglasses, sunscreen, insect repellent with DEET, swimsuit, adapter plugs, mini flashlight, toiletries.
Lodges or Camps –  All first-class properties or "glamping" style tents.   All food and water is purified. If water is not, guide will advise.  Cover bathroom sink with washcloth as a reminder not to use. Bottled water in the rooms and always available daily. Hydrate! African air is dry and sun is strong.
Lodges have a staff tip box. $5 to $10 is generous to give and will be shared with all staff.
Ask reception for charging station to plug-in phones, cameras and tablets.
THE BIG FIVE ANIMALS TO SEE ON SAFARI
Be mindful of everything around you, not just the Big 5.   I'm a primate girl myself.  In times gone by European hunters used to search out for the most difficult to hunt animals in Africa which led Safari club supreme a list of five key animals that were challenged to shoot. These were considered difficult for a number of reasons, including ferocity, visibility, and elusiveness.
Lions really are the kings of the savanna and are at the top of the food chain. As such, they need no introduction. Lions are widespread throughout southern and eastern Africa and you'll have a good chance of seeing them in most safari locations.
Black Rhino now critically endangered, the black rhino is not actually black, but more off-white. Despite its huge bulk and dangerous reputation, rhinos are herbivores who would rather graze on some grass than attack a person. There are a few rhinos left in a wild due to large increase in poachers hunting them for their horns.
Leopards are nocturnal and secretive, making them the most difficult number of the Big 5  to actually spot. When you do see one, chances are it will be lounging in a tree at sunset having just eaten dinner.
African Elephants as most people know are large thick-skinned herbivores. Elephants are numerous in Africa but nevertheless can be hard to spot in some areas due to their ability to hide in the bush and long grasses. Despite being widespread, elephants face a growing threat from poachers who hunt them for their ivory.
Cape Buffalo considered by many to be the most dangerous of the big five, reportedly causing the most hunter deaths, with wounded animals reported to ambush and attack pursuers.
Meds:  Anti-malaria pills may be recomme. Ask your health care provider. Sometimes a Yellow Fever shot is recommended. You get it county health clinic and it's good for lifetime.  Our groups never had any problems with mosquitoes in two decades of trips to Africa.  Phone me direct if you have specific questions 770-432-8225
About Anti-malaria drugs
This is a common question from our travelers to parts of Africa and So. America.  It is a serious disease that can happen when being bitten by an infected female mosquito.  However, it's extremely rare.  While locals, tourism staff and guides there do not take pills, many travelers prefer to play it safe with either weekly or daily pills which starts week before your arrival.
In the US, we are limited to only 3 choices; Malarone, Doxycycline or Atovaquone (Larium). Malarone can be costly, but now there's a generic.  Wal-Mart or Kroger have the best prices.  See your doctor for a prescription.  Sometimes one only needs a strong DEET repellent (roll-on best) and wearing pants and long sleeves at dusk.
Some clients go to CDC website which prepares all for the worst and creates unnecessary fear.  We only stay in fine properties with clean food and water.  We do not use needles, swim in rivers, work with the sick or have sex with locals.
I don't want you to over immunize yourself sick, spending hundreds for unnecessary dollars.  Over 2 decades selling Africa and South America, no AFS client has ever contracted any disease.  Ultimately, it's your decision on what's best for you.
Travelers diarrhea can happen anywhere outside USA.  It can be caused from the stress of travel, different diets and water that is contaminated.  However, all lodge meals are hygienic clean meals.  (Cause of infection may be virus, parasitic or bacterial, so don't think Cipro is a cure all.)  You all know not to drink untreated tap water, use ice cubes.  It is contagious so be scrupulous with washing your hands and using clean towel to dry.  And not to brush teeth with it.
If you get sick, rehydrate with oral rehydration salts, take Imodium or Lomatil.  If it doesn't pass in a week, see doctor. Don't reach for ''stoppers'' right away. Allow toxins to pass. Fluids are essential.
Things for Children –  Bring anything as all we be used.  Think Dollar Store of Target.  Some store will even donate.  (Get creative.  I bring hair scrunchies and mirrors for girls and balloons for kids.). I poor places school supplied can be useless with no paper to draw on.  The need shoes, socks, cloths. The love caps, toys and inflatable balls.  You can always donate cash to the headmaster or visit Packwithapurpose.com to see who needs what in each country.
African Jewelry –  Many AFS women long for a piece to treasure their safaris like a Big 5 ring, bracelet or pendant.  The best beyond any store is Kim in Capetown. See her website and say Suzy sent you.  KimCloeteDesign.co.za