Breakfast On Everest and Playing with Elephants!
March 28-April 5, 2022, Deluxe small group to the Roof of the World
Sold out – Please see another adventure

Namaste! Join us on our epic AFS journey to the Top of the World for some of the most astonishing scenery imaginable in a land above the clouds! Nepal is a stunning mountain kingdom that straddles the mighty Himalayas, boasting the world's highest snow peaks and deepest lush valleys. See some of the greenest nature reserves, laced with crystal rivers and exotic culture. This is a land of monasteries, holy temples, Sherpas, yaks, yetis, wild ellies and Bengal tigers.  After postponing this, Nepal is now ready to welcome us.  This trip is Travel Nirvana and I can't wait to lead our select group!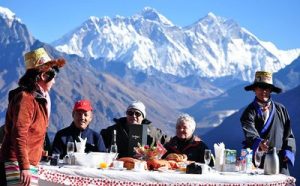 Sacred sites and mountain highs – Immerse yourself in a fascinating tapestry of Hindi, Buddhist and tribal cultures as we mingle with monks and visit the children at Kumari House in Old Kathmandu. Experience sensory overload with the bustling energy of Durbar Square along with 5thCentury temples and monasteries which lend the best Instagramable photos. The absolute highlight is when a helicopter whisks us up Everest for a Champagne Breakfast Above the Clouds. Breathtaking panoramas await as we're surrounded by the snowcapped jewels that are the Himalayas.
 Jungle adventure – We then fly south to the Royal Chitwan National Park, a World Heritage Site, for a 3-day glorious recess to play. Our jungle resort is the astonishing new 5-star Taj Meghauli Serai Resort, where you will be pampered beyond belief. With just 16 luxury rooms, the Taj is sought after by the most high-end tour operators, but we've been able to secure our spot here and the exclusive safari lodge will be ours! The Taj is where "Chilling is Thrilling" with gourmet meals, elegant spa treatments and dozens of cool amenities. Enjoy your Jeep Safaris in search of tigers, rhinos, canoeing through jungle waterways and so much more! You will play with the resident ellies who are as coddled as you will be – perhaps more. Experience a total ethical interaction with these happy, pampered pachyderms who love their baths and jungle walks. And for an adrenaline rush, we enjoy Whitewater Rafting down the Trisuli River.
You may find cheap Nepal tours but beware here.  We want to WOW you with AHA! moments found nowhere else with the best guides and this level of luxury.  April is the perfect time to go – before monsoon season and great mountain visibility. Our past groups just loved Nepal but we raised the bar even higher with this time.  It truly is beyond your wildest dreams. Join me and make this once in a lifetime vacay a reality!

 Testimonial – "I want to thank you, Suzy, for putting this incredible trip together. Our hotels were absolutely first class and it was jam-packed with so much culture, history and fun activities! This Nepal Adventure exceeded my expectations!" – Carole Daniel


Our Glorious AFS Itinerary

Print
Mar 28  – Depart USA. (Updated detailed Trip Tips soon.)  to arrive March 29.
Mar 29 – Welcome to  Kathmandu Nepal                                      B  (meals)
(Land portion begins.  Mar 29 at 2PM when you check-in hotel.)   Touch down in the storied city of Kathmandu and get our first glimpse of the snowcapped Himalayas! This legendary former Royal Capital of the Kingdom of Nepal is located deep in Kathmandu Valley, a place that served as the crossroads for the ancient civilizations of Asia. A vibrant city bursting with color and culture, Kathmandu is the center of Nepal's history, art and economy. This is home to an inexhaustible number of palaces, golden pagodas, temples and monuments which pay homage to countless deities.  It's also a buzzing capital where daily life unfolds out in the open for great photo ops.
International flights arrive in the morning, so we should be to the hotel by late morning. Check-in is officially 2pm. We have the day to relax in the hotel or explore. In the evening, we will meet our escort who will be our guide for our trip.  Our home for the next two nights is the Shambala Kathmandu, a modern Tibetan style boutique hotel with views of the mountains, spa, pool and plenty of shops and restaurants nearby.
Overnight: Shambala Kathmandu – 2 Nights.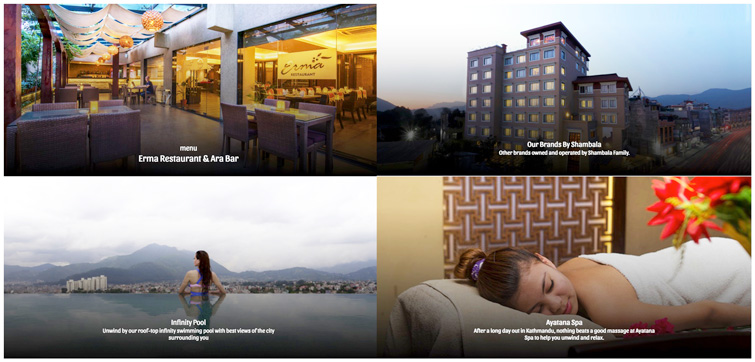 Mar 30  – Into Thin Air on Breakfast on Top of the World                                       B
It's an early morning for us as we set out for the fabled Mt. Everest and a meal of a lifetime! Helicopters with experienced pilots will whisk us high into the Himalayas to Kongde where we have a luxurious hot breakfast, complete with champagne.   Served up by sherpas at almost 14,250 feet, our breathtaking views are the stunning snowcapped peaks of Mount Everest and the rest of the Himalayas.  It's about a 4-5 hour journey.  Photograph Everest glowing her first light of sun in the shadows on holy mountains.  TripAdvisor rates this 5 stars.
Heading back to Kat, we stop in Lalitpur to explore Patan Durbar Square. Like its counterpart in Kathmandu, is an enchanting mélange of palace buildings, artistic courtyards and graceful pagoda temples. Listed as a World Heritage Site, the former royal palace complex is the center of Patan's religious and social life. One remarkable monument here is a 17th-century temple dedicated to the Hindu God Krishna – built entirely of stone with rare stone carvings on its walls depicting the epic wars.  (Helicopters are dependent upon the weather – see more in Trip Tips.)
(Note:  For better management, the group may be split in two and altering activities.)  The rest of the afternoon is free to rest or explore Kathmandu. Perhaps go shopping in the Thamel district for some cool prayer flags and wheels, carvings and paintings.  Ask your guide or just google Things to do Kathmandu and you'll countless thrills.  Visit the Garden of Dreams, the famous Kopan Monastery or book a shaman ritual visit.  There's also plenty of cool boutiques, art galleries, Nepali cooking classes and foodie tours here.
Overnight at Hotel Shambala
March 31 – Full day Kathmandu Tour                                                           B D
Much of the day is spent exploring the incomparable Kathmandu.  We start with fabulous Kathmandu Durbar Square, one of three royal palace squares in the valley. Here, we will visit the Hanuman Dhoka Palace Complex where the Shah Dynasty and later the Rana maharajas resided. The 16thcentury complex still plays a major role in Nepalese royal activities. This is where important ceremonies take place such as the coronations for Nepalese monarchs.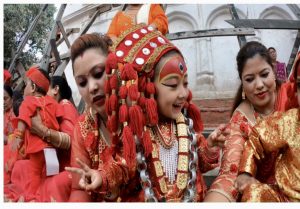 The complex includes the King Tribuhuwan Memorial Museum (dedicated to the monarch who opened Nepal to the outside world) and the Mahendra Museum dedicated to Tribuhuwan's son. We have the opportunity to visit the palace's Staterooms and one of Nepal's best-known curiosities – the sacred Kumari Chowk.  Kumari Chowk is home to a living goddess called Raj Kumari. This young girl is believed to be the human incarnation of the demon-slaying Hindu mother goddess, Durba. Raj Kumari is chosen from girls as young as 5 years old through an ancient and mystical selection process and serves until she reaches puberty. Worshipped during religious festivals, she makes some public appearances for a fee paid to her guards but photographing her is prohibited.
Later, we enjoy peace, prayers and indescribable panoramic views as we visit the Swayambhunath Stupa. Known as the "Monkey Temple, Swayambhunath is the oldest of its kind in Nepal and sits high on a hill above Kathmandu. Mind the monkeys here!  Legend has it that the glory of Kathmandu Valley had its beginnings at this spot. This is considered one of the country's holiest spots, drawing Buddhists and Hindus alike.
In the afternoon, we'll pay a visit to the respected Kumari House in Old Kathmandu.  This NGO home with a heart provides loving shelter and education for impoverished girls.   (After the devastating earthquake of 2015, one million of 27 million Nepalese children were left orphaned.)  You will be amazed at the spirit and smiles of these children. If you are inclined, it is always nice to bring small things like crayons or even candy to give to the children. www.sosnepal.org.np  (Note, visit based on conditions of director that week. Another orphanage may be substituted.).
This evening, we enjoy our official Welcome Dinner at the Shambala to get to know our new family of travel lovers.
Overnight: Shambala Kathmandu
April 1 – Fly Kathmandu to Chitwan National Park                                           B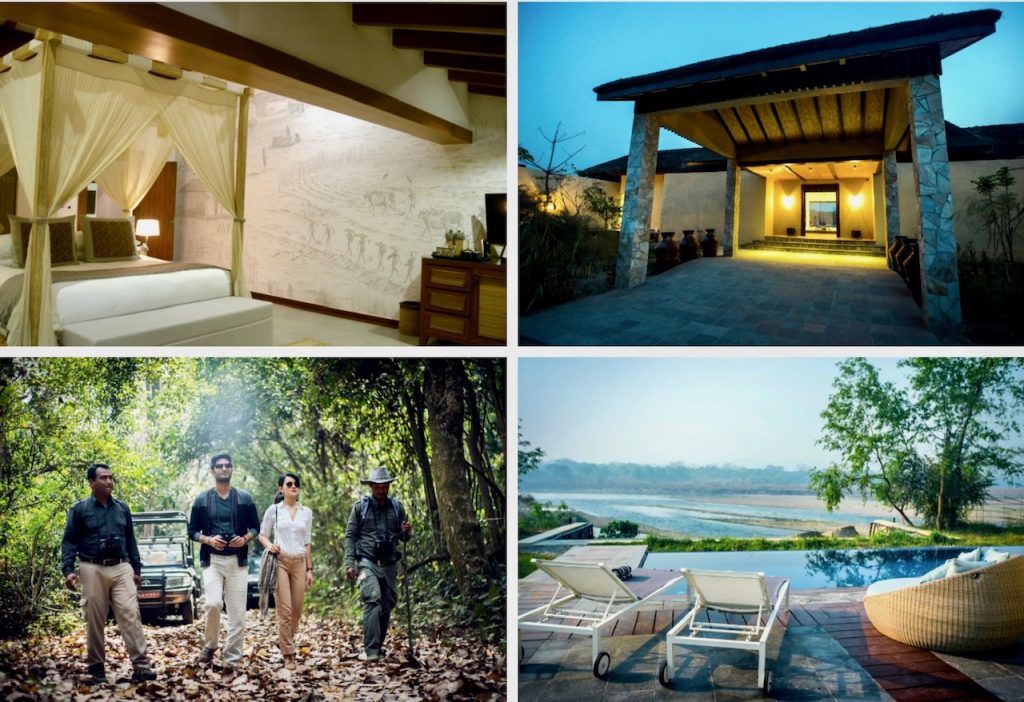 After breakfast, we take a short flight from Kathmandu to Bharatpur where we trade the mountains for the lush jungles of Chitwan. Almost the entire region is covered
with flowering trees called Chitwan Sal and riverine forests. A UNESCO Site, Chitwan National Park is Nepal's first and most famous National Park. Once a popular hunting area, it is now committed to conservation and home to an astounding array of exotic animals. Chitwan is a heaven for wildlife enthusiasts. It is renowned for tigers, one-horned rhinoceros, crocodiles, a host of other wildlife, more than 450 species of birds and over 45 species of amphibians and reptiles.We will be staying in the mind-blowing new 5 star resort, the Taj Meghauili Serai. Tucked away along the scenic banks of the Rapti River, this extraordinary jungle retreat of total luxury will pamper you to no end. While the Taj can arrange a host of excursions for your free time, you may not want to leave. The main guest areas offer uninhibited views of the river, while a spacious lounge boasts a warm fireplace and as well as a bar. A sparkling swimming offers a refreshing respite in between activities. There are viewing decks overlooking the river which are made for the guests to relax and enjoy the beauty of nature with spectacular sunsets.   Your afternoon and evening are yours to enjoy these wondrous surroundings.Overnight at Hotel Taj Meghauli Serai, Chitwan  (3 nights)

April 2  – Chitwan  Jungle Jeep Safari                                             B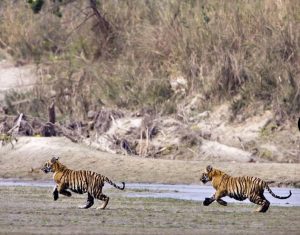 We start the morning with a Jeep safari through Chitwan's landscape, passing through the towering, dense canopied Sal forests, lush grasslands and oxbow lakes. Our guides are trained naturalists and experienced trackers from the local community. We'll be on the lookout for the elusive tiger or the majestic migrant bird species like Great Hornbill, Ruddy Shelduck, Pied Kingfisher and Red Headed Trogon. There's one-horned Rhinoceros who are the stars of Chitwan and can usually spotted in open woods and grasslands. The Gharial crocodiles are highly endangered and the park authorities run a breeding center for these unusual looking creatures that can be an optional visit while out on a safari drive.  Our past groups aw Rhinos and several tigers.
Ethical ellie experience –  We'll return to the lodge for a break and then in the afternoon to get up close and personal with the most pampered elephants you have ever seen. These pachyderms live on the Taj property with a life of luxury after being rescued. You'll get to know these gentle giants by bathing, feeding, walking them and humanely riding, if you choose. You'll be provided a one-hour interaction with the ellies.  They love the attention! You'll learn just what great memories they really have. If you come back in a few years, they'll recognize you!
Your evening is your own to take advantage of the amenities at the Taj.
Overnight at Hotel Taj Meghauli Serai, Chitwan

April 3 – Free Day in Chitwan                        B
You have a whole day to enjoy this special place. The hotel can help arrange a number of activities including a Walking Safari with a naturalist or perhaps a Canoe trip down the picturesque Rapti river enjoying beautiful views of the Himalayan foothills and spot innumerable birdlife, 645 species.   The resort can even arrange a visit to a local Tharu village to see the authentic way of life of the locals.  Or the croc breeding farm and sanctuary with 23 species.  Or just relax and enjoy this gorgeous property. The hotel can arrange spa treatments in your room.
Overnight at Hotel Taj Meghauli Serai, Chitwan
April 4 – Whitewater rafting & Katmandu                        B D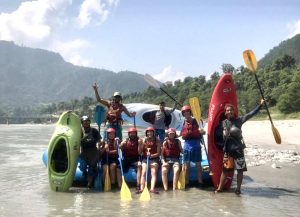 We make our way back to Katmandu overland to take in some of the stunning scenery and a little adventure – White water rafting!  No experience necessary, these are just
class 2 and 3 rapids along the scenic Trisuli River. The river runs from Kathmandu towards Chitwan and this 3 hour adventure gives you a river's edge view of terraced rice fields and dramatic granite gorges. Exhilarating and downright fun, there is no better way to see the gorge.  Six of our past AFS groups loved this.
If time permits, we'll stop by the sacred temple known as the "Goddess of the Wishes," Manakamana temple.  Home to the Hindu Goddess Bhagwati, the temple is located high on the mountain, so we'll take a Cable Car to visit. In addition to being a beautifully ornate temple on its own, the views are spectacular.
We'll be back in Kathmandu in late afternoon.  Tonight, we'll enjoy their famous local Newari dishes with our AFS Farewell Dinner to toast each other on a remarkable journey well done.
Overnight: Shambala Kathmandu
April 5-  Head home                                       B
 It's time to say farewell. We'll check out of the hotel after breakfast and make our way to the airport for our flights back to the U.S.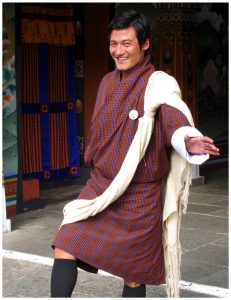 If you have the time, consider adding on a Bhutan extension. The only way to get to Bhutan is through Kathmandu.  
Bhutan extension April 5-13, 2022 – Read about it –>  Click here

Land Price $ 2998 + $80 internal air plus $85 pre-paid gratuities
(Please note land price kept the same as 2020.  Domestic airfare and helicopter is subject to change and may incur added fuel and taxation charges. Will advise, if necessary.)
Deposit $500

Land prices per person twin share. Trip price based on a minimum number of participants.

Single rooms limited with $ supplement.  Cost varies.  Email us for availability.  AFS will find you a roommate.

The earliest we present group air is 10 months prior. We'll send email to ask who wants it.  A minimum number of 12 is needed.

Please review AFS Terms and Conditions, Heading Abroad with AFS, Covid Policy.  Travel insurance is important nowadays.  It's rare, but we reserve the right to modify schedules, tour and hotels.

Read Trip Tips on its own tab next itinerary for latest details. 
Print
AFS Trip Tips Nepal
Updates will be posted here.  If you want a paper copy, copy and paste this into a document and print.  
Prepare to be thrilled by our Nepal adventure of a lifetime. I chose to lead this one for the diversity of crazy Kathmandu with the jungles of Chitwan. Together we will get breathtaking photos – not just of the Himalayas – but also while playing with a resident ellies. It's epic fun in the lap of luxury. We have a wonderful sold out group of 28 travel lovers. I know most of you and can guarantee there will be so much laughter. A special welcome now to a few of our new AFS friends. You are the fortunate ones to have booked this escape long ago and I can't wait to meet you.  Nepal will be fine in April and is a definite go!
YOUR GTL – SUZY DAVIS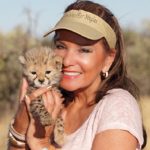 I'm delighted to lead this group.  Most of you know me.  If new, please read my bio on our website.  (A GTL gracious trip leader – not a guide, but liaison between our guides and group to ensure things run smoothly)
As a former flight attendant of 14 years with free travel, Suzy has logged over 100 different countries in her 6 tattered passports.  She founded AFS in 1989 to share the world with others.  For the first 10 years, she led ALL solo travel tours but now leads four or five each year. Her favorite group leads are to places outside the boundaries of normal comfort zones where one wouldn't travel alone because she loves all the challenges. As a cultural ambassador, Suzy is fearless and loves to connect her groups with locals. Her enthusiasm, travel wisdom and patience are extraordinary.  She says, "I deeply care that my tribe blends well and that each member is having Large Fun.  My head is always churning with intuitive preemptive thoughts, and communicating these to our local guides. I make sure there is downtime for relaxation and provide suggestions for activities outside our itinerary."  Suzy is a former Miss Wisconsin and teacher with a passion for Travel Writing. In her free time, she does site inspections and travel shows abroad for future trip ideas. At home, she loves cooking foreign dishes and loving on her dog, Gracie.  (Read more in her President's Letter.)  "At the end of trips, it is music to my ears when I get to hear – "Suzy, this solo Vacation exceeded my wildest expectations!"
Trip Prep:
Read the revised Heading Abroad with AFS, especially if you are new to AFS.
Ensure your passport is valid 6 months after return date with two blank pages.  We recommend renewing your passport well ahead of any planned international travel. Take a photo of your passport to store in the cloud or bring a copy. Scan your important documents – Covid tests, trip tips, passport etc. If you lose your passport, US embassies now except a digital copy from your email folder on your phone to re-issue new one quickly.
To speed through US Customs download Mobile Passport.  Look in your App Store for details.
Notify bank and cc company of travel dates so they don't block charges.
Vaccines – I got mine feeling it will eventually be necessary for travel. Many countries now are eliminating Covid test and quarantine for vaccinated visitors.  Bring your vaccine card.  Don't laminate vaccine card as some countries won't accept it.  You can take photo of both sides and store on phone or copy both sides and laminate the copy.  Login to your trip file booking form and answer question about Vaccine Yes (or will) or No.  Suppliers want this info.
All airline Covid rules differ.  We will send final details on what is required about 4 weeks out.  If CV test are necessary we'll arrange there.  It is imperative to read your airline rules to ensure a smooth departure!    It's your responsibility to know the airline rules that can change right up to departure. They won't speak to us with reservations in your name. All websites post their Covid rules at top of landing page. All airlines in the process of making significant routing and scheduling changes now as they scramble ramping up hiring for the travel surge to come. How to reach them?  Call direct or request a callback time. Check to see if your questions can be resolved on the airlines mobile app or via Twitter or turn to their social media for assistance. Travelers get best results via Facebook message to the airline.
The local supplier and AFS may require you sign a Travel Pledge before departure.  If so, we'll email a form to you  prior.
Covid Testing Rules tend to mutate faster than the virus itself.  Therefore a special webpage has been built so you can get the latest info… Click here  Failure to read this page can result in your airline preventing your boarding your flight!  Read the page, it's vital  https://www.afstravelers.com/basic-covid-info/
VISA –  rules always change. At present, visa on arrival is easy. You need to bring:  proof of negative CV test, CCMC form, a passport photo, $25 USD cash in newer bills. Put these in an envelope with a copy of your vaccination card so all will be ready to present.  Pay fee at airport bank.  Hand in receipt to customs and proceed to baggage.  ITA Form –  International Traveler Arrival form – fill out there or do a month prior at www.ccmc.gov.np  We'll reminder you later.
Fitness level– 2   (No trouble walking.)
Air – Since this is a small group, we won't offer group air because a minimum of twelve travelers is needed to secure the trip. These days, everyone seems to be finding best airfares from their hometown by using search engines. We love GoogleFlights.com. Round trip air from the USA to Kathmandu is so easy and prices are great. Airlines to consider: Turkish, Qatar, Emirates, Korean (most flights), or good rates are also found on China Eastern, China Southern, Air India, and Cathay Pacific.  Land dates March 29 to April 5.
Roundtrip air USA to Kathmandu   Mar 27 or 28 to KTM.  Return April 5 to USA.
If you need help getting your own air, call our friend Raj 770-573-7400 who's an air expert.  An excellent schedule on Qatar.  Terry and I are on QR.    If you go in early please arrange own pre trip hotel.
Without Group Air no arrival transfer –  Fewer people booking our group air nowadays because they find better rates on own direct from their hometown or use points.  When everyone flies on own they arrive at scattered times making it impossible to provide a group transfer on arrival.  Therefore you'll need to consider Uber or sharing taxi ride with a group member.   I hear Shambala Hotel has a shuttle service, check their web.  We will have a single return airport transfer at the end of the trip at a time that will accommodate most schedules.  If your time doesn't work out, you'll need to make your private transfer or taxi.
Meet Up with Group – On Day 1 March 29.  A time will be set to meet the group in the hotel for a briefing. More on this later.
Baggage– Think light to ease your burden, not like you're fleeing your homeland.  You change hotel properties several times. 1 carry-on bag& 1 medium suitcase not to exceed 45lbs – weigh on a bathroom scale – are ideal. This weight limit is set for our porterage and luggage vans.  If you overpack by adding side pre-or post-trip luggage, make prior plans as to where to stow the excess luggage. You may be responsible for any overage charges. So many cool new luggage trackers with GPS available now to prevent lost baggage!  We like LugLoc, DynoTag, Samsung or Apple Trackers.   The new hard cases are difficult to fit in coach storage. Leave space for great souvenirs. Be sure to attach ID to carry-on and bag to assure your bag never gets left behind.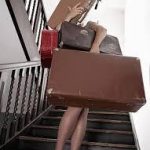 Packing –Google weather in April in Kathmandu a week prior to departure – it should be in the 65-85 degree temps range.
Pack your hygiene kit and munchies in clear plastic bags.  Airport and inflight food service may be limited.  This trip is so easy. This trip is so easy. Nothing special is needed. Simply pack summer clothing.  Bring a warm jacket for nights and long flights and Everest.  We will be provided blankets for our breakfast on the "roof of the world."  Pack an umbrella, daypack, wide-brim hat, sunscreen, comfy sneakers, swimsuit, and wet shoes for rafting; consider children's gifts for our orphanage visit; (ladies, bring a scarf for temples).  More on this closer to departure.
Electric –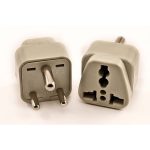 Don't forget a portable backup charger, cords, gadgets, etc.  Cell phones and tablets do not need a converter; you only need an adapter plug Type 3D prong.  AFSers often leave charger cords in the room, so be sure to double-check before check out.  All properties have hairdryers.
Money Matters You need some cash for personal tipping, meals, and shopping. $300 should suffice. Change on arrival at airport, bank, or hotels. Or withdraw from an ATM. Note independent ATMs are risky due to skimmer scams.  Avoid using ATM unless it's an emergency. If you must use an ATM, the safest ones are at the airport and banks. Always shield your pin number when entering.  Credit cards are far safer than your debit card.   I know $300 cash is plenty of money for a week for me.  I convert half of it upon entry.  I use my credit card for most purchases.  Many cards now offer no foreign transaction fees.
Currency Exchange Rate: $1 USD = 114 Nepalese Rupees. Follow the link below to create a conversion cheat sheet:
https://www.oanda.com/currency/travel-exchange-rates.
Gratuities  (Prepaid): It's protocol to tip our local guides, assistants, porters, drivers, and ground staff. Guidelines have increased globally, but around $10 to $15 per day should cover all for the trip.  An $85 total will be added to your invoice. Please understand that this is only the suggested minimum.  For ease of distribution, your GTL will tip the different ground services for the entire group each day.
Tipping on own: If service is stellar, feel free to give more directly.  All we tourists leave behind is our reputation.  I carry a personal stash of US ones in an envelope to draw from as needed.  Bell staff/porters – AFSers roll bags to the room.  If you use a porter, please tip $2.   Restaurants, 10%.  For group lunches or dinners, please leave a dollar or two for the wait staff. An article link about tipping when traveling is below:
https://www.huffingtonpost.com/entry/tip-housekeepers-bellhops-hotel-staff_us_5b60e649e4b0b15aba9da74c.
—————————————————————————————-
Communication – Internet is available.  Cell/smartphone – be sure to check with your provider for rates and coverage for international phone plans before departure. Roaming rates (used by Facebook and other apps) are expensive. To reach home – Text, iMessage, What'sApp, and Facebook messaging while using Wi-Fi are best!  I don't know anyone who makes calls home nowadays.  Stay off of public Wi-Fi without using VPN if possible.  If you do so, never open attachments or view financial or personal account information.
Want affordable data in many countries abroad?  We've been using Skyroam.  All the data you want Bluetooth access to your devices is for just $10 a day.  See https://www.skyroam.com for details.
Get Smart: Avoiding Hackers on Vacation.  Thieves not only want your money but also your data.    Change passwords often. Check device security settings before you leave for your trip. Back up, update, and encrypt your devices and data using a virtual VPN.
In hotel rooms, hide iPods or laptops to avoid "evil maids" that want to clone your tech.
Bottled water is always best abroad, as our gut isn't accustomed to local tap water. Eat clean food and avoid street vendors.
Pickpockets are everywhere now, especially at night.  Never carry your passport outside of the room.
It's wise to grab a business card from the desk before heading out on own.  To get back just show the card to a taxi driver- no memory or English needed.
Retail Therapy  Even non-shoppers will find themselves tempted by the local goodies. Our past groups came back with the coolest stuff spinning their prayer wheels! Consider fine pashmina, stone and bead jewelry, tea and spices, intricate thangkas paintings, singing bowls, incense, dolls, trekking clothes, rice paper, and endless choices.
Photography – Before taking pictures of locals, know it is polite to ask.  Your AFS Private Facebook Group Page is a great way to share your best shots with each other. AFS loves photos with group participants (not typical churches, monuments, or any shot that looks like you pulled it off of the net, etc.) for our website. The best photos are ones that include a group member with a local, children, animals, or at iconic sites in the same frame!
Websites of Interest
Cuisines   Nepalese cuisines are fabulous!…Organic, fresh, and tasty with an Indian influence. Momo dumplings, dal, thukpa, and chataamari are some of the country's main dishes. Nepalase beers and teas are great. The most popular alcoholic drink is Raksi (akin to tequila).
Accommodations  Please see hotel links on the itinerary also below.
Roomies  – Single supplements have significantly increased – if available at all.  Save money and buy yourself an awesome local gift. We all live alone, but save money when traveling by rooming together. Suzy spends a lot of time on roommate matching.  99% of our clients are wonderful and you're only in your room to sleep at night anyway.  If you know you snore, please buy a mouth guard ($25 to $50).  Below is the best example of a product that works well.  Walgreens, Amazon, CVS have different types.
Helicopter into the Himalayas March 30 – Everything here depends on the weather in the mountains that can be unpredictable.  We must be flexible.  Flights depends on winds and morning temps.  We do the safest standard tour that is the least likely to get canceled due to weather up to Kongde Ri at 14,000 ft.  (Normal prices are astronomical but it's included in our tour and it's rated five stars!)  Considering all aspects and every condition we had thought best to organize this breakfast experience of Everest at Kongde where the group could see the best Himalayan mountain view Everest at this point.  Also, Kongde altitude is comfortable to most guests.  Beyond Kongde flying up to Kalapatthar or Everest Base camp is much higher altitude were travelers can experience AMS, Altitude Mountain Sickness.
Just in:  Champagne unfortunately no longer included.  I will try to work with our guide to make this happen and smuggle in if necessary.  The helicopter company wants you to have evac insurance.  NOTE: Regarding the Insurance, Helicopter agency policy covers Passenger liability insurance only. We would request to have your own travel insurance since the trip is at an altitude of 4350 Meters.  Google Zero-Cost Travel Insurance is a cheap way to do this.  We like World Nomads.  Kathmandu to Kongde to Kathmandu covers your flights only and not any evacuation and rescue. Therefore we strongly recommend having travel insurance as the trip will be in the mountainous region,  there might be chances of altitude sickness or any other health issue.  Everyone now buys travel insurance.  
Leisure Time  – For your free time, it's best to arrive and ask our local expert guides for suggestions.  We notice that many newer clients pre-plan many activities on the AFS trip well before they arrive, often with disappointing results.  Our daily itineraries are pretty full. Expert travelers revel in the element of surprise in a new destination and allow the wind to blow them where it will. Use Google Maps on your phone to find everything nearby.  For free days, we like to use www.Viator.com.
Amending tour pre -or post-trip or arranging private tours on free time; we also see others on Facebook urging others to join them to countries around our trip.  Stopovers are great to add, but understand AFS has nothing to do with this.  AFS is not responsible for these trips that may not be up to AFS standards.
Emergency Contact – Email – admin@diversedestination.com or call Smita in India +91 124-2354836‬  Your guide can handle a call home for a True Emergency.  Do not expect to use your trip leader's cell phone.  You'll need to use your own cell phone.
Cancellation Penalty –  At booking, we sent you our terms and conditions. Click here for our Terms & Conditions   Briefly, on land packages as of September 1, 2021  will refund your deposit less 50% until 8 weeks prior trip's final payment due date.   Any cancellation after this date will result in full forfeiture of your deposit. AFS reserves the right to resell or otherwise use the canceled space at our discretion.
Travel Insurance– While travel insurance is optional, in today's world we highly encourage you to get standard coverage to cover trip interruption and cancellation.  Call to ask what Covid coverage they have.   Some companies cover Covid related issues. Best source for all is www.insuremytrip.com.   CFAR or cancel for any reason covers Covid but is expensive.  Note that no company covers for fear.
Preexisting conditions – If you would like the security of travel insurance and have a pre-existing condition (elderly parent, medical, etc.), you must purchase insurance within 15 days from your initial trip deposit in order to assure full coverage.  The trip cost can be amended or adjusted as needed after your initial purchase (eg. like adding an air ticket cost later). You can buy travel insurance at any time, just know that there may be some possible limitations if purchased outside the 15 day period.  We like TravelSafe, World Nomads and Seven Corners.
Travel Psychology 101    Prepare for your departure joyfully with no contempt before investigation upon arrival. Please understand that whenever you travel, things are not like at home. Things may not go exactly as planned.  If changes occur, embrace them with serendipity.  Who knows? – The unexpected may prove to be a better experience.  Great trips work best for those with an open mind, flexible attitude, and an adventurous spirit. Adapt and go with the flow with a laid-back attitude.  Be spontaneous.  Be tolerant of foreign cultures in respecting their centuries of traditions. Embrace the differences. Be polite to the locals knowing that kindness begets kindness (This goes for your roommate, too; we all live on our own, but share when traveling together).  Be curious, not shy.  Smile – locals will sense your energy. Our common goal is to experience different cultures, make new friends, get great photos, have large fun, and return home safely with memories worthy of recollection. The best spirit of an Explorer requires the openness of a child. – Suzy
"When traveling, remember that a foreign country isn't designed to make you comfortable.  It's designed to make its own people comfortable." – Clinton Fadiman
Book AFS with Confidence 2021     
The health of our Travelers comes first. As the world slowly opens, we are dedicated to creating responsible adventures!  All our trips are different, so specific plans in each region may be circumstantial. We work closely with our local suppliers to know the best practice in each country. That being said, we present a blanket procedure below to be followed on ALL AFS trips. Our local guides will brief you on arrival with the support of our Trip Leaders to ensure we follow local safety protocols. They are fully committed to aiding your well-being.
We will re-discover the world through more slow, easy and mindful travel. Our groups will be smaller.  All clients must take the AFS pledge that they are Covid free and will follow all safety protocols.  Booking travel now is complex because rules always change. Tour companies can't become "health and safety experts" when policies are inconsistent. Even experts are in the dark at times with the changing patchwork of government laws, but we'll do our best.  This is a learning process for all of us and as we go, we will strive to make each step as safe and seamless as possible for you.  Read all below on AFS detailed Terms & Conditions.
 Thank you for booking! We are blown away by the support from all of you throughout this pandemic. It validates the trust and values AFS was built on over 30 years. As countries reopen, so will we. Travel is a shared experience. Together we press on and travel boldly. Below are new guidelines. We all must adapt and embrace any challenges with confidence for the freedom and privilege to travel.
As in life itself, travel comes with some inherent risk the minute we step out our door.   Travel isn't dangerous. Being irresponsible is. For your protection we want you to be proactive in following new health and safety protocols. They involve teamwork and personal responsibility, but they do not preclude you from having fun and enjoying your trip! Things constantly change and it's a huge challenge for airlines, airports, hotels, cruises and tour companies.  We will do our best to keep you up to date with any adjustments.
Please understand we reserve the right to amend any tour activities, if needed. To present responsible travel, we at AFS do our part: Our vetted suppliers uphold the highest standards under CDC guidelines.  At present, some international airlines may require a negative Covid test within 96 to 72 hours of departure. Details later as they come.  This may change as rules are always being revised.
Please review the modified AFS Terms and these steps regarding COVID-19:
If you are in a high-risk group, it is suggested you do not travel.
It is your responsibility to check resources below as well as your airline requirements for travel. You may need to show proof of wellness note. Click to see CDC , WHO
You may not travel if you have any symptoms such as sore throat, shortness of breath, fever and verify you have not been in contact with someone who tested positive for Covid in the last 14 days.
Safety measures on a trip; frequent handwashing, (bring personal sanitizer), exercise social distancing and wear a mask when applicable.
Purchase travel insurance. Squaremouth.com explains all.  World Nomads is affordable and we like SevenCorners.com  All provide trip cancellation (not from fear), trip interruption, added medical protection. Call them to understand coverage. We are not responsible for additional cost to do to quarantine or illness
Helpful CV Resources-  Below are helpful links to facts and stats for you to reference as you gear up for all your travel domestically and abroad.
We at AFS assure you we will continue to offer you quality trips to countries where you will feel protected – countries that are going to extraordinary lengths now to provide a safe visit. Each destination is far less crowded than ever before and that means better personal attention.  Planes are half full and we can trust our astute global suppliers when each country is clear to visit. We're taking great precautions and encourage you to remain positive.
Covid Travel Rules are ever-changing depending on country and time of year.  Therefore, we created a single Covid rule page so everything can be up-to-date for participants on our trips.   Click Here for the latest Covid Travel Rules
Our Pledge to You
Our global, vetted suppliers uphold the highest standards under new CDC guidelines.
We ensure that heightened sanitation methods have been adopted in every place we visit and that all hotel properties and vehicles have passed cleanliness protocols.
Our guides and drivers must test negative and pass stringent safety measures.
Most of our groups will be limited to half the size of normal in the past.
We are choosing destinations with wide-open spaces for physical distancing.
Some private tours for groups of friends only can be arranged.
We'll monitor your trip closely and provide a 24/7 emergency number if your trip is disrupted.
All clients must take the AFS pledge that they are COVID-free and will follow all the safety protocols.
We relaxed booking conditions with most trip deposits at only $250 and final payment deadlines from 4 months out to 70 days before departure.  This is a learning process for all of us as we go. We will strive to make each step as safe and seamless as possible for you!
Your Pledge to AFS
We ask you to assume personal responsibility to protect your health and the well-being of your fellow travelers, guides and locals.
Read and print all updated Trip Tips on AFS website
Get travel insurance with trip interruption
Stay healthy with vitamin D and zinc
Confirm within 14 days of departure but you have no symptoms of Covid nor being in close contact with anyone diagnosed with it.ou agree to assume any risk of participating in trip activities, comply with applicable government, airline and health authorities.
Exercise social distancing and local guides directions whenever possible.
Sanitize your hands and phone throughout.
Read more here –  https://www.afstravelers.com/terms-and-conditions/
KATHMANDU CITY
Kathmandu is an incredibly diverse historic city with breathtaking Newari architecture, centuries old Hindu and Buddhist religious sites along with dedicated tourist-friendly accommodations and restaurants. Stepping into Kathmandu is like stepping into another world that everybody should experience at least once in their lifetime.
Kathmandu is a city where ancient traditions rub shoulders with the latest technology. The grandeur of the past enchants the visitor whose gaze may linger on an exquisitely carved wooden window frame, an 18th century bronze sculpture or a spiritually uplifting stupa. Kathmandu, the largest city of Nepal, is the political as well as cultural capital of the country.
Retaining its ancient traditions, Kathmandu is blessed by Living Goddess Kumari and is enriched by endless ceremonial processions and events that take to the streets every now and then with throngs of devotees seeking joy in spiritual celebrations. These religious festivals are steeped in legends and are quite a spectacle with chariot processions and masked dancers often possessed by the spirits of deities.
CHITWAN NATIONAL PARK
In the southern region of Nepal, the jungles of Chitwan National Park await you with wildlife experiences like no other. Track wild royal Bengal tigers and watch one-horned rhinos bathe in rivers alongside the great Asiatic elephants. If you want to quench your thirst for nature, Chitwan National Park is where you should go.
Witness wilderness in its real form, and do it in style like the Maharajas on elephant back to spot rhinos and deer, or go for a jeep safari in the depths of the forest to catch a glimpse of the elusive Bengal tiger.
Another exciting adventure is to go canoeing in the marshy Terai river amongst dozens of marsh mugger crocodiles basking in the sun, waiting for their prey to fall in their mouths.
You can also spend some calming animal time visiting the elephant and gharial breeding centers, a perfect way to educate your kids about the animals and their life cycle.
Elephant Ethics –
AFS Position on Elephant Ethics – Nature's most intelligent, sensitive, social and perceptive creatures; an elephant never forgets!  They have been observed recognizing human voices that they have not heard in two decades.  They use tools – with trunks, they use logs to test electric fences and sticks to rub off ticks. Abandoned orphans are adopted and wounded are cared for by other outside herds. Elephants mourn their dead.  A calf that dies will be carried by the family herd for days. Vigils are held as they bury the body in leaves. They listen for seismic waves in the earth with their trunks, the tip has the highest concentration of unique nerve endings, found in no other animal. Elephants LOVE to play! Found items are used as toys.  These are some of a gazillion reasons why I love Ellies! Sadly, things have changed in our world with them and after a year of intense research, the brutal truth about elephants used for tourist entertainment in some countries is heartbreaking. Read more at: Elephant Foundation, SSC Asia Elephant Group, IUCN, WAP, Wildlife SOS, WARPS, or GTAEF all wonderful elephant protection agencies.   For years I have been on the proverbial fence but have come to conclude that future AFS trips will only support wildlife camps that are confirmed humane. You may be advised not to ride but can still delight in ellie interactions!  Please pass this on to others so we can educate the world and keep elephants happy in their natural environment.  Note from our Taj Mahouts…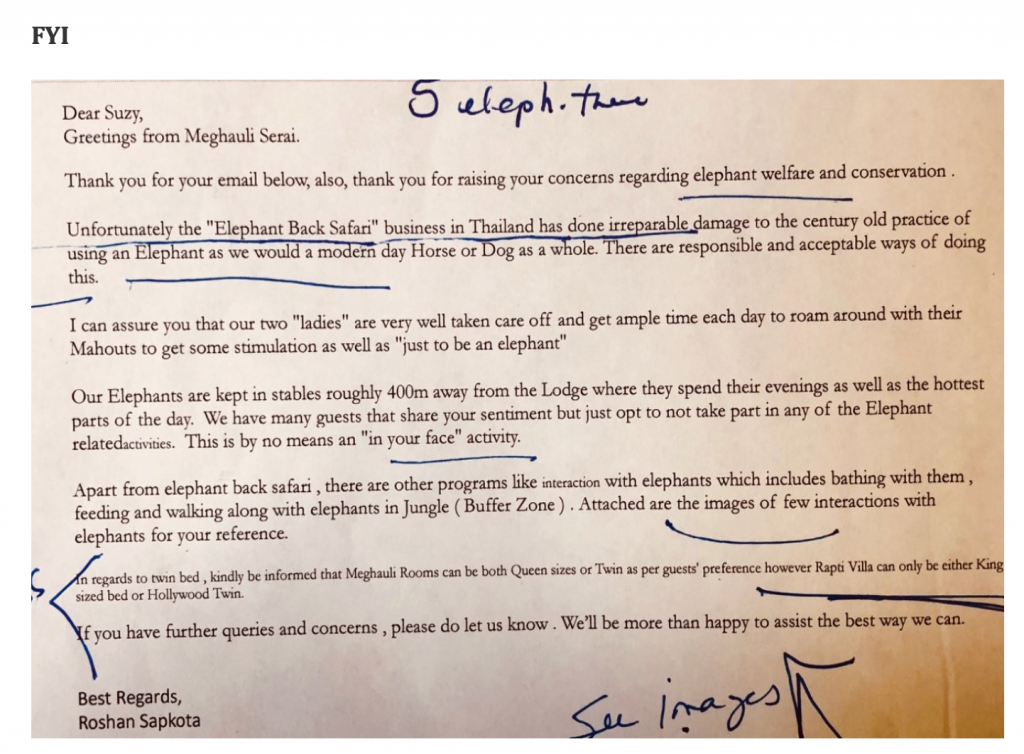 Covid travel rules seem to mutate faster than the virus itself.  To keep all groups up to date with the lasted information, we've created a page that's updated as needed.  Set a reminder for yourself to check the Covid page 7 days before departure.