Oct 13-20, 2021   "Gold, Frankincense & Myrrh"
Small Group!
  BOOK NOW  or call 770-432-8225 If trip full – WAITLIST Login / create account required


Seeking an exotic adventure?  This Desert Kingdom is the Holy Grail of fun!  There aren't enough superlatives to describe Oman, a place of exquisite natural wonders, timeless villages, countless topaz waterholes, turquoise beaches, vast sands and rugged mountains. So pure, so exotic, so much to explore! We've timed this perfectly as an add-on to our AFS Turkey for a small group of adventurers.
 Our last AFSers gushed over Oman, saying it exceeded all expectations.  It was like visiting a whole other world! Often bypassed for its ritzier UAE neighbors, glorious Oman is the best of 7 Emirates, not overrun by tourists. Here is the biblical land of the Three Wise Men.  The serene Sultanate of Oman is the epicenter of ancient treasures, all so authentic, it will cast its spell on you.  
We start in mystical Muscat, where we explore magnificent palaces, historic forts and the Grand Mosque before heading to ancient AL Haman and its thousand-year-old ruins. You'll have to fight the temptation of buying your own camel while attending the centuries-old Friday cattle market in incredible Nizwa where we will likely be the only outsiders. It's sensory overload at the Nizwa Souq, a maze of alleys where you can barter to buy crafts like rugs, lamps, or leatherwork directly from the artisans who have created them.
You'll love our cool Desert Camp.  Sunrises and sunsets await us on the famous Wahiba Sands where we go Dune Bashing, Sand Surfing, and Camel Riding. Experience a true oasis as we swim in deep blue pools of palm-fringed waters of the warm wadis. I couldn't get my last group out. There are enumerable canyons to explore with hidden treasures around every turn. Prepare to have your mind blown by the sheer color of the deep blue Bimmah Sinkhole – created by a falling star – where you can dive into its dazzling waters.
After our tents, we head to the exclusive 5-star Shangri La Resort on the Arabian Peninsula where mountains drop into spectacular Gulf waters.  It's total luxury to revel in the spas, dine like a sultan and enjoy the water sports.  Oman is an expensive destination, but we worked to make it affordable for our special group of only 16 who are curious about unique lands and who long to be nomads in the Arabian desert winds. It's all so surreal, like a Nat Geo moment.  I believe Oman will be your best solo vacation ever!   
BOOK NOW  or call 770-432-8225 If trip – WAITLIST  

BOOK NOW or call 770-432-8225 If trip – WAITLIST  
Our Glorious AFS Itinerary
BOOK NOW or call 770-432-8225 If trip – WAITLIST  
Print
(Oct 12 – Depart USA to Muscat if you're not doing AFS Turkey trip.)  It's easy to arrange your own air roundtrip USA to Muscat or we may present group air layer in our Trip Tips.
Those extending after our Turkey trip, we depart Istanbul at 7PM to arrive Muscat at 1AM next day.  Luxury rooms at the Grand Hyatt are booked for our late arrival.
Oct 13 – Welcome to Oman!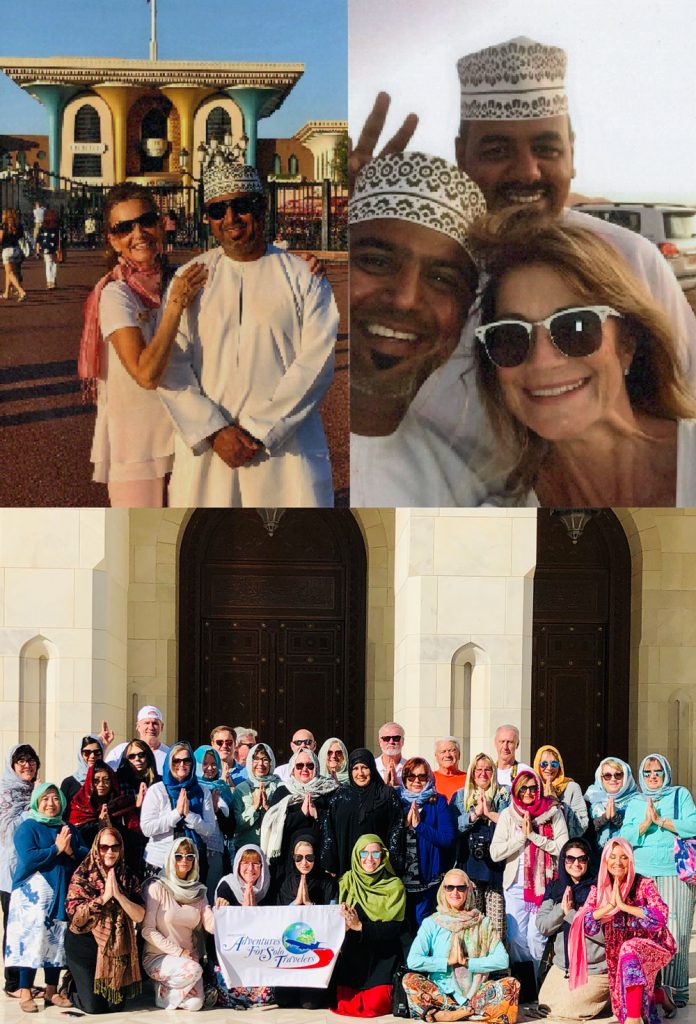 After sleeping from late flight arrival, enjoy an afternoon orientation tour.  You'll love the glittering capital of Muscat on the Arabian Sea juxtaposed against rugged mountain peaks. It's a modern city with an enchanting history for us to explore in the port district of Mutrah and Muscat's Old Quarter. Here we will see centuries-old Portuguese forts, colorful mosques and priceless yachts lining the harbor. So many photo-ops!
Overnight in the Grand Hyatt Muscat (1 night)
Oct 14 – AL Hamra             B
After breakfast, we check out and enjoy a city tour.  We head to the stunning Sultan Qaboos Grand Mosque. (Bear in mind that we'll be required to dress respectfully with head covering.)  Among the highlights is the mosque's beautiful prayer carpet. Hand-crafted in Iran over a four-year period, this vast rug fills the entire prayer hall and is the second-largest carpet in the world.
Muscat and Sohar are dotted with six royal residences of the ruling monarch, Sultan Qaboos (a well-loved king), but none is more beautiful than the magnificent Al Alam Palace where we will stop for photos. Then it's on to the premier venue for performances in Oman, the Royal Opera House that's beyond opulent!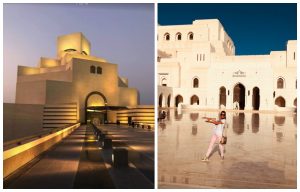 After exploring Muscat we head north to Al Hamra village, a picturesque 400-year-old town in the region Ad Dakhiliyah. The town is thriving and lively considering that it was originally built around an abandoned village – estimated to be 1,000 years old.
Our hotel is appropriately named "The View." Nestled into the rocky slopes of the Jebel Sham Mountains, each of these eco-luxe rooms overlooks the stunning valley below.
Overnight: Hotel View  (1 night)
Oct 15  – Nizwa – Wahiba Sands                B/L/D
We start early and head deep into the heart of Oman to get to know the true people of the country, traveling to Nizwa. This is the most authentic place where feel you've stepped back in time.  Our first stop is the colorful Cattle Market. A centuries-old tradition, the locals come here to trade all types of livestock, particularly camels,  goats and cows which are sold by auction.  Join the locals in haggling.  Business is still conducted in an old fashion manner. Pure theater to watch with great fun and photos.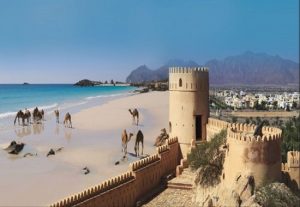 Next, we will visit Nizwa Fort, established in the 1850s by Imam Sultan Bin Saif Al Ya'rubi. This engineering marvel took 12 years to build because it spans an underground stream. It is one of the most visited national attractions in Oman for its historical significance and because it was the main administrative seat of authority for Nizwa's Wallis and Imams (rulers) during peace and war times. The Nizwa Souq within the walls of the fort is a maze of alleys and divisions. In operation for hundreds of years, the Souq is the place to come for every ware you could dream of including daggers, copper, antiques, livestock sale, fish, vegetables and unique handicrafts.
From here, we head across the desert in our 4-wheel drive Land Cruisers to our amazing camp in Wahiba.   Located in Oman's Empty Quarter surrounded by mountains, the amazing camp offers views and experiences that will last a lifetime. You'll feel like a Bedouin in your lux tent with a/c, full bath and delicious meals.  Tonight, we will celebrate beneath the stars with a traditional barbeque dinner.
Overnight Arabian Oryx desert camp, Wahiba (2 Nights)

Oct 16 – Wadi Bani Khalid + Wahiba Sand Dunes Experience                B/L/D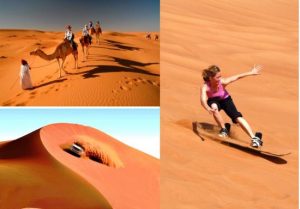 Let the fun begin!  Today is all about the desert experience!! We head out to a true desert oasis and the incomparable Wadi Bani Khalid with its deep blue pools of water fringed by the date palms which is an ideal spot to relax or enjoy a refreshing swim. You won't believe the clear waters.
After we luxuriate, we enjoy lunch among the desert sands, followed by thrilling Dune Bashing over the mind-blowing Wahiba Sands – the best sand dunning on the planet! These vast mountains of sand give us a real taste of the Arabian Desert.  Massive dunes climb almost 500 feet, all scattered with encampments of the Bedouin tribes who still manage to eke out a living here, wandering from waterhole to waterhole with their animals.
Later we explore the dunes on camelback if we want and interact with one of the Bedouin families. Feeling adventurous? Grab a sandboard and try surfing down the dunes.  AFSers loved it all!
Overnight Arabian Oryx desert camp, Wahiba (2 Nights)

Oct. 17 – Muscat Sightseeing and shopping           B/L
After breakfast, we check out from the camp to head back to Muscat with some great stops along the way. Our roads wind through mountain terrain offering breathtaking glimpses of the blue waters of the ocean en route. We'll take a photo op at Wadi Tiwi, a canyon with imposing rocky walls that encloses lush plantations of dates and banana trees as well as a traditional village.  (You'll have your fill of the freshest dates.  Bring some home.)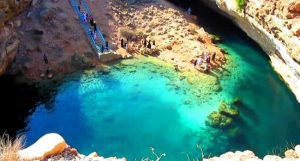 Pictures won't even begin to truly reflect the incredible  Bimmah Sinkhole, an iridescent sinkhole in the heart of a desert area. Legend has it was created in the limestone by a falling star. The freshwater mixes with seawater giving it a turquoise color. You may get a fish pedicure from the little fish that are known to nibble people's toes as you swim.  We swam with locals and got great photos, but water is chilly.
One of Oman's most amazing wadis is Wadi Al Arbaeen which provides the ultimate soundtrack of nature, with sounds of running water, birds and the wind, flowing through the narrow channels of the ravine. Our Jeeps navigate the wadi in rare form by crawling over rocks and channels as we traverse it.
Lunch with is a traditional outdoor tented Arabic buffet lunch on carpets with the canyon as our backdrop.
We will also stop at one of the oldest market places in the Arabic world – Muttrah Souq. Housed under modern timber roofing, it is also one of the few markets in the world where it is possible to buy gold, frankincense and myrrh all under one roof.  Also, the best spices, pottery, gold jewelry  and Omani sliver to bargain.  We all bought stunning hanging lanterns.  So many things to buy here!!
Oman is famous for its fragrances.  We end at the decades-old luxury perfume factory, Amouage.  Some bottles run $5000,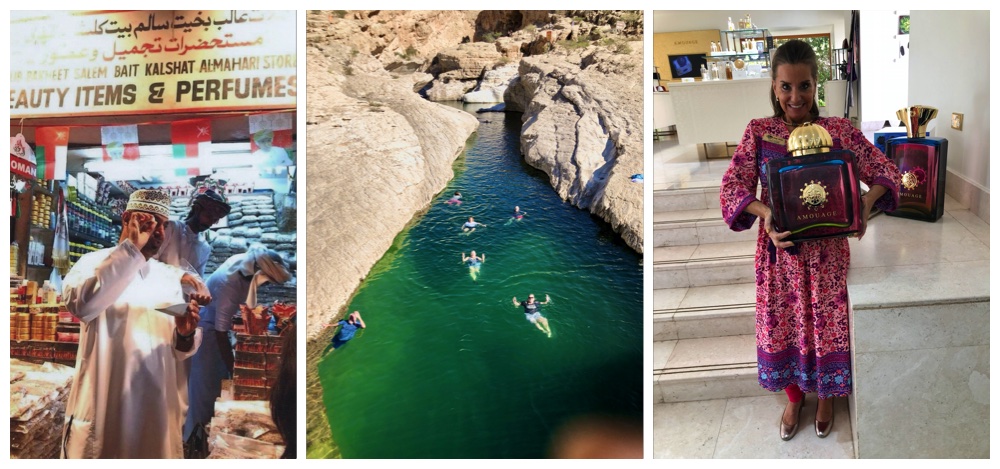 but also great affordable options.  For over 30 years the name 'Amouage' has been known as a luxury brand famous for its decadence and sophistication. While it is an amazing globally known brand of the product, pay attention to the beauty and workmanship that went into designing the building itself to reflect the luxury brand.
Finally, we arrive in paradise that is set in a stunning cove at the Gulf of Oman – the Shangri La.   Google our resort to view the beauty and all the amenities.
Overnight at Hotel Shangrila Barr Al Jissah Resort & Spa (2 nights)
Oct 18 – Free to Play Day            B
This is a day to truly relax and take advantage of activities that are offered at the Shangri La Barr Al Jissah Resort & Spa.  You have so many options from which to choose: Go dolphin watching by speed boat, yoga class or take part in enumerable watersports including kayaking, sailing, windsurfing, water skiing, (what's hot now are) paddle boards or even jet packs!
Overnight at Hotel Shangrila Barr Al Jissah Resort & Spa

Oct 19 – Explore Muscat        B
Our last day is yours to enjoy fabulous Muskat.  See www.omanexperience.com for countless things to enjoy.
Oct 20 – Depart Muscat for home   B
After breakfast, we make our way to the airport for our flights back home

BOOK NOW or call 770-432-8225 If trip – WAITLIST  
Land Price $2495 pp twin share
Deposit $250
 Not included:  Gratuities
Group Air:  We will present a group air option 10 months prior in the tab labeled Trip Tips if demand.

Land prices per person twin share. Trip price based on a minimum number of participants.

Single rooms limited with $ supplement.  Cost varies.  Email us for availability.  AFS will find you a roommate.

The earliest we present group air is 10 months prior. We'll send email to ask who wants it.  A minimum number of 12 is needed.

Please review AFS Terms and Conditions, Heading Abroad with AFS, Covid Policy.  Travel insurance is important nowadays.  It's rare, but we reserve the right to modify schedules, tour and hotels.

Read Trip Tips on its own tab next itinerary for latest details. 
Print
Group Air TBA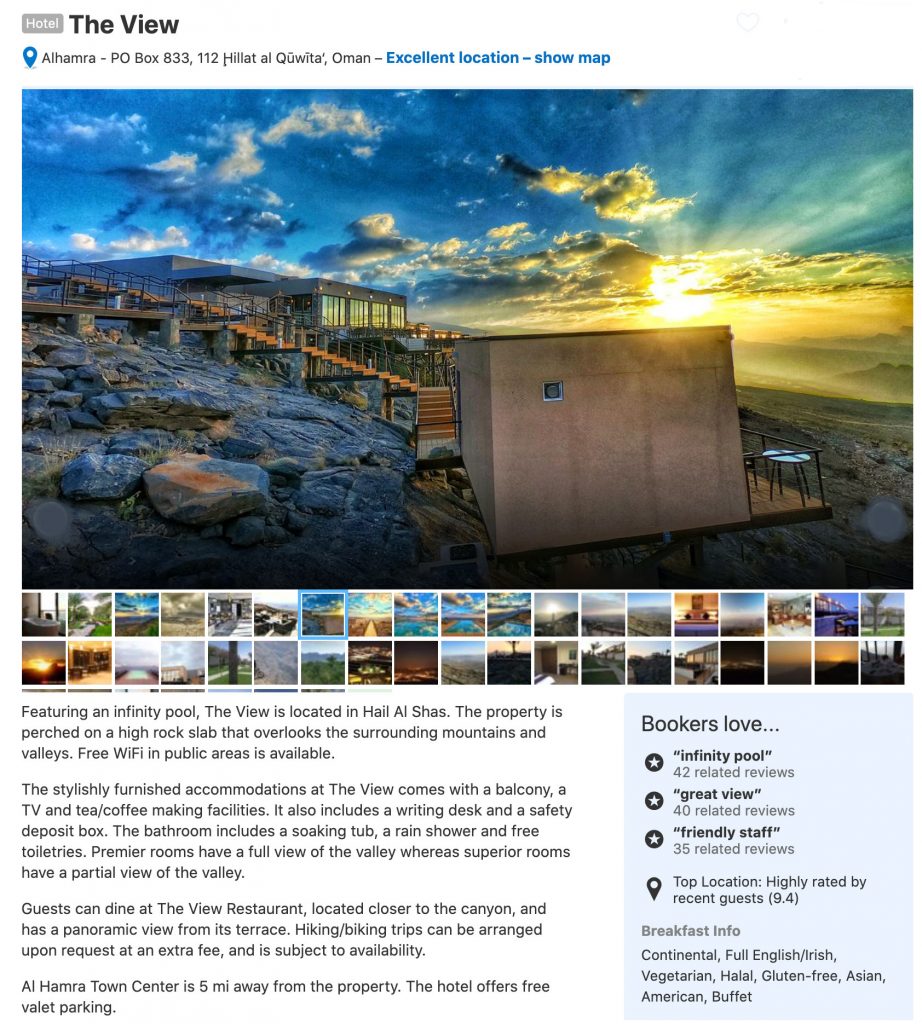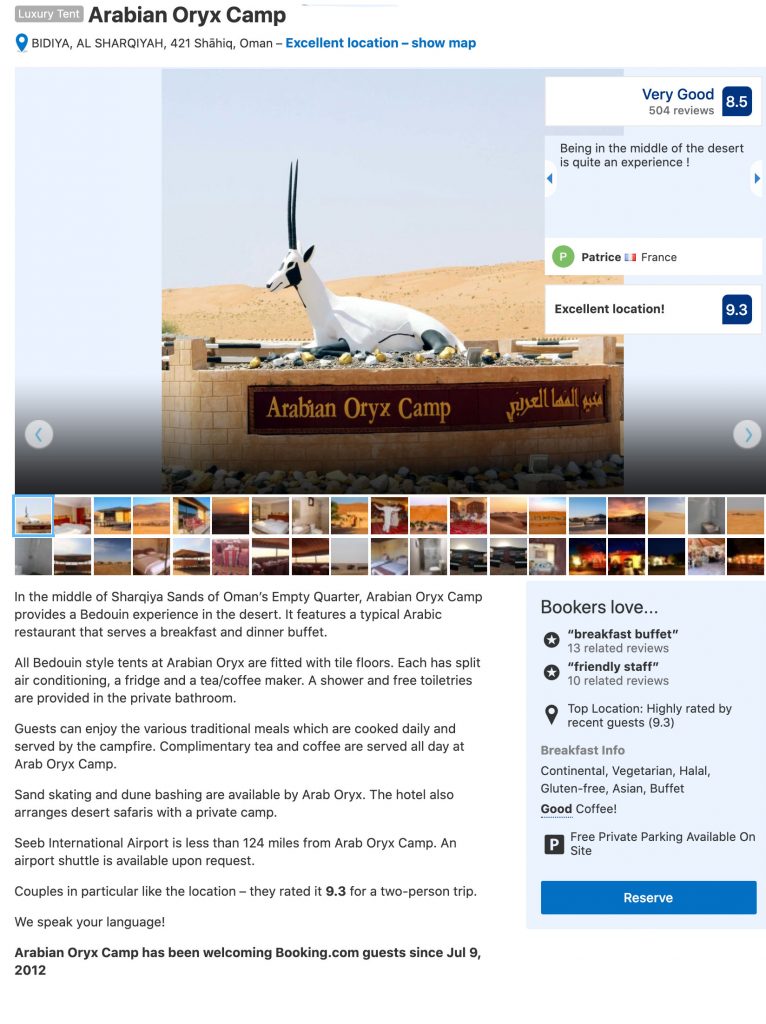 All prices are per person twin share.  Single rooms limited per group and a single supplement applies.  Cost set by hotel/cruiseline and vary considerably.  AFS will find you a roommate match. All hotel rooms are "run of house."  

Please review AFS Terms and Conditions as well as Heading Abroad with AFS.  

Land – Price based on a minimum number of trip participants, as well as local currency exchange rates which can fluctuate.

We write our itineraries over a year in advance. Though unlikely, we always reserve the right to modify schedules, tours and 

hotels if necessary. 

Group air – Airlines may add surcharges to offset fuel inflation or taxes. The total ticket cost is not final until we receive your final payment and the group is ticketed. If doing own air, airport transfer may or may not be included depending on your air schedule. Do not buy air until the group air is set or we advise – though unlikely, airlines, times and dates can change!