June 4 -12, 2021   "South Pacific Island Dreaming"     –  Small Group!
Dreamy Vanuatu and Fiji – Where every week is Shark Week with tropical pearls, coral wines and a million flowers tp perfume the air.

     BOOK NOW  or call 770-432-8225   If trip full  WAITLIST  Login / create account required

Bula!  Say them slowly – Van-u-a-tu… Fi-ji. These lyrical island names conjure visions of exotic movies with Polynesian warriors clad in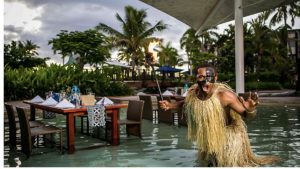 their lavalava skirts, standing on palm-lined shores looking out over shimmering turquoise waters. Now, put yourself in their place. Those island fantasies you've been harboring during lockdown come true as AFS escapes to a tropical paradise in these stunning South Sea islands.   After 2020, you deserve some vacation therapy.  Let's get barefoot together! 
 This is the trip dreams are made of – being transported into picture-postcard landscapes, sugar sand beaches, swaying palms, dancing waterfalls, unique cultures and waters 150 shades of blue! Vanuatu and Fiji are true jewels for us to grasp. Our past AFS groups here loved idyllic Fiji along the Coral Coast.  Did you know there are more than 300 unique islands?   Now Vanuatu unlocks these fascinating cultures of the South Pacific even further and June is the best time to visit.
We begin in lush Port Villa, Vanuatu – famous for its Polynesian spas and the freshest of seafood cuisines. ("The Bachelor" fans may have seen Vanuatu featured recently). You'll snorkel on stunning barrier reefs, experience the mystical voodoo powers of black magic tours, bathe in warm tropical waterfalls and get to know the islanders with cultural tours. Nothing says local love more than the happy faces of a bunch of kindergarteners eager to meet Adventures For Solo Travelers who've come to see how they learn.
 We then fly to Fiji, home of the Blue Lagoon for great fun from river canoeing, snorkeling and the coolest tours.  Fire will literally dance before your eyes as we marvel at the spectacular Mele dinner show. It's the ultimate combination of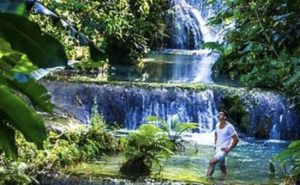 amazing outdoor island activities and the opportunity to relax in our fine resorts. Picture yourself on a sea kayak with a rainbow array of tropical fish swimming beneath you. There's a Turtle Sanctuary to visit, ziplines to zip and warm tropical lagoons in which to swim. Or just marvel at the orange sunrises and sunsets that seem to get better each day.
 This vacation of sights, sounds, colors and oceans breezes will provide amazing Instagramable moments. 
Most people have never even heard of Vanuatu, but I can promise you, you'll soon see why those who have been, say this island paradise is unforgettable! This is both fun and relaxing with easy air.  Located halfway between Hawaii and New Zealand, Air Fiji whisks us non-stop from LA to these Pearls of South Pacific Fiji.  Come get your Happy On for a true slice of heaven!
Lonely Planet says…
Welcome to Vanuatu
Vanuatu is a Pacific island adventure far beyond any notions of cruise-ship ports and flashy resorts. Deserted beaches, ancient culture, remote and rugged islands and world-class diving are just a small part of the magnetism of this scattered 80-plus island archipelago.

Welcome to Fiji
Set your internal clock to 'Fiji time': exploring the archipelago's exquisite beaches, undersea marvels, lush interiors and fascinating culture shouldn't be rushed.
 BOOK NOW or call 770-432-8225   If trip full  WAITLIST
6 Reasons to visit the Islands of Fiji!
Fiji is consistently listed as one of the Happiest Destinations in the world. After spending time in the Islands of Fiji, it became very apparent to me how true this is.
Full transparency here. As a travel professional, I have a tendency to "compare" destinations with similarities. Having traveled all over Mexico, the Caribbean and the Islands of Tahiti, I thought for sure Fiji would be another tropical, beach destination on the list. I was very wrong!.. Click to continue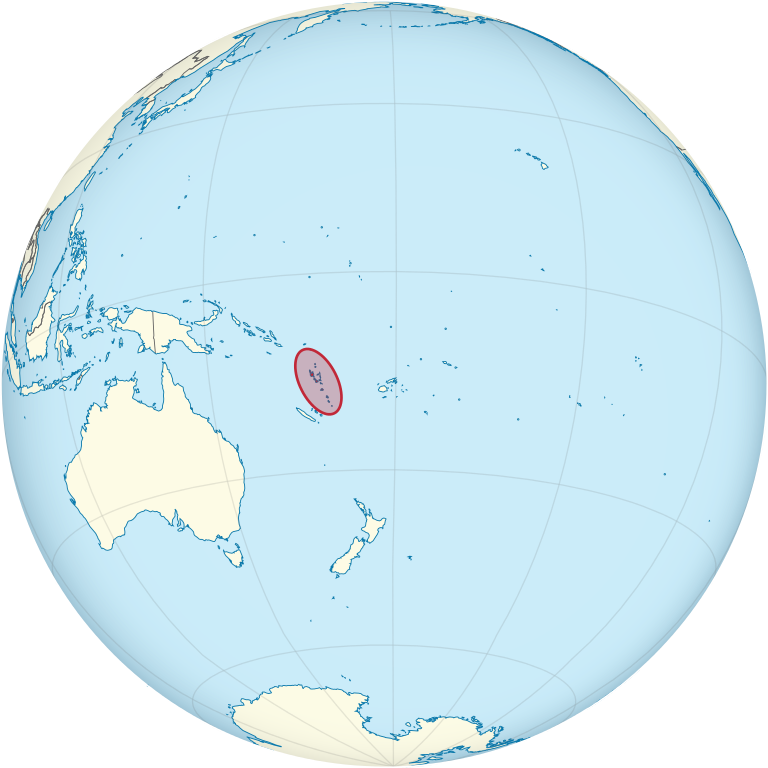 BOOK NOW or call 770-432-8225   If trip full  WAITLIST
Our Glorious AFS Itinerary
    BOOK NOW or call 770-432-8225   If trip full  WAITLIST
Print
June 04  Fly from Los Angeles and head to Vanuatu.  You may want to go early to play in LA.  Group air details to come in Trip Tips.
June 05  Cross International Dateline and lose a day to gain back at end.
 June 06 – Welcome to Vanuatu          D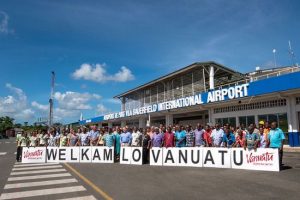 We arrive very early in Fiji, transferring to our flight to Vanuatu in Port Vila in around 9 a.m. local time where we will be greeted by our guide and taken to our wonderful hotel the Warwick le Lagon with its South Pacific charm. The resort sits on 75 acres of tropical gardens at the edge of pristine cobalt blue Erakor Lagoon Each of our rooms has a lagoon view.  Enjoy dining at the BBQ Pool Grill and the renowned Wild Ginger for Asian Fusion and the Lagoon Terrace for our nightly themed buffets under the stars!
Freshen up and after lunch, we head out for our Black Magic Tour! Local beliefs hold that powerful spirits control everyday life. Witch doctors continue to practice the ancient rituals to this day. We'll visit the Mele Mountaintop Black Magic village where to learn about the sensitive and secretive uses of black magic and how it impacts daily life in Vanuatu.  Our evening will be celebrated with a Welcome Dinner at the resort to get to know each other.
Overnight: Warwick Le Lagon, Port Vila, Vanuatu Lagoon view room  (3 nights)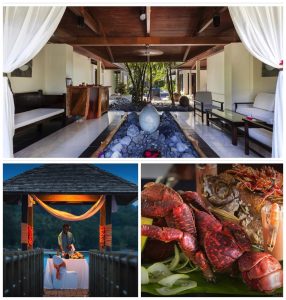 June 07 – Lololima Cascades and Turtle Sanctuary                                       B/L
We head out after breakfast for a half-day tour of the stunning Lololima Cascades Waterfall. It's hard to describe the breathtakingly beautiful falls and the serenity instilled by this gift from Mother Nature. Then, we head to the Naiwe Beach Turtle Sanctuary which raises turtles from hatchlings. The young turtles are collected in the wild and raised to give them a fighting chance at survival before being released into the sea. We also get to see the giant coconut crabs as well as other local wildlife.
Be prepared for cuteness overload as we pay a visit to the Eratap Village & Kindergarten school and see how these young children are educated.  Let's bring some school supplies to share.  Lunch is at the Aquana Beach Resort before we return to our hotel for a free afternoon and evening
Overnight: Warwick Le Lagon, Port Vila, Vanuatu (3 nights) Lagoon view room.

June 08 – Find your Happy Free day!                                                                                          B
 Today is ours to explore and there are so many things to do!! The Warwick le Lagon itself offers a wonderful array of watersports and the awesome Oasis Spa. It's so easy to book anything on arrival – Outrigger Canoe Adventure, Horse Tours, Sunset Sailing, Lapita Beach, Snorkeling off glass-bottom boats, nature tours and more.
A must – The Vanuatu Thunder Jet Boat Ride is one of the most popular activities in the South Pacific. Full of surprising twists, turns and a lot of splashes, this 30 minute jet boat ride is an exhilarating water tour that will get your heart racing. Powered by huge V8 engines the boats roar across crystal clear reefs at breath-taking speed showcasing the amazing scenery of the inner and outer harbors.
 Overnight: Warwick Le Lagon, Port Vila, Vanuatu
June 09 – Nadi, Fiji                                          B
The morning is free to explore and in the afternoon it's on to Nadi, Fiji!  From the airport, we head to the oceanside resort gazing out over the Pacific Ocean. We will be there in time for yet another spectacular sunset and have a free evening to relax and enjoy the lush grounds.
Overnight:  DoubleTree by Hilton Fiji – Sonaisali Island (4 nights)
June 10 – Day Cruise to Savala Island.     B/L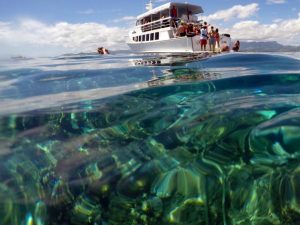 It's a full day on the water today. We set sail from the Denarau Marina aboard the M.V. Oolala and head out across blue water for the outstanding picture-postcard destination that is Savala Island.
The cruise is about an hour and a half, but the crystal waters will help provide entertainment as we keep an eye out for bird and marine life along the way.
We weigh anchor in Sandy Bay and have four glorious hours to soak up paradise. Our day includes a buffet lunch, snorkeling or kayaking amongst the bright coral reef, or relaxing under a shade hut. You can even take a ride on the glass-bottom boat! The islanders will ensure everyone has a great day, with songs and that famous island hospitality.
We return in time to witness a glorious sunset and enjoy a free evening.
Overnight: DoubleTree by Hilton Fiji – Sonaisali Island

June 11 – River Rafting, waterfall tour                         B/L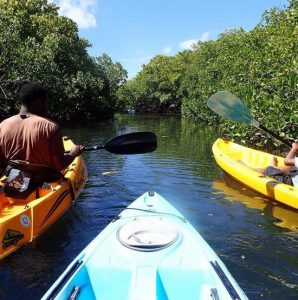 It's a magical day of nature as we explore the Navua River by boat. We'll be a world away from the cares of modern living as we cruise past villages, farm lands, pristine tropical rainforest, deep gorges/canyons, meandering rapids and numerous cascading waterfalls. The birdlife is amazing! We'll stop and take a short hike into the jungle to the Navua River's biggest waterfall. The first pool is just a short hike, but guides can take the more adventurous to the bigger falls located on privately accessed land.   
We'll be back to our resort for another free evening to relax.
  Overnight: DoubleTree by Hilton Fiji – Sonaisali Island

June 12 – Free day to Play! Evening Mele Fire Show                         B/D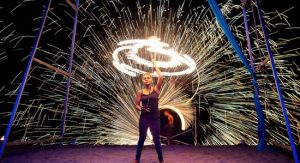 So much to do!!! The entire day is free to enjoy the resort to explore. You may want to get muddy at the Sabeto Hot Springs and Mud Pool, explore the gorgeous grounds of the Garden of the Sleeping Giant, or simply go shopping at the Nadi Handcraft market in the heart of town.
There are sea kayaks, paddleboard lessons, Blue Lagoon Cruise, Wild Adventure park, Scuba diving, Jeep safaris and fabulous Sea Plane Tours in which to choose.
You'll want to be back early enough for our not-to-be-missed Farewell dinner. It's an evening featuring the Fijian culture with the Mele and Lovo Dinner. Our Cultural night tour begins with a warm welcome by a warrior and your village tour guide. We'll visit the Bure Kalou chief home and witness demonstrations of traditional handicraft weaving and carvings. Watch the villagers create the Lovo for our dinner and participate in a kava ceremony. After Dinner comes to the spectacular Mele fire dance and show.
Overnight: DoubleTree by Hilton Fiji – Sonaisali Island

Jun 13  – Free morning Before Heading Home   B
Most of the day is ours to take advantage of the resort amenities, handicraft markets and do some last-minute sight-seeing. You can visit Pure Fiji Spa for relaxation therapy before your flight.  The resort check-out time is noon and our flight is in the evening. You can store your luggage and enjoy the resort until our evening transfer to the airport.
We will cross the International Dateline and arrive home the same day we depart!

 BOOK NOW or call 770-432-8225   If trip full  WAITLIST
Land Price $2975 pp twin share
Deposit $250
 Not included:  Gratuities
 It is too early to price our group air. This will be offered as we get closer. If traveling on your own, you will be offered the chance to book the internal flights with the group.
Group Air: We may present if enough in the group want it.

Land prices per person twin share. Trip price based on a minimum number of participants.

Single rooms limited with $ supplement.  Cost varies.  Email us for availability.  AFS will find you a roommate.

The earliest we present group air is 10 months prior. We'll send email to ask who wants it.  A minimum number of 12 is needed.

Please review AFS Terms and Conditions, Heading Abroad with AFS, Covid Policy.  Travel insurance is important nowadays.  It's rare, but we reserve the right to modify schedules, tour and hotels.

Read Trip Tips on its own tab next itinerary for latest details. 
Print
Group Air TBA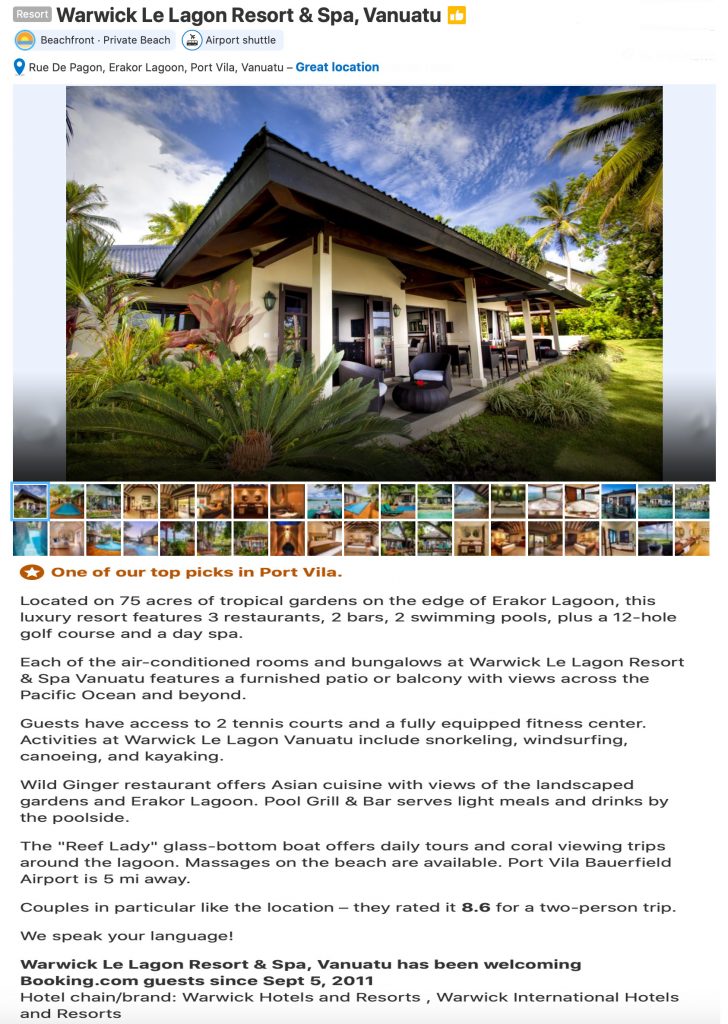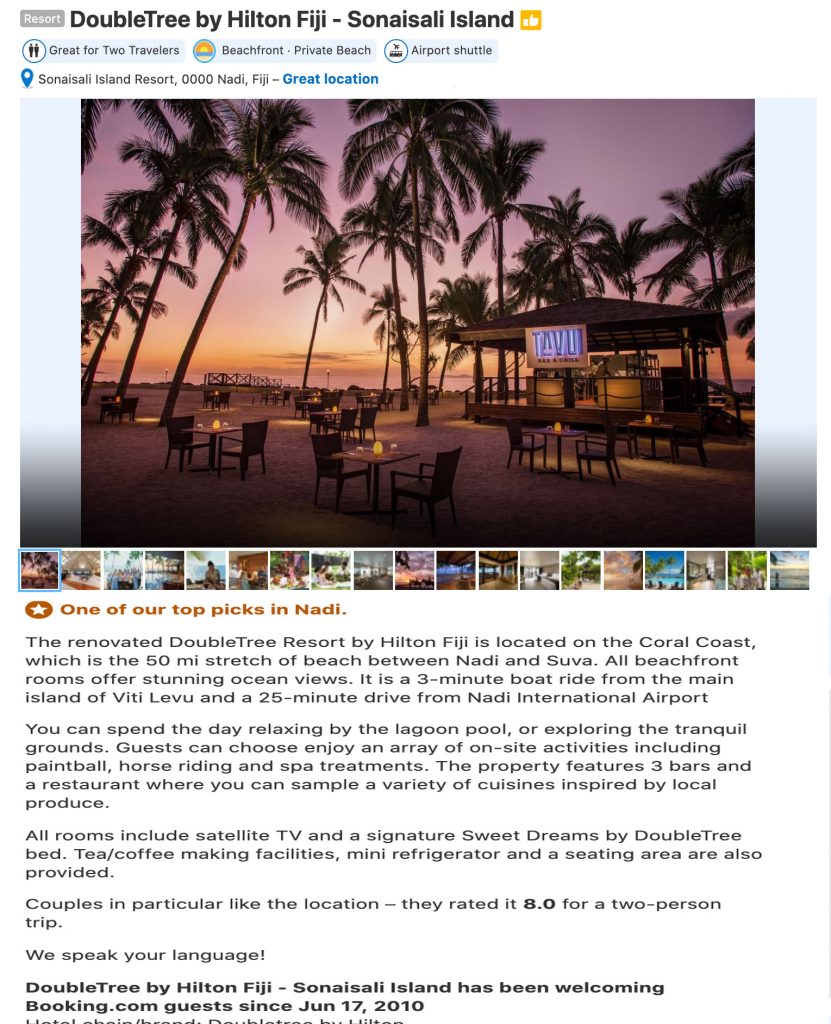 All prices are per person twin share.  Single rooms limited per group and a single supplement applies.  Cost set by hotel/cruiseline and vary considerably.  AFS will find you a roommate match. All hotel rooms are "run of house."  

Please review AFS Terms and Conditions as well as Heading Abroad with AFS.  

Land – Price based on a minimum number of trip participants, as well as local currency exchange rates which can fluctuate.

We write our itineraries over a year in advance. Though unlikely, we always reserve the right to modify schedules, tours and 

hotels if necessary. 

Group air – Airlines may add surcharges to offset fuel inflation or taxes. The total ticket cost is not final until we receive your final payment and the group is ticketed. If doing own air, airport transfer may or may not be included depending on your air schedule. Do not buy air until the group air is set or we advise – though unlikely, airlines, times and dates can change!
Print
Tourism Fiji Unveils "Care Fiji Commitment" to Ensure Traveler Safety
In anticipation of Fiji's borders re-opening to travelers, Tourism Fiji is introducing the "Care Fiji Commitment," a program including enhanced safety, health and hygiene protocols to ensure the utmost safety of travelers to Fiji in a post COVID-19 world. Although Fiji's borders are currently still closed to international travelers, the new program represents a destination-wide assurance that Fiji is ready to welcome travelers safely back to its shores when it reopens.
Developed in consultation with Fiji's Ministry of Health and Medical Services, COVID-19 Risk Mitigation Taskforce, the Fijian Government and tourism industry stakeholders, the Care Fiji Commitment includes COVID-19 management protocols that follow the World Health Organization guidelines to ensure that thorough and consistent risk mitigation measures are practiced throughout the islands.
"The Care Fiji Commitment is our assurance to travelers that the health and safety of everyone who lives and travels here is our number one priority," says Tourism Fiji acting CEO Robert Thompson. "We have been working together as one across the tourism and health industries to fight COVID-19 and adapt to a new normal to get us ready for when we can welcome international travelers again."
Since the declaration of COVID-19 as a global pandemic, Fiji has made health and safety its top priority. Due to its quick response to COVID-19, Fiji was able to contain the virus from a very early stage and mitigate any risk of outbreak within the islands. The government's containment measures put in place in March 2020 meant Fiji was able to officially declare itself COVID-contained in June 2020. Now, with the introduction of the Care Fiji Commitment, travelers can be assured that Fiji is a safe destination to enjoy on their next vacation to the islands. The Care Fiji Commitment program consists of the following key components:
Globally Recognized Control & Mitigation Measures: The Care Fiji Commitment is an ongoing commitment to maintaining protection measures against COVID-19 in Fiji. This includes having testing and surveillance processes aligned with the World Health Organization (WHO) recommendations, local testing available at the Fiji Centre for Disease Control, WHO accredited isolation facilities, clear procedures in place for suspected cases, dedicated drop-in fever clinics for concerned visitors showing symptoms and a dedicated COVID-19 hotline.
Wellness Ambassadors: A designated Wellness Ambassador at each hospitality business will be available to travelers throughout their journey to assist with any COVID-19 related questions or concerns that may arise. The Wellness Ambassadors are dedicated to implementing and upholding all hygiene protocols and COVID-19 safe practices.
CareFIJI Contact Tracing App: CareFIJI is a privacy preserving, Bluetooth-based mobile app that uses non-location tracking technology providing Bluetooth is enabled. It gives an added layer of security for visitors that any contact with a COVID-19 case will be quickly identified.
Two-Way Commitment: Travelers will also be asked to commit to the program by postponing any travel if they feel unwell, communicating with the Wellness Ambassadors as needed, downloading the CareFIJI app and adhering to all social distancing, sanitization and face mask regulations, where required.
For added assurance, Fiji's trade partners can book their client's trip with full confidence through Care Fiji Commitment Partners. To date, nearly 200 of Tourism Fiji's industry partners—including the resorts, restaurants, tour operators, attractions and more—have gone through an extensive training process as their first step in making the Care Fiji Commitment. The process is still ongoing and a full list of approved partners will be available once complete.
For more information on Tourism Fiji's Care Fiji Commitment, click on Care Fiji Commitment. For more information about Fiji tourism, visit www.fiji.travel.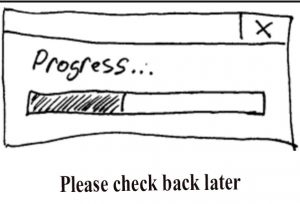 Helpful CV resources –  
Below are helpful links to Facts and Stats for you to reference as you gear up for all of your travel domestically and abroad in 2020.
     Facts about Coronavirus- Symptoms/Transmission/Precaution/Treatment
https://www.who.int/news-room/q-a-detail/q-a-coronaviruses
     CDC Entire Situation Summary
https://www.cdc.gov/coronavirus/2019-ncov/index.html
     US State Department Travel Advisories
https://travel.state.gov/content/travel/en/traveladvisories/ea/novel-coronavirus-hubei-province–china.html
     Country Specific COVID-19 Information
https://travel.state.gov/content/travel/en/traveladvisories/COVID-19-Country-Specific-Information.html
——————————————————————————————-