"South Pacific Island Dreaming"  2022   –  Small Group!
Dreamy Vanuatu and Fiji – Where every week is Shark Week with tropical pearls, coral wines and a million flowers to perfume the air.
Trip postponed until dates can be confirmed 

Bula!  Say them slowly – Van-u-a-tu… Fi-ji. These lyrical island names conjure visions of exotic movies with Polynesian warriors clad in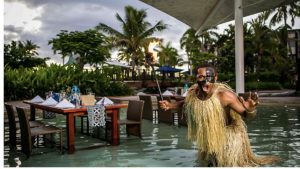 their lavalava skirts, standing on palm-lined shores looking out over shimmering turquoise waters. Now, put yourself in their place. Those island fantasies you've been harboring during lockdown come true as AFS escapes to a tropical paradise in these stunning South Sea islands.   After 2020, you deserve some vacation therapy.  Let's get barefoot together! 
 This is the trip dreams are made of – being transported into picture-postcard landscapes, sugar sand beaches, swaying palms, dancing waterfalls, unique cultures and waters 150 shades of blue! Vanuatu and Fiji are true jewels for us to grasp. Our past AFS groups here loved idyllic Fiji along the Coral Coast.  Did you know there are more than 300 unique islands?   Now Vanuatu unlocks these fascinating cultures of the South Pacific even further and June is the best time to visit.
We begin in lush Port Villa, Vanuatu – famous for its Polynesian spas and the freshest of seafood cuisines. ("The Bachelor" fans may have seen Vanuatu featured recently). You'll snorkel on stunning barrier reefs, experience the mystical voodoo powers of black magic tours, bathe in warm tropical waterfalls and get to know the islanders with cultural tours. Nothing says local love more than the happy faces of a bunch of kindergarteners eager to meet Adventures For Solo Travelers who've come to see how they learn.
 We then fly to Fiji, home of the Blue Lagoon for great fun from river canoeing, snorkeling and the coolest tours.  Fire will literally dance before your eyes as we marvel at the spectacular Mele dinner show. It's the ultimate combination of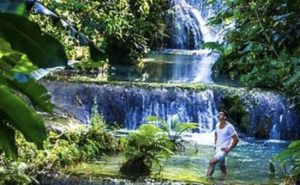 amazing outdoor island activities and the opportunity to relax in our fine resorts. Picture yourself on a sea kayak with a rainbow array of tropical fish swimming beneath you. There's a Turtle Sanctuary to visit, ziplines to zip and warm tropical lagoons in which to swim. Or just marvel at the orange sunrises and sunsets that seem to get better each day.
 This vacation of sights, sounds, colors and oceans breezes will provide amazing Instagramable moments. 
Most people have never even heard of Vanuatu, but I can promise you, you'll soon see why those who have been, say this island paradise is unforgettable! This is both fun and relaxing with easy air.  Located halfway between Hawaii and New Zealand, Air Fiji whisks us non-stop from LA to these Pearls of South Pacific Fiji.  Come get your Happy On for a true slice of heaven!
Lonely Planet says…
Welcome to Vanuatu
Vanuatu is a Pacific island adventure far beyond any notions of cruise-ship ports and flashy resorts. Deserted beaches, ancient culture, remote and rugged islands and world-class diving are just a small part of the magnetism of this scattered 80-plus island archipelago.

Welcome to Fiji
Set your internal clock to 'Fiji time': exploring the archipelago's exquisite beaches, undersea marvels, lush interiors and fascinating culture shouldn't be rushed.
6 Reasons to visit the Islands of Fiji!
Fiji is consistently listed as one of the Happiest Destinations in the world. After spending time in the Islands of Fiji, it became very apparent to me how true this is.
Full transparency here. As a travel professional, I have a tendency to "compare" destinations with similarities. Having traveled all over Mexico, the Caribbean and the Islands of Tahiti, I thought for sure Fiji would be another tropical, beach destination on the list. I was very wrong!.. Click to continue