Nov 4-13, 2021  "Island Hopping Through the Garden of Eden"
 WAITLIST   

Login / create account required

 
You deserve to go remote for some Vitamin Sea.  The trips you daydreamed of while quarantining simply pale by comparison on this solo escape to one of the most sought-after and secluded destinations in the world. With its glistening waters, the Seychelles are beloved by AFSers. We did it by land. but now we unpack just once on a cruise to 12 different stunning islands.  Imagine exploring this incomparable archipelago that rivals the Maldives from the luxury of our own private yacht on our all-inclusive cruise voyage.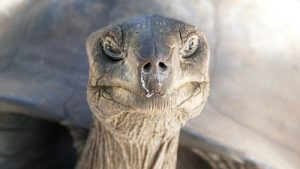 This glimmering collection of unique coral islands is truly a world away and filled with adventure.  Each island outshines the next with its own distinctions, offering sugar-sand beaches, emerald tropical forests filled with the rarest species of plants,  birds and animals. The crystal waters are teeming with sea life seen nowhere else on the planet!  Get to know the gentle giant tortoises of Curieuse or swim around giant rock monoliths of le Digue. Be the envy of Instagram with shots from the warm waters of Praslin where you can explore an underwater world with world-class snorkeling and diving. Every day offers an a-ha moment as you unwind away from the crowds in islands like nowhere else on earth.
 Midway between India and Africa, the country of more than 100 islands has virtually closed itself from the world right now, forbidding cruise ships until 2022.  We're an exception as a private charter.  Variety Cruises has been authorized exclusive access for you in 2021!  The twin-hulled Pegasos only allows 40 guests, so think yacht, not a cruise ship. As we sail from island to island, we'll be pampered by a crew that serves our every need, and our private chef tempting us with local delicacies. Lounge on Upper Deck to savor the salty breeze, enjoy the water sports and the Zen mini spa on the Lower Deck.
 So many vacations were canceled by the pandemic, this is one that will more than make up for vacations lost… and safely!  No visas, no shots, no dress code and no Starbucks.  November's the perfect time to visit.  No crowds to fight and every day you will wake up in paradise.  Air is so easy on Air France.  Add a stop-over in Paris or go to Mahe a day early to play. The Seychelles Islands are truly heaven on earth so come join us as we leave the world behind for our own utopia.

    WAITLIST   Login / create account required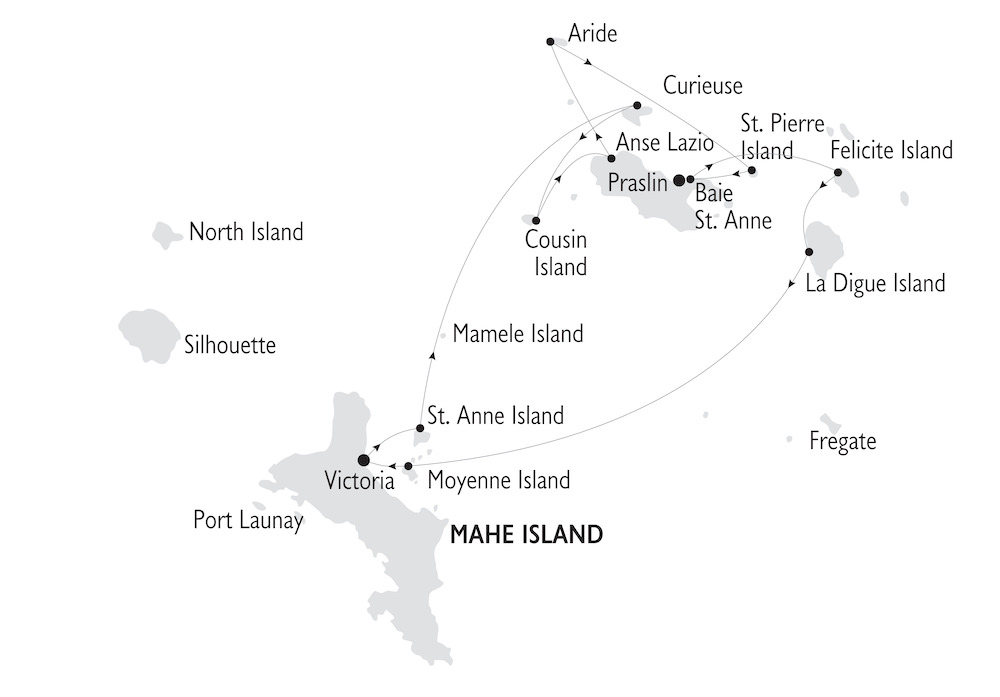 WAITLIST   Login / create account required
Our Glorious AFS Itinerary
  WAITLIST   Login / create account required
"After I returned from my 9th trip with you, again I say thank you for all the joy you brought to my life. Not only did I meet my husband on your AFS African Safari, but I also made a family of lifelong friends!" – Laura C.
Print
Nov 4-5  Depart USA to the Seychelles Islands.  Group air to come in Trip Tips, but it's easy to book Air France on own for flexibility.  You can fly in early to relax to explore fun Mahe – many affordable villas, hotels and guest houses.  Get a taste of the Creole culture.
 Nov 6  Saturday – Mahe to St Anne Island   D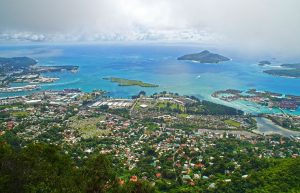 All aboard!  Our trip officially begins today as we board our luxury yacht at the Interisland Marina in the capital of Victoria on the island of Mahe. Mahe is the largest of the Seychelles islands and where all international flights arrive. We will need to be onboard at least an hour ahead of our departure between by 3pm.
We'll get acquainted with our vessel with a cocktail and safety drill before setting sail to nearby St Anne, famous for its amazing Marine National Park.  We have time for a refreshing swim in the warm waters of the Indian Ocean at our anchorage near St Anne.  Go to www.seychelles.travel – a great site for full details on every island we visit.
A fabulous welcome dinner awaits, prepared by our very own chefs.
Nov 7  Sunday – St Anne Island – Curieuse      B/L/D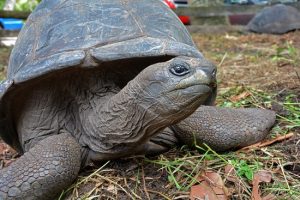 We leave St Anne Island early in the morning to reach the uninhabited island of Curieuse. Once a leper colony, this island is now a refuge for dozens of giant tortoises, complete with a turtle nursery! A park ranger will guide us on a walking excursion through the farm and along the mangrove forests.  It's a great photo opp here.  Most tours are included.
Our lunch is a beach BBQ beneath the trees followed by an afternoon on the beach with numerous ocean activities including kayaking and snorkeling.
We overnight nearby and dinner is again aboard our vessel.
Nov 8  Monday –  Cousin and Praslin Islands   B/L/D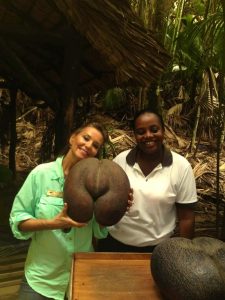 In the morning, we head ashore on the bird sanctuary of Cousin Island. Our excursion includes learning about the numerous exotic species that call this place home and are cared for by Bird Life International. A quarter million birds breed on Cousin which also has several nesting beaches for turtles.
Later in the afternoon, we sail to Praslin and Anse Lazio, considered one of the most beautiful beaches in the world. With its white sands and coconut trees hanging low over the water, you'll understand why people travel the world just to come here. The afternoon is ours to lounge on the beach or enjoy water sports and snorkeling in the turquoise waters which are teeming with tropical fish.
We anchor here for the evening.
Nov 9  Tuesday – Aride – St Pierre – Baie St Anne, Praslin    B/L/D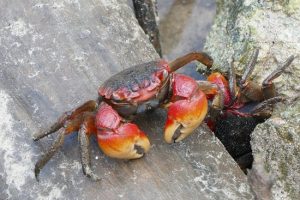 Today is spent island hopping to smaller islands. In the morning, we leave for the nearby granite island known as Aride.  Guides will take us to the island's peak for an amazing view of the island and the waters which surround it. We should be able to see both the rare Wright's gardenia, found nowhere else on earth, and the Seychelles warbler, a bird species similar to the Audubon's shearwater.
Around noon, we sail for St Pierre Island where after lunch we'll enjoy a 3-hour snorkeling and swimming stop.
As the sun sinks on the horizon, we sail into the harbor of Baie St Anne, Praslin where we will dock for the evening. Tonight is Creole Night, celebrating one of the dominant cultures of the Seychelles.
Nov 10  Wednesday –  Praslin – Felicite or Grand Soeur – La Digue    B/L/D
In the morning, you have the option of exploring the palm forests of Vallee de Mai or venturing around the village. Vallee de Mai is believed to be the original Garden of Eden for its lush forests and rare plant species.  It is a UNESCO World Heritage site that consists of an old-growth forest of the indigenous coco de mer palms, which has the largest seed on earth. It also offers the chance to see many native animals and birds like the rare black parrot.
After lunch, we sail to either the island of Felicite or its nearby sister island Grand Soeur. Both offer fabulous snorkeling and swimming
We anchor off La Digue for the evening.
Nov 11  Thursday La Digue – Moyenne Island   B/L/D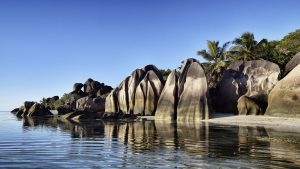 You'll feel you stepped back in time in charming La Digue, the most photographed location in the Seychelles. You can easliy explore the main village of La Passe on your own by ox cart or bike.  There's an optional half-day excursion to venture out further.  This tour includes a visit to the colonial coconut plantation known as L' Union Estate followed by a visit to Anse Source D' Argent. We floated on warm waves for hours and I couldn't get our last group out the waters.  This beach is one that truly should not be missed with its massive rock formations. It is absolutely one of the most memorable beaches in the world. There will be time for hunting souvenirs at La Passe before returning to the ship.
Our afternoon will find us on the ocean again, heading to Moyenne island, opposite Mahe, where we will anchor overnight.
Nov 12   Friday  Moyenne Island – Mahe, Inter Island Quay   B/L/D
In the morning, we take a short guided around Moyenne Island, a place known for its protected flora and fauna. You should take advantage of our last opportunity for snorkeling and swimming. In the afternoon, we'll celebrate with an on-deck BBQ before leaving Moyenne Island for Mahe's Victoria Port in the afternoon.
We'll reach the Inter-Island Quay of Mahe by late afternoon and enjoy a Captain's farewell dinner with live music and dancing. We overnight in the Victoria harbor
Nov 13   Saturday –  Disembarkation     B
Enjoy our final breakfast we say goodbye to a voyage well done and transfer to Mahe airport.  Some may want to add a stopover in Paris on the way home.
Cruise prices  are per person twin share
Cat C  $2790 +  port charge
Cat B  $3090 + port charge
Cat A  $3590 + port charge
Cat P  $4090 + port charge
Port charge is $450pp
Deposit $400
 Not included:  Gratuities
Group Air:  None due to small group size.  Below is a suggested air you can get.
NOV 4 JFK-DXB 11PM-7:45PM
NOV 6 DXB – SEZ 2:30AN – 7AM
NOV 13 SEZ – DXB 11:450PM – 4:20AM
NOV 14 DXB – JFK 8:30AM – 1:55PM

 All prices are per person twin share.  Single rooms limited per group and a single supplement applies.  Cost set by hotel/cruiseline and vary considerably.  AFS will find you a roommate match. All hotel rooms are "run of house."  

Please review AFS Terms and Conditions as well as Heading Abroad with AFS.  

Land – Price based on a minimum number of trip participants, as well as local currency exchange rates which can fluctuate.

We write our itineraries over a year in advance. Though unlikely, we always reserve the right to modify schedules, tours and 

hotels if necessary. 

Group air – Airlines may add surcharges to offset fuel inflation or taxes. The total ticket cost is not final until we receive your final payment and the group is ticketed. If doing own air, airport transfer may or may not be included depending on your air schedule. Do not buy air until the group air is set or we advise – though unlikely, airlines, times and dates can change!
Print

Imagine a place far from home that feels just like home, where the borders are delineated by the golden shores of the sea; and home is wherever the anchors drop. Imagine 147 feet of comfort, beauty, and safety classified by the latest International "Safety of Life at Sea" (SOLAS) standards. Imagine your floating home onboard the sleek, classic double-hulled Mega Yacht that sails the seas under the name PEGASOS, waving her flag through the wind. Discover the world by sea at 10 knots per hour, in her un-rushed pace, one island or seashore at a time. Pegasos loves to seduce her select 44 guests with her simple lines and comfortable lounges redefining what yachting was meant to be. A spacious lounge with ample space, dining areas decorated with warm colors, large windows offering pristine views of all destinations, shaded areas and outdoor bar and lounges are just some of the elements that define her essence. 360° views of the unobstructed ocean are your eyes' canvas painted with ocean blue and deep green mountains. Mingle with like-minded travelers in our public areas, enjoy a moment to yourself in our ample deck space, or retreat to one of our 21 ocean view cabin sanctuaries all offering windows connecting you with Mother Nature's wonders. Pegasos' experienced crew of 18 is trained with hospitality at heart to pamper her guests and guarantee the ultimate home away from home experience.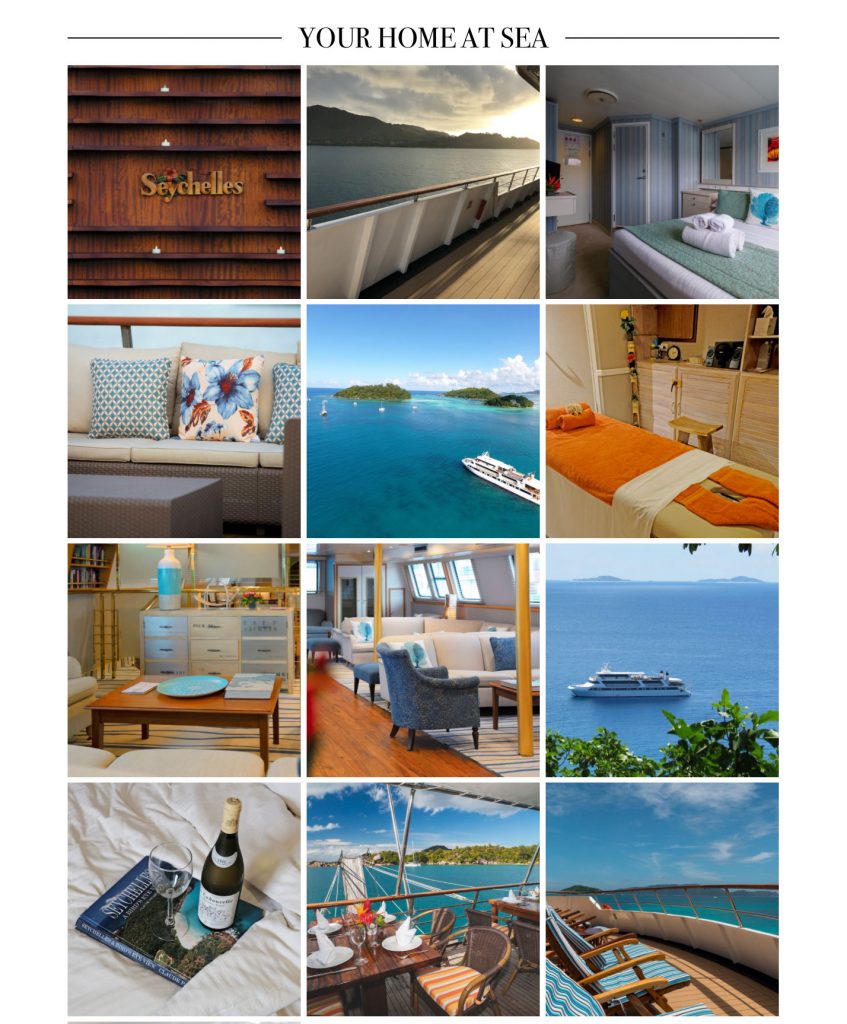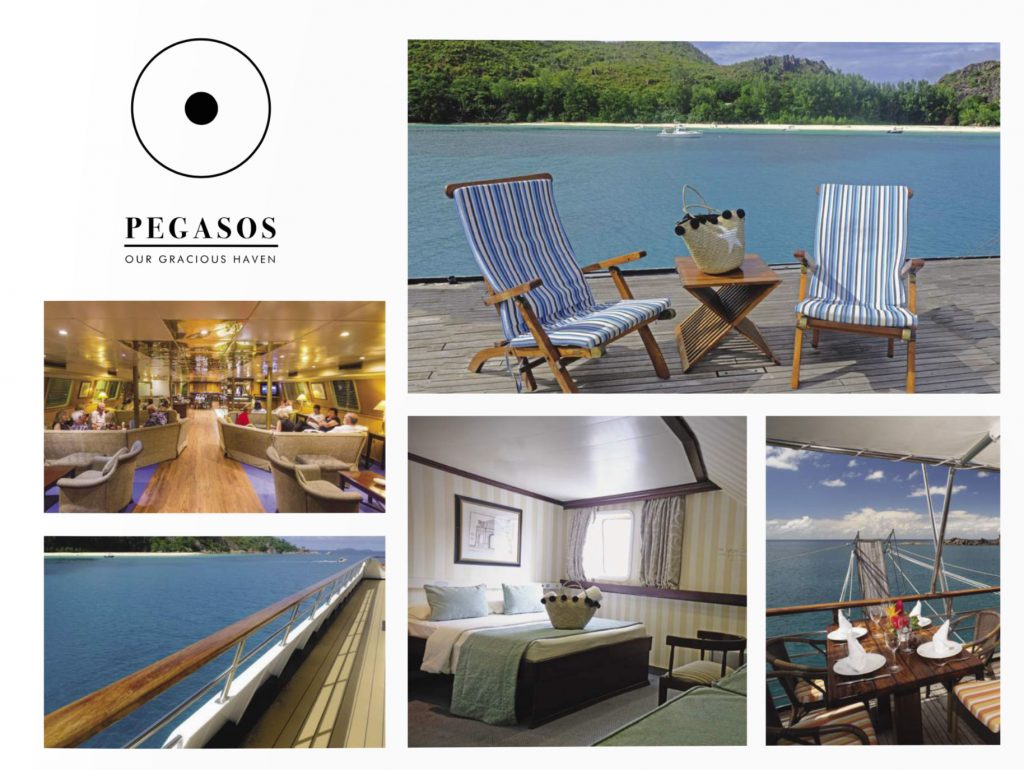 CABIN DESCRIPTION  Priced per person + $450 Port Charge
 All prices are per person twin share.  Single rooms limited per group and a single supplement applies.  Cost set by hotel/cruiseline and vary considerably.  AFS will find you a roommate match. All hotel rooms are "run of house."  

Please review AFS Terms and Conditions as well as Heading Abroad with AFS.  

Land – Price based on a minimum number of trip participants, as well as local currency exchange rates which can fluctuate.

We write our itineraries over a year in advance. Though unlikely, we always reserve the right to modify schedules, tours and 

hotels if necessary. 

Group air – Airlines may add surcharges to offset fuel inflation or taxes. The total ticket cost is not final until we receive your final payment and the group is ticketed. If doing own air, airport transfer may or may not be included depending on your air schedule. Do not buy air until the group air is set or we advise – though unlikely, airlines, times and dates can change!
Print
Seychelles Trip Tips
On certain journeys, it's more about the route than the destination. Sailing the seas is the ultimate experience for restoration and feeling fully liberated. Yet each day you dock, you'll be surrounded in pristine beauty with time for playful exploration. The exotic Seychelles, 1000 miles from anywhere, is the first nation to achieve Covid herd immunity and is now open to visitors. With 115 islands dotted in the Indian ocean, you couldn't feel more remote.   Smaller is better. Variety's MS Pegasus carries just 40 passengers and holds the highest help and safety protocols since June 2020. Swim uninhabited islands, see incredible flora, visit quaint villages and much more. Our last group loved the cuisines and excursions.  Vitamin Sea in paradise is the perfect antidote for 2021! 
We have a wonderful small group of just 26AFSers. After final payments are in, will send you the contact and room lists. For now, connect on your private Facebook group.  A month out, will be sending you full details in the cruise lines docs.
March 29 update – Thank you for joining us. Together we will adapt to new norms for the privilege to travel. We've guided groups around the world over 34 years. Your safety and well-being is paramount to us. Read our AFS pledge below.  Things are changing weekly in each country now. Airlines are reinstating flights. Safety protocols and entry rules are ever-evolving. No need for you to google country/.gov/CDC sites because these rules will change before your departure.  Our expert and vetted supplier team has the most accurate info which they monitor daily. Will update you here with changes. As vaccines roll out fast now, we hope all restrictions will be lifted by your departure. Relax. Embrace the joy found in anticipation.
It is your responsibility to read our important emails and updated notes to these Trip Tips.  Let us sweat the small stuff as we strive to make your trip worry-free. This may well be the best time to go and fully enjoy
IMPORTANT PAYMENT DATES
2ND DEPOSIT – None
FINAL PAYMENT DUE AUG 5.  We prefer checks for Final Payment. Credit card fees are costly for a small company to absorb. While we build costs into smaller deposits, we incorporate a $60 credit card convenience fee as a line item on each invoice in order to defray processing costs. When paying by check, deduct this $60 amount
Make your payment to AFS or Adventures For Solo Travelers, 1907 Daniel Green Ct., Smyrna GA 30080
—————————————————————————————-
Your fearless GTL (Gracious Trip Leader, not a guide but liaison between our guides and group to ensure things run smoothly.)   Carol Huntington
Carol has been on 20+ AFS trips over the years and has led many of our solo travel tours. She has been a ray of sunlight to each of those groups. She has a passion for seeing the world and experiencing new cultures. Having traveled to over 92+ countries and all 7 continents, she continues to pursue her dream, while working for the past 25 years in the banking industry. Her goal is to build relationships, problem solve and keep clients happy. She genuinely cares for people and is cool under pressure. These are great qualities for the business and the travel world.
During a recent sabbatical, Carol coordinated and lead a once in a lifetime journey around the world, visiting 13 countries! Carol's excitement to discover new things is complimented by her unique ability to get along with and relate to people of all backgrounds. She has a deep understanding of new and seasoned travelers with a knack to inspire all. Carol is all about the experience: from skydiving to trekking with the gorillas in Rwanda, leading a group to climb Mt Kilimanjaro and always making many new friends along the way.
=======================================================
Trip Prep:
Read the revised Heading Abroad with AFS, especially if you are new to AFS.
Ensure your passport is valid 6 months after return date with two blank pages.  We recommend renewing your passport well ahead of any planned international travel. Take a photo of your passport to store in the cloud or bring a copy. Scan your important documents – Covid tests, trip tips, passport etc. If you lose your passport, US embassies now except a digital copy from your email folder on your phone to re-issue new one quickly.
To speed through US Customs download Mobile Passport.  Look in your App Store for details.
Notify bank and cc company of travel dates so they don't block charges.
Vaccines are rolling out faster than ever now. Be patient. I just got mine feeling it will eventually be necessary for travel. Many countries now are eliminating Covid test and quarantine for vaccinated visitors.  Bring your vaccine card.  Don't laminate vaccine card as some countries won't accept it.  You can take photo of both sides and store on phone or copy both sides and laminate the copy.
All airline Covid rules differ.  It is imperative to read your airline rules to ensure a smooth departure!   It's your responsibility to know the airline rules that can change right up to departure. They won't speak to us with reservation in your name. All websites post their Covid rules at top of landing page. All airlines in the process of making significant routing and scheduling changes now as they scramble ramping up hiring for the travel surge to come. How to reach them?  Call direct or request a callback time. Check to see if your questions can be resolved on the airlines mobile app or via Twitter or turn to their social media for assistance. Travelers get best results via Facebook message to the airline.
(VISA or SHOTS INFO – only if required)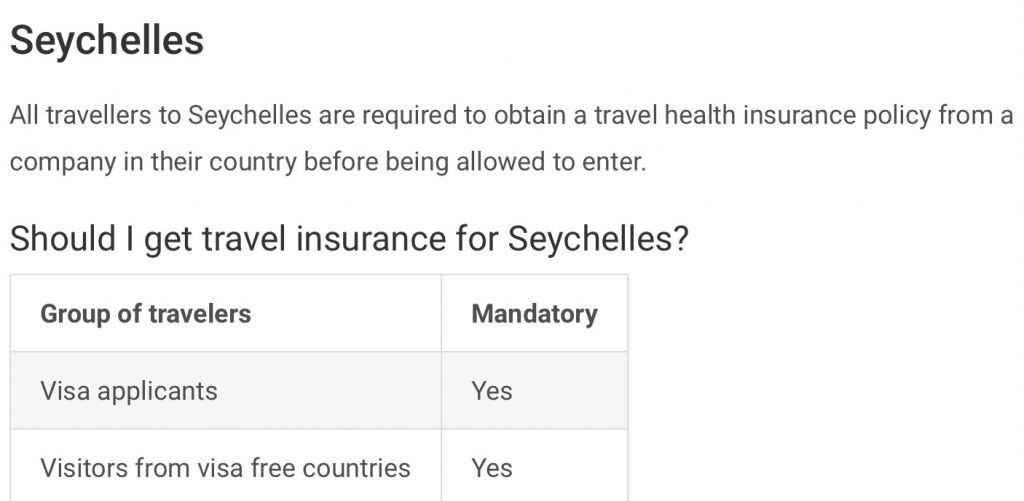 Fitness level – 2   (No trouble walking.)
Air Update:
May 28 we sent an email to all about group air round-trip New York to Mahe. Emirates was the best schedule and price at $895 over other carriers. Sadly, half never replied to the email and only three said they wanted it. Therefore I, unfortunately, released my 18 seats held.
Please get your air now. There are a few airlines with seats to SEZ and prices are expected to soar. (I bought 3 international flights today for personal business trips this fall because they are affordable now.) Without group air, there are no transfers or day rooms at hotel the last day as all will arrive and depart at different times now.
Embark boat November 6 at 2 PM. Fly in a day early to relax and ensure you won't miss the cruise departure. Please read the
Trip Tips
, on air. Variety uses Eden Blue Hotel in Mahe, but there are countless other hotel choices.
November 13 disembark 9 AM. Most USA flights leave in the evening, so you may need a day room hotel. Flights via EU depart in the afternoon.
Transfer – take taxi or Uber to pier. Our boat hasn't been assigned to a specific pier yet appeared yet. About a month out, you will get all the details on everything. Variety cruises at half staff now working three days per week. So please be patient. I'll be updating TripTips and emailing you with news as it comes into AFS. Also, my Covid test section in Tips will change, so do nothing except get your air now. More to come.
Air –  No group air at this time due to small group size. If demand we nay offer later.   We find few people book our group nowadays as they find better rates on own direct from hometown.  This provides you better flexibility to go early, rest up or extend to explore more on own.  Emirates has good connections via Dubai from JFK with no forced overnights to fly Nov 5-13.
For cruises, it is wise to arrive a day early. So you'd leave USA Nov 4 and embark ship 2PM on Nov 6.    (There are dozens of affordable hotels and Airbnb's even with airport shuttles. Connect with your group FB page on sharing. Do you have points? Hilton Labriz and Kenpinski resorts are stunning.)  Embarkation begins at 2 PM on November 6!
Note the ship docks the last day on November 13 at 9 AM. Please allow three hours before your flight back to USA.
Trip dates are firm.  We like Google Flights and Skyscanner.  Get your air USA to Mahe.  Depart November 4 from USA or earlier to land November 5 Mahe.  Airlines to consider Emirates, Air France, Turkish, South African, Qatar or BA.  If you need help getting your own air, call our friend Raj who's an air expert, (281) 912-9173  raj8travel@gmail.com . Give him your exact airdates, destination, passport name and details with birthdate.   All should check airline websites often for any new CV news or schedule changes.  Airlines or the country may require a Covid test prior departure.  See testfortravel.com  –  more later.
New:  In today's air & hotel landscape, avoid booking tickets on third-party booking engine is like Expedia, Google Flights, hotels.com and more! You'll never get a refund and it's near impossible to change your ticket. Use sites only to view air prices. Then go directly to the airline  or hotel website and book through them for your best protection and price.
• Air update (June 2021). Everyone, check your flights! Airlines are canceling routes left and right now, Many won't even inform you by email that there's been a change. If your flight has been canceled, they MUST rebook you book on any other carrier to accommodate your schedule. Stand firm. If you're not getting anyplace ask for their supervisor.   (Good news, conversely many airlines are adding other new routes which be a better fit for you.)  
Suggested Flights on Emirates 
EK 202     04NOV JFK-DXB     1100P- 745P (05NOV Next day)
EK 705     06NOV DXB-SEZ     235A- 705A
EK 708     13NOV SEZ-DXB      1150P -420A (14NOV next day)
EK 201     14NOV   DXB-JFK     830A – 155P
DXB = Dubai, SEZ = Seychelles
You embark ship 2PM Nov 6.  Most wise to book hotel pre-cruise.  Variety uses the Eden Blue Hotel in Mahe, but there are hundreds to choose from.  Nov 13 all disembark at 9AM.  Most flight depart to USA in evening.  You can consider a dayroom at a hotel.  When docs arrive about 3 weeks out, full details will be provided on pre and post land arrangements and transfers.
Transfers–  Will advise nearer departure.
Baggage– Think light to ease your burden, not like you're fleeing your homeland.   1 carry-on bag & 1 medium suitcase not to exceed 45lbs .  This weight limit is set for our porterage and luggage vans.  If you overpack by adding side pre-or post-trip luggage, make prior plans as to where to stow the excess luggage. You may be responsible for any overage charges. The new hard cases are difficult to fit in coach storage. Be sure to attach ID to both bags. Leave space for great souvenirs.
Packing – Light clothing suitable for Seychelles warm tropical climate is recommended and visitors should prepare themselves for relatively hot, humid atmosphere. Also expect plenty of sun. Bring hat, sunglasses and UV protection. It's important to remember that even an overcast days the tropical sun is still strong. Wearing a T-shirt for swimming or snorkeling is a good idea. Walking shoes are recommended.  Read Packing 101 in Heading Abroad with AFS https://www.afstravelers.com/heading-abroad/
Pack your hygiene kit and munchies in clear plastic bags.  Airport and inflight food service may be limited.  This trip is so easy. Simply pack summer clothing with a light jacket for nights and long flights. Think umbrella, daypack, wide-brim hat, sunscreen, comfy sneakers, … swimsuit, beach gear, wet shoes, gifts for local children, etc.)
Electric– Seychelles uses British standard three pin plug.  Don't forget a portable backup charger, cords, gadgets, etc. Cell phones and tablets do not need a converter; you only need an adapter plug.  AFSers often leave charger cords in room, so be sure to double-check your room before check out. Ship has hairdryers.
See  https://www.power-plugs-sockets.com/
————————————————————————————–
Money Matters – You will need some cash for personal tipping, meals, and shopping. $500 in cash should suffice. (Venmo may be convenient at home, but useless overseas, ATM may eat your card.  Always bring some cash!  Wise to have new crisp bills.)   Change currency arrival at airport, bank, or hotels or withdraw local currency from an ATM.  Note -independent ATMs are risky due to skimmer scams. Safest ATMs are at airport and banks. Always shield your pin number when entering. Avoid using unless it's an emergency.
Currency  Exchange Rate  $1= 20 Seychelles rupees
Follow the link below to create a conversion cheat sheet
Be sure you bring New Bills (dates after 2013) as countries may not accept older bills when changing money.
Credit cards are far safer than using your debit card. I convert half of it upon entry. I use my credit card for most purchases.  Many cards now offer no foreign transaction fees.  US dollar is excepted as well as other major international currencies. Visitors to the island can use foreign currencies or Seychelles rupees. Exchange rate will be done at the market. Smaller shops will only take rupees. Credit cards are widely accepted.
Gratuities – The ship will add gratuities on to your bill.  At present, average is 13 euros per day.  Most charges in restaurants, hotel, taxes, porters etc. include a 5 to 10% service charge or in "tip", so tipping is not obligatory in Seychelles. However, if service is stellar a normal tip is warmly received.
—————————————————————————————-
Communication– Internet is available. With smartphones, be sure to check with your provider for rates and coverage for international phone plans before departure. Data Roaming rates can be expensive. To reach home – Texting, iMessage, WhatsApp, and Facebook messaging when using WIFI. Be cautious using public Wi-Fi without using VPN. Without VPN never open attachments or view financial or personal accounts on the Internet while abroad.  Phone calls, text messages, and data usage of all kinds, it is crucial to understand that, unless you are connected to Wi-Fi, every use of your phone incurs a data toll. That means that viewing and downloading email, browsing the web, viewing social media, and mapping all incur data charges, as do applications that we sometimes assume to be "free," such as Skype and WhatsApp. Unless you are connected to Wi-Fi, however, WhatsApp is using cellular data, so you are getting charged at your provider's international roaming data rate.  You can buy a SIM card or another option for affordable data in many countries abroad is Skyroam. All the data you want to use Bluetooth for to access your devices are for just $10 per day for 5 devices. See https://www.skyroam.com for details.
Get Smart: Avoiding Hackers on Vacation.  Thieves not only want your money but also your data.    Change passwords often. Check device security settings before you leave for your trip. Back up, update, and encrypt your devices and data using a virtual VPN.
In hotel rooms, hide iPods or laptops to avoid "evil maids" that want to clone your tech.
Bottled water is always best abroad, as our gut isn't accustomed to local tap water. Eat clean food and avoid street vendors.
Pickpockets are everywhere now, especially at night.  Never carry your passport outside of the room.
It's wise to grab a business card from the desk before heading out on own.  To get back just show the card to a taxi driver- no memory or English needed.
Do's & Don't – Resist the urge to collect seashells along the beaches as many are use as habitation for hermit crabs. Collecting shells is prohibited in nature reserves & marine parks. The unique and unusual tropical flora is beautiful and for it to remain so, it's important that you admire it, but leave it for others to enjoy. Any flora taken as souvenirs must be have a certificate and an official export permit which must be produced, when checking in at the international airport.
Photography – Before taking pictures of locals, know it is polite to ask.  Your AFS Private Facebook Group Page is a great way to share your best shots with each other. AFS loves photos with group participants (not typical churches, monuments, or any shot that looks like you pulled it off of the net, etc.) for our website. The best photos are ones that include a group member with a local, children, animals, or at iconic sites in the same frame!
Websites of Interest:  Seychelles Travel – Official Tourism Website of the Seychelles
Chewing-  Delicious and fresh!   Seafood, fresh tropical fruit, lobster, shell fish, creole dishes, curry dishes, breadfruit.  Rum, Seybrew beer, Kalou – a fermented wine from coconut trees, South African and French wines.   Also, tea, lemonade, ginger ale.
Roomies – Single supplements have significantly increased and not available on this small ship.  We all live alone, but save money when traveling by rooming together. Suzy spends a lot of time on roommate matching.  99% of our clients are wonderful and you're only in your room to sleep at night.   Note, kindness begets kindness.
Leisure Time –  For your free time, it's best to arrive and ask our local expert guides for suggestions.  We notice many newer clients pre-plan many activities on the AFS trip well before they arrive, often with disappointing results.  Our daily itineraries are pretty full, but there will be some free time. Expert travelers revel in the element of surprise in a new destination and allow the wind to blow them where it will. Use Google Maps on your phone to find everything nearby.
Amending tour pre-or post-trip or arranging private tours during free time.  We often see many AFSers on Facebook urging others to join them to countries before/after our trip. Stopovers are great to add but understand AFS has nothing to do with this and is not responsible for the quality of these trips.
Private Facebook Group Page  –  The benefit of the Private FB Group Page is that you have an opportunity to introduce yourself to your fellow travelers before departure and share trip photos during and after the tour.  Where can I find the FB link? Ask us for an invite.
(We found that some never read the Trip Tips jumping right to the Private FB Group Page assuming they will get all trip info needed. Often, they only receive rumors and misinformation. All important information is ALWAYS emailed to each participant and posted here in Trip Tips under UPDATES. Nobody misses a thing.)
Emergency Contact – AFS Phone 770-432-8225, or email us at https://www.afstravelers.com/contact-us/  and more contacts will be provided with your Final Docs email 2 weeks before departure. Your guide can handle all home for true Emergency.  Do not expect to use your trip leader's cell phone; you'll need to use your own cell phone.  3 weeks prior to departure more details on this will be emailed.
Cancellation Penalty – At booking, we sent you our terms and conditions. Open the following link to review our terms again: https://www.afstravelers.com/terms-and-conditions/
Travel Insurance– If you would like the security of travel insurance and have a pre-existing condition (elderly parent, medical, etc.) or want to be covered for Covid caused delays, you must purchase insurance within 15 days from your initial trip deposit in order to assure full coverage.  The trip cost can be amended or adjusted as needed after your initial purchase (eg. adding an air ticket cost later). You can buy travel insurance at any time, just know that there may be some possible limitations if purchased outside the 15 day period.  Before purchasing, we suggest you phone an insurance agent to discuss your exact policy coverage needs related to all things Covid.
Travel Psychology 101  – Prepare for your departure joyfully with no contempt before investigation upon arrival. Please understand that with travel, things are not like at home and changes may occur. Great trips work best for those with an open mind, flexible attitude and adventuresome spirit.  If changes occur, embrace them with serendipity. Who knows?… The unexpected may prove to be a better experience.  Adapt and go with the flow with a laid-back attitude.  Be spontaneous. Be tolerant of foreign cultures in respecting their centuries of traditions. Embrace the differences. Be curious, not shy. Smile – locals will sense your energy of kindness and kindness always begets kindness.  Our common goal is to experience different cultures, make new friends, get great photos, have large fun, and return home safely with memories worthy of recollection.
The best spirit of an Explorer requires the openness of a child – Suzy
"When traveling, remember that a foreign country isn't designed to make you comfortable.  It's designed to make its own people comfortable." – Clinton Fadiman
Please note that AFS is non-partisan – With our homogeneous groups, we all want to focus on the common denominator – our love of travel.  In today's divisive world, we suggest members not discuss politics and if you must, please practice my rule of TOK:  Tolerance, Open-mindedness and Kindness.
Covid News
Book AFS with Confidence 2021– The health of our Travelers comes first. As the world slowly opens, we are dedicated to creating responsible adventures!  All our trips are different, so specific plans in each region may be circumstantial. We work closely with our local suppliers to know the best practice in each country. That being said, we present a blanket procedure below to be followed on ALL AFS trips. Our local guides will brief you on arrival with the support of our Trip Leaders to ensure we follow local safety protocols. They are fully committed to aiding your well-being.
We will re-discover the world through more slow, easy and mindful travel. Our groups will be smaller.  All clients must take the AFS pledge that they are Covid free and will follow all safety protocols.  Booking travel now is complex because rules always change. Tour companies can't become "health and safety experts" when policies are inconsistent. Even experts are in the dark at times with the changing patchwork of government laws, but we'll do our best.  This is a learning process for all of us and as we go, we will strive to make each step as safe and seamless as possible for you.  Read all below on AFS detailed Terms & Conditions.
Thank you for booking! We are blown away by the support from all of you throughout this pandemic. It validates the trust and values AFS was built on over 30 years. As countries reopen, so will we. Travel is a shared experience. Together we press on and travel boldly. Below are new guidelines. We all must adapt and embrace any challenges with confidence for the freedom and privilege to travel.
As in life itself, travel comes with some inherent risk the minute we step out our door.   Travel isn't dangerous. Being irresponsible is. For your protection we want you to be proactive in following new health and safety protocols. They involve teamwork and personal responsibility, but they do not preclude you from having fun and enjoying your trip! Things constantly change and it's a huge challenge for airlines, airports, hotels, cruises and tour companies.  We will do our best to keep you up to date with any adjustments.
RT – PCR Test – This is PCR test with Rapid Test Results within 24 hours.  Most urgent care places offer these.
Please understand we reserve the right to amend any tour activities if needed. To present responsible travel, we at AFS do our part: Our vetted suppliers uphold the highest standards under CDC guidelines.  At present, some international airlines may require a negative Covid test within 96 to 72 hours of departure. Details later as they come.  This may change as rules are always being revised. At present, you need RT-PCR test 72 to 94 hours prior to airline departure. By then, this rule may be eliminated. Don't stress, just refer to this if you need it. I've done 4 free PCR test runs with no problems.  Millions of passengers have gotten their PCR test to fly. You can too! Call your healthcare provider or Urgent Care near you. Or Google "free no cost Covid testing near me". Most state and federal programs provide this. Or Google airport to see if a Test is available there (JFK $75). Rural areas are more challenging. You may need to drive to an appointment in a nearby city.  At present, it's free at Walgreens and CVS. They will bill your insurance company of $119. (Best trick – if you say you may have been "exposed to a Covid person" or if you feel "symptoms" like fatigue or say CDC recommended, it must be free.Call or email to get appointment. Most are drive up. Schedule test within your 72 hours departure window, usually 3 days prior for email result needed in 24 hours. This way you still have a backup day in case you get a false positive. Bringf printed copy.New mail in-home kits – CDC announced today you can bring to do there for return into USA. (We will have tests at our resort if you want.) Note, however, outbound airlines won't accept this for departure.Don't forget to bring your vaccine card if you have one.

If you are in a high-risk group, it is suggested you do not travel.
It is your responsibility to check the resources below as well as your airline requirements for travel. You may need to show proof of wellness note. Click to see CDC , WHO
You may not travel if you have any symptoms such as sore throat, shortness of breath, fever and verify you have not been in contact with someone who tested positive for Covid in the last 14 days.
Safety measures on a trip; frequent handwashing, (bring personal sanitizer), exercise social distancing and wear a mask when applicable.
Helpful CV Resources–  Below are helpful links to facts and stats for you to reference as you gear up for all your travel domestically and abroad.
Facts about coronavirus-symptoms/transmission/precaution/treatment
https://www.who.int/emergencies/diseases/novel-coronavirus-2019/question-and-answers-hub/q-a-detail/q-a-coronaviruses
CDC entire situation summary
https://www.cdc.gov/coronavirus/2019-ncov/index.html\
US State Department Travel Advisories (Often old news)
https://travel.state.gov/content/travel/en/traveladvisories/ea/covid-19-information.html
We at AFS assure you we will continue to offer you quality trips to countries where you will feel protected – countries that are going to extraordinary lengths now to provide a safe visit. Each destination is far less crowded than ever before and that means better personal attention.  Planes are half full and we can trust our astute global suppliers when each country is clear to visit. We're taking great precautions and encourage you to remain positive.
Our Pledge to You – Our global, vetted suppliers uphold the highest standards under new CDC guidelines.
We ensure that heightened sanitation methods have been adopted in every place we visit and that all hotel properties and vehicles have passed cleanliness protocols.
Our guides and drivers must test negative and pass stringent safety measures.
Most of our groups will be limited to half the size of normal in the past.
We are choosing destinations with wide-open spaces for physical distancing.
Some private tours for groups of friends only can be arranged.
We'll monitor your trip closely and provide a 24/7 emergency number if your trip is disrupted.
All clients must take the AFS pledge that they are COVID-free and will follow all the safety protocols.
We relaxed booking conditions with most trip deposits at only $250 and final payment deadlines from 4 months out to 70 days before departure.  This is a learning process for all of us as we go. We will strive to make each step as safe and seamless as possible for you!
Your Pledge to AFS  – We ask you to assume personal responsibility to protect your health and the well-being of your fellow travelers, guides and locals.
Read and print all updated Trip Tips on AFS website
Get travel insurance with trip interruption
Stay healthy with vitamin D and zinc
Confirm within 14 days of departure but you have no symptoms of Covid nor being in close contact with anyone diagnosed with it.
You agree to assume any risk of participating in trip activities, comply with applicable government, airline and health authorities.
Exercise social distancing and local guides directions whenever possible.
Sanitize your hands and phone throughout.
Read more here –  https://www.afstravelers.com/terms-and-conditions/
Rapid COVID-19 PCR Tests
Rules are changing daily! At this time, we must rely on each airlines policy. Read Covid rules at the top of airline website up to a week before departure. Every airline and country differs. 2 weeks prior, will send you final AFS departure letter with instructions specific to your trip. Please wait!
As of January 26, 2021, a rapid PCR test is needed to enter most countries and needed to return to USA. We hope this will be eliminated by the time your trip goes. RT-PCR (by nose swab) is only test excepted. No mailing kits. All tests are free or covered by insurance, but these may have a line to wait. Now appointments are taken. To get fast with no wait, make appointment at private lab. They are now thousands of labs around US. Also, more testing sites opening daily with easy drive through. Just google "Covid PCR test near me".
Outbound – Most airlines require negative PCR test within 96 to 72 hours prior to departure. This new rule makes travel more challenging, but we must follow to protect ourselves and those on the flight. Read specific airline rules on website, also any rules on connections in transit. Those vaccinated still need to show a test.
Get RT-PCR test with guaranteed results within 24 to 48 hours. They email result to you. Print out to bring at check in. Also screenshot copy on cell phone. Test must read "PCR". (We've had nobody test positive yet, if so, call us 770-432-8225. Many tests are inaccurate and a re-test shows negative.)
Homebound – Airline may require negative PCR test to board departure flight. Each carrier differs. We hope this is eliminate by your trip date. If test is necessary within 72 hours of departure, we can help arrange test for group in each country. Details later by email.
MORE INFO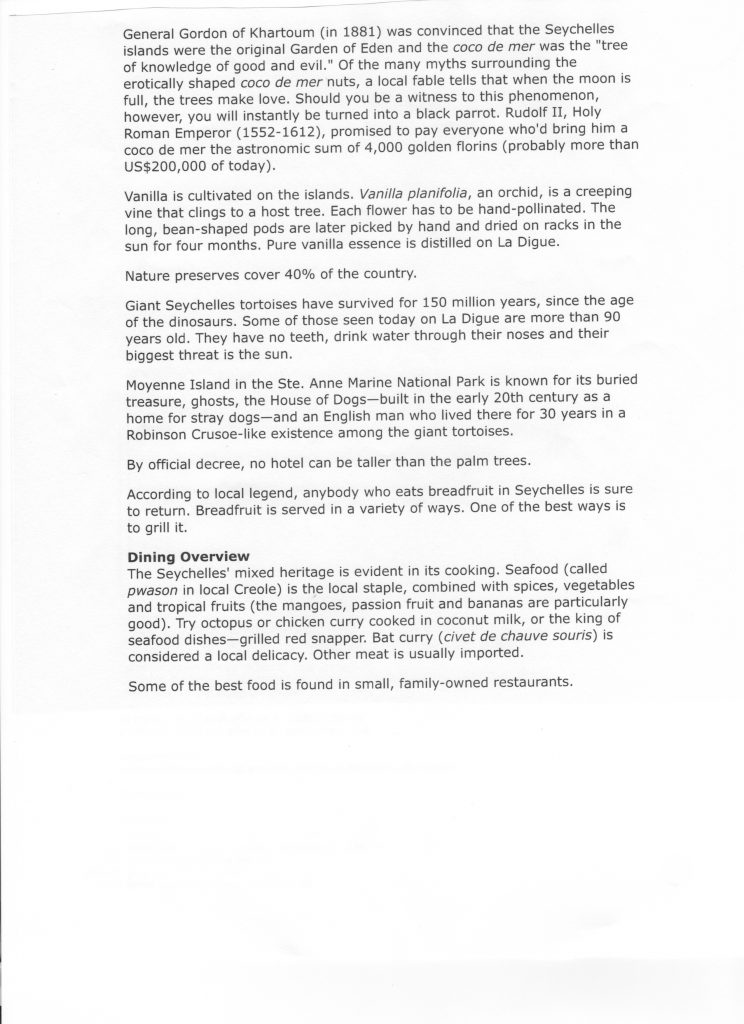 ——————————————————————————————-