All New AFS Bush & Beach African Safari!
July 27 –  Aug 5, 2022 
Small Group of 16 max
The world is talking about it – it's hot and spectacular! Shalati Train on a Bridge over the Sabie Sands River in Kruger is voted "Africa's most exciting new property" by Conde Nast. Imagine deluxe re-designed vintage carriages perched high on a century-old bridge overlooking a spectacle of wildlife on an endless horizon.  From waking to a glorious sunrise until you sleep under a star-studded sky, herds of elephants, rhinos, hippos, cape buffalo and more roam freely below you in tranquil silence. There's no fences in famous Kruger. Animals drawn to the river are most dense in this part of the National Park. We are inside the park and on a private concession, so we're out on our game drive before safari vehicles crowd the scene. You'll love your luxury suite but mind the monkeys! Join the action of game drives day and night when predators are most active. Later enjoy the spa, high tea, the most creative cuisines in all South Africa and much more.

We continue south to experience the cultural warmth of Mozambique. First, a visit to the bustling capital of Maputo with its Portuguese vibe-so exotic, so friendly and best handicraft markets anywhere. You'll love our Southern Sun hotel, a haven for diplomats, but time to move on.  Private boats whisk us over the azure Indian Ocean to our own private island for 3 glorious days! It's "barefoot chic" at Machangulo Lodge, a hidden gem set in a lush marine reserve. Your villa is perched high in forested dunes with incredible views of outer islands to explore. The entire lodge, reserved for AFS, sits on an endless white sand beach.

In the Presence of Whales –  enjoy snorkeling, diving, boat trips and sea kayaking to Flamingo Bay.  We add a sunset Dhow Cruise, AFS picnic off Inhaca Island, a "surprise joy-bomb visit" to a village school and more for you.
So impressed after my personal site inspection here of these 3 amazing regions; I can't wait to share this with you!  We secured for you the lowest rates with nearly all meals, game drives and activities included. Small group limited to only 18 fortunate travelers. Seek the unique? This departure from our conventional African trips is a Safari and Surf Vacation of a lifetime.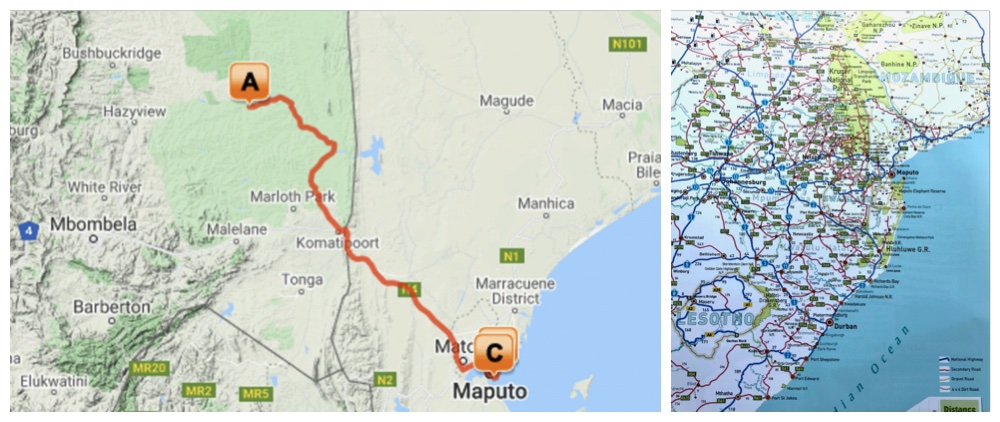 What is Shalati? 

A perfect combination of inspired history, magnificent views, total luxury and all completed with exceptional food and the incredible wildlife of the world-famous Kruger National Park.  Just completed, this train stands permanently on the Selati Bridge hovering above the Sabie River, paying homage to the first visitors to the Kruger National Park over 100 years ago in the 1920s who would arrive at the Park by train at this point.  No money was spared, the glass-walled luxurious rooms give you the feeling of being suspended over the river with endless views to the horizon. Sit on your private balcony hovering over the river watching the elephant and buffalo come down to drink.
In-room facilities:  Air-conditioning, Butler Service, Coffee/Tea Station, Complimentary Wi-Fi, Fully Stocked Mini Bar, Hairdryer, Wardrobe, Lounge, Juliet Balcony (Train on the Bridge), In-room Amenities, In-room Dining (07h00 until 21h00), Laundry Service, Electronic Safe, Full Bathroom Inclusive of Shower, Luxurious Bath, Privately Enclosed Toilet & Double Wash Basins.

Machangulo Beach Lodge, in the South of Mozambique, offers blissful barefoot luxury. This is a unique AFRICAN beach paradise, surrounded by 5 marine and nature reserves on the edge of a secluded peninsula across the bay from Maputo. It offers kilometers of untouched beaches, untamed nature and a range of exciting activities. It is a family-owned lodge with only 9 ocean view rooms
Boat Transfers  – Arrive at Machangulo Beach Lodge with a scheduled boat transfer (60 – 90 Minutes) from Maputo. Upon arrival at the lodge, the boat will stop in shallow water and you'll be required to disembark into ankle-deep water, please be prepared to wade in this shallow water.
Room facilities:  Rooms are connected by walkways and staircases to the main buildings and the beach. All rooms have the following features:  Spectacular views, Private en-suite bathrooms, Air-conditioning (24/7), Mosquito nets, Telephone to connect with reception, Private decks/verandas, Tea & coffee making facilities, Mini-bar, Ceiling fan, Hairdryer,  Room safe, outdoor shower.  Lodge facilities:  The deck and pool provide that perfect gathering setting for the traditional African "Sundowners", celebrating another beautiful day on the Machungulo beach!  Central lounge area with satellite TV.  Central dining area,  Dining: Freshly caught seafood, local Portuguese bread topped off by the local Mozambican beer.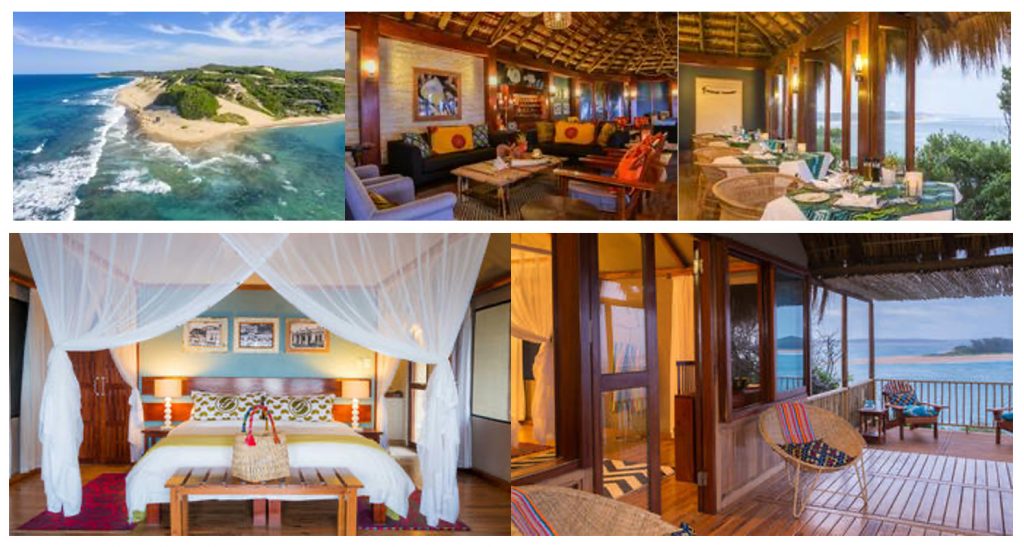 Southern Sun Maputo

The bustling city of Maputo with all its vibrant colors and flavors provides a great one-night stop en route to Machangulo.  Southern Sun is the only on-the-beach hotel in the city, with grand surroundings of mosaic floors and vaulted wooden ceilings inspired by Maputo's architectural past complemented by familiar and welcoming homely comforts like free uncapped WiFi and big beds with ocean views. Beach and Indian Ocean views are framed by tall palms and green lawns, best enjoyed from the outside sundeck and infinity pool. The hotel's location on the Avenida da Marginal means airport arrivals take as little as 20-minutes

Our wonderful hotel has large lawns bordering the beach, a pretty pool and sun-deck, 24-hour fitness center as well as a small salon and shop, bar area, 2 restaurants on-site (Deco's Bar & Terrace encourages lounge-relaxing and sundowner appreciating while Evolve restaurant changes with the mood to suit the menu)   Room amenities: Comfy beds, climate control, free uncapped WiFi, 24-hour room service and concierge attention, a stocked mini-bar, flat-screen TV with local and international channel choices, comfy chairs for relaxing, and en suite bathroom.

Our Glorious AFS Itinerary

Print
July 27 or 28-  Depart USA to South Africa.
Depending on different air schedules depart 27 or 28. Go in a day early to rest in Jo'burg. Detailed trip tips will come on all.
July 29 to Aug 1 (3 nights) –  Kruger Shalati, Southern Kruger
Our land tour officially begins July 29 when we meet at Johannesburg OR Tambo International airport at 8AMfor flight 4Z861 departing at 10h05 to Skukuza , arriving at 11AM. This quaint little airport welcomes you directly to Skukuza in the World renowned Kruger National Park.

Kruger National Park   Where nearly 2 million hectares of unrivaled diversity of life forms fuses with historical and archaeological sights – this is real Africa. The world-renowned Kruger National Park offers a wildlife experience that ranks with the best in Africa.  The southern area of South Africa's most famous game reserve, the Kruger National Park, is known as the 'Southern Circle' and is renowned for its rhinos and lions, with different prides boasting an array of different hunting techniques and behaviors to observe. Near the Hippo Pool, visitors can view ancient San rock paintings. The Southern Kruger offers incredible game-viewing opportunities and magnificent landscapes covered in African bushveld and savannah.
Permanently stationed on the historically rich Selati Bridge above the Sabie River in the iconic Kruger National Park, Kruger Shalati offers the most unique luxury accommodation in a re-envisioned train.  The train accommodation offers 31 rooms, consisting of 16
carriage rooms, each of which is designed to ensure breathtaking views and comfort. Each room is designed with local art and crafts to celebrate Africa's beautiful designs. Aligned with the floor level of the train lies a deck with a pool, offering guests the unique experience of taking a dip while watching crocodiles, hippos and elephants just meters below.
Click here to view iBrochure of Shalati 
Each room has a king-sized bed (which can be converted to twin beds) and en suite bathroom (with shower and bath) with magnificent views through ceiling-to-floor glass walls. There's a small lounge area with a Juliet balcony, as well as all the modern convenience to ensure a fuss-free stay. These include a fully-stocked mini-bar, air-con, WiFi and butler service. Access to these rooms are via a walkway on the bridge.  All meals included.
Two complimentary daily game drives (morning and evening) are offered when predators are most active.  Spa, High Tea, Bushwalk and more.
Aug 1 – 2   Welcome to Mozambique-  Southern Sun Maputo    B
We depart Kruger Shalati after breakfast and transfer 5 hours to the Mozambique border post and on to Maputo. The bustling city of Maputo with all its vibrant colors and flavors provides a great one-night stop en route to Machangulo.   Brief orientation tour of Maputo before heading to the hotel.
Mozambique's capital, Maputo, is known for its well-preserved Portuguese colonial architecture. Previously called Lourenco Marques, Maputo is Mozambique's largest city and home to the country's most prominent harbor. It is well-equipped with a wide selection of hotels, supermarkets, restaurants, a vibrant cultural scene and open-air sidewalk cafes lining the streets. Visitors can stroll down the jacaranda-lined streets of the Baixa neighborhood in the Old Town, explore the Praca da Independencia square, discover the neoclassical City Hall and view the unique bronze-domed Maputo Railway Station.
Overnight Southern Sun Maputo
The rich Portuguese heritage of Maputo flows through the décor, detail and hospitality of Southern Sun Maputo. Southern Sun is the only on-the-beach hotel in the city, with grand surroundings of mosaic floors and vaulted wooden ceilings inspired by Maputo's architectural past complemented by familiar and welcoming homely comforts like free uncapped WiFi and big beds with ocean views.

Aug 2 to 5  –  Machangulo Beach Lodge, Santa Maria   F/B
Transfer to the harbor for your 1-hour boat transfer across the Bay to Machangulo Lodge.  I spent 4 incredible days here and didn't want to leave. The food, the fun, the serenity and the kindest staff on the planet!   Machangulo Beach Lodge offers blissful "barefoot luxury."  This is a unique AFRICAN beach paradise, surrounded by 5 marine and nature reserves on the edge of a secluded peninsula across the bay from Maputo. It offers kilometers of untouched beaches, untamed nature and a range of exciting activities. It is a family-owned lodge with only 9 ocean view rooms.
The Santa Maria Peninsula, also known as the Machangulo Peninsula, is home to the little village of Santa Maria, which overlooks the beautiful Maputo Bay. Set amidst the mangroves, this little village oozes authentic Mozambican charm with its local restaurant and traditional market stalls.  Upon arrival, we set sail on a dhow cruise in an authentic vessel at sunset for a perfect welcome.

Activities on offer include :
Today we enjoy an AFS beach picnic and snorkeling at pristine Portuguese Island.
Miles and miles of pristine beach walking
Picnic walks and drinks on deserted beaches.
Spa with incredible views and authentic treatments.
Snorkeling with incredible house reefs
Boat-based whale watching trips can be arranged
A boat trip to Inhaca Island for lunch can also be organized
A visit to the closest village market, always packed with a joyous atmosphere
Full PADI SCUBA dive center with complete dive equipment and boats available.
World-class deep-sea fishing from extreme big game action, to first-timers.
Fishing from the shoreline
Kayaking and stand-up paddle (SUP) boarding.
Dhow (local sailing boat) sailing adventures
Guided cultural tours of Santa Maria Village.
Pansy Island and sandbank tours.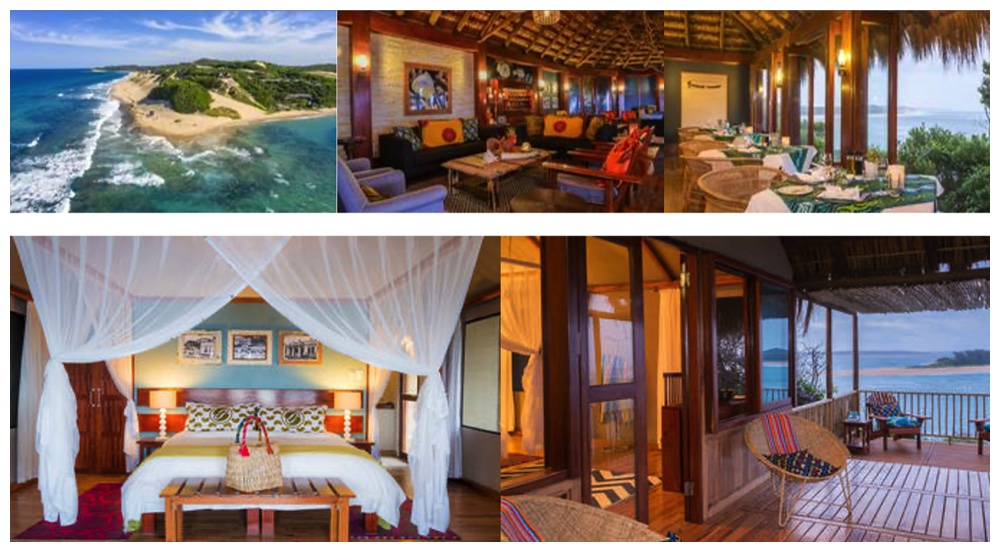 The lodge features 9 ocean-front rooms, a fully equipped activity center and plenty of amazing spots to enjoy the unique views of the Indian Ocean and Inhaca Island. Surrounded by 5 marine and nature reserves making this  a unique African beach paradise.   Includes all meals and non-motorized activities from the lodge such as sea-kayaking on Flamingo Bay, AFS picnic in Inhaca Island, sunset dhow cruise, village visits and more!
Aug 5 – We say goodbye to paradise.  After breakfast, boat transfer to the mainland Maputo airport for your out   You can either fly on Qatar directly out of Maputo or fly back to Johannesburg for your flight home. ( Remember we took the flight MPM/ JNB out so they could fly directly out on Qatar.) Flight departs at 3:30PM from Maputo , arriving 4:30PM in Johannesburg airport perfect time to catch all international flights home.


Land Price $3998 pp twin share plus $90 pre-paid gratuities for guides and lodge staff.  Final payment due April 29, 2022
Deposit $600
Limited to 16 participants
Includes: AFS GTL,  all meals and tours listed, entrance fees, safari vehicles, lodges, ranger guides
Not included:   visa
Group Air:  Small group no group air   Details in Trip Tips

Land prices per person twin share. Trip price based on a minimum number of participants.

Single rooms limited with $ supplement.  Cost varies.  Email us for availability.  AFS will find you a roommate.

The earliest we present group air is 10 months prior. We'll send email to ask who wants it.  A minimum number of 12 is needed.

Please review AFS Terms and Conditions, Heading Abroad with AFS, Covid Policy.  Travel insurance is important nowadays.  It's rare, but we reserve the right to modify schedules, tour and hotels.

Read Trip Tips on its own tab next itinerary for latest details. 
Print
AFS TRIP TIPS Kruger Shalati and Mozambique
Please check back for updates.
An African safari is a dream for many. Our clients rate this best vacation experience ever. Something changes you. Maybe it's the vast wilderness, the thrill off dangerous animals or the human spirit of the African culture – it will always stir the senses. Every safari is exciting because you never know what's going to happen. Now is the time to go. African wildlife is being threatened. We may be the last generation to see Africa in her true glory.
We will have a small group of 26.   This is the same classic safari that hundreds of our clients have done. I've had the pleasure of leading dozens of Kenya trips over 30 years. Each was truly amazing. October is my busiest month preparing to next year's tours. I had to choose a trip escort whose personality would best fit this trip.
Prepare to be thrilled by a safari experience like no other.  We have a wonderful small group of solo travelers… We will send you the contact and room lists and access to your private Facebook group once the group is set.
First, we thank you for your trust in booking this AFS trip. Together we will adapt to new travel norms for the Privilege of Travel.  We are constantly adapting to ever-changing developments to ensure you'll have a safe journey.  Carefully read the "AFS Confidence Pledge" below. Our vetted local teams in each city are fully trained in the latest health and safety protocols according to WHO and are happy to greet you.  Things are constantly monitored. Do not Google your destination on State/gov/CDC sites as they are often outdated to the updates our expert suppliers have.
It is your responsibility to read our important emails and updated notes to these Trip Tips.  Let us sweat the small stuff as we strive to make your trip worry-free. This may well be the best time to go and fully enjoy your vacation!
Trip Tips are designed to answer trip-related questions. It's your responsibility to read this information.  Updates and addendums will be posted here.  Check back from time to time.
IMPORTANT PAYMENT DATES
FINAL PAYMENT DUE DEC 27, 2021  Pay by check directly online digitally for no fee. Simply follow the instructions. Credit cards will be assessed a processing fee at time of purchase.  As a small business, this helps mitigate costs and allows us to give you the very best price.
—————————————————————————————-
Your fearless GTL (Gracious Trip Leader, not a guide but liaison between our guides and group to ensure things run smoothly.)  TBA
=======================================================
Trip Prep:
Read the revised Heading Abroad with AFS, especially if you are new to AFS.
Ensure your passport is valid 6 months after return date with two blank pages.  We recommend renewing your passport well ahead of any planned international travel. Take a photo of your passport to store in the cloud or bring a copy. Scan your important documents – Covid tests, trip tips, passport etc. If you lose your passport, US embassies now except a digital copy from your email folder on your phone to re-issue new one quickly.
To speed through US Customs download Mobile Passport.  Look in your App Store for details.
Notify bank and cc company of travel dates so they don't block charges.
Vaccines – I got mine feeling it will eventually be necessary for travel. Many countries now are eliminating Covid test and quarantine for vaccinated visitors.  Bring your vaccine card.  Don't laminate vaccine card as some countries won't accept it.  You can take photo of both sides and store on phone or copy both sides and laminate the copy.  Login to your trip file booking form and answer question about Vaccine Yes (or will) or No.  Suppliers want this info.
All airline Covid rules differ.  It is imperative to read your airline rules to ensure a smooth departure!  Click here for the latest info on PCR tests required to travel abroad.  Failure to get the correct test may cause the airline to turn you away.   It's your responsibility to know the airline rules that can change right up to departure. They won't speak to us with reservation in your name. All websites post their Covid rules at top of landing page. All airlines in the process of making significant routing and scheduling changes now as they scramble ramping up hiring for the travel surge to come. How to reach them?  Call direct or request a callback time. Check to see if your questions can be resolved on the airlines mobile app or via Twitter or turn to their social media for assistance. Travelers get best results via Facebook message to the airline.
The local supplier and AFS may require you sign a Travel Pledge before departure.  If so, we'll email a form to you  prior.
Fitness level – 2   (No trouble walking.)
Group Air with Airport Transfers –  TBA
Air Schedule and Price:  Let us know if you want group air by emailing info@afstravelers.com 
AIR SCHEDULE HERE  CHECK BACK LATER
Check-in at airline counter 3 hours before departure.  Upon return allow 2 hours scheduling your flight home.
 (If No Group Air –  We find few people book our group nowadays as they find better rates on own direct from hometown .  This provides you better flexibility to go early, rest up or extend to explore more on own. )
Doing Own Air–  Trip dates are firm.  You may arrange your own air from your hometown.  We like Google Flights and Skyscanner.  We highly recommend that you not rush to buy air until a Group Air is set (when offered). If your arrival or departure times do not align with Group Air times, you'll need to arrange your own airport/hotel transfers.  If you need help getting your own air, call our friend Raj who's an air expert at (281) 912-9173  raj8travel@gmail.com  Give him your exact airdates, destination, passport name and details with birthdate.  If you go early and check-in AFS hotel before group arrives, it's your responsibility to change rooms with your roommate if necessary day one when trip begins.  All should check airline websites often for any new CV news or schedule changes.  Airlines or the country may require a Covid test prior departure.  See testfortravel.com  –  more later.
Everyone, check your flights! Airlines are canceling routes left and right now, Many won't even inform you by email that there's been a change. If your flight has been canceled, they MUST rebook you book on any other carrier to accommodate your schedule. Stand firm. If you're not getting anyplace ask for their supervisor.   (Good news, conversely many airlines are adding other new routes which be a better fit for you.)
New:  In today's air & hotel landscape, avoid booking tickets on 3rd-party booking engines like Expedia, Google Flights, hotels.com and more! It's too difficult getting refund and it's nearly impossible to change your ticket. Use sites only to view air prices. Then go directly to the airline or hotel website and book through them for your best protection and price.
Transfers-  We get only one airport transfer in and out to hotels and will give you set times closer to departure. Chosen times will be based on the majority of arrivals of airlines. If your flight time coincides with the group, you may take our single airport group transfer.  It's your responsibility to find the group as they exit baggage claim.  If your flight time falls outside the group, you'll need to make your own transfer arrangements.  Consider Uber or sharing taxi ride with group member.
Meet Up With Group- On Day 1 a time will be set to meet the group at the hotel for a briefing. More on this later.
Baggage– Think light to ease your burden, not like you're fleeing your homeland.  You change hotel properties several times. 1 carry-on bag& 1 medium suitcase not to exceed 45lbs – weigh on a bathroom scale – are ideal. This weight limit is set for our porterage and luggage vans.  If you overpack by adding side pre-or post-trip luggage, make prior plans as to where to stow the excess luggage. You may be responsible for any overage charges. So many cool new luggage trackers with GPS available now to prevent lost baggage!  We like LugLoc, DynoTag, Samsung or Apple Trackers.   The new hard cases are difficult to fit in coach storage. Be sure to attach ID to both bags. Leave space for great souvenirs.
Packing –   Check Google Weather a week prior to departure. Temps should be in the 90's.  February is the middle of summer here.  Pack casual summer clothing.  Bring light jacket for plane and early morning safaris.  Read Packing 101 in Heading Abroad with AFS https://www.afstravelers.com/heading-abroad/
Pack your hygiene kit and munchies in clear plastic bags.  Airport and inflight food service may be limited.  This trip is so easy. Simply pack summer clothing with a light jacket for nights and long flights. Think umbrella, daypack, wide-brim hat, sunscreen, comfy sneakers, … swimsuit, beach gear, wet shoes, gifts for local children, etc.)
Electric – Cell phones and tablets don't need a voltage converter, but you will need an adapter plug. Correct wall plugs for South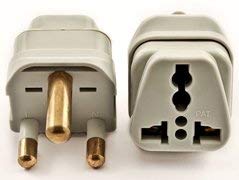 Africa are two or three round pin plug adapters. Buy on Amazon cheap or on airport arrival.
Don't forget a portable backup charger, cords, gadgets, etc. AFSers often leave charger cords in their rooms, so be sure to double check your room before check out.  See https://www.power-plugs-sockets.com
————————————————————————————–
Money Matters – You will need some cash for personal tipping, meals, and shopping. $500 in cash should suffice. (Venmo may be convenient at home, but useless overseas, ATM may eat your card.  Always bring some cash!  Wise to have new crisp bills.)   Change currency arrival at airport, bank, or hotels or withdraw local currency from an ATM.  Note -independent ATMs are risky due to skimmer scams. Safest ATMs are at airport and banks. Always shield your pin number when entering. Avoid using unless it's an emergency.  Master Card and Visa widely accepted.  Amex rarely accepted.
Currency  Exchange Rate  $1= 14 Rand and $1 = 64 Moz
Follow the link below to create a conversion cheat sheet
Be sure you bring New Bills (dates after 2016) as countries may not accept older bills when changing money.
Credit cards are far safer than using your debit card. I convert half of it upon entry. I use my credit card for most purchases.  Many cards now offer no foreign transaction fees.
Gratuities – (Prepaid)  It's protocol to tip our local guides, assistants, porters, drivers and ground staff. Guidelines have increased globally, but around $10 to $15 per day should cover all for the trip.  A $85 total will be added to your invoice. Please understand this is only the suggested minimum.  For ease of distribution, your GTL will tip the different ground services for the entire group each day.
Tipping on own – If service is stellar, feel free to give more directly.  All we tourists leave behind is our reputation. I personally carry a personal stash of US ones in an envelope to draw from as needed. Bell staff/porters – AFSers roll bags to their room.  If you use a porter, please tip $2. Restaurants – 10%. For group lunches or dinners, please leave a dollar or two for waitstaff!
For all the details …
Communication– Internet is available. With smartphones, be sure to check with your provider for rates and coverage for international phone plans before departure. Data Roaming rates can be expensive. To reach home – Texting, iMessage, WhatsApp, and Facebook messaging when using WIFI. Be cautious using public Wi-Fi without using VPN. Without VPN never open attachments or view financial or personal accounts on the Internet while abroad.  Phone calls, text messages, and data usage of all kinds, it is crucial to understand that, unless you are connected to Wi-Fi, every use of your phone incurs a data toll. That means that viewing and downloading email, browsing the web, viewing social media, and mapping all incur data charges, as do applications that we sometimes assume to be "free," such as Skype and WhatsApp. Unless you are connected to Wi-Fi, however, WhatsApp is using cellular data, so you are getting charged at your provider's international roaming data rate.  Facebook Messenger Phone is an easy free way to make calls.
Get Smart: Avoiding Hackers on Vacation.  Thieves not only want your money but also your data.    Change passwords often. Check device security settings before you leave for your trip. Back up, update, and encrypt your devices and data using a virtual VPN.
In hotel rooms, hide iPods or laptops to avoid "evil maids" that want to clone your tech.
Bottled water is always best abroad, as our gut isn't accustomed to local tap water. Eat clean food and avoid street vendors.
Pickpockets are everywhere now, especially at night.  Never carry your passport outside of the room.
It's wise to grab a business card from the desk before heading out on own.  To get back just show the card to a taxi driver- no memory or English needed.
Photography – Before taking pictures of locals, know it is polite to ask.  Your AFS Private Facebook Group Page is a great way to share your best shots with each other. AFS loves photos with group participants (not typical churches, monuments, or any shot that looks like you pulled it off of the net, etc.) for our website. The best photos are ones that include a group member with a local, children, animals, or at iconic sites in the same frame!
Retail Therapy – There is wonderful shopping in South Africa. Even non-shoppers will find themselves tempted by local goodies. Our past groups have come back with the coolest stuff. Sought out treasures are African tribal art, diamonds, tanzanite, masks, beaded anything, wines, painted ostrich eggs, safari wear, and endless crafts. For any items over $60, ask for a VAT receipt to receive a 15% tax refund to be collected at airport departure. AFSers buy all the best African curios on departure from JNB Airport at "Out of Africa". They can't even ship!
Websites of Interest – Google these sites for awesome in-depth info…
Chewing-  South Africa is known for its delicious African and Malay cuisine, seafood, wild game, exotic fruits, great desserts, local beers, and excellent wines. Popular South African dishes include amasi (fermented milk), chakalaka (vegetable dish), Mealie (a maize meal served on the cobb or made into a beer), biltong (a salty dried meat similar to beef jerky), potjekos (vegetable/meat stew), and many other meat-based meals cooked in various ways. Sip on a South African port wine or pinotage, or enjoy a beer made by South African Breweries or an African imported beer.  In Cape Town, the dining buzz phrase to watch for is "Cape Cuisine." It's made up of the finest local ingredients and borrows from all points of the culinary compass. Local delicacies worth trying include crocodile, ostrich and a large selection of game fish (called line fish) – snoek and yellowtail are scrumptious. The selection of local shellfish includes crayfish (Cape rock lobster) and abalone (perlemoen). Samosas are spicy, curried vegetables or meat in a triangular deep-fried pastry. Koeksisters are syrup-soaked doughnuts.  Other local delicacies: bobotie, a spicy ground meat with a savory custard topping; bredie; a stew of meat, often lamb, with vegetables; waterblommetjies a nutty-tasting flower that grows wild in ponds; and stuiwe pap, a firm cornmeal porridge similar to polenta. Tripe (upens) and dried caterpillars (mopane worms) are strictly for the daring palate. The most vibrant African restaurants offer live music to go with your meal.
Accommodations – Please see the itinerary Hotel tab for details.  Hotels can change, but it's rare. You can Google these or see web.
Roomies – Single supplements have significantly increased – if available at all.  Save money and buy yourself an awesome local gift. We all live alone, but save money when traveling by rooming together. Suzy spends a lot of time on roommate matching.  99% of our clients are wonderful and you're only in your room to sleep at night.   Note, kindness begets kindness.
Leisure Time –  For your free time, it's best to arrive and ask our local expert guides for suggestions.  We notice many newer clients pre-plan many activities on the AFS trip well before they arrive, often with disappointing results.  Our daily itineraries are pretty full, but there will be some free time. Expert travelers revel in the element of surprise in a new destination and allow the wind to blow them where it will. Use Google Maps on your phone to find everything nearby.
Amending tour pre-or post-trip or arranging private tours during free time.  We often see many AFSers on Facebook urging others to join them to countries before/after our trip. Stopovers are great to add, but understand AFS has nothing to do with this and is not responsible for the quality of these trips.
Private Facebook Group Page  – The benefit of the Private FB Group Page is that you have an opportunity to introduce yourself to your fellow travelers before departure and share trip photos during and after the tour.  Where can I find the FB link? Ask us for an invite.
(We found that some never read the Trip Tips jumping right to the Private FB Group Page assuming they will get all trip info needed. Often, they only receive rumors and misinformation. All important information is ALWAYS emailed to each participant and posted here in Trip Tips under UPDATES. Nobody misses a thing.)
Emergency Contact – AFS Phone 770-432-8225, or email us at https://www.afstravelers.com/contact-us/  and more contacts will be provided with your Final Docs email 2 weeks before departure. Your guide can handle all home for true Emergency.  Do not expect to use your trip leader's cell phone; you'll need to use your own cell phone.  3 weeks prior to departure more details on this will be emailed.
Cancellation Penalty:  At booking, we sent you our terms and conditions. In short, AFS will refund your deposit less 50% until 8 weeks prior from trip's final payment due date. Any cancellation after this date will result in full forfeiture of your deposit. AFS reserves the right to resell or otherwise use the canceled space at our discretion.Open the following link to review our terms again:  https://www.afstravelers.com/terms-and-conditions/
Travel Insurance– Nowadays we highly encourage all to get standard coverage to cover trip interruption and cancellation.  Call to ask what Covid coverage they have.   Some companies cover Covid related issues. Best source for all is www.insuremytrip.com.   CFAR or cancel for any reason covers Covid but is expensive.  Note that no company covers for fear.
Preexisting conditions – If you would like the security of travel insurance and have a pre-existing condition (elderly parent, medical, etc.), you must purchase insurance within 15 days from your initial trip deposit in order to assure full coverage.  The trip cost can be amended or adjusted as needed after your initial purchase (eg. like adding an air ticket cost later). You can buy travel insurance at any time, just know that there may be some possible limitations if purchased outside the 15 day period.  We like TravelSafe, World Nomads and Seven Corners.
Travel Psychology 101  – Prepare for your departure joyfully with no contempt before investigation upon arrival. Please understand that with travel, things are not like at home and changes may occur. Great trips work best for those with an open mind, flexible attitude and adventuresome spirit.  If changes occur, embrace them with serendipity. Who knows?… The unexpected may prove to be a better experience.  Adapt and go with the flow with a laid-back attitude.  Be spontaneous. Be tolerant of foreign cultures in respecting their centuries of traditions. Embrace the differences. Be curious, not shy. Smile – locals will sense your energy of kindness and kindness always begets kindness.  Our common goal is to experience different cultures, make new friends, get great photos, have large fun, and return home safely with memories worthy of recollection.
The best spirit of an Explorer requires the openness of a child – Suzy
"When traveling, remember that a foreign country isn't designed to make you comfortable.  It's designed to make its own people comfortable." – Clinton Fadiman
Please note that AFS is non-partisan – With our homogeneous groups, we all want to focus on the common denominator – our love of travel.  In today's divisive world, we suggest members not discuss politics and if you must, please practice my rule of TOK:  Tolerance, Open-mindedness and Kindness.
Book AFS with Confidence – Thank you for booking! We are blown away by the support from all of you throughout this pandemic. It validates the trust and values AFS was built on over 35 years. As countries reopen, so will we. Travel is a shared experience. Together we press on and travel boldly. Below are new guidelines. We all must adapt and embrace any challenges with confidence for the freedom and privilege to travel.
We've faced many challenges over decades and the health of our travelers always comes first. As the world slowly opens, we are dedicated to creating responsible adventures!  All our trips are different, so specific plans in each region may be circumstantial. We work closely with our local suppliers and vetted partners to know the best practice in each country. That being said, we present a blanket procedure below to be followed on ALL AFS trips. Our local guides will brief you on arrival with the support of our Trip Leaders to ensure we follow local safety protocols. They are fully committed to aiding your well-being.
We will re-discover the world through more slow, easy and mindful travel. Our groups will be smaller.  All clients must take the AFS pledge that they are Covid free and will follow all safety protocols.  Booking travel now is complex because rules always change. Tour companies can't become "health and safety experts" when policies are inconsistent. Even experts are in the dark at times with the changing patchwork of government laws, but we are committed to doing our best.  This is a learning process for all of us and as we go, we will strive to make each step as safe and seamless as possible for you.
As in life itself, travel comes with some inherent risk the minute we step out our door.   Travel isn't dangerous. Being irresponsible is. For your protection we want you to be proactive in following new health guidelines. They involve teamwork and personal responsibility, but they do not preclude you from having fun and enjoying your trip! Things constantly change and it's a huge challenge for airlines, airports, hotels, cruises and tour companies.  We will do our best to keep you up to date with any adjustments.   Please understand we reserve the right to amend any tour activities, if needed. To present responsible travel, we at AFS do our part: Our vetted suppliers uphold the highest standards under CDC guidelines.
Safety measures on a trip; frequent handwashing, (bring personal sanitizer), exercise social distancing and wear a mask when applicable. Insurance provides trip cancellation, but not from fear, trip interruption, added medical protection. Call them to understand coverage. We are not responsible for any additional cost to you due to quarantine or illness
Covid Page Click Here for Latest News
Suzy's Africa Travel Tips
"The only man I envy is the man who has not yet been to Africa. For he has so much to look forward to."
"Africa changes you forever, like nowhere else. How can you describe its magic? How can you explain the fascination of the past and noble dusty continent, whose oldest roads are elephant paths? How are experiences here in a way no other place can? Maybe it's because Africa is the place of all our beginnings, the cradle of mankind. The happiest years of my life were spent here." Paul Theroux
Some travelers who've never been to Africa think a safari is non-stop action. Behold the stunning boredom! The fact is there's a lot of glorious downtime between early morning and evening game drives. Time in the bush is like entering a remnant of an earlier era. Everything slows down. Shade seeking lions flop over like house cats, zebras stand still as statues, leopards drape over branches to sleep. All game rests. With them, we engage in a communion of laziness. We relax. We observe.
Wildlife Encounters – All animals are wild and you are prey. Respect proximity. Wild animals are totally unpredictable. If you ever encounter a predator in the bush-never run! You will always be the slowest. Animals may roam into lodge camp. Never deviate off path or walk alone at night. Guards will escort you. Never walk near a riverbank or swim in lakes. Hippos hide well.
Game Drives – You will be divided into groups of 4-6 per safari vehicle. Do not interfere with or direct your expert rangers – guide who lived there. He's far more than a driver with years of experience and intense certifications. Your safety is their number one concern. They can spot everything from ground to sky. Suggested tip is $5 per game drive. If several days of drives, wait until the end.
Animal sightings are not guaranteed. AFS past groups have been extremely successful on all. Over 3 decades, we never had a bad safari. Big cats are usually present, but leopards and cheetahs tend to hide. Don't just search out the big mammals. You'll miss the marvels of small creatures like badgers to bushbabies and spectacular birdlife.
Photography- Rather than hauling big lenses, small digital cameras get incredible shots nowadays. Edit/delete each night. On drives, keep camera in the bag to protect it from dust and sun. Don't forget extra batteries! Best light on safaris is 6 to 10 AM and 4 to 6 PM. Rangers will assist with the best vantage points. There is usually a pair of binoculars to share in jeep. Always get consent before photographing local people.
On return home, share your pics on AFS private Facebook page or use Shutterfly.com. (I have over 8000 photos of elephants and lions. Please take human photos as well as wildlife. Better yet, take photos AFS humans with the wildlife.)
Expert Africa Packing: Bring only soft-sided luggage. No hard cases can fit in Safari vehicles. If we use small charter aircraft deep into bush like Botswana, I'll advise of strict weight restrictions for both bag and carry-on. Pack light and wear the same clothes more than once. Laundry is always available.
Neutral colored clothing (no bright colors or fragrances to alarm animals.) light cotton shorts and T-shirts by day. Jeans/pants with a long sleeve top at night. Early-morning drives always cold-bring warm jacket, fleece or sweater. Smart outfit for evening functions.
Hat with a brim for sun protection and chinstrap for drives. Bring a simple light day pack on drives. Sunglasses, sunscreen, insect repellent with DEET, swimsuit, adapter plugs, mini flashlight, toiletries.
Lodges or Camps – All first-class properties or "glamping" style tents. All food and water is purified. If water is not, guide will advise. Cover bathroom sink with a washcloth as a reminder not to use. Bottled water in the rooms and always available daily. Hydrate! African air is dry and sun is strong.
Lodges have a staff tip box. $5 to $10 is generous to give and will be shared with all staff.
Ask reception for charging station to plug-in phones, cameras and tablets.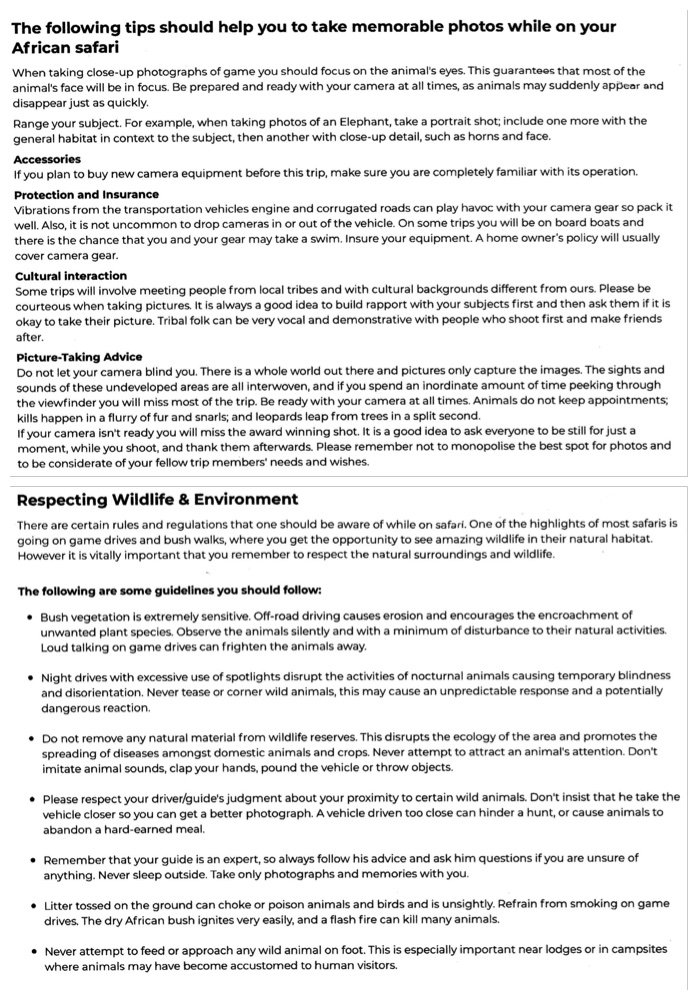 Covid travel rules seem to mutate faster than the virus itself.  To keep all groups up to date with the lasted information, we've created a page that's updated as needed.  Set a reminder for yourself to check the Covid page 7 days before departure.