Sept 29 – Oct 6, 2021    "Epic Fun in the Emerald Isle"   
Sold Out  call 770.432.8225 and we can try to add you
Ireland now requires all visitors to be vaccinated.  
Come feel your spirit soar as we travel along the rugged shores of Celtic Ireland, savoring rich traditions of music, dance, food and endless spraoi mór! (Large Fun). Our past groups couldn't get enough of the Emerald Isle. It's our 11th AFS trip and possibly our best ever as we take in the most iconic sites, explore some uncharted territory, connect with locals and have heaps of fun along the way. Been here before? Not like this. With each visit, Ireland becomes more beautiful and more a part of your soul. With "Luck of the Irish", the tourism board expects this to be a record-breaking year for visitors. 
On July 19, this "must-see destination" of the world opens with a warm Irish welcome!  Vaccinated visitors won't need a CV test, but all changes and details will come in August.  By then, all will be safe and in full swing.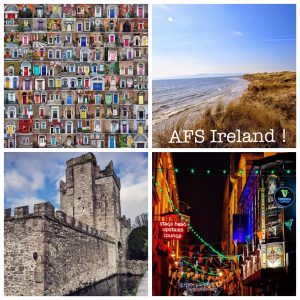 From County Clare to County Meath and parts in between, you'll get amazing photos of sweeping green landscapes. Take in the haunting beauty of the pure, unspoiled landscapes and enjoy new friendships with a people who share thousands of years of culture. Travel along the dramatic Wild Atlantic Way to experience the real Ireland!  Feel the thrill of standing on top of towering sea cliffs of Moher.  Sense the warmth of pubs in Killarney where locals beckon you to dance.  
The adventure begins with an epic time in Dublin's new Epic Museum of Immigration. Then, get down with the locals at a true Irish House Party and kiss the Blarney stone! Our path on the Wild Atlantic Way takes us along the iconic Ring of Kerry, through the Dingle Peninsula, past the Cliffs of Moher. the bogs of Connemara, the Burren, and to stunning Galway Bay. And no trip is complete without a full-on farm experience and Hen Party at Causey Farm.  Get an "Irish pedi" as we walk barefoot through a mossy forest along with some farmyard antics you won't forget. 
 We've booked charming hotels for you throughout. Airfare is affordable because it's shoulder season and it's a short hop across the pond. Ireland is more than a destination, it's a feeling. Satisfy your wanderlust in pure Ireland, a country that never fails to surprise.  The tea kettles are on with a warm welcome to capture your heart and make some Irish eyes smile.
Lonely Planet says…
Welcome to Ireland.  A small island with a memorable punch, Ireland's breathtaking landscapes and friendly, welcoming people leave visitors floored but looking for more.
Ireland of the Postcard.  Everything you've heard is true: Ireland is a stunner. The locals need little prodding to proclaim theirs the most beautiful land in the world, and can support their claim with many examples. Everyone will argue over the must-sees, but you can't go wrong if you put the brooding loneliness of Connemara, the dramatic wildness of Donegal, the majestic mountains of Mourne, the world-famous scenery of counties Kerry and Cork, and the celebrated Causeway Coast in Northern Ireland on your to-visit list.
Tread Softly…History is everywhere, from the breathtaking monuments of prehistoric Ireland at Brú na Bóinne, Slea Head in Kerry and Carrowmore in Sligo, to the fabulous ruins of Ireland's rich monastic past at Glendalough, Clonmacnoise and Cashel. More recent history is visible in the Titanic Experience in Cobh and the forbidding Kilmainham Gaol in Dublin. And there's history so young that it's still considered the present, best experienced on a black-taxi tour of West Belfast or an examination of Derry's colourful political murals.
A Cultural Well.  It's become almost trite to declare that Ireland operates a cultural surplus. Its main strengths are literature and music, where Ireland has long punched above its weight, but it is well represented in most other fields, too. Wherever you go you will discover an abundance of cultural expression. You can attend a play by a literary great in Dublin, toe-tap your way through a traditional-music session in a west-of-Ireland pub, or get your EDM on at a club in Belfast. The Irish summer is awash with festivals celebrating everything from flowers in bloom to high literature.
Tá Fáilte Romhat.  On the plane and along your travels you might hear it said: tá Fáilte romhat (taw fall-cha row-at) – you're very welcome. Or, more famously, céad míle fáilte (kade meela fall-cha) – a hundred thousand welcomes. Irish friendliness is an oversimplification of a character that is infinitely complex, but the Irish are nonetheless genuinely warm and welcoming, and there are few more enjoyable ways of gaining a greater understanding of the island's inhabitants than a chat with a local.
Wild Atlantic Way.  Ireland's western coastline is one of the world's most stunning shorelines – a 2500km necklace of jagged cliffs, crescent strands and latticed fields strung out from west Cork to northeastern Donegal. This official driving route is richly decorated with the panoramic pit stops you came to Ireland to experience.
Cork to Kerry.  Ireland's southwest corner is packed with scenic highlights along its 463km coastline, skirting around the best known (and most explored) peninsulas in the country.
Kerry to Clare.  Clare's coastline is justifiably renowned throughout Europe for its dramatic cliffs, shaped over aeons by the crashing waves of the relentless Atlantic.
Highlights
Loop Head This narrow shelf of headland, surrounded on both sides by the sea, has a long hiking trail between the tip and Kilkee. The views – of the Dingle Peninsula to the south and Galway and the Aran Islands to the north – are mesmerising.
Cliffs of Moher Ireland's most famous cliffs rise 203m from the sea and their majesty entirely justifies the busloads of visitors that come, gawp and leave in wonder. For the best views, head south for about 5km along the southerly trail to Hag's Head.
Clare & Galway.  Wildness abounds in Galway, even beyond the crazy nights in its namesake city. Connemara is a stunning wilderness of bogs, mountains and glacial lakes, while the Aran Islands' dramatic desolation is at the heart of their beguiling beauty.
Welcome to Dingle Town.  Framed by its fishing port, the Dingle peninsula's charming little 'capital' manages to be quaint without even trying. Some pubs double as shops, so you can enjoy Guinness and a singalong among hats and hardware, horseshoes and wellies. It has long drawn runaways from across the world, making it a cosmopolitan and creative place. In summer its hilly streets can be clogged with visitors; in other seasons its authentic charms are yours for the savouring.
Although Dingle is one of Ireland's largest Gaeltacht towns, the locals have voted to retain the name Dingle rather than go by the officially sanctioned – and signposted – Gaelige name of An Daingean.
Our Glorious AFS Itinerary
Sold Out  call 770.432.8225 and we can try to add you
Sept 29 – Leave the U.S.  Full details in AFS Trip Tips.
Head out from home and make your way to Dublin
 Sept 30 – Arrive Dublin                      D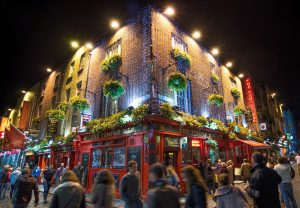 Céad míle fáilte go héireann– a hundred thousand welcomes to Ireland!
Arrive in Ireland's capital city and make your way to the Brooks Hotel Dublinin the heart of Dublin, 62 Drury St.   You should be able to store your luggage if you your room isn't ready.
The group meets in the lobby for a 2pm afternoon of touring, starting with the appropriately named Epic Museum. Epic recounts the story or Ireland itself and how immigrants made their way across the globe. Located on the docks, it has interactive displays as well as personal histories to help tell the story of Ireland's immigrants.
Afterward, even those without Irish roots will be transformed to true native with our Welcome Dinner and shindig at the Irish House Party.Located in a beautiful 18th Century townhouse, The Irish House Party features traditional Irish music and Irish dancing at its very best, performed by All Ireland champion musicians, dancers and entertaining presenters.
Overnight: Brooks Hotel Dublin (1 night)
Oct 1 – Blarney to Kinsale, County Cork                     (B)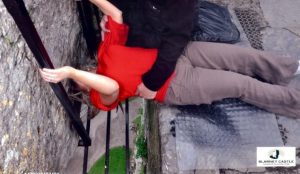 Prepare yourself for some of Ireland's most picturesque farmlands as we travel through the midlands to make our way south to Cork. Known as the Rebel County, Cork has always been an important seaport. It was founded on an island in the swampy estuary of the River Lee, but over the centuries has grown to spread far beyond
We pass through on our way to explore the famous Blarney Castle and those who dare, can kiss the famous "Stone of Eloquence" found in the upper levels of the fortress. There's time for some serious shopping at the famous Blarney Woolen Millen, known for its wool sweaters and Irish heritage items.
Our next stop is the incredibly scenic fishing village of Kinsale. Soak up the salt air in this postcard-perfect village and take time to sample some of the local cuisine during free time for lunch.
We return to Cork for the evening where we stay in the centrally located and appropriately named The River Lee 9.4. It's located on the island in the River Lee where Cork had its beginnings. Your evening is free to wander the quaint city streets or venture to the nearby shopping and restaurant district.
 Overnight – The River Lee Cork (1 Night)  4.5 on Trip Advisor
Oct 2 – Kerry to Killarney                         (B)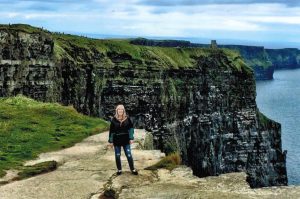 Today, you will experience one of Ireland's most stunning scenic drives as we make our way along the famous Ring of Kerry. Inhale the breathtaking sights of the Macgillycuddy's Reeks as well as coastal views of beaches and cliffs which line the Iveragh Peninsula.  This unspoiled region is the heart of what Ireland calls the Wild Atlantic Way. We'll stop along our journey to allow you to take photos of the rugged coast and even take some time to walk around Killarney National Park.
In late afternoon, we'll check into Killarney's International Hotel. This hotel is truly and old-world gem, steeped in history. You'll fall in love with Killarney itself and its nearby pubs and shops where locals will welcome you as their own.
Your evening is free, and we are offering an option to step back in time and tour the region in a manner which has been used for centuries – Jaunting cars or horse-drawn carriages to show you the hidden delights of Killarney, the National Park & the famous Lakes of Killarney.
 Overnight: Fairview Hotel Killarney (2 nights)
It's easy to fall in love with Dingle, the main hub of the sensationally beautiful Dingle Peninsula!

Voted among the top 100 destinations in the world' – Trip Advisor – 5 stars.  
Film location for Star Wars Episode VIII, The Last Jedi, Ryan's Daughter and Far and Away.  (Sadly, the food festival was yet again postponed to next year. But don't be disappointed as it was a small event. We have you covered now with more time to properly explore this magical region.)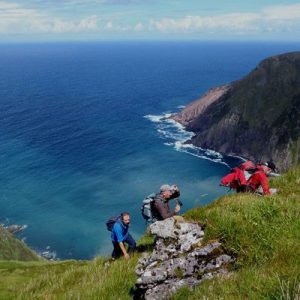 Soak in the jaw-dropping scenery, the rugged cliffs and seaside trails.

The Dingle Peninsula or Corca Dhuibhne, stretches 30 miles (48 kilometres) into the Atlantic Ocean on the south-west coast on Ireland's Wild Atlantic Way. The peninsula is dominated by the range of mountains that form its spine, running from the Slieve Mish range, Slea Heads to the Conor Pass and  Mount Brandon, Ireland's second highest peak.
Spend time in charming Dingle a place rich in authentic tradition!  The bustling marina is the focal point of the town.  Bask in the buzz of this gorgeous seaside town and enjoy the local food and drink before visiting the local independent Irish shops.  We've added a tour of the famous Dingle Crystal.  Have a fish and chips lunch or my fave, brunch at Lord Bakers, then Murphy's Ice Cream is a must.  Visit https://dingle-peninsula.ie/
Overnight: Fairview Hotel Killarney
Oct 4 – Galway                                             (B)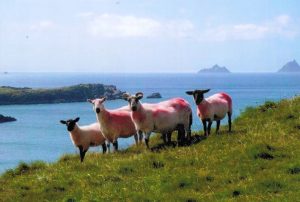 After breakfast, we continue our coastal trek to County Clare and the port of Tarbert where we take a short ferry ride across the wide River Shannon Estuary. The Shannon is the longest river in the entire United Kingdom. We then head along the Clare coast to the towering Cliffs of Moher.  This spectacular wall of sandstone that reaches to almost 700 feet above the Atlantic Ocean and runs for more than eight and a half miles. Stand near the edge and watch the sea crash below. You can also climb the small fortress called O'Brien's Tower for spectacular views.
We then make our way to the harbor city of Galway on Ireland's west coast where we'll overnight at the Galmont Hotel, not far from where the River Corrib meets the Atlantic Ocean. The city's hub is 18th-century Eyre Square, a popular meeting spot surrounded by shops and traditional pubs that often offer live Irish folk music. Nearby, stone-clad cafes, boutiques and art galleries line the winding lanes of the Latin Quarter, which retains portions of the medieval city walls.
We'll take some free time for lunch and then explore the area, visiting the Benedictine Abbey of Kylemoreon the grounds of Kylemore Castle. We also hope to be able to cross the rugged boglands of Connemara. The entire region is stunning with its coastline of tiny coves, bays and fishing villages.
The evening is free to explore the buzzing nightlife of Galway City where live music fills the pubs!
Overnight: Galmont Radison Hotel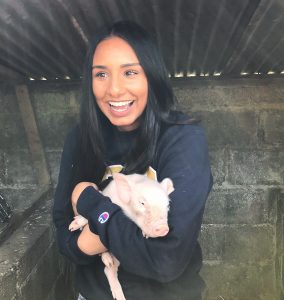 Oct 5 – County Meath                                            B/L/D
Our day will take us back east across Ireland to County of Meath, north of Dublin. Known as the Royal County, it derives its name from the Second Century AD as a territory for the High Kings of Ireland.
We will have a lively day at Causey Farm, where we'll get the full experience of what it's like to be on a real working farm. Begin by making your own Irish soda bread for your lunch, see a sheepdog demonstration and then ride on bales of hay on the back of a trailer to the local bog where you will learn how to foot turf. You'll totally earn your lunch of your homemade bread and Irish stew while competing against one another to see to can do the best Irish Jig.
We end the day at Knightsbrook Hotel. Located inTrim is the perfect place for us to end our journey with a scrumptious AFS Farewell Dinner to toast each other on a vacation well done.
Overnight: Knightsbrooke Hotel (1 night)
Oct 6 – Head back to the U.S                                                   (B)
Following breakfast, it's time to head back to the Dublin airport (around a 40 min drive) for flights back to the U.S.  (You may want to add a couple of days here pre or post-trip because there's so much fun to be had in Dublin:  Guinness Brewery, GoT Tour, Wicklow Mountains Day, shopping Gafton St., new foodie tours, Trinity Collage, Jameson Distillery, musical pub crawls and more.)

Sold Out  call 770.432.8225 and we can try to add you

Land Price $ 1896 pp twin share
Deposit $500
Based upon 29 participants
Includes: AFS GTL  all meals and tours listed, entrance fees, transportation, first class accommodations, guide
Not included:  Gratuities

Land prices per person twin share. Trip price based on a minimum number of participants.

Single rooms limited with $ supplement.  Cost varies.  Email us for availability.  AFS will find you a roommate.

The earliest we present group air is 10 months prior. We'll send email to ask who wants it.  A minimum number of 12 is needed.

Please review AFS Terms and Conditions, Heading Abroad with AFS, Covid Policy.  Travel insurance is important nowadays.  It's rare, but we reserve the right to modify schedules, tour and hotels.

Read Trip Tips on its own tab next itinerary for latest details. 
Print
Brooks Hotel Dublin City.  https://www.brookshotel.ie/?
The River Lee Cork  https://www.doylecollection.com/hotels/the-river-lee-hotel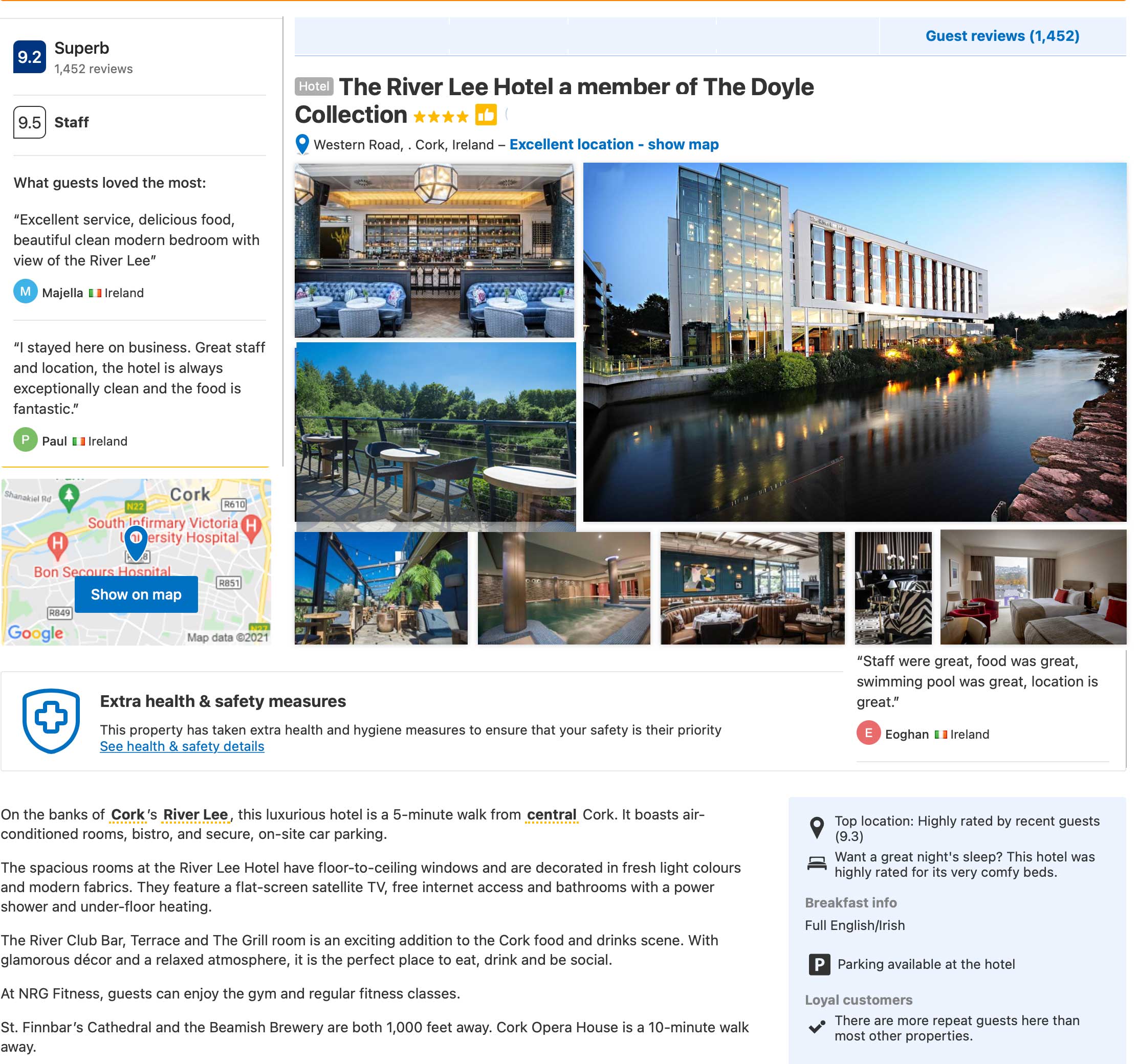 Fairview Hotel Killarney (2 nights)  https://killarneyfairview.com
Galmont Hotel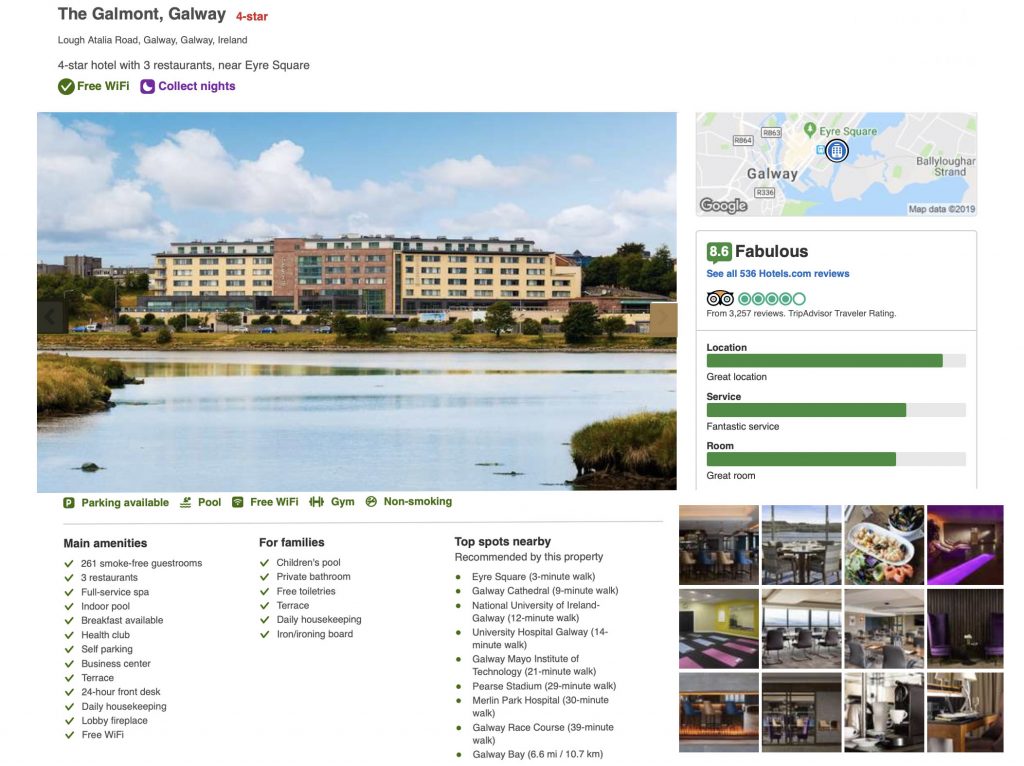 Knightsbrook Hotel.  https://www.knightsbrook.com  


On to Meath where we end at our spa and golf resort with the epitome of luxury located in a stunning country setting. Enjoy the pool, golf course, River Spa, health club, yoga classes, free high speed Internet and delicious cuisine. We will provide one airport transfer for you 35 minutes away.
Knightsbrook Hotel, Spa & Golf Resort, 2019 Award-Winning "Hotel of the Year" at the Hotel Awards Ireland is situated in the Boyne Valley in the heritage town of Trim, a mere 35 minutes from Dublin. Our Multi Award-Winning Resort not only offers superb accommodation and unparalleled scenery but also boasts an 18-hole Championship Golf Course designed by the late former Ryder Cup Legend Christy O'Connor Jr. 
Amenities
Restaurant

Breakfast

Free parking

Pool

Fitness Center with Gym / Workout Room

Bar / lounge

Game room

Golf course

Free High Speed Internet (WiFi)

Hot tub

Indoor pool

Heated pool

Fitness / spa locker rooms

Fitness classes

Sauna

 All prices are per person twin share.  Single rooms limited per group and a single supplement applies.  Cost set by hotel/cruiseline and vary considerably.  AFS will find you a roommate match. All hotel rooms are "run of house."  

Please review AFS Terms and Conditions as well as Heading Abroad with AFS.  

Land – Price based on a minimum number of trip participants, as well as local currency exchange rates which can fluctuate.

We write our itineraries over a year in advance. Though unlikely, we always reserve the right to modify schedules, tours and 

hotels if necessary. 

Group air – Airlines may add surcharges to offset fuel inflation or taxes. The total ticket cost is not final until we receive your final payment and the group is ticketed. If doing own air, airport transfer may or may not be included depending on your air schedule. Do not buy air until the group air is set or we advise – though unlikely, airlines, times and dates can change!
Print
AFS Trip Tips Ireland 2020 
Updated 8/17/2021  Ireland now requires all visitors to be vaccinated to enter.
 Prepare to be delighted by the Emerald Isle with its hauntingly beautiful landscapes, historic villages and friendly faces with the warmest welcome. We've sent many groups here but made this getaway special along the Wild Atlantic Coast. I know all of you have been to Europe, but surprisingly few of you have yet to visit this Gaelic country that always reinvents itself with more new things to discover. Come fill your heart with Ireland!   We have a wonderful group of 36 travel lovers, a perfect medium size group to make new friends. After final payments are in we will send your room and email list.   See brief technical itinerary and Covid news at the end of page.
On July 19, this "must-see destination" of the world opens with a warm Irish welcome!  Vaccinated visitors won't need a CV test, but all changes and details will come in August.  By then, all will be safe and in full swing.
March 29 update – Thank you for joining us. Together we will adapt to new norms for the privilege to travel. We've guided groups around the world over 34 years. Your safety and well-being is paramount to us. Read our AFS pledge below.  Things are changing weekly in each country now. Airlines are reinstating flights. Safety protocols and entry rules are ever evolving. No need for you to google country/.gov/CDC sites because these rules will  change before your departure.  Our expert and vetted supplier team has the most accurate info which they monitor daily. Will update you here with changes. As vaccines roll out fast now, we hope all restrictions will be lifted by your departure. Relax. Embrace the joy found in anticipation.
It is your responsibility to read our important emails and updated notes to these Trip Tips.  Let us sweat the small stuff as we strive to make your trip worry-free. This may well be the best time to go and fully enjoy your vacation!  Updates and addendums will be posted here.  Check back from time to time.
Make your payment out to Adventures For Solo Travelers, 1907 Daniel Green Ct., Smyrna GA 30080.
Update July 18 – 

Ireland opening for travel from the US. Welcome to be as warm as ever
An update from the island of Ireland: July 2021
I hope that you, your teams, and your families are all doing well during this ongoing period of uncertainty for the tourism and travel industry across the world. Today, I'm pleased to confirm that from July 19th Ireland will be welcoming visitors from the US who have valid proof of vaccination. For those that are fully vaccinated no travel-related testing or quarantine will be necessary.
For those who do not have valid proof of vaccination, they will need to:
• present evidence of a negative RT-PCR test result within 72 hours prior to arrival into Ireland
• self-quarantine
• undergo post-arrival testing – this will be provided through the Health Service Executive in Ireland.
Before arriving into Ireland, US visitors will need to complete a Passenger Locator Form The form will be checked prior to departure to Ireland by the relevant carrier and visitors may be asked to provide the vaccination certificate indicated on their form. On arrival in Ireland, spot checks will be carried out on proof of vaccinations and negative RT-PCR tests as appropriate. Unfortunately, the introduction of these additional checks may cause some disruption to journeys and visitors may experience delays so visitors should give themselves extra time either side of departure and arrival.
——————————————————————————————-
Salanda Williams is Your Fearless GTL (Gracious Trip Leader – not a guide, but liaison between our guides and group to ensure things run smoothly)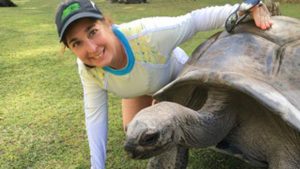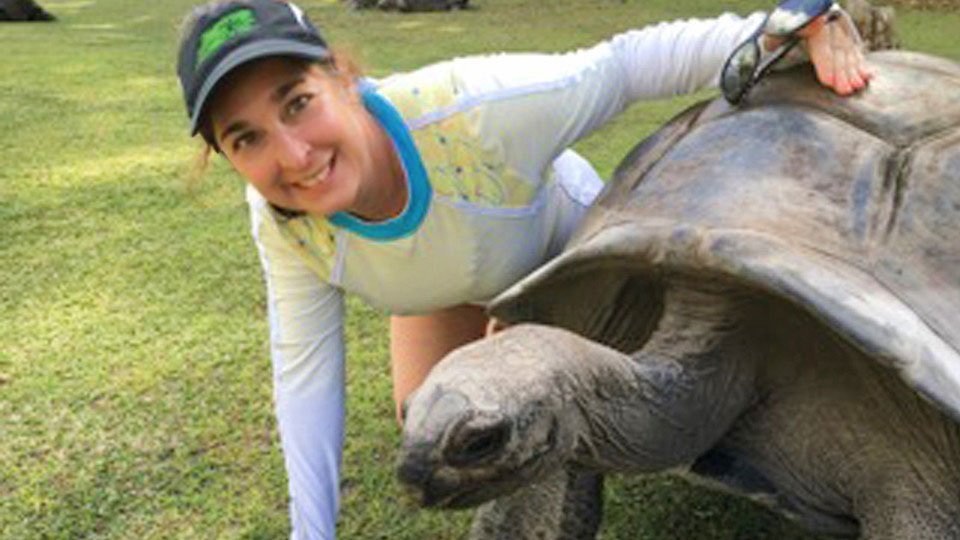 Salanda knows Ireland well and has decades of experience in the travel industry and has worked over 12 years as a travel consultant for one of the world's largest management companies!  She has been on dozens of AFS solo travel tours over the years. With a passion for nature and unique culture is, she chooses and has led some of our most exciting adventures – (Kilimanjaro, Mt Everest base camp and Galapagos to name a few.)
I call her "gadget girl" because she always comes equipped with the coolest new travel items – pocket-sized washing machine and video recording sunglasses.  She video-recording 6 continents, 60+ countries, all 50 states, and countless islands!  Her preferences are international destinations with action and a focus on nature.  But she's thrilled to fly you anywhere. We received many emails praising her excellent performance and attention to detail. Salanda has never met a stranger in this friendly to all. Everyone will appreciate her leadership and astute leadership skills.
=======================================================
Trip Prep –
Fitness level – 2 (No trouble walking)
Air –  No group air.  We found you will get a better price from your hometown. This provides flexibility to extend trip or even add on a stopover somewhere else.
Doing Own Air– USA round trip to Dublin, September 29 to October 6.
It's easy to get own air by search engines like Google flights. Consider Aer Lingus, United, American, JetBlue, Delta, Air France, KLM and many other airlines. Trip dates are firm. Land starts Sept 30.  You may arrange your own air from your hometown.  We like Google Flights and Skyscanner.   New:  In today's air & hotel landscape, avoid booking tickets on third-party booking engines is like Expedia,  hotels.com and more. It's near impossible to change your ticket. Use sites only to view air prices. Then go directly to the airline or hotel website and book through them for your best protection and price.
If you need help getting your own air, call our friend Raj who's an air expert at (281) 912-9173  raj8travel@gmail.com  Give him your exact airdates, destination, passport name and details with birthdate.  (If you go early and check-in AFS hotel before group arrives, it's your responsibility to change rooms with your roommate if necessary day one when trip begins. ) All should check airline websites often for any new CV news or schedule changes now.  Airlines or the country may require a Covid test prior departure.  See testfortravel.com and more below
• Air update (June 2021). Everyone, check your flights! Airlines are canceling routes left and right now, Many won't even inform you by email that there's been a change. If your flight has been canceled, they MUST rebook you book on any other carrier to accommodate your schedule. Stand firm. If you're not getting anyplace ask for their supervisor.   (Good news, conversely many airlines are adding other new routes which be a better fit for you.)  
Transfers –Since all arrive different times, you'll need to meet at Brooks Hotel located in the heart of town. Transfers are simple. Use the Airlink bus for 7 Euros that departs every 15 minutes from the airport into Dublin and stops near Brooks Hotel, or share a taxi or Uber. 
We will have a single return airport transfer at the end of the trip at a time that will accommodate most schedules. If your time doesn't work out, you'll need to make your private transfer or taxi.
Meet Up With Group- On SEPT 30 by 1:30PM Brooks Hotel in Dublin or a briefing.
Accommodations – Please see the Air/Lodging tab on this website for details. Hotels can change, but it's rare. Google each to see how cool the properties are.
Note – If first time to the EU, rarely will you find a washcloth, ice with drinks, butter with bread, or choice of salad dressing. Hotel rooms are small, and may not be available upon arrival and will be ready by mid-afternoon.
Baggage – Think light to ease your burden – not like you're fleeing your homeland!  Ireland is always done safari style as you're moving to different properties 5 times. 1 carry-on bag & 1 medium suitcase not to exceed 45 lbs are standard. Weigh on a bathroom scale. This weight limit is set for our porterage and luggage vans that have limited space.  If you pack pre- or post- trip luggage, please make plans in advance as to where to stow excess baggage. Be sure to attach an ID tag to both pieces of luggage. Leave space for great souvenirs and gifts.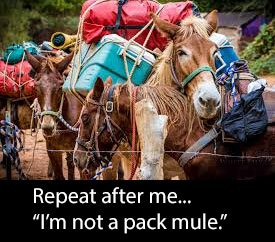 Packing – Pack your hygiene kit and munchies in clear plastic bags.  Airport and inflight food service may be limited.  This trip is so easy and think layers for a Fall climate. Simply pack casual clothing including a light jacket/sweater/fleece for long flights and cool mornings and nights. Also bring sun protection, a daypack, a wide brim hat, comfy sneakers/walking shoes, an umbrella, raingear, and swimwear for spa.
Weather – Weather is unpredictable in fall with average day temps being in the 60's but cooler at night. Check Google Weather for climate in Ireland a week prior to departure.
Electric – Cell phones and tablets don't need a voltage converter, but you will need an adapter plug. Correct wall plugs for Ireland are type G, the 3 pronged socket plugs as used in larger parts of Europe. Don't forget a portable backup charger, cords, gadgets, etc. AFSers often leave charger cords in their rooms, so be sure to double check your room before check out.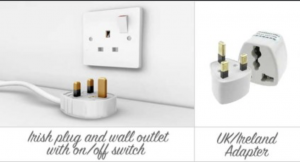 ————————————————————————————–
Money Matters – **YOU WILL NEED SOME CASH** for personal tipping, meals, and shopping – $300 USD should suffice. I convert half of it upon entry. Be cautious when withdrawing local currency from an ATM. The safest ATMs to withdraw from are at airports, banks, or hotels. Independent ones are risky. Always shield your pin number when entering info.
Credit cards are far safer than using your debit card. I use my credit card for most purchases. Many cards now offer no foreign transaction fees.
Currency – Current Exchange Rate (approximate)   $1 USD = €0.93 Euro
Follow the link https://www.oanda.com/currency/travel-exchange-rates to create a conversion cheat sheet.
Gratuities  It's protocol to tip our local guides, assistants, porters, drivers, ground staff, etc. Guidelines have increased globally, but around $12 to $18 per day should cover all for the trip.  $85 has been added to your invoice for ease of distribution by Salanda to all staff throughout.
Tipping on own – If service is stellar, feel free to give more directly. All we tourists leave behind is our reputation. I personally carry a stash of $US ones in an envelope to draw from as needed. AFSers will roll bags to their own rooms. If you choose to use bell staff or a porter, please tip $2 USD. Restaurants – 10-15% unless you note that tip is already included. For group lunches or dinners, please leave $1-2 USD for wait staff.
—————————————————————————————-
Communication – Internet is available, and internet cafes are abound. With cell phones/smartphones, be sure to check with your provider for rates and coverage for international phone plans before departure. Roaming rates (used by Facebook and other apps) are expensive. To reach home – Texting, iMessage, What'sApp and Facebook messaging when using Wi-Fi are best!  I don't know anyone who makes calls home nowadays.  Never open attachments or view financial or personal accounts on the Internet while abroad.
Want affordable data in many countries abroad? We've been using Skyroam. All the data you want to use Bluetooth for to access your devices is for just $10 per day. See https://www.skyroam.com for details.
Be Smart  "Avoid Hackers on Vacation," experts say! Thieves not only want your money, but also your hard-earned frequent flyer points. Change passwords often. Check device security settings before you leave for your trip. Back up, update, and encrypt your devices and data using a virtual VPN. It's worth the cost. In hotel rooms, hide iPads or laptops to avoid "evil maids" that want to clone your tech.  Grab a hotel business card before heading out in case you get lost.  Pickpockets are everywhere – especially at night. Never carry your passport outside of the room.  Bottled water is always best abroad, as our gut isn't accustomed to local tap water. Eat clean food and avoid street vendors.
Retail Therapy –  There is wonderful shopping in Ireland. Even non-shoppers will find themselves tempted by local goodies. Our past groups have come back with the coolest stuff. Sought out treasures include a Claddagh ring, Aran wool knits, tweeds, Avoca woolen throws, Waterford crystal, Celtic jewelry, pewter, linens, Cavan lace, pottery, whiskeys, shortbreads, milk chocolate, and endless hand crafts.
Photography – Before taking pictures of locals, please know it is always polite to first ask for permission.
Private Facebook Group Page  – The benefit of the Private FB Group Page is that you have an opportunity to introduce yourself to your fellow travelers before departure and share trip photos during and after the tour.  Where can I find the FB link? Ask us for an invite.
(We found that some never read the Trip Tips jumping right to the Private FB Group Page assuming they will get all trip info needed. Often, they only receive rumors and misinformation. All important information is ALWAYS emailed to each participant and posted here in Trip Tips under UPDATES. Nobody misses a thing.)
Websites of Interest – Google these sites for awesome in-depth info.  My favorite is TourismIreland.com
Cuisines – There has been an emergence of great food and famous chefs nowadays in Ireland! New versions of Irish stews, cottage pies, Irish sausage pastries, corned beef, soda breads, and white pudding are wonderful. Oysters, cod, and shellfish are musts. Traditional Irish foods to try are Boxty (potato pancake), and Colcannon and Champ (mashed potatoes). Imbibe on Irish coffee, whiskey, ciders, lagers, and stouts.
Accommodations – Please see the itinerary Hotel tab for details.  Hotels can change, but it's rare. You can Google these or see web.
 Roomies – Single supplement rates have significantly increased – if available at all. Save money and buy yourself an awesome local gift. We all live alone, but you can save money when traveling by rooming together. Suzy spends a lot of time on roommate matching. 99% of our clients are wonderful, and besides, you're only in your room to sleep at night.
Leisure Time –  For your free time, it's best to arrive and ask our local expert guides for suggestions.  We notice many newer clients pre-plan many activities on the AFS trip well before they arrive, often with disappointing results.  Our daily itineraries are pretty full, but there will be some free time. Expert travelers revel in the element of surprise in a new destination and allow the wind to blow them where it will. Use Google Maps on your phone to find everything nearby.
Dublin:  Cool Visits: Book of Kells in Trinity College Library, National Gallery, Abby Theater, Guinness tour, St. Patrick's or Christchurch Cathedrals.   Walks: Merrion Square for Georgian architecture, O'Connell Street, Dun Laoghaire Pier.  Music: The Cobblestone, The Ploughboys, Johnny Foxes, Eamonn Durrand, Temple Bar entertainment district, pub crawl.  Foodies: Queen of Tarts, Murphy's Ice Cream, Roasted Brown, Mulligans, Chapter One, Aqua, Bobos, Bas Ass Café, Gruel.
Arranging Pre- or Post- Trip Plans – We often see AFSers on your Private Facebook Page urging others to join them in traveling to other countries before or after our trip. Stopovers are great to add, but understand AFS has nothing to do with this nor is responsible for side trips.
Emergency Contact – AFS Phone 770-432-8225, or email us at https://www.afstravelers.com/contact-us/  and more contacts will be provided with your Final Docs email 2 weeks before departure. Your guide can handle all home for true Emergency.  Do not expect to use your trip leader's cell phone; you'll need to use your own cell phone.  3 weeks prior to departure more details on this will be emailed.
Cancellation Penalty:  At booking, we sent you our terms and conditions. Open the following link to review our terms again: https://www.afstravelers.com/terms-and-conditions/
Travel Insurance– If you would like the security of travel insurance and have a pre-existing condition (elderly parent, medical, etc.) or want to be covered for Covid caused delays, you must purchase insurance within 15 days from your initial trip deposit in order to assure full coverage.  The trip cost can be amended or adjusted as needed after your initial purchase (eg. adding an air ticket cost later). You can buy travel insurance at any time, just know that there may be some possible limitations if purchased outside the 15 day period.    All provide trip cancellation (not from fear), trip interruption, added medical protection. Call them to understand coverage. We are not responsible for any additional cost to do to quarantine or illness
Travel Psychology 101  Prepare for your departure joyfully with no contempt before investigation upon arrival. Please understand that whenever you travel, things are not like at home and changes may occur. Great trips work best for those with an open mind, flexible attitude and adventuresome spirit.  If changes occur, embrace them with serendipity. Who knows?…The unexpected may prove to be a better experience. Adapt and go with the flow with a laid-back attitude.
Be spontaneous. Be tolerant of foreign cultures in respecting their centuries of traditions. Embrace the differences. Be curious, not shy. Smile – locals will sense your energy of kindness and kindness always begets kindness. (This goes for your roommate, too. Most of us are used to living on our own; but, have fun while being accommodating and patient when sharing a room with another fellow traveler). Our common goal is to experience different cultures, make new friends, get great photos, have large fun, and return home safely with memories worthy of recollection.
The best spirit of an Explorer requires the openness of a child – Suzy
"When traveling, remember that a foreign country isn't designed to make you comfortable.  It's designed to make it's own people comfortable." – Clinton Fadiman
Cool Articles for Exploring Your Destination Cities –
Five myths about Ireland – Everett Potter   Special for USA TODAY
When St Patrick's Day rolls around, it serves as yearly reminder to consider a trip to Ireland. Yet it's hard to think of any country more bound up in outdated myths. If you do visit Ireland this year, plan on having a Guinness or two, kiss the Blarney Stone if you must, and good luck with spying on a leprechaun. But also consider these five outdated notions of Ireland before you go.   Click to read on…
Covid News
Book AFS with Confidence 2021– The health of our Travelers comes first. As the world slowly opens, we are dedicated to creating responsible adventures!  All our trips are different, so specific plans in each region may be circumstantial. We work closely with our local suppliers to know the best practice in each country. That being said, we present a blanket procedure below to be followed on ALL AFS trips. Our local guides will brief you on arrival with the support of our Trip Leaders to ensure we follow local safety protocols. They are fully committed to aiding your well-being.
We will re-discover the world through more slow, easy and mindful travel. Our groups will be smaller.  All clients must take the AFS pledge that they are Covid free and will follow all safety protocols.  Booking travel now is complex because rules always change. Tour companies can't become "health and safety experts" when policies are inconsistent. Even experts are in the dark at times with the changing patchwork of government laws, but we'll do our best.  This is a learning process for all of us and as we go, we will strive to make each step as safe and seamless as possible for you.  Read all below on AFS detailed Terms & Conditions.
Thank you for booking! We are blown away by the support from all of you throughout this pandemic. It validates the trust and values AFS was built on over 30 years. As countries reopen, so will we. Travel is a shared experience. Together we press on and travel boldly. Below are new guidelines. We all must adapt and embrace any challenges with confidence for the freedom and privilege to travel.
As in life itself, travel comes with some inherent risk the minute we step out our door.   Travel isn't dangerous. Being irresponsible is. For your protection we want you to be proactive in following new health and safety protocols. They involve teamwork and personal responsibility, but they do not preclude you from having fun and enjoying your trip! Things constantly change and it's a huge challenge for airlines, airports, hotels, cruises and tour companies.  We will do our best to keep you up to date with any adjustments.
Please understand we reserve the right to amend any tour activities, if needed. To present responsible travel, we at AFS do our part: Our vetted suppliers uphold the highest standards under CDC guidelines.  At present, some international airlines may require a negative Covid test within 96 to 72 hours of departure. Details later as they come.  This may change as rules are always being revised.At present, you need RT-PCR test 72 to 94 hours prior to airline departure. By then, this rule may be eliminated.
RT – PCR Test – This is PCR test with Rapid Test Results within 24 hours.  Most urgent care places offer these.  Read Covid news below.
Don't stress, just refer to this if you need it. I've done 4 free PCR test runs with no problems.  Millions of passengers have gotten their PCR test to fly. You can too! Call your healthcare provider or Urgent Care near you. Or Google "free no cost Covid testing near me". Most state and federal programs provide this. Or Google airport to see if a Test is available there (JFK $75). Rural areas are more challenging. You may need to drive to an appointment in a nearby city.  At present, it's free at Walgreens and CVS. They will bill your insurance company of $119. (Best trick – if you say you may have been "exposed to a Covid person" or if you feel "symptoms" like fatigue or say CDC recommended, it must be free. Call or email to get an appointment. Most are drive up. Schedule test within your 72 hours departure window, usually 3 days prior for email result needed in 24 hours. This way you still have a backup day in case you get a false positive. Bring printed copy. New mail in-home kits – CDC announced today you can bring to do there for return into the USA. (We will have tests at our resort if you want.) Note, however, outbound airlines won't accept this for departure.Don't forget to bring your vaccine card if you have one.
If you are in a high-risk group, it is suggested you do not travel.
It is your responsibility to check the resources below as well as your airline requirements for travel. You may need to show proof of wellness notes. Click to see CDC, WHO
You may not travel if you have any symptoms such as sore throat, shortness of breath, fever and verify you have not been in contact with someone who tested positive for Covid in the last 14 days.
Safety measures on a trip; frequent handwashing, (bring personal sanitizer), exercise social distancing and wear a mask when applicable.
Helpful CV Resources–  Below are helpful links to facts and stats for you to reference as you gear up for all your travel domestically and abroad.
Facts about coronavirus-symptoms/transmission/precaution/treatment
https://www.who.int/emergencies/diseases/novel-coronavirus-2019/question-and-answers-hub/q-a-detail/q-a-coronaviruses
CDC entire situation summary
https://www.cdc.gov/coronavirus/2019-ncov/index.html\
US State Department Travel Advisories (Often old news)
https://travel.state.gov/content/travel/en/traveladvisories/ea/covid-19-information.html
We at AFS assure you we will continue to offer you quality trips to countries where you will feel protected – countries that are going to extraordinary lengths now to provide a safe visit. Each destination is far less crowded than ever before and that means better personal attention.  Planes are half full and we can trust our astute global suppliers when each country is clear to visit. We're taking great precautions and encourage you to remain positive.
Our Pledge to You – Our global, vetted suppliers uphold the highest standards under new CDC guidelines.
We ensure that heightened sanitation methods have been adopted in every place we visit and that all hotel properties and vehicles have passed cleanliness protocols.
Our guides and drivers must test negative and pass stringent safety measures.
Most of our groups will be limited to half the size of normal in the past.
We are choosing destinations with wide-open spaces for physical distancing.
Some private tours for groups of friends only can be arranged.
We'll monitor your trip closely and provide a 24/7 emergency number if your trip is disrupted.
All clients must take the AFS pledge that they are COVID-free and will follow all the safety protocols.
We relaxed booking conditions with most trip deposits at only $250 and final payment deadlines from 4 months out to 70 days before departure.  This is a learning process for all of us as we go. We will strive to make each step as safe and seamless as possible for you!
Your Pledge to AFS  – We ask you to assume personal responsibility to protect your health and the well-being of your fellow travelers, guides and locals.
Read and print all updated Trip Tips on AFS website
Get travel insurance with trip interruption
Stay healthy with vitamin D and zinc
Confirm within 14 days of departure but you have no symptoms of Covid nor being in close contact with anyone diagnosed with it.
You agree to assume any risk of participating in trip activities, comply with applicable government, airline and health authorities.
Exercise social distancing and local guides directions whenever possible.
Sanitize your hands and phone throughout.
Read more here –  https://www.afstravelers.com/terms-and-conditions/
Rapid COVID-19 PCR Tests
Rules are changing daily! At this time, we must rely on each airlines policy. Read Covid rules at the top of airline website up to a week before departure. Every airline and country differs. 2 weeks prior, will send you final AFS departure letter with instructions specific to your trip. Please wait!
As of January 26, 2021, a rapid PCR test is needed to enter most countries and needed to return to USA. We hope this will be eliminated by the time your trip goes. RT-PCR (by nose swab) is only test excepted. No mailing kits. All tests are free or covered by insurance, but these may have a line to wait. Now appointments are taken. To get fast with no wait, make appointment at private lab. They are now thousands of labs around US. Also, more testing sites opening daily with easy drive through. Just google "Covid PCR test near me".
Outbound – Most airlines require negative PCR test within 96 to 72 hours prior to departure. This new rule makes travel more challenging, but we must follow to protect ourselves and those on the flight. Read specific airline rules on website, also any rules on connections in transit. Those vaccinated still need to show a test.
Get RT-PCR test with guaranteed results within 24 to 48 hours. They email result to you. Print out to bring at check in. Also screenshot copy on cell phone. Test must read "PCR". (We've had nobody test positive yet, if so, call us 770-432-8225. Many tests are inaccurate and a re-test shows negative.)
Homebound – Airline may require negative PCR test to board departure flight. Each carrier differs. We hope this is eliminate by your trip date. If test is necessary within 72 hours of departure, we can help arrange test for group in each country. Details later by email.
Covid travel rules are mutating faster than the virus itself.  To keep all groups up to date with the lasted information, we created a page that's updated as needed.  Set a reminder for yourself to check the Covid page 3 days before departure.