Sept 11-21 / 23, 2021    "AFS Climb to the Roof of Africa"
  (Small Group for AFS Fitbits)
BOOK NOW  or call 770-432-8225
Go tell it on the mountain!  Join us on a trek to the Summit of Africa's highest mountain. The snows of Kilimanjaro soar above Africa's shimmering plains like an illusion – an iconic image to which you can now be transported. Our past AFS groups loved this once-in-a-lifetime experience:  "Climbing Kili has been on my bucket list for years. My dream came true with AFS in 2013. An adventure that challenged me to my core but I conquered that Mountain.  Such an emotional experience at sunrise to stand on the "roof of Africa!" – Carol H
 "Pole-pole" (slowly, slowly) is the mantra of our expert expedition guides who lead us on this quest. This trip is as much about the journey as it is the destination. Kili is the world's highest free-standing mountain and also the most walkable. You'll pass from tropical forests to a near lunar landscape high above the clouds in just a few days. We've perfected the best way to climb Kili with maximum acclimatization and shorter hiking days for the greatest chance of summit success! There are many different routes you could take. But, no matter what you read, the Marangu Route is the most popular and best established. The reward at the top? Dazzling views of the stunning Africans plains below with your selfie at Uhuru Peak and its iridescent glaciers.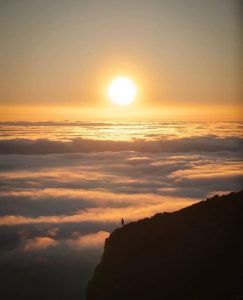 You'll see countless prices – but it's vital to use a quality outfitter in Tanzania nowadays! We trust our licensed guides and professional porters who are with you every step of the way.  They are passionate about making sure you have the best and safest experience ever. We provide your meals, sleeping bags and all details on preparation for this trek.  (Beware – don't book with a cut-rate company that goes offseason in inclement weather, uses poor camps with dirty water and risks your health by rushing you to the summit with no acclimatization or oxygen.  Some don't even pay their porters who only survive on tips.  Many hide extra costs until departure.)
September is the perfect time to climb with the best weather.   And our air is so easy and affordable on Turkish Airlines if you want it.  At the end, you can reward yourself with a Safari extension into Ngorongoro Crater to witness the migration in the Serengeti. Make it two bucket list adventures in one! 
Limited to only 24 participants. Book now.  It's a life-changing experience to stand on top of a continent. 
"What we do when we reach the summit is weep.  All inhibitions are stripped away with joy for having scaled this is a mighty mountain. Hardships mark the journey, but mountains become an appetite to want more. Standing on the summit at dawn seeing sweeping Africa below, I am hooked forever on climbing." – Sir Edmond Hillary

Our Glorious AFS Itinerary
BOOK NOW  or call 770-432-8225

/ Login or create account required
Print
Summiting Kilimanjaro is an attainable goal by following the Marangu route. Used by most climbers, it has comfortable, mountain huts accommodations with solar power lighting along the way. This is classified as a moderate trek rather than a climb and is suitable for those adventurers who are not particularly experienced in the mountains, but you must be relatively fit. The views from Gillman's Point as the sun rises behind Mawenzi on a clear morning are absolutely magnificent. The Rift Valley, Mt. Meru and the Masai Steppes stand out from the endless plains, almost three vertical miles below.
Sep 11 / 12 – Depart the USA
 Detailed AFS Trip Tips emailed to participants to follow.  These tips provide all you need to know!  Air is easy roundtrip to Kili.
Sep 13 – Arrive Kilimanjaro – Land portion begins.                     D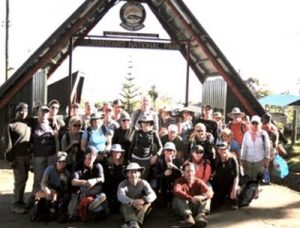 Welcome to Tanzania Africa! You will be greeted at the Kilimanjaro airport by our guides and transferred to Springlands Hotel, located in Moshi Town. These are the foothills of Mount Kilimanjaro and the perfect spot for starting our Kili expedition.  Enjoy the property's pool or bar and just relax. Today, you will have an extensive briefing by your guides about what lies ahead as you climb the tallest free standing mountain in the world!
If time permits for tours – Optional – An area tour which includes waterfalls, a culture visit to the local village and a tour of coffee plantations or Boma Bush Dinner with the Masai.
Overnight: Springlands Hotel (B)
Sep 14 – The Kilimanjaro Experience begins!                              BLD
After breakfast, we head to the Kilimanjaro National Park gate which lies at the edge of Marangu and an elevation of more than 6 thousand feet above sea level. After completing our registration formalities, we start our upward trek, climbing 3 to 5 hours through a beautiful, unspoiled forest, enjoying lunch along the way. The forest finally opens up to a clearing and our accommodations for the night – Mandara Hut – located at almost 9,000 feet. (We provide your sleeping bags and mattresses.)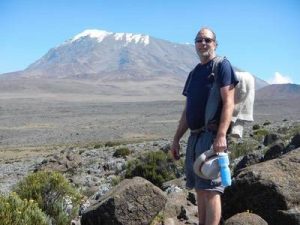 Mandara includes a group of 'A' frame wooden huts which feature comfortable dormitory style rooms. Water is piped onto site from a spring above for clean water as well as flush toilets. There is plenty of birdlife to enjoy as well as some monkeys near the huts. You can rest and enjoy the beautiful forest or perhaps take a short hike to take in the volcanic remains of the nearby Maundi Crater.  (Avg. 5 miles hiking 4-5 hours at  2700m)
Overnight: Mandara Hut
Sept 15  – Horombo                                     BLD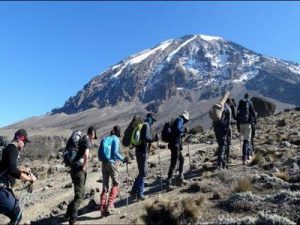 Today, we have a 4 to 6 hour trek ahead of us. The first part of the walk is a steep ascent through the forest, but the path soon opens out into grassy moorland and in clear weather, there are breathtaking views of Kibo and Mawenzi peaks. It's a steady climb ahead through the moorland zone, containing giant heathers and flowering herbs called groundsel. We eventually reach the hut complex at Horombo – almost 2 and a half miles above sea level.
Here, we truly get the sense of being above the clouds. The Horombo huts are similar to Mandara, but this is a larger complex. Here, too are spring fed waters piped in to handle water as well as the toilet facilities. Sunrises and sunsets are often spectacular, and the site is close to the strikingly beautiful glaciated dome of Kibo. (Avg. 6-hour hike, 7 miles to 37,000m)
 Overnight: Horombo Hut
 Sep 16 – Extra day for Acclimatization  BLD
 Zebra Rocks – There's no need to pack today because it's all about getting acclimatized. You can take in some sightseeing, but it's important to use this time to have our bodies get used to the altitude so the rest of the trek will be easier.  Our past groups found this to be crucial.
We'll walk up the southern slopes of Mawenzi, to get some of the best views possible of Kibo as well as a gorgeous panorama overlooking the wild and inhospitable desert of the Saddle. We also visit places such as the strange Zebra Rocks -rocks streaked over the centuries by water until they resemble the flanks of a zebra.
Overnight: Horombo Hut (3,800m)
Sep17 – Saddle Between Mawenzi and Kibo  BLD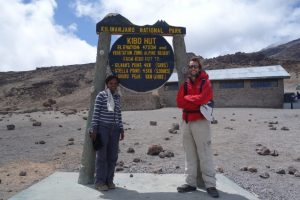 We climb very gradually towards what looks like a lunar desert of the Saddle between Mawenzi and Kibo. During the five hour hike, the terrain changes to broken rock fragments known as scree as we experience the sense of high altitude wilderness.  Our goal is to reach Kibo Hut by midday. Located at an elevation of almost 3 miles, it is at the bottom of the crater wall.
Kibo is a stone built block house with a small dining area and a number of dormitory rooms leading off a main corridor. At this elevation and the water has to be brought in.
We'll spend the remainder of the day resting and eating in preparation for the final climb before a very early night! (Avg. 6-8 hour hike, 6 miles to 4703m)
Overnight: Kibo Hut
Sept 18 – Summit Day   – Uhuru Peak!                        BLD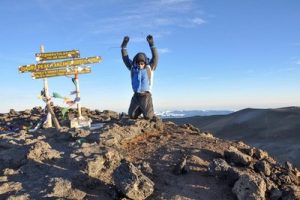 A long day, but so worth it. We have an 11 to 15-hour day ahead of us, starting our ascent by flashlight at about 1 AM.  The goal is to reach Gillman's Point by sunrise. The initial climb is over loose volcanic scree, but there are some well-graded zig-zags. A slow, but steady pace will have us up to Gillman's in about five or six hours. We will rest there and take in the goose bump-inducing sunrise, looking out over the world three miles below.
(If you are up for it, you can make the additional three-hour round trip from here along the crater rim to Uhuru Peak. Elevation there is over 3 and a half miles and you will pass close to spectacular glaciers that still occupy most of the summit area.)
Then – it's time to start heading back down. The descent is surprisingly fast and we return to Horombo for the night. (Avg. 6-8 hour hiking 10 miles to 5895m or 19,340')
Overnight: Horombo Hut
Sept 19 – Final Descent  Horombo to Marengo Gate                  BLD
Today is the victory lap! We head down towards Mandara, with rocky terrain giving way to green, lush forest. We retrace our steps with a pleasant moorland walk down to the National Park gates. (Avg. 5-7 hour hike, 12 miles at 12,000 to 6000')
After we finish the climb, we are picked up and head back to Springlands Hotel for overnight and an AFS farewell celebratory dinner with your certificate of completion.
Overnight: Springlands Hotel
Sep 20 / 21 – You made it!  It's time to reward yourself for all the hard work with a little R&R.
Time for rest, relax and explore.  Guide will provide ideas.
To main group not adding the extension.  Following breakfast, we are transferred to Kilimanjaro airport for our departure flight.  Transfer to  airport on SEP 21 at 3AM
Optional Serengeti Safari extension! (Return home Sep 23).    

Land Price $ 2695 pp twin share
Deposit $600  (Must be in good physical condition)
Limited to 24 participants (This year we limit to small group.  Past groups on 32 had an army of 60 porters and guides in tow. We'll have a perfect size for our leaders to handle.  You must be fit with no respiratory, heart, foot, leg or hip problems.)
 INCLUDES: 
4-Star hotel accommodation in Arusha and multi-share Alpine huts with prepped beds per itinerary based on twin share
All airport transfers by private, air-conditioned coach (Any individuals traveling outside the group arrangement must organize own transportation)
Arrival Meet & Greet guide assistance, Mountain guide and porters.
Sightseeing and admissions as per the itinerary
Local taxes on accommodation and sightseeing tours,
Meals as indicated on itinerary (B-full breakfast, L-Lunch, D-Dinner) Full Board on the mountain. Meals are high carb and basic ( suitable for climbing). Special diets can be provided for but only with advance notice.
All park fees, hut fees and rescue fees. Rescue fees cover evacuation to the gate only. Travelers must purchase insurance with medical and evacuation coverage.
Not Included:
$320 standard gratuities, Tanzania visa $50
AFS Group Air  -Turkish Air (TK) at $1198 with tax
AIR FOR MAIN GROUP- WITH EXTRA NIGHT AT SPRINGLANDS- 
SEP 11 check-in before 9PM  (3 hours before flight min.
 TK  12    12SEP  JFK-IST – 0010 1650. (Check-in by 9 PM Turkish Airline counter on SEP 11)
 TK 567   12SEP  IST-JRO – 1945 0505 (+1 day  13Sep)
 TK 567   21SEP  JRO-IST – 0555 1255  (Early AM transfer to airport)
  TK  11    21SEP  IST-JFK – 1835 2230  (Google JFK airport hotel with free shuttle if needed)
Upon Group Arrival – On Sept 13 most will be at Springlands Hotel.  Guides will meet you at the airport with AFS.  Transfer you to hotel and give pre-briefing.   Full briefing for all next morning.
AIR FOR GROUP EXTENDING TO NGORONGORO-
SEP 11 check-in before 9PM
TK  12    12SEP  JFK-IST – 0010 1650
TK 567   12SEP  IST-JRO – 1945 0505 (+1 day  13Sep)
TK 567    23SEP  JRO-IST – 0555 1255
TK  11      23SEP  IST-JFK – 1835 2230  (same day)
Key=  IST-Istanbul, JRO – Kilimanjaro,

Land prices per person twin share. Trip price based on a minimum number of participants.

Single rooms limited with $ supplement.  Cost varies.  Email us for availability.  AFS will find you a roommate.

The earliest we present group air is 10 months prior. We'll send email to ask who wants it.  A minimum number of 12 is needed.

Please review AFS Terms and Conditions, Heading Abroad with AFS, Covid Policy.  Travel insurance is important nowadays.  It's rare, but we reserve the right to modify schedules, tour and hotels.

Read Trip Tips on its own tab next itinerary for latest details. 
Serengeti Safari Extension – 
You've come this far, why not add on a full safari with thrilling game drives deep into the Serengeti to catch the end of the Great Migration.  Yes, it's pricey but it's the best rate we can get for a tiny private group fully guided offered at our cost.  You're welcome to search your own extension, but this package is most efficient.   We'll ask about adding this via email later.   
Hotel address: Plot 109 Malula Village near Kilimanjaro International Airport, King'ori 00000, Tanzania
Contact number is as +255 692 957 990

AIR FOR GROUP THOSE EXTENDING TO NGORONGORO
1 TK 12   12SEP JFK-IST   0010 1650
2 TK 567  12SEP IST-JRO  1945 0505*
3 TK 567   23SEP JRO-IST  0555 1255
4 TK 11    23SEP IST-JFK  1835 2230
Instead of spending an entire day at Springlands at the beginning doing nothing, we started the tour on the 20th.
Sep 20  Transfer to Ngorongoro area via Lake Manyara Game drive                         BLD
Stop enroute for a Game drive with Picnic Lunch in Lake Manyara National Park.  Nestling at the foot of the Great Rift Valley escarpment, is a 125 sq. mile park of which two-thirds is covered by water. The name "Manyara" comes derives from "emanyara", the Maasai word for "prickly euphorbia thorns".
Geologists believed the lake formed 2 or 3 million years ago when the Rift Valley cleaved and streams began to pour over the escarpment, collecting in the natural depression where the lake is today. The soda content in the lake is high despite the fact that the lake water from fresh water run-off. The water attracts large flocks of flamingos that, when viewed from far away, form a pink mantle over the lake.
Elsewhere in the park there is a surprising diversity of habitats from open grasslands to hot water springs, river forest and swamps to rocky outcrops. The habitat support a fantastic array of wildlife and a magnificent birdlife numbering over 400 species. In addition to flamingos, the park is known for its large and boisterous hippo population, populous groups of baboons, and several herds of elephant, whose tempers can be a little short as a result of the years of poaching that decimated their number. Another phenomenon distinct to Lake Manyara is the occasional spotting of lions on acacia trees. Suggestions for this behavior include escaping the land heat by catching the air breeze, avoiding the flies or, more likely, to escape the disturbance from the elephant and buffalo herds.
Continue to your Lodge and check in. Dinner is at the Lodge.
Accommodation:  Bougainvillea Safari Lodge ( 2 nights)
Sep 21 Ngorongoro Crater Tour with picnic Lunch                                                                             BLD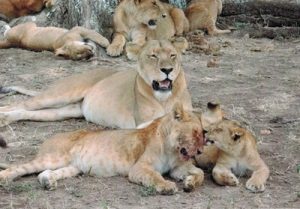 Ngorongoro Crater, the largest intact volcanic crater, has one of the largest concentrations of wildlife in Africa. The crater was formed some eight million years ago when the cone of an active volcano, estimated to be larger than Kilimanjaro, collapsed. This formed a crater more than 2,000 ft. deep and 12 sq. miles in diameter. The volcanic nature of the soils and plentiful water supplies transformed the volcanic cone into a spectacular sanctuary, the Natural Amphitheater, to the many species of wild game and birds that inhabit the crater today.
Some of the wildlife you can expect to see at the Ngorongoro Crater can include the 'big five', consisting of rhino, elephant, buffalo, lion and leopard. It is also a great place to see opportunity hunting by the likes of hyenas, as they hang around the large watering hole, planning an attack on an unsuspecting flamingo. The crater also serves as a great location for bird spotters, with many different types inhabiting the park, namely the kori bustard and the black kite, which exist in larger populations here as compared to other parks within the North of Tanzania.
Return to the Lodge for Dinner.
Sep 22 Transfer Ngorongoro to Arusha                                                                                  B
Enroute visit to Mto wa Mbu Village
Visit Mto Wa Mbu village for a great cultural experience with an experienced, English speaking guide who grew up in the village.  Visit local farms, schools, a kindergarten, local homes, the market and milling machines.
A local lunch (additional cost) that is served in a lovely banana plantation deep inside Mto Wa Mbu village can be included.  Arrive at the Arusha airport hotel and check in. Dinner on own account.
Accommodation: Airport Planet lodge ( 1 night) Plot 109 Malula Village near Kilimanjaro International Airport, King'ori 00000, Tanzania
Sep 23 Fly Kilimanjaro to Istanbul TK 567  555A/ 1255P
Fly Istanbul to New York TK 11 635P / 1030P
Land Price:  $998   Based on a minimum of 14 participants. (No deposit needed.  Just email us that you want it and we will add it to your invoice.)

 All prices are per person twin share.  Single rooms limited per group and a single supplement applies.  Cost set by hotel/cruiseline and vary considerably.  AFS will find you a roommate match. All hotel rooms are "run of house."  

Please review AFS Terms and Conditions as well as Heading Abroad with AFS.  

Land – Price based on a minimum number of trip participants, as well as local currency exchange rates which can fluctuate.

We write our itineraries over a year in advance. Though unlikely, we always reserve the right to modify schedules, tours and 

hotels if necessary. 

Group air – Airlines may add surcharges to offset fuel inflation or taxes. The total ticket cost is not final until we receive your final payment and the group is ticketed. If doing own air, airport transfer may or may not be included depending on your air schedule. Do not buy air until the group air is set or we advise – though unlikely, airlines, times and dates can change!
Print
AFS Kili Trip Tips 2021
Prepare to be thrilled as you ascend Africa's highest peak in gloriously wild Tanzania! Marangu route is most popular but challenging and we make it doable for you with plenty of support from the top licensed guides and an army of porters. Our three past groups loved it. Even if they didn't all reach the summit, they all wrote travel journals on their experience.
IMPORTANT PAYMENT DATES. Final is Due June 15
Make your payment out to AFS or Adventures For Solo Travelers, 1907 Daniel Green Ct., Smyrna GA 30080. If you won a contest on a past trip and have a coupon, mail it in, and we'll process it just like a payment made by check. You may review your balance, booking items, and profile after logging into www.afstravelers.com. You may check your outstanding balance at any time on your profile after login. Reminder emails will always be sent.
March 8 – Thank you for your patience with us as we tend to 10 groups prior to yours in September. Everything is changing with air and land rules. We're trying our best to keep you updated here. A few of you have trepidation but no you couldn't be in more expert hands on our Kili trip. We trust all restrictions will be lifted by summer. I just pray our great air schedule remains the same. Our group size dropped due to pandemic. 16 months ago, our supplier based our group size on 24 to 26 participants. Today we have 21 fit travel lovers and hope to get a few more to protect our price from any small increase. Please tell your friends now about this once-in-a-lifetime adventure. Our ground team eagerly await AFS and are excited to serve you.  Now is the time to get your air if you are not flying with the group before prices soar. Carefully read air notes and new Covid details added below.  More updates will be added, so check back.  I'm excited that part of our trip will be filmed by producers from Bird Mine featuring Erika Bogan, former Miss Wheelchair America. More details later.  Your trip leader Joey is thrilled to assist you.  He has all his air.  No vacine necessary for travel. 
 "Incredible life-affirming experience, I will treasure forever. The dedication and thoughtfulness of our crew made the challenge attainable. I just proudly framed my summit certificate. Thank you, Suzy, for making this my most rewarding journey ever!" – Ed Sphritz
Your fearless GTL (Gracious Trip Leader, not a guide but liaison between our guides and group to ensure things run smoothly.)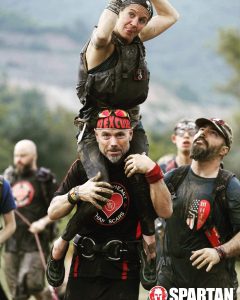 Joey McGlammory My guiding/leading adventures began in 2013 with helping or leading events in which athletes with disabilities were involved. Before that, I had already competed in many endurance events. Since that time I've taken part in many more adventures. I am a certified rehabilitation fitness therapist and personal trainer with over thirty years in the health and fitness industry. Below are but a few of over 610 events that I've completed. 
3-Worlds Toughest Mudder(24 hr nonstop endurance race)
5-Spartan World Championships (all over 15 miles in length each)
7- Spartan Beast Races up Mt Killington on Vt (7,000 ft elevation each time)
6-100 mile trail and road races
27- Full Marathons
48- Half Marathons
18- 10 mile road races
64- 10k road races
1-60 hour nonstop endurance event
Marangu Route
This is the oldest and most popular trail. It's the only route without camping that provides dormitory-style hot. There are around 60 bunk beds in huts at Mandara, Kibo and Horombo.  We supply mattress, pillow and insulated sleeping bags.  The route can be done in five days, but we feel it's vital to add an acclimation day at Horombo.  The views are stunning. It's also called the "Coca-Cola Route".  Trekkers are often misled into thinking it's easier, but the success rate is lower as it's usually chosen by inexperienced hikers. In our past AFS groups, 60 to 70% reached the summit. All get a certificate. "Pole-pole" (slowly-slowly) is the most important words you'll hear as you go slow and stay hydrated. Listen to your expert guides who do this daily! The older clients tend to do better because they go slower. There's no rush to reach Camp because there's nothing to do there.  It's around 3 days up in 2 days down. Most days are 5-hour treks, but day five can be as long as 11 hours.  With 24 in the group, they will divide you in half. 12 guests will have one senior guide, four assistant guides, two cooks, 26 porters. Total staff reaching around 40 for each group. They are registered with KPAP Porters Assistant Project Kili" and have gone through intense mountain rescue courses. You'll be in awe of their efficiency and help from this to keep you safe.  Note – If you cannot continue the climb, you will be escorted back to Springlands hotel.  Lodging at your expense, but you'll be assisted.
Private Facebook Group Page – Please ask.  The benefit of the Private FB Group Page is that you have an opportunity to introduce yourself to your fellow travelers before departure and share trip photos during and after the tour.  Where can I find the FB link?  Just ask.  Please connect now.
Addendum (Oct 26)
+ With today's travel landscape, it's been beyond challenging to get through all the changes. But I'm happy to say we finally secured all final land and air arrangements with great satisfaction. Toss out all old notes so you don't get confused. Nothing on the itinerary has changed. See technical itinerary from our Tanzania team copied below.  New Group Air on Turkish Airlines (TK), voted Europe's #1 carrier.  12 of you booked Group Air.   If you were doing own air before and now want group air, email or call to get on. I would grab it. With airlines making so many time changes these days, if there's a change on TK, we'll handle it all lending peace of mind. We can add a few more at this time. Call Suzy 770-815-7778 cell.
Trip Prep:
Read the revised Heading Abroad with AFS, especially if you are new to AFS.
Ensure your passport is valid 6 months after return date with two blank pages.  We recommend renewing your passport well ahead of any planned international travel. Take a photo of your passport to store in the cloud or bring a copy. Scan your important documents – Covid tests, trip tips, passport etc. If you lose your passport, US embassies now except a digital copy from your email folder on your phone to re-issue new one quickly.
To speed through US Customs download Mobile Passport.  Look in your App Store for details.
Notify bank and cc company of travel dates so they don't block charges.
Vaccines – I got mine feeling it will eventually be necessary for travel. Many countries now are eliminating Covid test and quarantine for vaccinated visitors.  Bring your vaccine card.  Don't laminate vaccine card as some countries won't accept it.  You can take photo of both sides and store on phone or copy both sides and laminate the copy.  Login to your trip file booking form and answer question about Vaccine Yes (or will) or No.  Suppliers want this info.
All airline Covid rules differ.  It is imperative to read your airline rules to ensure a smooth departure!  Click here for the latest info on PCR tests required to travel abroad.  Failure to get the correct test may cause the airline to turn you away.   It's your responsibility to know the airline rules that can change right up to departure. They won't speak to us with reservation in your name. All websites post their Covid rules at top of landing page. All airlines in the process of making significant routing and scheduling changes now as they scramble ramping up hiring for the travel surge to come. How to reach them?  Call direct or request a callback time. Check to see if your questions can be resolved on the airlines mobile app or via Twitter or turn to their social media for assistance. Travelers get best results via Facebook message to the airline.
The local supplier and AFS may require you sign a Travel Pledge before departure.  If so, we'll email a form to you  prior.
VISA  –  It's time now to apply for your travel VISA. Yes, you may read you can get on airport arrival for $100 (in cash, new bills 2009 or later) however, most operators advise against this with long lines up to two hours. Some visas are so complex. Tanzania now made it easy with new E-visa online.

How?.. Apply only at legit govt. site

www.immigration.go.tz

(beware of bogus sites with added fees. You can use a Visa service to get you the visa, but they're expensive.

You must follow steps EXACTLY or the visa will be denied.

Complete application form – check "Multiple Entry". If questions on travel plans, state trek with AFS Inc. operator, Springlands Hotel (refer to AFS itinerary page.) They will ask for flight details home, so have that handy.
Scan copy of passport information page.
Send digital passport-style photo. Take a selfie against a blank wall, no glasses, upload 2-inch x 2-inch photo (follow their rules for uploading, in particular, MB size. The jpg may need to be reduced.)
Credit card payment

Approval should come to you by email in 2 to 3 weeks. Print approval email to show on airport arrival.

Travel Meds:  no vaccines or meds required. Except if you add another Africa country prior to entry, you have to get yellow fever shot and show yellow fever form upon entry!   2 meds suggested –  anti-malaria pills and Diamox 5mg to help acclimatize with your blood flow but only 65% effective. More on this later.
Covid vaccines are rolling out faster than ever now. Be patient. I just got mine feeling it will eventually be necessary for travel. Many countries now are eliminating Covid test and quarantine for vaccinated visitors.  Don't laminate vaccine card as some countries won't accept it.  You can take photo of both sides and store on phone or copy both sides and laminate the copy.  Click here for the latest info on PCR tests required to travel abroad.  Failure to get the correct test may cause the airline to turn you away.
All airline Covid rules differ.  It is imperative to read your airline rules to ensure a smooth departure!
Fitness level – Level 1 –  Fit  Anyone who suffers from pulmonary or cardiac problems should not be on this. If any doubt, consult your doctor beforehand. You must be able to walk 5+ hours per day.
Fitness Preparation:  Both mental and physical are fundamental to success. Start a training program for both aerobics and strength. Leg presses and lunge walks are great. Experts suggest 30 minutes on the stair-stepper alternating with 60 minutes on elliptical three months prior to trek.
June 5 – Turkish Airlines just canceled all their flight to Kilimanjaro.  We are on it looking to find good air for our group.  We will advise ASAP.
Group Air– Many keep changing their minds on air.  After MAR 20 if you committed to group and change, you will incur a $100 airline fee.  Tell us now!  Seats are filling up with climbers.
June 12 – new!  Please note international carriers are canceling routes left and right now, particularly Delta and Air France affecting our EU groups from July to October. Today it grieves me to inform you now TK announced they have canceled all flights to JRO and are no longer flying to JRO until winter.  We've been scrambling for days now to find other air at a decent rate, dates and times from USA to JRO, the best airport to reach Arusha or Moshi, Kili gateway. (Only 6 – We spoke with Kenya, Emirates, Condor, Qatar, Ethiopia and KLM) But the problem is either only fly 3 to 4 days per week or ridiculous layovers 10 hours or more and higher fares.
I did grab 12 seats on KL for the main group from JFK Sept 12-22.
The problem is you arrive in the evening so no pre-day hotel needed.
Price is $98 higher but we will absorb it all to keep same price.
You may need to change your domestic flights to JFK to match the times below but WAIT until I advise all is confirmed. The good news is that flight times are excellent and reputable KLM rarely changes their flights.
To the 7 booked on the Safari Extension with the group air – sadly no seats are left to return on September 23. I'm awaiting price of an added night to return September 24.
New Main Group Air Sept 12-22
Sep 12 KL#642 JFK-AMS 5:30pm (check-in by 2pm) to 7am (next day)
Sep 13 KL#569 AMS-JRO 10:50am – 8:10pm
———————————————————————
Sep 21 KL#571 JRO – AMS 9:10pm (full day!) – 7:20am (next day)
Sep 22 KL#49 AMS-JFK 1pm – 3:30pm (get flight home 5pm or later)
Price $1198 with taxes
Again, wait until we confirm your seat by email this week. Final payments have been extended 2 more weeks. Then we will send info about the Tanzania Visa details. I understand how daunting it seems, but you'll get there. Thank you for your patience as we sort through the big stuff. Most of you have waited over a year for this trip, it will be worth
Transfers- Airport transfer upon arrival and departure are included with Group Air. If your flight time coincides with the group, you may take our single airport group transfer. It's your responsibility to find the group as they exit baggage claim.   We will have a single return airport transfer at the end of the trip at a time that will accommodate most schedules. If your time doesn't work out, you'll need to make your private transfer or taxi.
Doing Own Air– USA to JRO is not easy now.  As vaccines roll out, seats are filling fast.  You may arrange your own air from your hometown. Go in a day early to rest.  But you'll need to arrange your own pre-night hotel at hours or other. Springlands is near full. Send us your arrival date and time now, not your entire ticket, please. See your airline website for PCR test. More on this below.   Land portion begins 9AM on SEP 14 at Springlands Hotel for first full briefing where you'll meet the group. Airlines that fly to Kili:  TK, KLM, BA, Qatar, Emirates, Ethiopian, Lufthansa and others.  Using booking engines like Expedia and others are risky as difficult to change booking.  Pay more for a changeable/refundable coach ticket.   We like Google Flights and Skyscanner. If your arrival or departure times do not align with Group Air times, you'll need to arrange your own airport/hotel transfers.  If you go early and check-in AFS hotel before group arrives, it's your responsibility to change rooms with your roommate if necessary day one when trip begins. 
For free time the markets in Moshi Town are fun to bargain unique finds. There's Tanzanian cooking classes, Hot Springs and Materuni Waterfalls, Coffee Farms and fab Animal CREW to see rescued wildlife and play with monkeys! See www.kilimanjaroanimalcrew.org
• Air update (June 1). Everyone, check your flights! Airlines are canceling routes left and right now, Many won't even inform you by email that there's been a change. If your flight has been canceled, they MUST rebook you book on any other carrier to accommodate your schedule. Stand firm. If you're not getting anyplace ask for their supervisor.   (Good news, conversely many airlines are adding other new routes which be a better fit for you.)  
Luggage –   Soft side bag only, duffels are the best. No hard cases. If soft side suitcase, you can rent a duffle there.  While airlines allow 50 pounds, your porter limit is 36 pounds! If your vacationing longer on own before or after and need to pack more, you can leave a big bag at hotel! Your porters carry of your soft duffel from hut to hut. You only carry your day pack.  I don't want you to buy a bunch of gear you may use once.  Rent or borrow – see below.  (The locals are so poor.  Many past AFS groups leave clothes behind for them.  Even a pair of your socks would be appreciated.)
Packing – Google Weather for Tanzania a week prior to departure. You need to plan for all climates.  Keep it simple and limit your bag to 36lbs.   This is the maximum a porter will carry.  Suggest Packing List:  Docs – passport, copy of medical and/or travel insurance. Keep money in money belt or pouch.
Clothes:
4-5 underwear, top and bottom base layer (use to sleep in)
3-4 short sleeve and two long sleeve shirts,
2 pairs of hiking pants- 1 heavy and 1 lightweight
2 pairs shorts
Light rain jacket or poncho, rain gear
Waterproof insulated winter jacket.
Headgear:  sun hat, neck bandanna or gaiter, sunglasses, headlamp with batteries, warm fleece beanie cap
Hands – warm outer gloves, lightweight inner gloves, collapsible hiking poles or rent them there.
Feet:  waterproof hiking boots, mid-weight and worn in! 4-5 pairs of thin to thick socks, warm and light socks, sandals, tennis shoes
Daypack – waterproof 30L pack to carry essentials
General accessories: large water bottle (or rent) or hydration bladder, water purification tablets, Handi Wipes and hand sanitizer, sweatproof sunscreen, insect repellent with DEET, camera, solar charger (GoPro optional), small towel, Ziplock bags for toiletries
First Aid:  band-Aids, moleskin, tape or knee support, lip balm, Imodium, ibuprofen, aspirin, optional Diamox and malaria pills.
Other Bits-  snacks like energy bars and drink supplements, small lock for your duffel bag, swimsuit for hotel, gifts for locals-candy, pens, your old clothes to leave behind, sleeping bag liner (cheap)
AMS – altitude sickness can affect anyone with headache, nausea and difficulty breathing. It helps to take 5mg Diamox tablets on your third day even if you don't feel symptoms. Guides have supplemental O2 and will insist you stop and rest. Listen to your guides!
Prep for Descent – summit day is hard especially after a little sleep, but the steep drop down is the real test. Take anti-inflammatory meds for your knees that act as shock absorbers.
What goes in your Daypack:  snacks, water purifiers, camera, rain poncho, meds, hat, sunscreen. Essential to carry at least 2 Liters of water.  Guides will explain.
Meals-high carb and protein, variety of food for all tastes. Coffee, tea, hot chocolate with cookies, but limited as these have a diuretic effect,  Chefs are experts. Vegetarian available.
Ground supplier packing suggestion
PREPARATION GUIDE FOR MOUNTAIN CLIMBING
 PHYSICAL FITNESS
Although Kilimanjaro is not a technical mountain climb, it is a major challenge, and the rigors of altitude should not be underestimated. Remember that Uhuru peak is 500m higher than Everest Base Camp!! The pace of your ascent coupled with good acclimatization will help you on the climb, but it is essential to be mentally and physically prepared before you start. Regular hikes are one of the best ways to prepare, increasing frequency and length, as you get closer to the trek. All aerobic exercises such as cycling, running, swimming and funnily enough aerobics are good for strengthening the cardiovascular system. Generally, any exercise that increases the heart rate for 20 minutes is helpful but don't overdo it just before the climb.
ALTITUDE AND ACCLIMITIZATION
 Altitudes are generally defined as follows:-
High altitude 2,400m – 4,200m
Very high altitude 4,200m – 5,400m
Extreme altitude above 5,400m (Uhuru peak is 5,895m)
During the trek it is likely that all climbers will experience at least some form of mild altitude sickness. It is caused by the failure of the body to adapt quickly enough to the reduced level of oxygen in the air at an increased altitude. There are many different symptoms but the most common are headaches, light-headedness, nausea, loss of appetite, tingling in the extremities (toes, fingers) and a mild swell of ankles and fingers.
These mild forms are not serious and will normally disappear within 48 hours.
PERSONAL FIRST AID KIT
 The following first aid materials are important: –
Painkillers (asprin/paracetamol)
Antihistamines
Blister treatment
Imodium or other antidiarrhoeal tablets
Plaster/Band aids
Antiseptic wipes
Dressings, especially pressure relief for blisters
Talcum powder
Malaria tablets
Sun block for skin and lips
Antacids
Cold cure sachets
Oral rehydration salts/sachets
Insect repellent
Sanitary towels
OTHER HEALTH TIPS   All contact lens wearers should take care to remove the lenses at night, as the eye needs to absorb oxygen from the atmosphere. The rarefied conditions of altitude reduce oxygen levels and in extreme cases a Corneal Oedema can develop.
EMERGENCY EVACUATION  In the event of an emergency on the mountain the rescue team plus one of the assistant guides will descend with the casualty to the park gate. At the gate the casualty will be taken care and the necessary arrangements will be done.
PHOTOGRAPHY  Cameras whether digital, video or film, need to be protected against the severe cold weather either in warm pouch or the interior pockets of your clothing. Do not keep in your backpack at higher elevations. A selection of lenses will aid the final results although weight and bulk will obviously influence your selection. A polarized or neutral density filter is recommended, as is slide film rather than print. Bring your own film, batteries and memory cards as these can be hard to find and expensive in Tanzania.
For digital equipment, check with the manufacturer's specifications for temperature range (especially battery life), water tightness and general hardiness.  Remember that there are no electrical outlets on the mountain to use for charging equipment.
HELP TO PROTECT THE ENVIRONMENT
Waste Disposal: "Pack it in, Pack it out".
Litter is not only ugly but can be harmful to people. Buried litter may be dug up by animals, and burning it is illegal, so – "Pack it in – Pack it out" Until the appropriate disposal area.
 PROTECT YOURSELF:  Watch your steps:  In highland areas watch for
Stinging nettles: – Plants that cause temporary painful irritation to bare skin, and may even sting through clothes. Shorts are not recommended where these occur.
Ants: – These are small shiny brown ants that move rapidly in dense columns trails. They are carnivores and if you step in them they crawl up your legs and start chewing. Tuck your trouser cuffs into to your socks, and watch where you step.
DRESS RIGHT:  Be prepared for different physical extremes.
In the Lowlands, shade temperatures can reach 35˚C and shade may sometimes be scarce.  In the Highlands, it may freeze at night. Fine weather can change very quickly to fog or rain. To keep you warm, wool and synthetics are better than cotton, but to keep you cool cotton is best.
Always protect yourself from the sun… –     A hat reduces the risk of sunstroke. –     Protect your eyes with dark glasses. –     Protect your skin with clothes or sunblock lotion.
PEOPLE: – You are the guest of the locals and Tanzanians in general. Please treat them with respect.  – Always ask your guide to seek permission before photographing people or anything.  –  Avoid roadside photographic deals. They encourage resident people to harass tour vehicles.  Never give anything to children from a car or by the roadside – you could cause the death of a child who runs out into the road to beg from cars.
RENTAL GEAR LIST  Save space and rent items there.  Perhaps only a warm jacket and poles.
RENTAL EQUIPMENT 2019 prices…
Prices are for the entire trek in U.S. dollars, payable in cash in Moshi. It is best to come well outfitted. Rates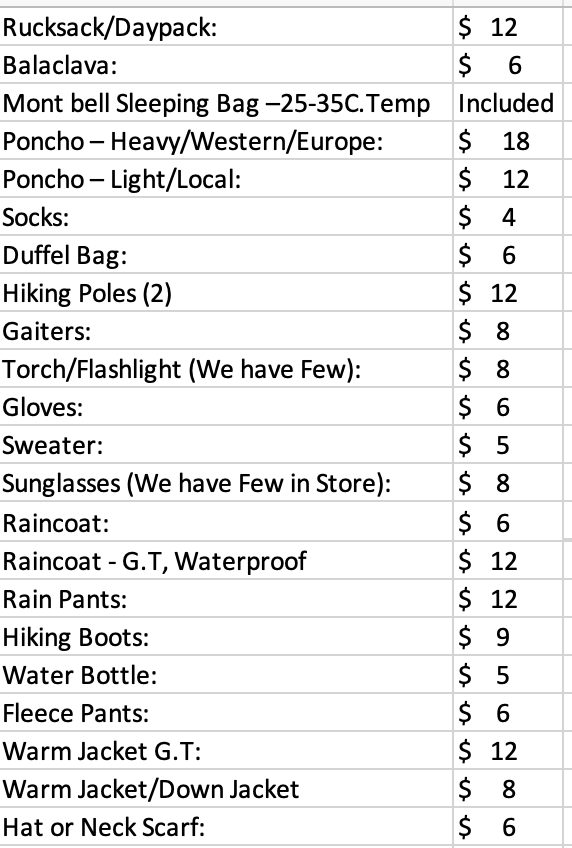 We provide Tents and Foam Sleeping pads at no charge.
Sunglasses are available for purchase in the gift shop for $ 12 – $15.
Each Oxygen Cylinder – available for $ 12/ Day
Gratuities –  Tips are costly on Kili. It's the only way to say thank you to our "AFS army of crewmembers" for their hard work. Poverty is extreme here and most sherpas only depend on tips.  In accordance with guidelines from K PA P, the system is to complete forms at treks end. Your senior guide must have all who assisted you each sign their names on form thus ensuring allocations are fair for everyone. After form, hand your guide an envelope of at least $320 to $340 in US currency in newer bills. This is always the suggested minimum.  They prefer envelopes from each individual person.
Other tipping on own – If service is stellar, feel free to give more directly.  All we tourists leave behind is our reputation. I personally carry a personal stash of US ones in an envelope to draw from as needed. Bell staff/porters – AFSers roll bags to their room.  If you use a porter, please tip $2.
Money Matters – You will need some cash for personal tipping, meals, and shopping. $200 in cash will suffice again newer bills. (Venmo may be convenient at home, but useless overseas, ATM may eat your card.  Always bring some cash!)   Change currency arrival at airport, bank, or hotels or withdraw local currency from an ATM.  Note -independent ATMs are risky due to skimmer scams. Safest ATMs are at airport and banks. Always shield your pin number when entering. Avoid using unless it's an emergency.
Currency  Exchange Rate  $1= 2300 TZS
Follow the link below to create a conversion cheat sheet
Credit cards are far safer than using your debit card. I know $300 cash is plenty of money for a week for me. I convert half of it upon entry. I use my credit card.  Avoid using an ATM unless it's an emergency. If you must use an ATM, use them at airport or banks.  Credit cards far safer than your debit card.   I know $300 cash is plenty of money for a week for me.  I convert half of it upon entry.   I use my credit card for most purchases.  Many cards now offer no foreign transaction fees.
Communication-  No WIFI on Kili, but cell works partway on climb.
Get Smart: "Avoiding Hackers on Vacation," Experts say! …Thieves not only want your money but also your hard-earned Frequent Flyer Points!  Change passwords often. Check device security settings before you leave for your trip. Back up, update, and encrypt your devices and data using a virtual VPN. It's worth the cost. In hotel rooms, hide iPods or laptops to avoid "evil maids" that want to clone your tech.  Bottled water is always best abroad, as our gut isn't accustomed to local tap water. Eat clean food and avoid street vendors.  Pickpockets are everywhere now, especially at night.  Never carry your passport outside of the room.   It's wise to grab a business card from the desk before heading out on own.  To get back just show the card to a taxi driver- no memory or English needed.
Photography – Before taking pictures of locals, know it is polite to ask.  Your AFS Private Facebook Group Page is a great way to share your best shots with each other. AFS loves photos with group participants (that means YOU in them)  for our website. The best photos are ones that include a group member with a local, children, animals, or at iconic sites in the same frame!
Amending tour pre-or post-trip or arranging private tours during free time.  We often recognize this, as well as see AFSers on Facebook urging others to join them to countries before or after our trip. Stopovers are great to add, but understand AFS has nothing to do with this and is not responsible for the quality of these trips.
Emergency Contact – AFS Phone 770-432-8225, or email us at https://www.afstravelers.com/contact-us/  and more contacts will be provided with your Final Docs email 3 weeks before departure. Your guide can handle any true Emergency.  Do not expect to use your trip leader's cell phone; you'll need to use your own cell phone.
Cancellation Penalty:  At booking, we sent you our terms and conditions. Open the following link to review our terms again: https://www.afstravelers.com/terms-and-conditions/
Travel Insurance–  Supplier requires travel insurance policy with evacuation coverage.  You can buy medical/evac package really cheap and little more, cover trip cancellation if you need to.  If you would like the security of travel insurance.  The trip cost can be amended or adjusted as needed after your initial purchase (eg. like adding an air ticket cost later). You can buy travel insurance at any time, just know that there may be some possible limitations if purchased outside the 15-day period.  Inexpensive option can be found at https://www.worldnomads.com/usa/travel-insurance/
If you would like the security of travel insurance and have a pre-existing condition (elderly parent, medical, etc.) or want to be covered for Covid caused delays, you must purchase insurance within 15 days from your initial trip deposit in order to assure full coverage.  The trip cost can be amended or adjusted as needed after your initial purchase (eg. adding an air ticket cost later). You can buy travel insurance at any time, just know that there may be some possible limitations if purchased outside the 15 day period.    Click to learn about Travel Insurance 101.  Then click Purchase Travel Insurance online 
Travel Psychology 101
Prepare for your departure joyfully with no contempt before investigation upon arrival. Please understand that with travel, things are not like at home and changes may occur. Great trips work best for those with an open mind, flexible attitude and adventuresome spirit.  If changes occur, embrace them with serendipity. Who knows?… The unexpected may prove to be a better experience.  Adapt and go with the flow with a laid-back attitude.  Be spontaneous. Be tolerant of foreign cultures in respecting their centuries of traditions. Embrace the differences. Be curious, not shy. Smile – locals will sense your energy of kindness and kindness always begets kindness.  Our common goal is to experience different cultures, make new friends, get great photos, have large fun, and return home safely with memories worthy of recollection.
The best spirit of an Explorer requires the openness of a child – Suzy
"When traveling, remember that a foreign country isn't designed to make you comfortable.  It's designed to make its own people comfortable." – Clinton Fadiman
Please note that AFS is non-partisan – With our homogeneous groups, we all want to focus on the common denominator – our love of travel.  In today's divisive world, we suggest members not discuss politics and if you must, please practice my rule of TOK:  Tolerance, Open-mindedness and Kindness.
Book AFS with Confidence 2021– The health of our Travelers comes first. As the world slowly opens, we are dedicated to creating responsible adventures!  All our trips are different, so specific plans in each region may be circumstantial. We work closely with our local suppliers to know the best practice in each country. That being said, we present a blanket procedure below to be followed on ALL AFS trips. Our local guides will brief you on arrival with the support of our Trip Leaders to ensure we follow local safety protocols. They are fully committed to aiding your well-being.
We will re-discover the world through more slow, easy and mindful travel. Our groups will be smaller.  All clients must take the AFS pledge that they are Covid free and will follow all safety protocols.  Booking travel now is complex because rules always change. Tour companies can't become "health and safety experts" when policies are inconsistent. Even experts are in the dark at times with the changing patchwork of government laws, but we'll do our best.  This is a learning process for all of us and as we go, we will strive to make each step as safe and seamless as possible for you.  Read all below on AFS detailed Terms & Conditions.
Thank you for booking! We are blown away by the support from all of you throughout this pandemic. It validates the trust and values AFS was built on over 30 years. As countries reopen, so will we. Travel is a shared experience. Together we press on and travel boldly. Below are new guidelines. We all must adapt and embrace any challenges with confidence for the freedom and privilege to travel.
As in life itself, travel comes with some inherent risk the minute we step out our door.   Travel isn't dangerous. Being irresponsible is. For your protection we want you to be proactive in following new health and safety protocols. They involve teamwork and personal responsibility, but they do not preclude you from having fun and enjoying your trip! Things constantly change and it's a huge challenge for airlines, airports, hotels, cruises and tour companies.  We will do our best to keep you up to date with any adjustments.
Please understand we reserve the right to amend any tour activities, if needed. To present responsible travel, we at AFS do our part: Our vetted suppliers uphold the highest standards under CDC guidelines.  At present, some international airlines may require a negative Covid test within 96 to 72 hours of departure. Details later as they come.  This may change as rules are always being revised.At present, you need RT-PCR test 72 to 94 hours prior to airline departure. By then, this rule may be eliminated. Don't stress, just refer to this if you need it. I've done 4 free PCR test runs with no problems.  Millions of passengers have gotten their PCR test to fly. You can too!

RT – PCR Test – This is PCR test with Rapid Test Results within 24 hours.  Most urgent care places offer these.  Read Covid news below.

Call your healthcare provider or Urgent Care near you. Or Google "free no cost Covid testing near me". Most state and federal programs provide this. Or Google airport to see if Test is available there (JFK $75). Rural areas are more challenging. You may need to drive to an appointment in a nearby city.  At present it's free at Walgreens and CVS. They will bill your insurance company of $119. (Best trick – if you say you may have been "exposed to a Covid person" or if you feel "symptoms" like fatigue or say CDC recommended, it must be free.Call or email to get appointment. Most are drive up. Schedule test within your 72 hours departure window, usually 3 days prior for email result needed in 24 hours. This way you still have a backup day in case you get a false positive. Bringf printed copy.New mail in-home kits – CDC announced today you can bring to do there for return into USA. (We will have tests at our resort if you want.) Note, however, outbound airlines won't accept this for departure.Don't forget to bring your vaccine card if you have one.
RT – PCR Test – This is PCR test with Rapid Test Results within 24 hours.  Most urgent care places offer these.  Read Covid news below.
If you are in a high-risk group, it is suggested you do not travel.
It is your responsibility to check the resources below as well as your airline requirements for travel. You may need to show proof of wellness note. Click to see CDC , WHO
You may not travel if you have any symptoms such as sore throat, shortness of breath, fever and verify you have not been in contact with someone who tested positive for Covid in the last 14 days.
Safety measures on a trip; frequent handwashing, (bring personal sanitizer), exercise social distancing and wear a mask when applicable.
All provide trip cancellation (not from fear), trip interruption, added medical protection. Call them to understand coverage. We are not responsible for any additional cost to do to quarantine or illness
Helpful CV Resources–  Below are helpful links to facts and stats for you to reference as you gear up for all your travel domestically and abroad.
Facts about coronavirus-symptoms/transmission/precaution/treatment
https://www.who.int/emergencies/diseases/novel-coronavirus-2019/question-and-answers-hub/q-a-detail/q-a-coronaviruses
CDC entire situation summary
https://www.cdc.gov/coronavirus/2019-ncov/index.html\
US State Department Travel Advisories (Often old news)
https://travel.state.gov/content/travel/en/traveladvisories/ea/covid-19-information.html
We at AFS assure you we will continue to offer you quality trips to countries where you will feel protected – countries that are going to extraordinary lengths now to provide a safe visit. Each destination is far less crowded than ever before and that means better personal attention.  Planes are half full and we can trust our astute global suppliers when each country is clear to visit. We're taking great precautions and encourage you to remain positive.
Our Pledge to You – Our global, vetted suppliers uphold the highest standards under new CDC guidelines.
We ensure that heightened sanitation methods have been adopted in every place we visit and that all hotel properties and vehicles have passed cleanliness protocols.
Our guides and drivers must test negative and pass stringent safety measures.
Most of our groups will be limited to half the size of normal in the past.
We are choosing destinations with wide-open spaces for physical distancing.
Some private tours for groups of friends only can be arranged.
We'll monitor your trip closely and provide a 24/7 emergency number if your trip is disrupted.
All clients must take the AFS pledge that they are COVID-free and will follow all the safety protocols.
We relaxed booking conditions with most trip deposits at only $250 and final payment deadlines from 4 months out to 70 days before departure.  This is a learning process for all of us as we go. We will strive to make each step as safe and seamless as possible for you!
Your Pledge to AFS  – We ask you to assume personal responsibility to protect your health and the well-being of your fellow travelers, guides and locals.
Read and print all updated Trip Tips on AFS website
Get travel insurance with trip interruption
Stay healthy with vitamin D and zinc
Confirm within 14 days of departure but you have no symptoms of Covid nor being in close contact with anyone diagnosed with it.
You agree to assume any risk of participating in trip activities, comply with applicable government, airline and health authorities.
Exercise social distancing and local guides directions whenever possible.
Sanitize your hands and phone throughout.
Read more here –  https://www.afstravelers.com/terms-and-conditions/
Rapid COVID-19 PCR Tests
Rules are changing daily! At this time, we must rely on each airlines policy. Read Covid rules at the top of airline website up to a week before departure. Every airline and country differs. 2 weeks prior, will send you final AFS departure letter with instructions specific to your trip. Please wait!
As of January 26, 2021, a rapid PCR test is needed to enter most countries and needed to return to USA. We hope this will be eliminated by the time your trip goes. RT-PCR (by nose swab) is only test excepted. No mailing kits. All tests are free or covered by insurance, but these may have a line to wait. Now appointments are taken. To get fast with no wait, make appointment at private lab. They are now thousands of labs around US. Also, more testing sites opening daily with easy drive through. Just google "Covid PCR test near me".
Outbound – Most airlines require negative PCR test within 96 to 72 hours prior to departure. This new rule makes travel more challenging, but we must follow to protect ourselves and those on the flight. Read specific airline rules on website, also any rules on connections in transit. Those vaccinated still need to show a test.
Get RT-PCR test with guaranteed results within 24 to 48 hours. They email result to you. Print out to bring at check in. Also screenshot copy on cell phone. Test must read "PCR". (We've had nobody test positive yet, if so, call us 770-432-8225. Many tests are inaccurate and a re-test shows negative.)
Homebound – Airline may require negative PCR test to board departure flight. Each carrier differs. We hope this is eliminate by your trip date. If test is necessary within 72 hours of departure, we can help arrange test for group in each country. Details later by email.
Climb Mount Kilimanjaro: Reasons To Scale Africa's Highest Mountain
From Tim Ward:
Why do 40,000 people a year seek to climb the world's highest freestanding mountain – a mountain so popular it has become known as Everyman's Everest? Here are the top ten reasons, from the most practical to the most profound:
Kilimanjaro is technically the easiest to climb of the Seven Summits (the highest mountain on each continent). You don't need ropes or special mountaineering gear, or even any previous mountain climbing experience. The youngest person to reach the summit was six years old, and the eldest (as of 2011), was 83. That does not mean Kilimanjaro is not without its risks. Rockslides and acute altitude sickness kill on average ten climbers each year (the subject of a forthcoming post).
Paradoxically, Kilimanjaro is both remote and accessible. Kilimanjaro is located in Tanzania, just south of the equator, next to the Serengeti. But regular flights fly nonstop from Europe to the Kilimanjaro airport. Around the mountain there's surprisingly good support infrastructure for an impoverished country – decent hotels, outfitters, gear to rent, ground transportation. On the mountain there are sleeping huts along the main route, with porters who carry and set up tents and kitchen facilities on the other routes.
Kilimanjaro remains surprisingly pristine. While the base camp of Everest is strewn with trash, Kilimanjaro National Park is surprisingly clean. Park Rangers weigh all the bags coming on and off the mountain and trekking companies pay heavy fines if the bags come down light. This greatly reduces dumping on the trail. There are basic outhouses along the way what while far from luxurious, provide privacy and keep the mountain clean. There are only seven trails up to the summit, and no roads. As a result, despite relatively heavy traffic, the mountain has retained its wild nature. [Text continues after images.]
Kilimanjaro one of the world's greatest natural wonders: a snow covered mountain on the equator, an ocean of green forest surrounded by dry savannah. Climbing Kilimanjaro is like walking from the equator to the North Pole in a week, providing dramatic changes in vegetation and animal life day by day. Kilimanjaro is also a sky island. Its high altitudes have created habitat for strange and unique life forms found only on a few other peaks on the planet – such as the delicate elephant flower and the bizarre Kilimanjaro tree.
Kilimanjaro is a hot spot for studying Climate Change. Al Gore showed photos of its rapidly shrinking glaciers in An Inconvenient Truth. Ice cores show the glaciers to be 11,700 years old – and yet they will all be gone in the next 20-30 years. Teams of scientists are working on the ice to better monitor and understand exactly why this is happening. One researcher I met said to me: "You can stand next to the ice and see the glaciers turning to vapor before your eyes." Xpedition Online runs treks for youth up Kilimanjaro, accompanied by climate scientists. Find out more at www.xpeditiononline.com.
Climbing Kilimanjaro contributes to a thriving local economy, generating about $20 million/year. Guides, porters, cooks, hotel staff, food producers, travel and trekking agencies, merchants, construction companies and banks all create local jobs in a region that remains one of the poorest on earth.7. Kilimanjaro inspired a continent to freedom. Kilimanjaro belongs to Tanzania, the first nation in Africa to win independence from colonial powers (it was then called Tanganyika). Before independence in 1959, soon-to-be President Julius Nyerere said: "We, the people of Tanganyika, would like to light a candle and put it on the top of Mount Kilimanjaro which would shine beyond our borders giving hope where there was despair, love where there was hate, and dignity where before there was only humiliation." Today, the summit is called Uhuru Peak – Uhuru is the Swahili word for "Freedom."
People climb Kilimanjaro to mark a personal accomplishment. Individuals climb the mountain to mark important transitions: their graduation, their retirement, a marriage or a divorce. The event is significant enough that every year dozens of local newspapers write the story of a town resident who makes the journey to the peak.
Many people climb Kilimanjaro to draw attention to a worthy cause or charity: to raise money to cure cancer or bring attention to a condition such as autism. Individuals with disabilities have climbed to mountain to demonstrate that with courage perseverance, a disability need not be a limitation.
Kilimanjaro inspires transformation. When you climb Kilimanjaro and stand on the roof of Africa, you see the world a different way. What seemed impossible in your life might just be doable. The mountain top is a place for vision, inspiration, and a new beginning. As the famous song by Juluka goes: "I'm sittin' on top of Kilimanjaro, I can see a new tomorrow. I'm sittin' on top of Kilimanjaro. I cast away all my sorrows."
 Climbing Kilimanjaro: 10 Things I Would Do Differently  Tim Ward is the co-owner of Intermedia Communications Training and co-author of The Master Communicator's Handbook – a resource for experts and thought leaders seeking to create meaningful change.  Good Excerpts…
Read up on the volcano in advance of my trip. Kilimanjaro has no information boards along the way. It's a genuine wilderness. Our guides were our only source of information during the trek. While they knew a lot about the wildlife and climbing, they didn't know much about the geology or history of the world's tallest free-standing mountain. So my advice would be read up in advance (my book, Zombies on Kilimanjaro is a great place to start).
Weighed my bag before getting on the plane. I knew that our outfitter had a weight limit of 15 kg (33 pounds) per climber. It's a rule strictly enforced. They put our bags on a scale when we arrived, and both my son and my bags were more than 5 kilos over! As a result we spent the night before our trip emptying bags, doing triage and repacking. It put a lot of unnecessary stress on our departure day. Shawn told me the weight rule was in force to protect the porters from being forced to carry too much: "Though climbers tend to view the weight limit as an inconvenience, the park sets limits to protect the porters from abuse. Using fewer porters and overloading them is one of the many ways that crooked Kilimanjaro companies cut costs."
Packed fewer clothes.  I wish I had realized I could wash socks, tee-shirts and underwear along the way. There were a few times during the trip when it was possible to get an extra basin of water for washing. In the desert-like atmosphere clothes dry surprisingly fast. On the other hand, all my warmer clothes were vital to have on the final ascent to the crater. We both wore every layer we possessed.
Brought powerful binoculars.I took only a pair of mini binoculars with me, because I thought my large ones were too heavy. I ended up regretting not having closer views of the ice-ringed summit and the amazing stars at night.
Planned how to stay clean where there's no running water. All we got to wash in was a tiny basin of warm water in the morning and at night. By day 4 of our 7 day trek, we looked and smelled pretty awful. All I had with me was a package of large wet-wipes, which helped wipe off the dust and sweat.
 Brought more chocolate and power bars.The food in camp is plentiful, but at higher altitudes, you need all the calories you can get while climbing. I thought I brought enough bars for Josh and I – two each a day – but I did not factor in that we would be walking with our guides, and it was only decent to share. I should have brought twice as much.
Stayed an extra day on the mountain. I would have definitely added on another day, so that we could have better adapted to the altitude. Josh suffered from altitude-induced migraine headaches on our ascent. Taking Diamox, which reduces altitude sickness, helped him, but it would have been much easier had we acclimatized more slowly.
 Climbed down slower.  After the exhilaration of the summit, we climbed down the steep, scree slope of the volcano then walked several hours down to our final campsite. My feet were sore with blisters, and both of us were near to exhaustion. Shawn said a slow descent is not best: "It's normal for people to develop symptoms of altitude sickness during the summit ascent. We try to get people down quickly because it is far easier for the body to recover at lower altitudes. The higher concentration of oxygen helps people feel better very quickly."
Not risked our porters getting scammed out of their tips.  At the end of the trek I turned my tip money over in a lump sum to our chief guide for distribution to the porters. Later I learned some guides keep all the tips for themselves! Shawn told me there's an easier way for trekkers to make sure their porters don't get abused. The best Kilimanjaro operators comply with the guidelines set by the Kilimanjaro Porters Assistance Project (KPAP), an independent organization that monitors porter treatment. He told me "by operating under KPAP's recommended procedures, partner operators not only abide by their fair treatment standards for tipping, but also for wages, food, shelter, clothing, and porter loads." Go to www.kiliporters.org to find a list of companies that have signed the KPAP pledge.
Planned more time in Tanzania for wildlife safaris. After the climb, I regretted not taking an extra week to go to the Serengeti. We only booked a short trip to the Ngorongoro Crater, a mini-Serengeti just a few hours drive away from Kilimanjaro, where for two days we watched lions, elephants, wildebeests, hyenas, hippos, zebra and rhinos. Tanzania is a mecca for wildlife safaris.  It's worth seeing.
About Anti-malaria drugs –  This is a common question from our travelers to parts of Africa and So. America.  It is a serious disease that can happen when being bitten by an infected female mosquito.  However, it's extremely rare.  While locals, tourism staff and guides there do not take pills, many travelers prefer to play it safe with either weekly or daily pills which starts week before your arrival.  In the US, we are limited to only 3 choices; Malarone, Doxycycline or Atovaquone (Larium). Malarone can be costly, but now there's a generic.  Wal-Mart or Kroger have the best prices.  See your doctor for a prescription.  Sometimes one only needs a strong DEET repellent (roll-on best) and wearing pants and long sleeves at dusk. Some clients go to CDC website which prepares all for the worst and creates unnecessary fear.  We only stay in fine properties with clean food and water.  We do not use needles, swim in rivers, work with the sick or have sex with locals.  I don't want you to over immunize yourself sick, spending hundreds for unnecessary dollars.  Over 2 decades selling Africa and South America, no AFS client has ever contracted any disease.  Ultimately, it's your decision on what's best for you.
Traveler's diarrhea can happen anywhere outside USA.  It can be caused from the stress of travel, different diets and water that is contaminated.  However, all lodge meals are hygienic clean meals.  (Cause of infection may be virus, parasitic or bacterial, so don't think Cipro is a cure-all.)  You all know not to drink untreated tap water, use ice cubes.  It is contagious so be scrupulous with washing your hands and using clean towel to dry.  And not to brush teeth with it.  If you get sick, rehydrate with oral rehydration salts, take Imodium or Lomatil.  If it doesn't pass in a week, see doctor. Don't reach for ''stoppers'' right away. Allow toxins to pass. Fluids are essential.
Things for Children –  Bring anything as all we be used.  Think Dollar Store of Target.  Some stores will even donate.  (Get creative.  I bring hair scrunchies and mirrors for girls and balloons for kids.). I poor places school supplies can be useless with no paper to draw on.  They need shoes, socks, clothes. The love caps, toys and inflatable balls.  You can always donate cash to the headmaster or visit Packwithapurpose.com to see who needs what in each country.
Print
Understand we researched every carrier USA to Arusha.  Turkish was the best price and schedule and most reliable.  Other airlines cut schedules down to 3 to 4 days per week and can't match our land dates.
We deposited 22 seats on Turkish Air.  Price $1198 with taxes includes early arrival hotel and post hotel.   (With 5AM arrival, you don't wait until 3PM check-in time as we cover your room for early check-in.  Trip ends SEP 20, but we added a post-night hotel room for you because of early flight next day.  On Sep 21 for 6am flight, you will be transferred to airport at 3m.)
Need final headcount now before TK releases seats.  Must have min of 12 people or we lose group air. Please advise.
AIR FOR MAIN GROUP- WITH EXTRA NIGHT AT SPRINGLANDS- 
OUTBOUND
1 TK  12   SU 12-SEP  JFK-IST   0010 1650. (Check-in NY Sep 11 at 9PM for flight 10 min after midnight)
2 TK 567   SU 12-SEP  IST-JRO    1945 0505* (next day Sep 13)
INBOUND
3 TK 567  TU 21-SEP  JRO-IST 0555 1255
4 TK  11   TU 21-SEP  IST-JFK   1835 2230 (same day)

IST – Istanbul, JRO – Kili A/P
AIR FOR GROUP EXTENDING TO NGORONGORO- KK  12
1 TK  12  SU 12SEP  JFK-IST  0010 1650
2 TK 567   SU 12SEP  IST-JRO  1945 0505* (next day)
3 TK 567  TH 23SEP  JRO-IST  0555 1255
4 TK  11   TH 23SEP  IST-JFK KK12 1835 2230  (same day)
Airport Planet Lodge near Kilimanjaro airport
Address: Plot 109 Malula Village near Kilimanjaro International Airport, King'ori 00000, Tanzania
Contact number is as +255 692 957 990
***************************************************
Sprindlands Hotel