Nov 15-25, 2021     "Elephant Dreams on the Zambezi Queen"
African Luxury Safari:  Namibia, Botswana, Zimbabwe  Small Group!
 WAITLIST Only   

Login / create account required
"My experience on AFS Africa trip was absolutely life-changing! It was just a dream until I found the price and itinerary on your website. No bait and switch. The itinerary exceeded my expectations! I recommend AFS. Take a look. You won't be disappointed!" –  Zayna A.
Even the most seasoned AFS Afriholics will be clamoring to be a part of this exclusive adventure. 3 of Africa's most intriguing countries await and we experience them all through the prism of all-inclusive pampered luxury! Witness herds of ellies, prides of lion and countless other magnificent creatures while floating down the serene Chobe River aboard the incomparable Zambezi Queen riverboat or listening to "The Smoke that Thunders" Victoria Falls while staying on the shores of the Mighty Zambezi!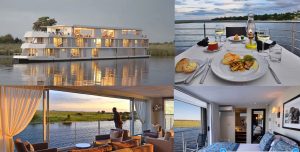 We worked hard to offer Africa in a way AFS has never done before with unparalleled indulgence.  Botswana, Namibia and  Zimbabwe await with more animals than you could comprehend. Imagine ballooning over the Okovango Delta or sitting in your safari jeep while a herd of a hundred elephants lumbers by with their babies scampering to catch up. Chobe Park is teaming with wildlife and home to 124,000 elephants – the largest elephant population in the world! From your private balcony watch zebras, giraffe, buffalo, antelope or even leopard, lion, hyena come to drink from the water hole our lodge overlooks.
Then spend 3 nights floating the Chobe on the Zambezi Queen – like a floating boutique hotel!  So popular, we had to charter it 18 months ahead.  The vessel is ours alone to enjoy. The gorgeous African riverscape unfolds before you and the wildlife makes its way to the water, unaware of our existence. Now imagine falling asleep to the sound of thunderous Vic Falls as we luxuriate in an encampment on the Masuwe River and the Zambezi gorges separating Zimbabwe and Zambia. This trip is a photo overload with activities from game drives, photo safaris, boat cruising, cultural village visits, boma dinners and nearly all are included in our adventure.  Think spas, cocktails in the bush and gourmet meals with fine wines.  You deserve it!
You'll love our 5-star Elephant Camp voted in the top 10 African lodges 7 years running.  Each tented suite even has its own pool.  We'll visit Wildlife Trust with veterinarians to see rescued wild animals.  Then "Meet the Elephants" up close at Wild Horizons Orphanage.
We start in South Africa, flying to Chobe and ending in Victoria Falls, with so much in between. AFSers are always begging for more Africa and this trip has it in a way you've never seen.  This is a safe solo vacation with an intimate small group in wide-open spaces. Whether you're a first-timer or an AFS Afriholic, each day on this expedition will be exhilarating with your best photos and memories of a lifetime.  

BOOK NOW  or call 770-432-8225    If full – WAITLIST

Login / create account required

Our Glorious AFS Itinerary
Print
15 – Nov  Fly USA to Jo'burg.  Overnight Nov 16.
17 – Nov – Land portion begins.  Johannesburg / Chobe, Botswana    Fly USA to Jo'burg to Kasane   Group air details later in Trip Tips, but easy to book own air for more flexibility.  You can go in early to explore South Africa.   We do have group air available from Johannesburg to Botswana and out of Vic Falls if you want it.
 Welcome to Elephant Valley Lodge Botswana!                 D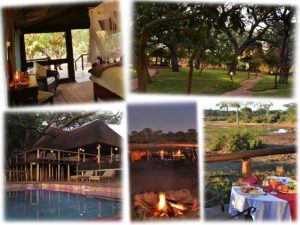 Our official start to our adventure begins today in Kasani, the gateway to Okovango Delta and Chobe.   We all can fly from Johannesburg to Kasane in Botswana at about 11:45 Am on SA Airlink, arriving in Kasane, Botswana around 1:30 pm.
We'll go directly to the spectacular Elephant Valley Lodge where we enjoy a welcome drink and settle into your luxurious safari tented suites before departing on an evening game drive into the Chobe National Park. Chobe is famous for its abundant wildlife and, in particular, it's countless elephants.
Elephant Valley set in a private reserve is a tranquil haven in the Kasane Forest Reserve bordering Chobe.  It overlooks a very busy water hole which attracts a wide variety of game, particularly elephant, but also giraffe, buffalo, antelope such as waterbuck and kudu, warthogs, honey badgers, jackal, mongoose, predators including leopard, lion, hyena, wild dogs and many more species. This is the perfect place to just unwind and immerse yourself in Africa.
Overnight: Elephant Valley Lodge (2 nights)
18 Nov – Chobe National Park              B/L/D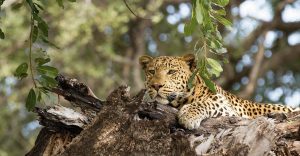 Time for thrilling game drives in search of the Big 5 up close.  Today is all about Chobe. We'll enjoy morning and afternoon game drives in the Chobe National Park on private open safari vehicles. A broad array of wildlife awaits. You name it, baboons, wild dogs, giraffes, hippos, lions, and so much more.
In between, we'll return to the lodge to rest, gaze at the waterhole, enjoy the swimming pool or just relax. All meals are included, so all you have to worry about is just how you choose to chill out.
Chance to add incredible Ballooning Over the Okovango Delta – detail emailed later
Overnight Elephant Valley Lodge (2 nights)
19 & 20 Nov – Zambezi Queen –  Namibia              B/L/D 

Our morning starts early with a final Game Drive into the Chobe. We will return late morning to check out and head to our adventure on the Zambezi Queen. We'll exit Botswana and take a tender boat over to Namibia to get our passport stamped and board our new home – The Zambezi Queen!
After lunch aboard the Queen, we set out on the water. (Total gourmet with fines wines.)  Each suite has its own balcony for private river viewing. Relax and enjoy and then we set out on a glorious sunset cruise by tender boats which help us go up the smaller channels getting closer to big game.
After sunset, we have a chance to freshen up before a welcome cocktail party on the upper deck followed by a delectable three-course dinner in the dining room along with an excellent choice of paired wines. Finish off with an espresso or nightcap at the bar before retiring to the night sounds of Africa in the distance.  (Our five-star luxury houseboat offers unparalleled sophistication in one of the most remote locations on the planet. Each of its 14 suites has a private balcony for unobstructed views of wildlife.)
Water-based game viewing – Onboard the Zambezi Queen is the ultimate safari experience.  but with a much higher comfort factor.  Situated in the heart of Chobe with access to river frontage of the Chobe National Park. Our game drives are by small tender boats allowing you to experience the enormous diversity and concentration of wildlife up even closer.  You'll see a huge herd of elephant as they swim across the water, as well as Buffalo, lion, crocodile, puku, giraffe, zebra, sable, kudu and even the occasional leopards as they gather to quench their thirst. Besides animal life, you'll also see a huge variety of birdlife and plant life as you listen to the sounds of hippos grunting and breathe in the sweet smell of African grass.
The Chobe is known as a photographer's paradise. The soft morning light and the sunsets at dusk, combined with striking animal behavior, make for dramatic photo opportunities. Enjoy the ultimate in game viewing Safari decadence as you sip a drink and cruise along the river on one of the most diverse ecosystems on the planet. No trip to the Chobe is complete without trying your hand at a fishing Safari where you may even catch a tiger fish to give to your chef.  On a photo safari, you'll have uninterrupted access to wild animals. Absolute silence in golden light. Our guides will help you capture that perfect moment on custom-designed photographic Safari boats.   See www.zqcollection.com
Overnight: Zambezi Queen (3 nights)
21 Nov – Cruising the Zambezi                  B/L/D

This entire day is spent enjoying all the opportunities afforded by being on the Zambezi Queen. It is like being on a permanent game viewing vehicle, witnessing the enormous diversity and concentration of wildlife that come to the river's edge.  Photograph elephants swimming with hippos and look to the sky for fish eagles and amazing birdlife.
There are a host of activities you can choose from including a guided photo safari by special boat, a fishing safari, fly fishing lessons,  birding (there are over 450 species of birds in the Chobe) and a cultural trip to a local Namibian village called Ijambwe where you can meet villagers and learn of their lifestyle.
After your morning activities, enjoy lunch on board while enjoying the expansive views. In the later afternoon head out on your tender boat for an incredible game viewing experience.
Overnight: Zambezi Queen (3 nights)
22 Nov            Zambezi Queen to Victoria Falls- Namibia to Botswana to Zimbabwe                    B/L/D

Watch the sunrise with coffee.  We'll end our cruise and pass immigration in Namibia before crossing the river back to Botswana to have our passports stamped again. From here, it's on to Zimbabwe and the luxurious Elephant Camp in Victoria Falls. Our "rooms" are tented, secluded suites – each boasting a private viewing deck over the gorge.  We are situated on a private concession within and bounded by the Masuwe River and the Zambezi gorges. Our camp offers breathtaking views of the Victoria Falls' spray and the spectacular gorges which separate Zimbabwe and Zambia.  Each tented suite has an ensuite bath, indoor/outdoor shower, mini bar, a/c, private viewing deck and plunge pools!  The evening is free, enjoy the camp or sign up for treatments at the spa.
Overnight: Elephant Camp (3 nights)
23 and 24 Nov            Elephant Camp – Victoria Falls Area Activities                  B/L/D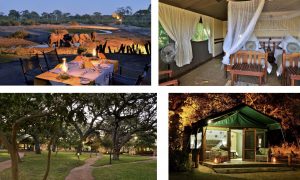 For the next two days, we will have an amazing time exploring all this region has to offer. The schedule and order will depend on weather and timing. We have so many options included from which to choose and we will attempt to do as many as possible.
Of course, we will visit the rainforest surrounding the magnificent Victoria Falls from the Zambezi side of the gorge on our tour, but there is a smorgasbord of other activities from which to choose, including:
Elephant Conservation Experience – Up close and personal with ellies, this non-profit's mission is to advance environmental conservation through hands-on wildlife research, the management of a veterinary laboratory and rehabilitation facility and the education of local peoples in the sustainable usage of natural resources.
Cocktails & Canapés at the Batoka Gorge – Indulge in a selection of cocktails and canapes while nestled on the edge of a steep rock face that is hugged by trees and shrubs and blanketed by an endlessly wide sky.  Also a boma dinner this evening.
Game drives, Walking Safari and Birding & Nature walks on the Wild Horizons Wildlife Sanctuary.
Lunch at the Lookout Cafe – Including drinks – perched 120 meters above the turbulent rapids of the Zambezi River. This all-inclusive activity is set against the backdrop of the iconic Victoria Falls Bridge, which hangs over the spectacular chasm of the Batoka Gorge
Village Tour – visit a local rural village and interacting with the people who live there, you not only forge new friendships, you will also discover a different lifestyle, a new way of doing things, and a broader perspective of life without modern luxuries.
Victoria Falls Canopy Tour (excluding Park Fees – USD3 per person subject to change)- Embark on a two-hour eco-adventure lead by two professional guides across nine unique slides. The adventure unfolds from the Wild Horizons Lookout Café, perched above the cove that forms at the first bend of the river below the waterfall.
Visit to the fabulous rescue and rehab center Wildlife Trust.   www.vicfallswildlifetrust.org
Sunset Cruise on the Zambezi Royal
The lodge also offers optional spa treatments and will help you arrange other excursions such as scenic flights over the falls in helicopters or microlights, bungee jumping off the Victoria Falls Bridge, ziplining, white-water rafting (seasonal), and the Livingstone island tour.  Every day on this is exhilarating in every way.
Overnight: Elephant Camp (3 nights)
25 Nov            Victoria Falls / Johannesburg  B

After breakfast, we check out and make our way to the Victoria Falls airport for our flight back to Johannesburg. The estimated flight times will be departing at 1PM, arriving at 3PM back in Johannesburg able to catch all international flights back home.

 WAITLIST Only  

Login / create account required
Land Price: $4495  pp twin share based on 36 participants
Deposit: $400
Includes:  As stated above

Land prices per person twin share. Trip price based on a minimum number of participants.

Single rooms limited with $ supplement.  Cost varies.  Email us for availability.  AFS will find you a roommate.

The earliest we present group air is 10 months prior. We'll send email to ask who wants it.  A minimum number of 12 is needed.

Please review AFS Terms and Conditions, Heading Abroad with AFS, Covid Policy.  Travel insurance is important nowadays.  It's rare, but we reserve the right to modify schedules, tour and hotels.

Read Trip Tips on its own tab next itinerary for latest details. 
ELEPHANT VALLEY LODGE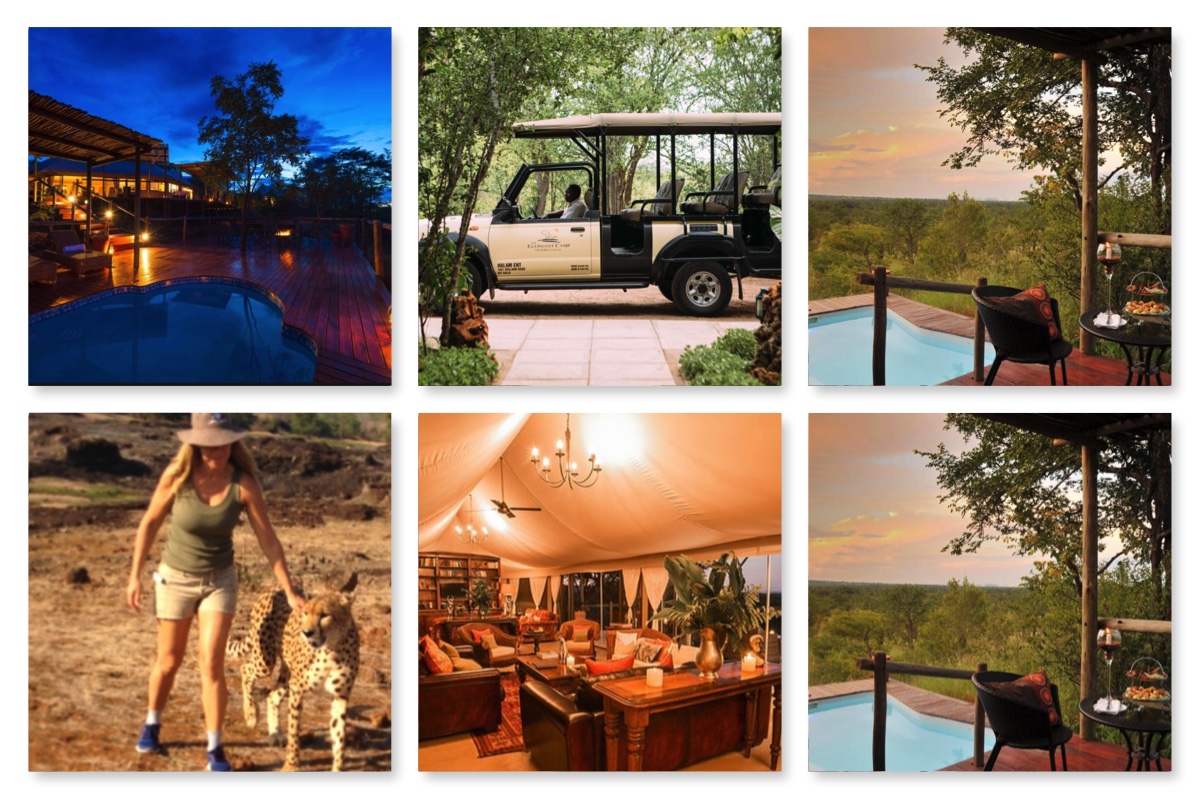 Elephant Valley Lodge is located along the northwestern border of Botswana in the Kasane Forest Reserve. The Lodge is nestled in the forests of the Lesoma Valley, just 20 kilometers from Kasane and the entrance to the world-renowned Chobe National Park. Its location is also within close proximity to the Okavango Delta and the iconic Victoria Falls. Chobe National Park is home to the largest herds of elephant in the world and offers exclusive game viewing all year round.
The unique lodge location, overlooking a busy waterhole, provides guests with game viewing throughout the day and night.
The Elephant Valley Lodge is fenced and overlooks a waterhole that is frequently visited by wildlife. The lodge also offers complimentary transfers to the lodge from either Victoria Falls, Kasane or Livingstone Airports.
The Lodge boasts 20 tastefully decorated Meru-styled tents, each with two three-quarter beds that can be converted into a double bed, an en-suite bathroom with shower, tea and coffee making facilities, fan, electric blankets in winter, hair dryer, charging facilities, and a private veranda.
The 12 Forest Tents are positioned in the shade of the trees that surround the swimming pool. There is one tent that is ideal for families as it comprises of one en-suite bathroom, the main bedroom and a second room, both with twin beds.
The 8 Valley Tents offer views of the valley and waterhole that teems with wildlife.
The lodge facilities include an indoor dining area, lounge and bar area, swimming pool, waterhole and secluded hide that afford fantastic game viewing opportunities.
Activities at Elephant Valley Lodge focus on drives into the Chobe National Park and boating safaris along the Chobe River. Highly experienced guides accompany guests on day and night drives, and morning cruises down the Chobe River that teems with hippo and crocodiles. Guided bush walks provide an opportunity to learn about the bush and the smaller wondrous creatures of the Lesoma Valley.
Chobe is known for its huge herds of elephant but is also home to kudu, sable, puku, lechwe, buffalo, hyena, waterbuck, reedbuck, crocodiles, and hippo. The abundant game supports a healthy population of predators, including lion, leopard, wild dog and cheetah.
The birding in this area is excellent, with over 450 species recorded in the park, including the African Fish Eagle, red and yellow-billed hornbills, Spotted Eagle Owls and Pel's Fishing Owl.
Elephant Valley Lodge is ideal for solo explorers, couples and families looking for an exclusive safari experience.
| | |
| --- | --- |
| | |
As a guest on the Zambezi Queen, you'll enjoy a truly unique and luxurious river safari holiday in complete comfort and elegance.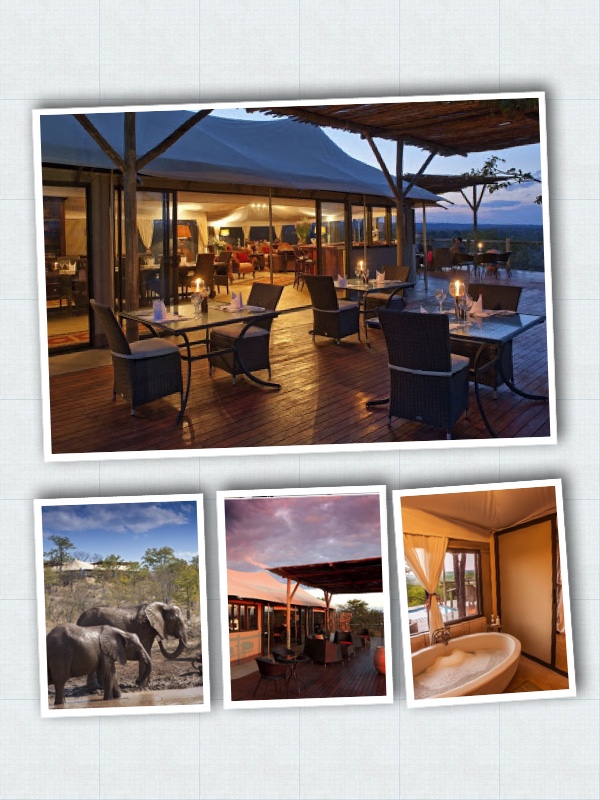 Set within the Victoria Falls National Park, The Elephant Camp overlooks the Zambezi Gorges with a magnificent view of the Victoria Falls spray. The Elephant Camp has been rated one of the best tented lodges in Zimbabwe, and is within close proximity to the Victoria Falls and the bustling tourist town.
The all-inclusive rate covers a wide range of activities, all meals and drinks, WiFi and transfers.
The main area boasts a beautiful sunken fire pit and swimming pool while the suites are equipped with a private viewing deck, plunge pool and outdoor shower. The Elephant Camp, Victoria Falls, promises an intimate safari experience within the wilderness.

 All prices are per person twin share.  Single rooms limited per group and a single supplement applies.  Cost set by hotel/cruiseline and vary considerably.  AFS will find you a roommate match. All hotel rooms are "run of house."  

Please review AFS Terms and Conditions as well as Heading Abroad with AFS.  

Land – Price based on a minimum number of trip participants, as well as local currency exchange rates which can fluctuate.

We write our itineraries over a year in advance. Though unlikely, we always reserve the right to modify schedules, tours and 

hotels if necessary. 

Group air – Airlines may add surcharges to offset fuel inflation or taxes. The total ticket cost is not final until we receive your final payment and the group is ticketed. If doing own air, airport transfer may or may not be included depending on your air schedule. Do not buy air until the group air is set or we advise – though unlikely, airlines, times and dates can change!
Print
TBA  Please check later.  Those booked will get email notification.
Suzy's Africa Travel Tips
General Stuff
"The only man I envy is the man who has not yet been to Africa. For he has so much to look forward to."
"Africa changes you-forever, like nowhere else. How can you describe its magic? How can you explain the fascination of the past and noble dusty continent, who's oldest roads are elephant paths? How are experiences here in a way no other place can? Maybe it's because Africa is the place of all our beginnings, the cradle of mankind. The happiest years of my life were spent here."    Paul Theroux
Some travelers who've never been to Africa think a safari is non-stop action.  Behold the stunning boredom!  The fact is there's a lot of glorious down time between early morning and evening game drives.  Time in the bush is like entering a remnant of an earlier era.  Everything slows down.  Shade seeking lions flop over like house cats, zebras stand still as statues, leopards drape over branches to sleep.  All game rests.  With them, we engage in communion of laziness.  We relax.  We observe.
 Wildlife Encounters – All animals are wild and you are prey. Respect proximity. Wild animals are totally unpredictable. If you ever encounter a predator in the bush-never run! You will always be the slowest. Animals may roam into lodge camp. Never deviate off path or walk alone at night. Guards will escort you. Never walk near a river bank or swim in lakes. Hippos hide well.
Game Drives – You will be devided in 6-7 per safari vehicle.  Do not interfere with or direct your expert rangers – guide who lived there.  He's far more than a driver with years of experience and intense certifications. Your safety is their number one concern. They can spot everything from ground to sky.   Suggested tip is $3 to 5 per game drive. If several days of drives, wait until the end.
Animal sightings are not guaranteed. AFS past groups have been extremely successful on all. Over 3 decades, we never had a bad safari. Big cats are usually present, but leopards and cheetahs tend to hide. Don't just search out the big mammals. You'll miss the marvels of small creatures like badgers to bush babies and spectacular bird life.
Photography-   Rather than hauling big lenses, small digital cameras get incredible shots nowadays.   Bring large memory card.  Then edit/delete each night. On drives, keep camera in the bag to protect it from dust and sun.   Don't forget extra batteries! Best light on safaris is 6 to 10 AM and 4 to 6 PM.   Rangers will assist for best vantage points. There is usually a pair of binoculars to share in jeep. Always get consent before photographing local people.
On return home, share your pics on AFS private Facebook page or use Shutterfly.com.  (I have over 8000 photos of elephants and lions. Please take human photos as well as wildlife. Better yet, take photos AFS humans with the wildlife.)
Expert Africa Packing: Bring only soft sided luggage. No hard cases can fit in Safari vehicles. If we use small charter aircraft deep into bush like Botswana, I'll advise of strict weight restrictions for both bag and carry-on.   Pack light and wear the same clothes more than once. Laundry is always available.
Neutral colored clothing (no bright colors or fragrances to alarm animals.)   light cotton shorts and T-shirts by day. Jeans/pants with a long sleeve tops at night. Early-morning drives always cold-bring warm jacket, fleece or sweater.   Smart outfit for evening functions.
Hat with a brim for sun protection and chinstrap for drives.   Bring simple light day pack on drives. Sunglasses, sunscreen, insect repellent with DEET, swimsuit, adapter plugs, mini flashlight, toiletries.
Lodges or Camps –  All first-class properties or "glamping" style tents.   All food and water is purified. If water is not, guide will advise.  Cover bathroom sink with washcloth as a reminder not to use. Bottled water in the rooms and always available daily. Hydrate! African air is dry and sun is strong.
Lodges have a staff tip box. $5 to $10 is generous to give and will be shared with all staff.
Ask reception for charging station to plug-in phones, cameras and tablets.
THE BIG FIVE ANIMALS TO SEE ON SAFARI
Be mindful of everything around you, not just the Big 5.   I'm a primate girl myself.  In times gone by European hunters used to search out for the most difficult to hunt animals in Africa which led Safari club supreme a list of five key animals that were challenged to shoot. These were considered difficult for a number of reasons, including ferocity, visibility, and elusiveness.
Lions really are the kings of the savanna and are at the top of the food chain. As such, they need no introduction. Lions are widespread throughout southern and eastern Africa and you'll have a good chance of seeing them in most safari locations.
 Black Rhino now critically endangered, the black rhino is not actually black, but more off-white. Despite its huge bulk and dangerous reputation, rhinos are herbivores who would rather graze on some grass than attack a person. There are a few rhinos left in a wild due to large increase in poachers hunting them for their horns.
 Leopards are nocturnal and secretive, making them the most difficult number of the Big 5  to actually spot. When you do see one, chances are it will be lounging in a tree at sunset having just eaten dinner.
 African Elephants as most people know are large thick-skinned herbivores. Elephants are numerous in Africa but nevertheless can be hard to spot in some areas due to their ability to hide in the bush and long grasses. Despite being widespread, elephants face a growing threat from poachers who hunt them for their ivory.
 Cape Buffalo considered by many to be the most dangerous of the big five, reportedly causing the most hunter deaths, with wounded animals reported to ambush and attack pursuers.
Error! Filename not specified.
Meds:  Anti-malaria pills may be recomme. Ask your health care provider. Sometimes a Yellow Fever shot is recommended. You get it county health clinic and it's good for lifetime.  Our groups never had any problems with mosquitoes in two decades of trips to Africa.  Phone me direct if you have specific questions 770-432-8225
 About Anti-malaria drugs
This is a common question from our travelers to parts of Africa and So. America.  It is a serious disease that can happen when being bitten by an infected female mosquito.  However, it's extremely rare.  While locals, tourism staff and guides there do not take pills, many travelers prefer to play it safe with either weekly or daily pills which starts week before your arrival.
In the US, we are limited to only 3 choices; Malarone, Doxycycline or Atovaquone (Larium). Malarone can be costly, but now there's a generic.  Wal-Mart or Kroger have the best prices.  See your doctor for a prescription.  Sometimes one only needs a strong DEET repellent (roll-on best) and wearing pants and long sleeves at dusk.
Some clients go to CDC website which prepares all for the worst and creates unnecessary fear.  We only stay in fine properties with clean food and water.  We do not use needles, swim in rivers, work with the sick or have sex with locals.
I don't want you to over immunize yourself sick, spending hundreds for unnecessary dollars.  Over 2 decades selling Africa and South America, no AFS client has ever contracted any disease.  Ultimately, it's your decision on what's best for you.
Travelers diarrhea can happen anywhere outside USA.  It can be caused from the stress of travel, different diets and water that is contaminated.  However, all lodge meals are hygienic clean meals.  (Cause of infection may be virus, parasitic or bacterial, so don't think Cipro is a cure all.)  You all know not to drink untreated tap water, use ice cubes.  It is contagious so be scrupulous with washing your hands and using clean towel to dry.  And not to brush teeth with it.
If you get sick, rehydrate with oral rehydration salts, take Imodium or Lomatil.  If it doesn't pass in a week, see doctor. Don't reach for ''stoppers'' right away. Allow toxins to pass. Fluids are essential.
Things for Children –  Bring anything as all can be useful.  Think Dollar Store or Target.  Some stores will even donate.  (Get creative.  I bring hair scrunchies and mirrors for girls and balloons for kids.). In poor places school supplies can be useless with no paper to draw on.  They need shoes, socks, clothes. The love caps, toys and inflatable balls.  You can always donate cash to the headmaster or visit Packwithapurpose.com to see who needs what in each country.
African Jewelry –  Many AFS women long for a piece to treasure their safaris like a Big 5 ring, bracelet or pendant.  The best beyond any store is Kim in Capetown. See her website and say Suzy sent you.  KimCloeteDesign.co.za.  She can design any African piece cheap or upscale.