"Jungles, Beaches and Elephants" – Pure Thailand
October 20-30, 2022   Small Group!


From lush green mountain jungles to breathtaking white-sand beaches of the Andaman coast, this is Thailand like you have never experienced. Our unique new Asian offer covers 3 of Thailand's best regions for total diversity. After the past 2 years, you deserve the best vacation ever, and this unique getaway is it! The draw are the beaches, cultural shows, affordable wellness spas, island hopping and exquisite Thai foods. 
After touring exciting Bangkok, we fly up to Surat for some luxury Glamping.   Prepare to be pampered in such first-class style that most can only dream of. Luxuriate in your deluxe safari tent at the incredible Elephant Hills, so popular we had to pay them a year in advance. Immerse yourself with the resident gentle giants who have been given refuge here as you help bathe, feed and interact with the ellies. They won't forget and neither will you. On to our unique  Rainforest Camp – untouched, unspoiled, unrivaled. Delight in your floating cabins with all amenities on Cheow Lan Lake, set in stunning Khoa Sok National Park and plenty of jungle activities.  
Finally, experience a tropical wonderland at the exquisite  Keemala Resort few have yet to discover in the Pearl of the South – Phuket. This tantalizing retreat is a world away with magical villas perched high on cliffs overlooking the azure sea. Our 5-star Clay Pool Cottages are distinctively designed to reflect the Thai philosophy of serenity. Ultimate luxury and a plethora of holistic offerings make being here such a rare experience, you'll be so spoiled you won't want to leave.  
The entire Thailand adventure combines world-class luxury and pampering with nonstop fun. Sea kayak into silent caves. Glide in a canoe safari on the Sok River. Trek verdant jungle. Cruise the islands of Phang Nga National Park. Ride in our Adventures For Solo Travelers exclusive tuk-tuk parade. Tour gilded temples. Taste succulent seafood. Find unbelievable bargains at a Tarkhun market. Then add the ethical elephant immersion and you have a journey of a lifetime. Nothing can top all that is included on this with a price that can't be beat.  
 AFS knows Thailand well. This is our 12th group here. You may have been here before but each time, we raise the bar with even more unique places and adventure. Thailand has always been a great value, which helps us bring this trip to a level you've never experienced. Our air is so easy roundtrip to Bangkok on Cathy Pacific.  This amazing escape is only available for a small group of 22 travel lovers and will fill fast. Craving the unique? This is the kind of vacation dreams are made of.

Our Glorious AFS Itinerary

Print
Oct 20/21, 2022   Depart from the U.S.  All air and land details to come in Trip Tips
Oct 22 –  Sawasdee…Welcome to Bangkok  -The Lands of Smiles
Land begins today.  Arrive at Bangkok Suvarnabhumi Airport and after clearing all formalities, our guide will meet and transfer you to hotel for check in.
Well known as the City of Angels, Krungthepmahanakorn is the present capital city and the focal point for Thailand.  It was made the capital of Thailand in 1782, the first monarch of the present Chakri Dynasty.  It is a vibrant city, a national treasure house and Thailand's spiritual, cultural, political, commercial, educational and diplomatic enter with endless choice of sightseeing and entertainment opportunities.  In addition to the many temples and historic buildings, such as The Grand Palace and Wat Arun, the list of interesting places to visit is endless. There are numerous canal (klong) networks on the Chaophraya River, giving it the name of "Venice of the East".  In Bangkok, are also bustling markets, Jim Thompson's House, Chatuchak Weekend Market, Wat Po, new Warehouse 30 Complex, Cooking Classes, Flower Market, Sunset Cruises, rooftop bars and a crazy fun nightlife.  The Skytrain can whisk you anywhere.
Overnight:  Avani Riverside Bangkok Hotel    B, D

Oct 23  Bangkok  Tour – Temples to Tuk Tuks    
After breakfast, we set out to explore Bangkok and its marvelous temples, starting in Chinatown and the Stunning Wat Trimit. This is home to the world's largest massive gold seated Buddha, measuring nearly 16 and a half feet high and weighting five and a half tons. Once hidden from invading armies by a covering of stucco and plaster, the gold beneath was discovered by accident when it was accidentally dropped as it was moved.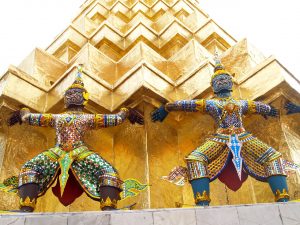 Next is Wat Po, which was the first public university of Thailand and is the oldest and most extensive temple in Bangkok. It houses hundreds of chedis and the 3rd biggest colossal reclining Buddha in Thailand. The gigantic gold-plated reclining statue has inlaid mother-of-pearl soles of 108 good lucks and is highly revered among Buddhists. If we time it right, we should be able to witness monks' chanting in the main chapel. which is not commonly seen by tourists. Since Wat Po is a school for traditional medicine and massage, we may have the chance to enjoy a Thai Foot massage.
We'll have our own parade of Tuk Tuks as we make our way through Bangkok's old quarter, past the Grand Palace, the Giant Swing, Bangkok City Hall, Democracy Monument, and on to Rajadamnoen Avenue, with a final stop at Wat Benjamaborphit, commonly known as Marble Temple, built of Carrara marble from Italy. The cloister around the assembly hall houses 52 images of Buddha.   We return to the hotel and have an afternoon free before our Welcome Dinner at the Avani River View Room
Overnight:       Avani Riverside Bangkok Hotel   B, D
Oct 24  Flight to Surat Thani and Glamping at Elephant Hills      
We include your early morning flight to Surat Thani where we will be met and taken to the spectacular Elephant Hills elephant camp in Kao Sok. After checking into our luxury tents, be prepared for the ultimate Elephant Hills Elephant Experience: Feeding and interacting with these gentle ellies who are Asia's largest land animal. We will learn how to bathe, feed and care for them in an experience that will really touch your soul in what is an almost untouched environment. In the afternoon, we'll take in the breathtaking beauty of Khao Sok with a Canoe Safari down the Sok River. Just sit back and relax as the world floats by. In the evening, we'll have a special movie presentation, dance performances and even learn traditional dishes with a cooking demonstration.
Overnight:   Elephant Hills (2 Nights  – One on land, one on lake)              B
Elephant Hills is the most responsible and sustainable Soft-Adventure Tour Operator in Southern Thailand. We respect and value our elephants (hence there is no elephant riding at our elephant park!), but we also take excellent care of the environment at Khao Sok national park, put great emphasis on recycling and resource-saving as well as cooperating closely with the local community by sourcing staff locally and improving education in the area with our Elephant Hills Children's Project. 
Elephant Hills
is home to the well-known, respected elephants of Thailand. During our amazing elephant experience, you will have the opportunity to get a look in on their daily lives and interact with the endangered Asian elephants in unique way. This is your chance to get close with the adorable pachyderms, feel their thick skin and interact with them and their mahouts, the elephant caretakers. Chop, prepare and feed these special creatures one of their daily feeds, watch them play in our giant elephant bathe and use coconut fibers to polish muddy wrinkles back to a majestic grey afterwards. This elephant encounter is one-of-a-kind, an experience you will certainly not forget!   
We can guarantee that our animal welfare is our top priority at our nature park. Our elephants are treated with respect. 
Elephant Hills has achieved a 100% rating for its animal welfare from Global Spirit –  Animals in Tourism auditing. We are the first worldwide animal attraction and elephant park to reach a 100% rating within the two-week audit period.

Oct 25      Rainforest Floating Camp          
Following breakfast, we get a look at Thailand's rural lifestyle with a visit to the local market of Takhun where we can try our hand at negotiating for goods. Ahead lies some spectacular sightseeing on Cheow Lam Lake while riding in a traditional longtail boat. This setting will take your breath away with the massive limestone mountains towering above the emerald green waters. The light changes constantly and so do the views of the lake, Lunch will be at our new home – the Elephant Hills Rainforest Camp.
Our dreamy accommodations for the evening are floating cabins on the lake. If you are up for further exploration of our spectacular surroundings, there are canoes available to head out and take it all in. We will also have the opportunity to do some jungle trekking on foot through southern Thailand's unique rainforest environment.
Overnight:  Elephant Hills – Floating Rainforest Camp    B, L
Oct 26    Keemala in Phuket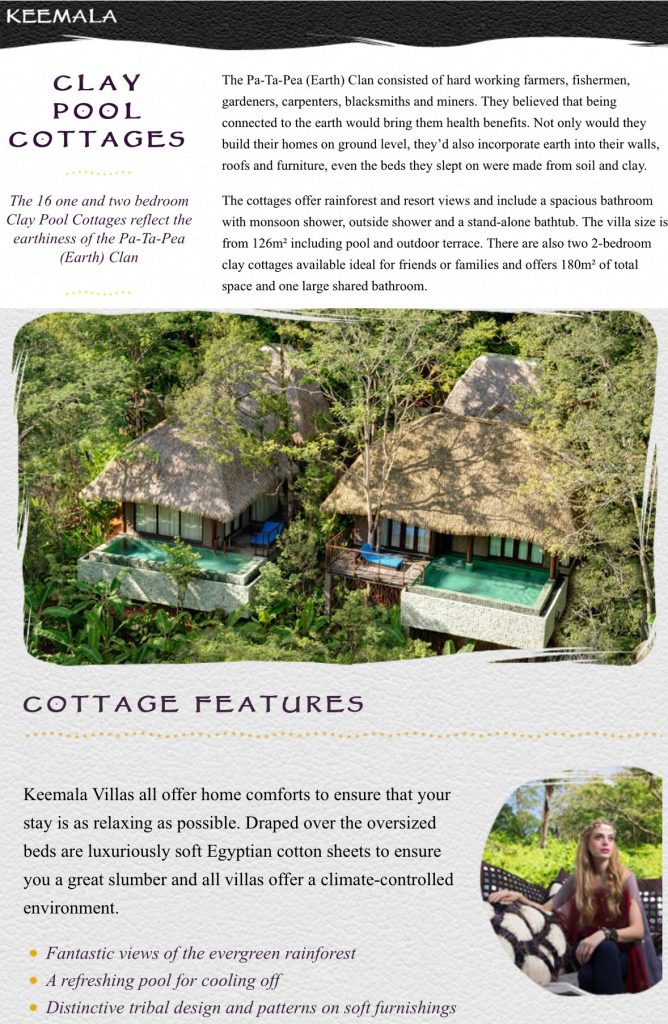 In the morning, we can go on a canoe safari and do some wildlife spotting. We'll have lunch at our Rainforest Camp with a chance to swim before we head out on drive 3 hours south to Phuket.
The "Pearl of the South," this is the largest island in Thailand and is its own province. Known for its great beaches, rocky capes, mountains and forested hills, Phuket offers an amazing array of opportunities to be pampered or to get your adventure on.
Our home for the next three nights is the amazing Keemala Resort. We will have their distinctive Clay Pool Cottages – each with its over-private pool. This retreat is an evergreen wonderland in the lush forests above busy Phuket, offering world-class spa treatments and holistic activities.  Once we check-in, the rest of the day is at our leisure.
Overnight:         Keemala Phuket (Clay Pool Cottage) 5*        B/L
Keemala Phuket – Phuket's new luxury resort. All rooms type has a private swimming pool.

Oct 27  Cruising Phan Nga  Islands        
After a leisurely morning, we set out in speedboats for a full day to mind-boggling Phan Nga Hong Bay. There are 42 islands in the Phang-Nga Bay National Park and this cruise gives the best view of this fascinating land and seascape. Limestone cliffs rise vertically out of the sea creating a surreal image fit for a mythological legend. We use kayaks to visit the tidal caves and washouts called "Hongs" which are part of the incredible limestone karst formations that have made the area a backdrop for countless international movies.
Besides exploring the area, we also have the opportunity to swim, relax, or even make a Loy Krathong; a traditional decorative float created by the Thai people for celebrations. You can launch your own Krathong under a moonlit, starry night. En-route back to Phuket, we will be entertained by "Star Games" on the starlight deck. A wonderful buffet lunch and dinner will be served onboard.

Overnight:   Keemala Phuket             B/L/D
Oct 28   Free Day in Phuket      
This is an entirely free day to take advantage of all that the resort including a host of spa treatments and wellness activities. Or you can venture into Old Phuket and get to know the locals in the markets and temples. Phuket's best-known beaches are just a few minutes drive with free transfers from resort.  Phuket has a wild nightlife of non-stop fun.  Just google Phuket Tourism for dozens of enticements.  Enjoy the incredible nightlife and marina cafes.  Click here for more.
Overnight:        Keemala Phuket                B
Oct 29   Heading home      B 
We have much of the day to ourselves before we have to say goodbye to this island paradise and Thailand itself. We'll head to the Phuket International Airport in late afternoon and then onwards to the U.S. via Bangkok.


Land Price $2875 pp twin share, includes internal air plus $90 pre-paid gratuities for guides and drivers.
Deposit $400
Based upon 22 participants
Includes: AFS GTL,  all meals and tours listed, entrance fees, transportation, first-class accommodations, guide
Group Air:  TBA  Roundtrip LAX – BKK

Land prices per person twin share. Trip price based on a minimum number of participants.

Single rooms limited with $ supplement.  Cost varies.  Email us for availability.  AFS will find you a roommate.

The earliest we present group air is 10 months prior. We'll send email to ask who wants it.  A minimum number of 12 is needed.

Please review AFS Terms and Conditions, Heading Abroad with AFS, Covid Policy.  Travel insurance is important nowadays.  It's rare, but we reserve the right to modify schedules, tour and hotels.

Read Trip Tips on its own tab next itinerary for latest details. 
Print
Please return later for TripTips
Covid Testing Rules tend to mutate faster than the virus itself.  Therefore a special webpage has been built so you can get the latest info… Click here  Failure to read this page can result in your airline preventing your boarding your flight!  Read the page, it's vital  https://www.afstravelers.com/basic-covid-info/
Covid travel rules seem to mutate faster than the virus.  To keep groups up to date with the latest information, we created a page that's up to date.  Set a reminder for yourself to check the Covid page 7 days before your departure.